"Those were the days, my friend, we thought they'd never end"—as the song from the 1960s goes. I can still remember the thrill of walking into the lobby at 444 Madison Avenue and seeing that week's cover enlarged and illuminated on the wall. Outside, the Newsweek name was emblazoned high atop the building, visible from blocks away. I was 22 years old when I was hired as a secretary to the national affairs editor. I didn't know much about journalism, but I had dropped out of college and I needed work. It was February 1963; opportunities for women were limited, and my goal was to find a job where what I typed would be interesting.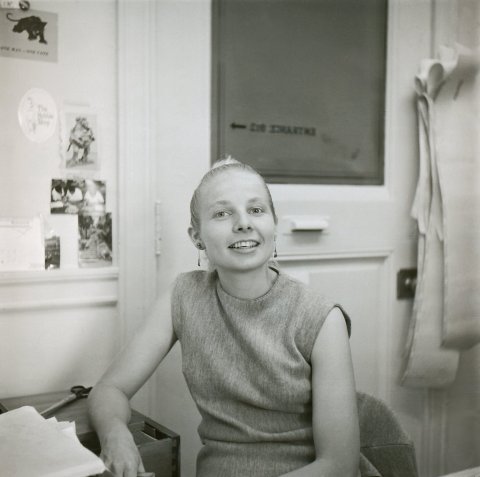 That requirement was fulfilled from the very first day, as I found myself thrust into a remarkable group of talented and often eccentric writers, researchers, and editors. We were all shell-shocked together when President Kennedy was assassinated in November that same year. I watched my boss pull together a story list, assign reporters and writers, and mobilize the vast machinery that a newsmagazine commanded. I was hooked forever.
In those days, few expenses were spared in the name of magazine journalism. For interviews, there was "Top of the Week," the penthouse conference-room-lounge-restaurant where the magazine hosted newsmakers, everyone from Lauren Bacall to Robert F. Kennedy. Designed by I.M. Pei, it was spacious—with a fabulous view of the city, an area with couches and chairs where cocktails were served, and then a large dining table where the illuminati would gather. I wasn't on the guest list then—few women were, even though the publisher was a woman—but I enjoyed some perks all the same. When we worked late Friday nights putting the magazine to bed—finishing well after midnight, sometimes not before three or four in the morning—there were rooms for us at the Waldorf-Astoria, just a couple blocks away. For a kid like me from Queens, this was pretty heady stuff. I could even charge my breakfast at the Waldorf's coffee shop.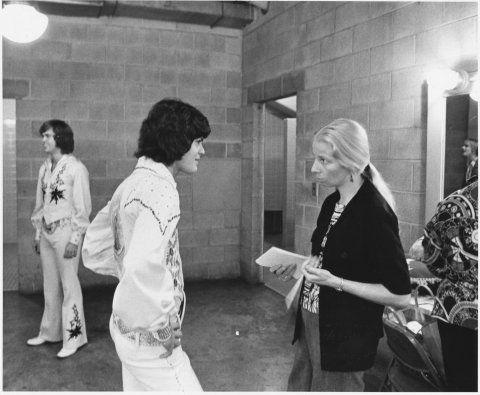 Unlike just about any magazine today, Newsweek had a sizable network of domestic and foreign bureaus. In 1966, I transferred to Atlanta as a "girl Friday"; then in 1971, thanks to a class-action suit filed by women who worked for the magazine in New York, I did a summer internship to become a correspondent. I filed stories on everything from country-music stars Loretta Lynn and Tammy Wynette to Alabama Gov. George Wallace—his segregationist views and his presidential aspirations. It was an era of continuing unrest in the South over civil rights, and reporters were instructed to have a toothbrush and any essentials at the ready for travel on a moment's notice.
Joe Cumming, the Atlanta bureau chief, was a wordsmith, and I greatly admired him. He told me years later of the writer's block he suffered trying to "write to space" an obit on the legendary columnist Ralph McGill. As the scrunched-up pieces of discarded copy mounted around Joe's feet, he remembered looking up at the rafters and thinking he could just hang himself and end it all, but then the first responders would arrive and think, "The poor guy couldn't even write a lead." That made him laugh and freed him to write, a valuable lesson about the creative process.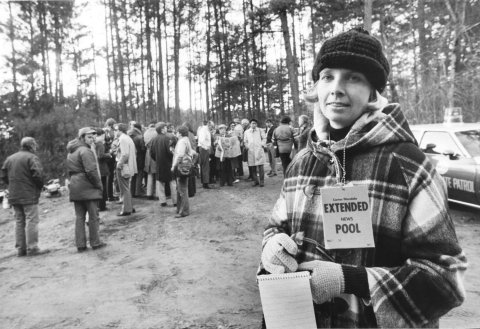 Like so many Southerners, Joe was a gifted storyteller—he was known at the magazine as "the poet bureau chief"—and he instilled in me an appreciation for the observations and anecdotes that lift a story beyond the basic facts. Joe would agonize over the reporting he filed to New York—where writers at Newsweek headquarters would weave it into their stories for the magazine—until he found just the right adjectives to make the facts sing. He also could get enthusiastic about any story that the editors in New York dreamed up. I remember him trying to recruit a willing subject for a cover on the prevalence of divorce in the 1970s, telling the numerous women he reached by phone that most people go through their whole life without ever appearing on the cover of a newsmagazine.
Cumming wasn't the only person who inspired me and served as a role model and mentor. The lead piece in the magazine's Nation section was dubbed "the violin," because it set the mood and brought all the strings together—and the writer who did that best was Peter Goldman. His elegant prose defined the magazine's coverage of civil rights and politics for 25 years, setting a standard that everybody aspired to but none reached.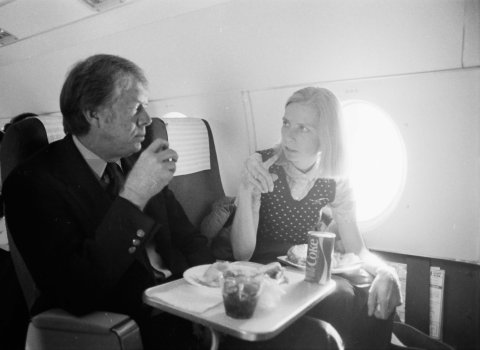 The legions of us who worked for Newsweek in the 1980s and '90s knew the phrase "scramble the jets." Its author was the magazine's editor, Maynard Parker, who died too young of leukemia in 1998. Maynard with his designer shirts and editing comments, such as "say better pls," drove the magazine via his boundless energy and love of breaking news. To "scramble the jets" meant to tear up four days of work and deploy all the resources at his disposal to produce a more timely cover story at the last minute before we went to press—and it was something Maynard loved to do. His cover choices were ones we could all be proud of—at least most of the time. The Hitler Diaries, a hoax that Maynard fell for, was a huge embarrassment after he put it on the cover, but he recovered. After all, he was a Wallenda, the name given to Newsweek's top editors because they were such a high-wire act.
In 1983, the same year as the ill-fated Hitler cover, Newsweek celebrated its 50th anniversary with a gala at Lincoln Center in New York. There were 1,600 guests, including President and Mrs. Carter, first lady Nancy Reagan, Mary Tyler Moore, Henry Kissinger, Andy Warhol, Betty Friedan, and the Rev. Jerry Falwell. A stage set designed to look like an old-style magazine office featured Jessica Tandy, Hume Cronyn, Lauren Bacall, and James Earl Jones playing journalists. In retrospect, it appears to have been a warning sign of the magazine's hubris.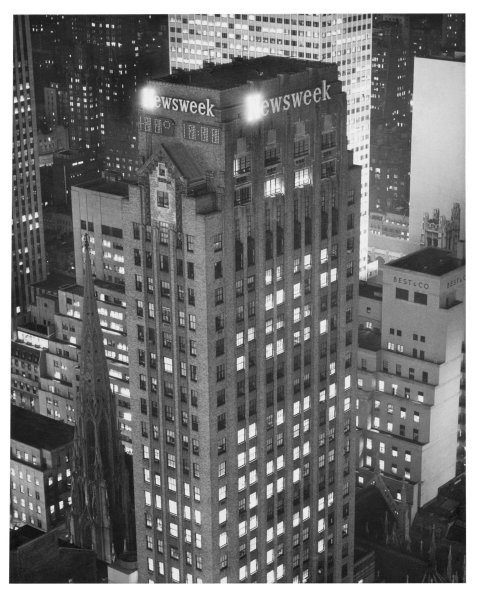 To make it up to Newsweek's real-life journalists who were not on the guest list, publisher Katharine Graham spared no expense, taking over Grossinger's resort in the Catskills for a day of recreation followed by an evening of dancing to the Beach Boys. If not the most special day in my life, it's easily in the top 10. My soon-to-be husband and I were flown from Washington—where I had been stationed as a correspondent since December 1976—to the resort in a private plane. It's a courtesy that is almost unimaginable today at most media outlets unless they were airlifting someone out of a war zone in a matter of life and death.
Arguably, airlifting a reporter to a lavish party illustrates the ways in which Newsweek—and other news organizations—sometimes went overboard when it came to creature comforts. Resources spent on actual reporting weren't always used optimally either. For instance, during the Reagan administration, we spent long stretches in Santa Barbara, California, sequestered on the beach 20 miles from the president's ranch. It was a carryover from the Kennedy assassination, after which major news organizations such as Newsweek staffed the president constantly, including during vacations—a practice that continues to this day, though without Newsweek. (Journalists call it "the body watch.") Reporters spent their days wining and dining White House staff; one Reagan staffer was known as "America's guest" because he turned up on so many expense accounts. In an attempt to get a closer view of the Reagans' ranch house, CBS installed a high-powered camera on a nearby mountaintop that could see into their kitchen. Nancy was furious, but Reagan had a sense of humor. While horseback riding one day, he clutched his chest as though he had been stricken with a heart attack. Just kidding.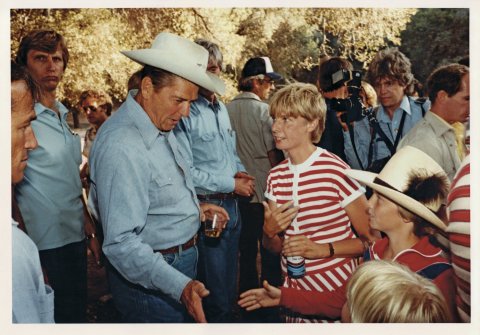 But if money was sometimes wasted, it was also true that there were the resources to tell important stories. With Reagan's reelection in 1984, Newsweek launched the first of the book projects that became the magazine's signature. Reporters were assigned to the major candidates and we would report off the record until the results were in. Then, 48 hours after the election, we would publish an issue with juicy tidbits that had gone unseen or unheard during the campaign. Later, this would be expanded into a book. I participated that first year, covering Reagan's reelection with my colleague on the White House beat, Tom DeFrank. We kept separate notebooks for weekly coverage and the book project. Though we were criticized for not reporting White House plans on tax policy until after the election, it was also true that the project gave Americans a way, after the fact, to get beyond the spin of the campaign.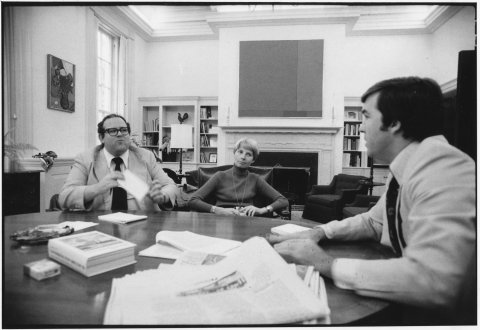 I later worked on the 2000, 2004, and 2008 book projects, and the revelations that stick in my mind are now familiar—Al Gore's fury at Bill Clinton, John Kerry's attempt to make John McCain his running mate, and the awareness within the Obama campaign that in a changing America the race of its candidate was no longer a liability, but an asset.
Deploying reporters for a product that would not appear for many months was expensive, more than a million dollars by last count, which is why the project was doomed after 2008. By that time, it was becoming clear that the world as we knew it was changing, as a younger generation of news consumers grew accustomed to the free-for-the-taking ethos that permeated the Internet. As the editors in New York fretted over declining ad sales in 2009, I remember one young colleague in Washington declaring that eventually the magazine would be "a brochure" for the website. Most of us didn't want to believe that, but he was right, and as the ad pages dwindled and the magazine grew thinner, we could see it happening.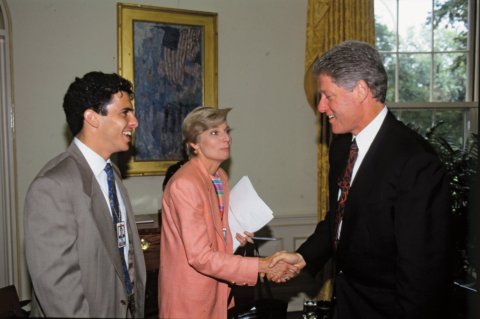 Maybe if we had recognized sooner the freight train coming at us, the adjustment might have been less painful. Gone were the stacks of newspapers delivered daily; no one read them anymore, since everyone was online. Then there was the admonition not to remove the single copies from the conference room "and watch the Sweet'N Low, that stuff's expensive." That was a joke, the kind of gallows humor that got us through the day. Mel Elfin, who had run the Washington bureau during its heyday, used a Depression-era image to explain his feelings when Newsweek was put up for sale the first time. He compared the magazine with "a lone orange rolling around on a pushcart."
I pride myself on being a survivor, and in the 50 years since I first wandered into Newsweek, I've seen a lot of change and made a lot of adjustments. The magazine that I knew is long since gone. But while I lament what has been lost, I recognize that not to change is to die, and that Newsweek, a storied brand, has another life to live, this one without me.