When French Elle editor Sophie Fontanel recently argued, by way of her sensual but anti-carnal book The Art of Sleeping Alone, that the French make better celibates, it seemed as if we may have skimmed the outer reaches of the French ideal. For decades, books about how to master the French way of living, or, quite simply, being—living implying an ungainly dose of effort—have boasted that the French cook better, eat better, dress better, and love better than you and I do. More recently, the genre has managed to outdo itself by also claiming to raise children better and, as Fontanel showed us, abstain better.
But lest one think the depths of French superiority have been fully plumbed, the latest addition to the incessant genre, Ann Mah's Mastering the Art of French Eating, shows us it's bottomless. When her diplomat husband is called away to Iraq at the start of their three-year post in Paris, Mah, a journalist, decides to dedicate herself to French cuisine. Gleaning inspiration from another diplomatic wife, American chef and author Julia Child, she goes on a culinary field trip across France, sharing stories and recipes she finds along the way. Brewing beneath Mah's mouthwatering descriptions of boeuf bourguignon and soupe au pistou is the same insinuation propping up this entire genre: that the French not only live well but better: "And yet, there was something else, a European exoticism that captivated me—a cheese course before dessert, shops shuttered in the afternoon heat, a game of boules playing in the dust of the village square," she writes of a weekend trip to Provence.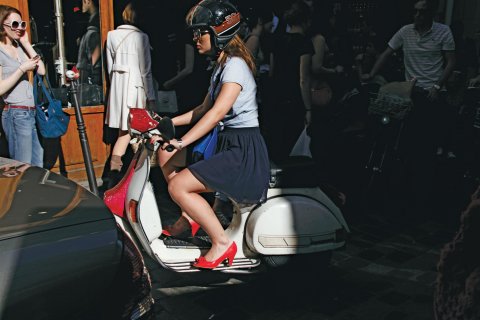 Rather than shrink from these implications of inferiority, American women, more than anyone else, it seems, have bought into it. It's a belief that has spawned an endless genre of literature—and mini-economy, as evidenced by the dominance of these books on The New York Times bestseller lists. There's the classic French Women Don't Get Fat, which has sold more than 3 million copies worldwide; French Women Don't Get Facelifts; Ooh La La!: French Women's Secrets to Feeling Beautiful Every Day; Entre Nous: A Woman's Guide to Finding Her Inner French Girl; French Women Don't Sleep Alone; What French Women Know: About Love, Sex, and Other Matters of the Heart and Mind; Bringing Up Bébé; and Lessons From Madame Chic—just to name a fraction.
The answer to why we idolize French women lies in the pages of the books themselves, which are filled with things chic and refined and which titillate and seduce—an antidote to our harried American obsession to "having it all." In contrast to Facebook CEO Sheryl Sandberg's Lean In, which instructs women on how to succeed and not step out on, firstly, their careers, the French ideal delivers a prescription for how to live elegantly, sensuously, languidly, and fully—without seeming to try much at all.
"French women avoid anything that demands too much effort for too little pleasure," says Mireille Guiliano, author of French Women Don't Get Fat. They "aren't racing to the top, because most don't consider it worth the game." They care less about being the most successful person in the room and more about being the most content. They reject the notion that success is based on how hard you work and measure their happiness instead by the amount of pleasure extracted. "With our common sense, rationale, humor, and joie de vivre the French seem to convince the world of what they want to hear: to take it easy and simply," Guiliano says, suggesting that American women might just do well to be a little less neurotic and uptight.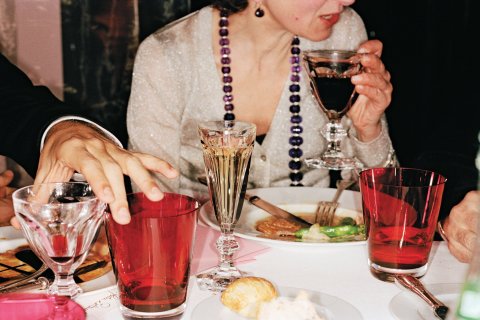 Simon Kuper, a Financial Times correspondent based in Paris—and husband of Pamela Druckerman, author of Bringing Up Bébé—puts a finer point on it. "I don't think that's simplicity," the Brit says. "They're very demanding about pleasure." Pleasure, he clarifies, isn't "going to an all-you-can-eat buffet." Rather it's about looking at food, drinks, even a space, and "really seeing it." Going to a restaurant, for example, eating a variety of oysters, and knowing which wines to pair them with. And though Kuper concedes that some stereotypes of French culture are exaggerated, our impressions that the French are more sophisticated are "largely true," he says.
Do the French find fault, then, in our desperate yearning to have it all? "I do, and my French women friends do too," Guiliano says. "You can't have it all, certainly not at the same time," she adds. While American women are busy leaning in, the French are proving the benefits of leaning out.
The secret to the French way of living—better than that American habit of striving for quantity—may be in cultivating what Mah calls a unique "appreciation of beauty and luxury [that] is inherent in French culture." Whether it's buying a "perfectly ripe Epoisses cheese" or owning "just one, perfectly tailored black dress," the key is in singularity—though at an admittedly high bar.
With their pied-à-terres and Louboutins, perhaps French women do have it all figured out. Or perhaps it's simply our blind faith in that idea that keeps us coming back for more. It's comforting to believe—true or not—that some women, somewhere, really do have it all.