Over the course of their careers, William Masters and Virginia Johnson observed 14,000 live orgasms. They were, in short, very interested in watching people have sex.
Masters of Sex, a new series about the pioneering midcentury sex researchers that premieres on Showtime on September 29, seems determined to one-up them.
By the time the pilot concludes, we have witnessed a loutish john shtupping an unenthusiastic prostitute from behind; Masters (Michael Sheen) endeavoring, unromantically, to impregnate his wife Betty (Caitlin FitzGerald); a topless Johnson (Lizzy Caplan) encouraging Dr. Ethan Haas (Nicholas D'Agosto) to go down on her; a naked blonde nurse masturbating while attached to an EKG machine; the nurse again, now robed, pleasuring herself with a giant optical dildo named Ulysses; and, finally, the same nurse writhing atop a hulking doctor in Masters and Johnson's examination room. It's as if some executive at Showtime saw Mad Men and said, "You know what that show could use? More tits."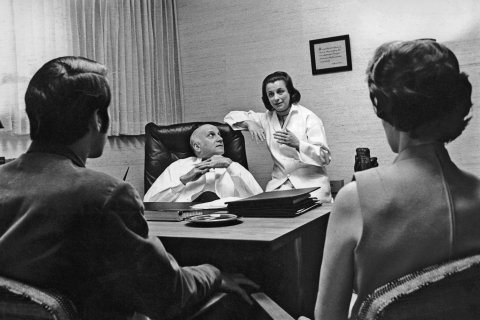 But a funny thing happens as Masters of Sex unfolds, especially in Episodes 4, 5, and 6: tits turn out to be the least interesting of its assets. Showtime made six of the series's 12 episodes available for advance screening; I devoured them in a day. The reason wasn't the dialogue, which tends to be overly expository—too much telling, too little showing. ("The study of sex is the study of all life!" Masters cries in one scene.) It wasn't the atomic-era art direction either, which after six seasons of Mad Men and two of The Hour, not to mention Pan Am and Magic City, is past the point of cliché. Nor did I watch for a history lesson on Masters and Johnson's research, which is conveyed much more accurately in the double biography by Thomas Maier upon which the series is based.
Instead, what drew me into Masters of Sex was the characters—characters extrapolated from Maier's book or, in some cases, invented by showrunner Michelle Ashford (The Pacific), then enlivened by the near-flawless ensemble cast. By discovering that women can be multiorgasmic, that intercourse may continue well into one's 80s, and that clitoral orgasms are hardly inferior to their vaginal counterparts, Masters and Johnson rescued sex from the ancient mists of myth, mystery, and religiosity, and they left America—women in particular—happier and healthier as a result. The thing that ultimately makes Masters of Sex so compelling is that it dramatizes how it felt to struggle to see through those same mists and grope one's way toward those same discoveries—not just in the lab, but in the messy lives of its characters.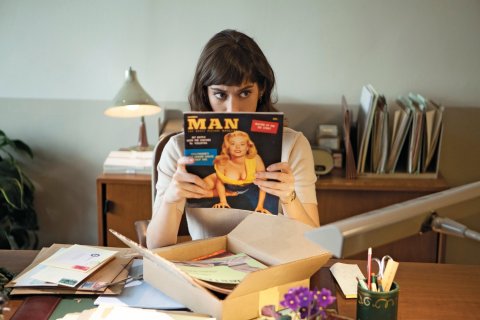 For the record, Sheen (The Queen, Frost/Nixon) looks nothing like his off-screen counterpart. The real Bill Masters was bald, thin-lipped, and stocky, with a milky, wandering left eye. Sheen resembles an elfin Tony Blair. These physical differences don't prevent the Welsh actor from capturing the Masters that Maier described in his book: cold, clinical, almost antiseptic. But Sheen's great achievement is that he manages to plumb the deeper repositories of anger, ambition, pain, and curiosity beneath Master's famously brusque persona—the neuroses that drive the St. Louis ob-gyn to risk his glittering perch at Washington University over research projects destined to make him look, as provost Barton Scully (Beau Bridges) puts it, like a "pervert." Sex bewilders Sheen's Masters. Intimacy is unnatural. Voyeurism has its allure. Yet desire, especially his desire for Johnson, is inescapable. And so Masters, ever the rationalist, channels these impulses and confusions into his work—to earthquaking effect. I don't know if the real Masters was this conflicted or intriguing; I'm not sure anyone does. But it doesn't really matter. Sheen's performance taps into something truer than biography.
Lizzy Caplan is not as well known as Sheen—she's most famous for supporting roles in Mean Girls, Party Down, and True Blood—but her Ginny Johnson quickly emerges as the star of the show. Like the real Johnson, Caplan's character is a former nightclub singer with two divorces, two young children, and a relationship to her own sexuality that's about a decade ahead of its time. "Women often think that sex and love are the same thing," she tells Masters. "But they don't even have to go together." As Johnson insinuates herself into Masters's secret research project—the doctor quickly realizes that her knowledge of women and emotional intelligence will provide the necessary balance for his formal training and technical expertise—we learn that she's a trailblazer in other ways as well. She strives to overcome university sexism and earn a sociology degree; she struggles to work and raise kids at the same time. These are heavy subjects, yet Caplan's touch is light. With black bangs and a barbed, husky voice, she may look and sound like a 1950s siren. But the truth is that she is deeply, believably modern: smart, ironic, independent. The woman of the future. Caplan nails it.
The supporting players are nearly as vibrant: Bridges as the avuncular provost who's hiding a secret life; Allison Janney as his naive, sexually unfulfilled partner; FitzGerald as Masters's coltish wife, who longs for a child but can't conceive; D'Agosto as the callow doctor awakened by Johnson's sexual prowess. Ashford seems to have calibrated each character to stand in for a wider class of people whose sense of sexuality shifted in the wake of Masters and Johnson: homosexuals, housewives, average American males. And yet, to the writers' and actors' credit, none of them comes off as a caricature. They seem like human beings.
In the end, Masters of Sex may not be the most gripping drama on television. But it's a wise and mature one—a show that treats our greatest obsession with the candor and vitality it deserves—and that's more than enough. If you're aroused by the idea of a bunch of top-notch actors registering and amplifying the earliest rumblings of the sexual revolution, by all means, tune in. If not, there are always the tits.