One of the fall movie season's biggest surprises is Rush, a high-octane racing drama about the legendary 1976 Formula One season, and the heated rivalry between drivers Niki Lauda and James Hunt.
Directed by Ron Howard, written by Peter Morgan (The Queen), and shot by Anthony Dod Mantle (Slumdog Millionaire), the film stars Daniel Brühl as the Austrian tactician Lauda and Chris Hemsworth as his reckless foil, the hard-partying, fast-living British ladies' man, Hunt.
The year 1976 was calamitous for Ferrari driver Lauda, who experienced a horrific crash at the German Grand Prix at Nürburgring. Prior to the race, Lauda had raised concerns about the track's safety conditions, but couldn't convince other drivers to join him in protest. Due to a reported rear suspension failure, coupled with a wet track, his car swerved off course, hit an embankment, and burst into flames. Trapped inside the car, Lauda inhaled toxic gases and suffered severe burns to his entire head, including his scalp and eyelids, for which he eventually got reconstructive surgery. Shortly following the accident, Lauda lapsed into a coma and nearly died. Yet just six weeks later, he was back on the track—and on Hunt's tail.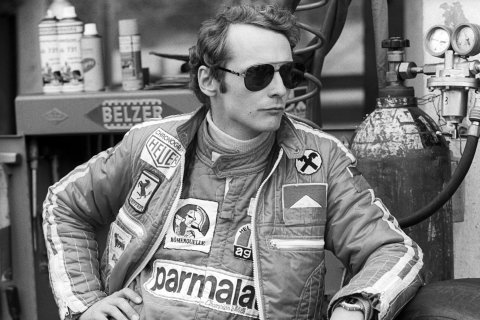 Three-time F1 champion Lauda, 64, who is now a racing commentator, spoke with Newsweek from his native Austria about the film, that perilous season, and his rivalry with Hunt.
This interview has been condensed and edited.
Do you think you come off well in the film?
Peter Morgan approached me about two years ago and said he'd like to write a script about the '76 season, and asked if I could help him with some information. At the same time, he said, "The information you're going to give me, I'm going to use the way I want it and you'll have no influence in what I'm writing." I simply trusted him and accepted these conditions. When I saw it the first time, I thought, shit, I'm really coming across very negative. But when I saw it the third time at the Toronto International Film Festival, I looked at it in an objective way like a normal spectator, and I think it's a very good movie about that special year.
You and James were such contrasting figures with very different approaches to racing and living.
You have to bear in mind that in the beginning of the season, I was dominating. I was on my way to an easy championship. Then, with the accident, James's performance as a driver during the second half of the season was really outstanding. Suddenly, the guy was so quick that even under normal circumstances, without my accident, he'd be really tough to beat. We were big rivals, especially at the end of the season, but I respected him because you could drive next to him—2 centimeters, wheel-by-wheel, for 300 kilometers or more—and nothing would happen. He was a real top driver at the time.
How would you characterize your relationship with James?
In the '76 season, it was not friendly at all. But when he retired, I met him a couple of times in London, and he was completely broke because he had invested his money wrong and all kinds of things. I told him, "Listen, James, you can't go on like this." I lent him some money and told him to stop drinking and get going. For the last four years of his life, he was absolutely fit, didn't drink anymore, worked for the BBC at the races, and was absolutely perfect. I was so sad when he died of a heart attack.
Oh, I had a couple of nights out with James ... or a lot of them. The only difference was that I did it mostly on Sunday, Monday, and Tuesday, after the race, and he did it on Friday and Saturday, before the race. We'd go out drinking and then try to find where the girls were. James was outstanding, let me tell you. He had a very good reputation with the women. A very good reputation. He knew what he was doing.
Let's talk about the crash. Do you remember anything from it?
I remember nothing. The interesting thing was that I hit so hard on impact, I lost memory for about three hours—completely. If I had not seen the 8-millimeter footage taken of the crash by this young boy, I would not have known what happened. This movie by this little kid was really important to get a picture of what happened, because even today, I have no memory other than what I've seen.
When you saw Rush, was it tough to relive the accident?
The crash was tough to watch. I watched it with Formula One driver Lewis Hamilton. He was really frightened when he saw the hospital scenes. I have to say, they were done so well that I really thought, shit, this really looks bad, what I had to do to stay alive.
It really happened! This guy really asked me these questions about my burns. I know the guy and he's still around. I asked him later, "What were you thinking?" And he said, "I was young and stupid."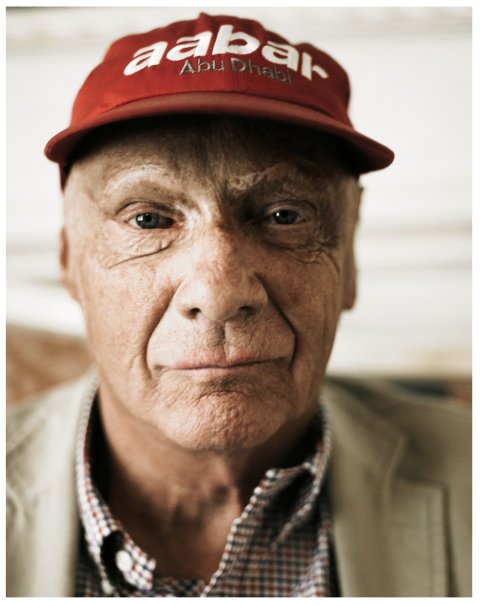 What was your first race back like after the accident?
It was in Monza, Italy, six weeks later, and it was the most important race for Ferrari. I tried the car a week before on the Ferrari test circuit to check if the helmet would hurt me because of my burns, as well as my other physical ailments, and it went fine. But then, on the Friday test run, I couldn't drive. I went back to the hotel and asked myself, why is this not working? Then I went back on Saturday, which was the final qualifying for the grid, and I said to myself, don't look at any times, just get used to driving again. So, I went out very slow, and then got quicker and quicker, and I got more confident in my handling of the car. I ended up fourth in the grid and knew that if I worked hard enough, my comeback would be a success.
How dangerous was Formula One back then, compared with today?
Oh, you cannot compare. In my day, 1 or 2 guys got killed every year, and there were 18 or 20 guys total driving. The danger was enormous. The last deadly accident was Ayrton Senna nearly 20 years ago. F1 is really developed today. The circuits are changed, you can't hit anything any more, and the cars are 20 times safer—they're carbon fiber and can't catch fire anymore. It's so much different than 30 years ago.
And advertisers now pay millions for space on your trademark sports cap that you initially wore to cover up your burns.
I did wear the cap in the beginning to protect my burns and protect myself from the stupid views of people who were always interested in seeing how ugly I looked, where the burns are on my head, what's up with my ear, and all these kinds of things. And then Parmalat came along and said, "Why don't you use your hat as a sponsorship location?" That keeps on going until today. Honestly, I feel better with a hat. It protects me.