Destroying Syria's huge caches of Sarin, mustard gas, VX and other chemical agents won't be easy – or cheap. And President Bashar Hafez al-Assad won't be footing the bill, even though it is Syria's responsibility according to the chemical convention it signed last month.
How much will it cost? Estimates range from several hundred thousand dollars to $1 billion and beyond – perhaps far beyond. It's hard to put a price tag on it because the proposed operation is unprecedented. Not only is the timetable tight but this would also be the first attempt to get rid of toxic agents in an active war zone.
The work will be supervised by employees of the Organization for Prohibition of Chemical Weapons (OPCW) – a Hague-based agency that as a senior diplomat at the U.N. put it is "a charming, dozing organization that suddenly has been reawakened" – who have never attempted anything so complex before.
A group of 14 United Nations officials and 19 OPCW inspectors landed in Damascus this week and started observing as the Syrians "destroy" things. In reality, as another diplomat explained, this week's work was a Syrian-driven "show" meant to reassure outsiders of Damascus future cooperation, rather than a true beginning of the dismantling process. In a report to the Security Council this week, U.N. Secretary General Ban Ki-moon estimated that a joint staff of U.N. and OPCW officials will grow to 100 – not counting unexpected security considerations.
And even when completed, the dismantling of production, mixing and filling equipment, which has reportedly started this week, is only the early and easiest stage. Planning for the toughest part, ridding Syria of the toxic chemical caches, has not started.
Meanwhile, the OPCW director general, Ahmet Uzumcu of Turkey, set up a trust fund last week, hoping wealthy countries will contribute to it. As he explained, the agency's regular budget will not begin to cover the cost of the Syria operation, even at its lowest estimates. Separately, Ban set up another trust fund at the U.N. He also allocated – out of an emergency U.N. budget – $2 million for the initial stages of the operation.
The United States has already given $2 million in initial funding for the OCPW's Syria operation. "We want this mission to succeed in a transparent and effective manner and as rapidly as possible," said State Department Spokeswoman Margo H. Squire , adding, "We are prepared to provide more support as the process goes forward." Much much more, in all likelihood.
While most other nations expect America to pay most of the bill, it is not entirely alone. Soon after foreign ministers of the Security Council 15 members voted unanimously to approve the Syria detox plan, Foreign Secretary William Hague of Britain pledged a $3 million contribution to the effort. Switzerland pledged another million and Germany added $2.7 million. Others came up with similar pledges.
According to the U.N. resolution's ambitious timetable, on October 28, the OPCW will inform the Security Council on its plan of work. But no one at the council expects a price tag to be put on the operation in those briefings. "It's too premature," said Agshin Mehdiyev, the U.N. ambassador of Azerbaijan, which assumed the rotating presidency of the council this week.
So far, the most authoritative official estimate has come from none other than Assad himself. "It needs a lot of money," Assad told Fox News last month. "It needs about one billion [dollars]. It is very detrimental to the environment. If the American administration is ready to pay this money and take the responsibility of bringing toxic materials to the United States, why don't they do it?"
To recap, Assad did not say, "Make my day." He said, "Make my payment."
Nor is his $1 billion estimate far-fetched. Philipp Bleek, a former Pentagon official charged with dismantling weapons of mass destruction, who is now at the Monterey Institute of International Studies in California, points out that the U.S. will spend at least $35 billion to get rid of a little over 30,000 metric tons of its own chemical agents.
Syria declared that its arsenal size is 1,000 metric tons – according to sources, mostly of unmixed agents (which, incidentally, are easier to destroy than already weaponized chemical munitions).
So if Syria dismantles its poison weapons under similar circumstances, the cost would indeed add up to about $1 billion. Except, of course, the circumstances are different, which they most certainly will be.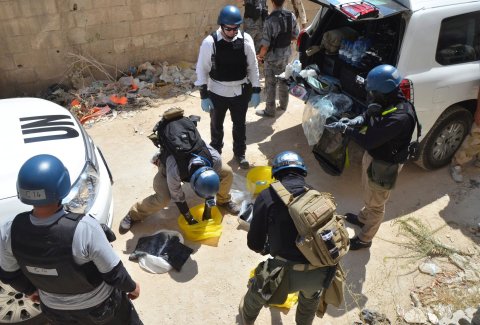 For one thing, the costliest and most complex part of the operation will be the last part, the actual destruction of agents stored around the country. Syria doesn't have the right facility to destroy those chemicals, meaning one will have to be built – at that could cost in the neighborhood of $1 billion alone. For another, security will not just complicate matters but will also add to the cost. While Assad's army is believed to control the sites where the chemical agents are stored, rebels hold positions nearby – in some cases just hundreds of yards away. Thousands of foreign troops, probably provided and financed by the U.N., could be needed to protect the OPCW's inspectors charged with overseeing the destruction.
There is another option: Remove the material for destruction from Syria and destroy it elsewhere. Although the chemical convention forbids moving toxins across national borders, "nothing is off the table" in Syria's case, says the OCPW spokesman, Michael Luhan.
According to Bleek, the chemicals could be moved to Russia's naval base in western Syria, then shipped to Russian territory, where six incinerating facilities are already operational. Shipping such hazardous material safely, however, is very expensive. It will also take a great deal of political persuasion, as Russia's U.N. ambassador, Vitaly Churkin, told me that Moscow is strongly opposed to such a plan.
Assad's poison weapons could also be sent to a neighboring country, most likely Jordan. But that means not only paying Jordan a hefty sum for its cooperation, but also building a costly incinerator there.
Of course, this seems like money well spent – but spent nonetheless.