"Every reading is kind of like a snowflake," 28-year-old Bay Area tarot reader Alese Osborn tells me before reading my cards over the phone. It's Wednesday, Osborn's day off from her hectic metaphysical schedule — she hosts readings at a popular vintage store in San Francisco's Mission District on Sundays and Thursdays, an Oakland cafe owned by the founder of Internet search engine Ask Jeeves on Mondays, and saves her weekends for larger events at places like Bloomingdale's — but she cheerfully fits me in, although she has to hang up halfway through to catch a ride to a babysitting gig. "I think we can rock it ;)" she reassures me via text, along with a peace sign emoji.
She later texts me a photo of my tarot spread, which is, apparently, "pretty healthy." Phew.
Until recently, I wouldn't have been able to listen to Osborn detail the kinetic energy running through my body without cracking up, but chilled-out multitasking hipster psychics don't seem so eccentric anymore. Upwardly mobile millennials are often accused of being self-obsessed and afflicted with "special snowflake" syndrome, but that's not the only reason more and more smart, savvy and usually cynical 18-to-30-year-olds are dabbling in the occult, from astrological natal charts and tarot to séances and full-moon ceremonies.
We're currently in the middle of an occult revival, says Jesse Bransford, a New York University art professor who co-organized an occult humanities conference earlier this month. He sees a connection between increasing interest in the occult and postrecession anxiety. Magic "has always been a technique of the disenfranchised," he says. "It's something you do when the tools you have available don't seem like they're enough."
These people aren't just wearing black lipstick and watching witches hex each other on-screen; they're also experimenting with, well, sorcery.
Millennials across the country told Newsweek that astrology and tarot are their favorite supernatural tools for combating existential angst. "Astrology has very firm structure," explains elite astrologer Susan Miller, whose utilitarian horoscopes—she's more likely to advise on student loans than auras and prefers to call her work "mathematical" instead of magical—attract 6 million unique visitors every month, 73 percent of whom went to college or graduate school.
Millennials are the least religious generation in history; according to a 2012 Pew study, one third of adults under the age of 30 are unaffiliated with any particular faith. At the same time, a 2001 Gallup poll found that Americans' belief in psychic and paranormal phenomena — particularly psychic healing and extrasensory perception — significantly increased during the 1990s and has held steadfast ever since. Some 20-somethings told Newsweek they appreciate the supernatural because it's a nondenominational method of self-exploration that reminds them that the world is both older and bigger than they are. "It's embarrassing to admit you're religious," says Hilary Pollack, a 27-year-old who recently moved to Brooklyn. "But I think a lot of people my age are sick of being nihilistic. Spirituality is a lot cooler."
Tarot is "super useful for clarifying my own confused feelings about where I'm headed or what I'm doing," says Allison Chomet, a 23-year-old digital archivist in Philadelphia. Martha Windhal, a 30-year-old tarot reader in Los Angeles, says she's always turned to tarot and astrology when things were difficult in her personal life; she started reading professionally after she graduated from college and couldn't find a job. "They're untapped resources when you feel like you have a loss of power," she says. Business is so good that Windhal can pay her rent by booking private appointments and packed events—she recently did 40 consecutive readings one day at the New York Art Book Fair.
Occult revivals happen regularly throughout history and are often "intensely marginalized," the Occult Humanities Conference's website explains. But this time, the revival seems to be a crossover hit, going mainstream, as evidenced on screen—Witches of East End, Beautiful Creatures and American Horror Story: Coven are just a few of the witchy films and TV shows that debuted this year – and even on the fashion runways; The New York Times reported in March that witches had recently "attained a strange cachet," sartorially speaking. Mysticism sells: Los Angelenos and San Franciscans can get their tarot cards read while shopping for 1970s Yves Saint Laurent blazers at The Painted Bird, recently named one of the best vintage stores in the country by Elle magazine. The $14 prayer candles on Urban Outfitters' website are so popular that you currently have to order them more than a month in advance. Theresa Pridemore, a Portland, Ore., designer who uses tarot to help clients brainstorm business branding, uses IndieGogo to help fund her Portland-inspired Tarot deck, which features digitally collaged portraits of city landmarks and quirky locals. Pinterest, the content-sharing service that allows members to "pin" and share images, is glutted with alchemical imagery and "cute girls in long gauzy dresses performing séances," says Jocelyn Zorn, a 23-year-old from Oakland. Posts on Tumblr Coven, a popular Tumblr community outlining safe Ouija board use and "herbs for balancing and cleansing," receive hundreds of notes.
One 25-year-old Brooklynite who works in publishing recently complained that all her friends ever want to do these days is go to full moon ceremonies. She wasn't being hyperbolic: Wanna-be Brooklyn witches can spend their Friday nights attending magic workshops hosted by the Moon Church, "a community of women giving new life to the archetype of the witch" founded earlier this year, dancing with the Witches of Bushwick, a "coven" of artists who joined together to host eerie-themed events in 2012, or checking out the The Witches Compass, described on Facebook as "an interactive ritual environment and celebration in which participants are guided along 'the crooked path' of sorcery, to work both the mysteries of the Waxing or Waning Moons."
That's only if they don't have a private séance to attend. Rachel Rabbit White, a young freelance journalist, recently attended a séance at an apartment in Brooklyn's Williamsburg neighborhood along with a handful of "smartly dressed and slightly alternative" young women in "twee dresses and oversized eyeglasses." It was a pleasant evening, she said, during which participants' ancestors offered advice on relationships and "things you should or shouldn't do for your skin."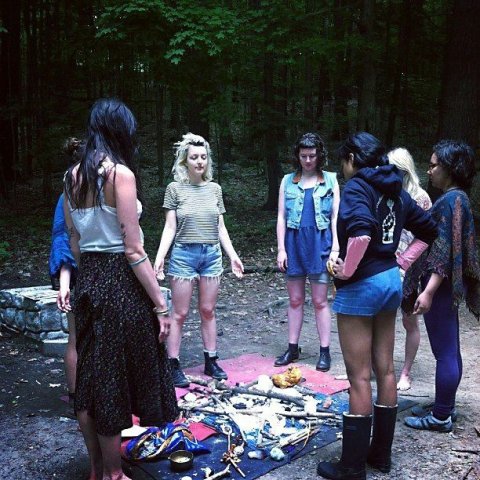 Women and the LGBTQ community are particularly attracted to the supernatural because it's not patriarchal, says Lynsey Harrington, the 22-year-old founder of Moon Church, which hosts new moon ceremonies, performance art events, and workshops on herbalism, aromatherapy and magic for female-identified people. "I don't particularly want to be part of anything the patriarchy is a part of," she says. Many of the women historically targeted by witch hunters were, after all, misunderstood lay healers and midwives; churches may no longer burn women at the stake, but they are still controlled by men. Rebecca Gowns, a 25-year-old freelance editor from Los Angeles, says queer women like herself are drawn to the occult because they "seek outside validation" but don't want to be talked down to by priests and pastors. Astrologers and psychics are more like trusted, nonjudgmental friends.
Multiple 20-somethings told Newsweek that they enjoy dabbling in different metaphysical practices without subscribing to one doctrine. "The great thing with astrology is that you can sort of take it or leave it," says Gowns. "It can give you your motivation for the day, or you can skim it and be like 'eh.' " White says she often Googles random ritual instructions, which make her feel "grounded," from sites like "The Goddess Within – a Pagan Place for Women," on which forum users share tips including "spiritual cleaning with eggs." (Pro tip: "An egg can be used to cleanse oneself of any trace of spiritual negativity from contact with evil or malicious people.")
"You have all these people who are disillusioned with big institutions – religions, corporations, big money – who want to connect to a larger meaning," says Occult Humanities Conference co-organizer Pamela Grossman, a teacher of magical practice and history. "Now, they have ancient practices that were once hard to access at their fingertips."
Others, however, don't take it that seriously. "I would think of it as adding those 25-cent vitamin powders when you get a smoothie at a health store," Gowns says. "Whether or not it actually does anything, you feel good knowing that you're going that extra little inch for yourself."
And some don't take it seriously at all. "It's hard to say if anyone is actually invested in any of this occult stuff they meddle in," says Pollack, who says many of her friends have abandoned their healing crystals. "It almost devastates me to say this, but daily life can be so mundane. Applying thematics of epicness to your life makes it more exciting."