Not since the days when doctors hawked Camels have cigarettes and good health been used in the same sentence. But if the owners of the Henley Vaporium, New York City's first e-cigarette bar cum social hub in SoHo, have their way, e-cigs - preferably the two-year-old Henley brand for sale there - will be on par in the collective cultural unconscious with the raw food movement and Ashtanga yoga. A few days after their launch, the bar stools were filled with customers exhaling e-cig vapors while consulting with the white-coated "Vapologists" behind the alcohol-free bar.
Good health was what drew Henley Vaporium's co-owner Talia Eisenberg to e-cigarettes. When the 20-something former art gallery owner, downtown socialite, and self-described reformed party girl was in Boulder, Colorado, trying to get clean a few years ago, she worked out and ate healthy foods - all between smokes. "I was literally taking cigarette breaks while mountain climbing," she says, shaking her head. "I knew I had to quit."
She claims she quit cigarettes for good after trying electronic cigarettes, which vaporize a "smokeable" nicotine solution without the traditional cigarette's ash, tar, or smell. It was then that she decided she wanted to get in on the burgeoning e-cig business. Two years ago she and a team of entrepreneurs created Henley brand e-cigarettes.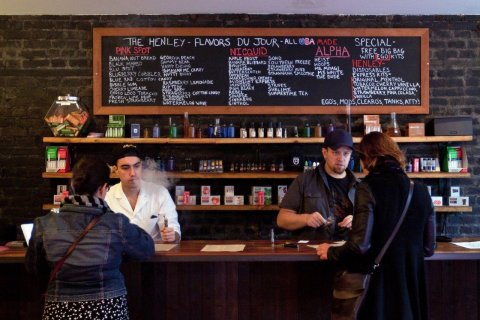 The 2,700-square-foot Henley Vaporium is a sort of showroom for that brand. Visitors over the age of 18 can sample either disposable or rechargeable e-cigs, and there are more than 80 flavors to choose from, in nicotine concentrations from 0 to 24 milligrams. In a separate room, visitors will soon get to choose from more than a dozen different kinds of cold-pressed juices, complete with organic coffee and vegan food. Eisenberg also wants the Vaporium to be a cultural space that hosts live music acts, film screenings, and talks.
E-cigarette manufacturers are not allowed by law to make health or safety claims for them, which keeps them free - at the moment, anyway - from FDA regulation. This could change in a matter of weeks, however, as more than 40 attorneys general have urged the FDA to treat e-cigarettes like a tobacco product and to regulate their advertising, ingredients, and sales, especially to minors.
No matter what the FDA decides, some people are skeptical that yoking together health food, free Wi-Fi, street art, and cultural events will attract erstwhile smokers to Henley Vaporium. "The Henley Vaporium," sniffs a commenter on BoweryBoogie.com, "will be a bust and gone before spring comes around." But Henley's spokeswoman Teddie Davies seems confident that locals, at least, will get it. "New Yorkers are extreme," she says. "They're either partying like crazy, smoking, and doing drugs, or going vegan and SoulCycling. There's not often a lot in between."