Meet John Ryan, who at a height of six-foot-ten inches is a candidate for the world's tallest person with a Napoleon complex. At every basketball practice at the University of California, Irvine (UCI), Ryan finds himself posting up against either seven-foot Conor Clifford, seven-foot-two Ioannis Dimakopoulos or seven-foot-six Mamadou Ndiaye.
"There are days when I think to myself, I need to be a shooting guard," says Ryan. "Honestly, no one can get a lay-up on us when we play a two-three zone."
Behold what is potentially the tallest front-court in the history of Dr. Naismith's game. The use of "twin towers" to describe a pair of seven-footers in the same starting five dates back to the mid-1980s and the Houston Rockets' Ralph Sampson (seven-foot-four) and Hakeem Olajuwon (seven-foot). But a towering triumvirate is a novelty.
At seven-foot-six, seven-foot-two, and seven-foot, respectively, Ndiaye, Dimakopoulos and Clifford would form a trinity unlike anything hoops has ever witnessed - except that Clifford, a sophomore, plans to redshirt this season, so the lofty revolution will have to wait a year. Ndiaye and Dimakopoulos are both true freshmen, and only Dimakopoulos was in the starting lineup for the Anteaters' season opener against Fresno State on November 8, a 98-97 overtime loss.
What is germinating in Orange County, far above the nose of UCI coach Russell Turner, is the future of basketball: players who eclipse the 84-inch barrier and whose potential renders geopolitical boundaries meaningless. While Clifford hails from nearby Huntington Beach, Dimakopoulos is originally from Greece, and Ndiaye from Senegal. And at New Mexico State, brothers Sim and Tanveer Bhullar, who stretch the tape at seven-foot-five and seven-foot-three, respectively, are Canadian-born and -raised, but of Indian heritage.
UCI's freshmen imports, Dimakopoulos and Ndiaye, both immigrated to southern California as teenagers. "I went up against Mamadou during tryouts for a traveling team in high school," Clifford recalls ruefully. "Honestly, it took me a full three days to recover from it. He's such a massive being that it's physically exhausting. On the ride home my dad just shook his head and said, 'Connor, you did as well as you could.' "
Ndiaye's journey from a home in Dakar to the starting lineup at a Division I school has been extraordinary. He relocated to the United States four years ago to play basketball at Stoneridge Prep, a private academy in Simi Valley, Calif. A school official at Stoneridge suspected Ndiaye was suffering from gigantism, and an MRI revealed a golf-ball-size tumor pressing down on both Ndiaye's pituitary gland, which controls growth, and his optic nerve. The Senegalese teen's sight, if not more, was in jeopardy.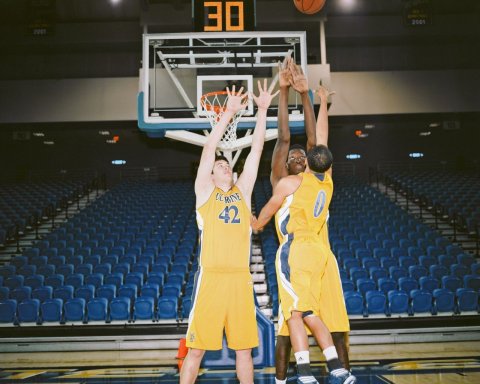 This is where Ndiaye's tale begins to read like a cross between The Blind Side and an episode of House. Ndiaye underwent a pair of emergency surgeries, each funded by charitable donations, at Hoag Memorial Hospital in Newport Beach, Calif. A nurse from the intensive care unit who met Ndiaye in post-op after his first surgery decided, along with her husband, to become his guardian. The couple, who have two children of their own, are both legal and literal guardians: Ndiaye does not speak to the media and even the couple's identity is a well-kept secret.
"Mamadou's an easy guy to want to help," says Turner, the Anteaters' coach. "He's intelligent. He's sensitive. He's genuine. He just happens to be completely unique."
That he is. Despite his 90-inch stature, Ndiaye can do a standing backflip into a pool. He also speaks five languages. Athletically, Ndiaye is far more advanced at this age than, say, former NBA seven-foot-six (and 76er) Shawn Bradley.
Turner, who is six-foot-seven, has known about Ndiaye since the regal African first landed in Los Angeles. Former Anteater assistant coach Amadou Koundoul discovered Ndiaye in an indoor gym -correction: the indoor gym-in poverty-stricken Dakar. Turner's wife is an intensive-care unit physician, so Turner understands what Ndiaye has had to overcome physically.
"I know everything about Mamadou," says Turner, who had the opportunity to coach another big man of some merit, Tim Duncan, when both were at Wake Forest University in the mid-1990s. "I even went to Senegal last summer to meet his family."
Turner's pilgrimage to Dakar, the western-most city in Africa, was memorable. His flight was making a stop there before continuing on to tourist-friendly Cape Town, South Africa, and as he attempted to deplane every flight attendant tried to tell him that he had not yet arrived at his destination.
"No, this is my stop," Turner said again and again.
When the coach met Ndiaye's family, he encountered relatives whom he believes had never before seen a white person up close. "They were looking at me, wondering what I was doing there. I was wondering the same thing. It helps me to empathize with Mamadou's situation [now]."
It should be noted that Turner matched Ndiaye with fellow freshman Jaron Martin, who at five-foot-ten is the Anteaters' shortest player, as dorm-mates. Empathy has many different inseams.
It is ironic that the most towering presence in the history of the Anteater basketball program is former NBA guard Scott Brooks, who stands five-foot-eleven and is currently coach of the Oklahoma City Thunder. Clearly, the advent of the towering trio is a chance for UCI to scale new...well, you know.
"I say to my staff, 'It's a rare and great opportunity we have here,' " says Turner.
And one that he hopes his fan base will also appreciate. Two months ago, at a school charity event, he tried to auction off a day with his three seven-footers. "I thought it would be kind of cool for someone to be able to take the three of them anywhere they want (a pickup game at Laguna Beach, for example). But you know what? The bids were so low that we didn't even bother."
NBA general managers, take note. Once upon a time, nobody was interested in bidding on Ndiaye.