In the summer of 1992, Charlotte Eagar, a writer and classics scholar, was listening to a radio production of the Euripides antiwar play The Trojan Women on the BBC.
At the time, Eagar was working alongside Bosnian refugees, and she was struck by the similarities of the horrific stories set during the time of the Peloponnesian war and the modern conflict in the Balkans.
"War never changes. It's eternal," she said. "The Trojan Women was produced in 415 B.C. Yet there were the same stories of rape, murder, and the horror of war that I was hearing every day from Bosnians."
During the three years she spent living in the besieged city of Sarajevo, Eagar never forgot Euripides's horrific tale of the brutality inflicted on the civilian population by the Athenians.
It took her two decades to find a way to stage the play so that the message - if you wage war, the consequences will come back to haunt you - could be shared with the modern world.
Jean-Paul Sartre had updated the play by superimposing the themes of European imperialism in Asia. But Eagar felt the Syrian civil war offered an excellent chance to revisit the Greek tragedy.
Euripides's play, part of a trilogy, follows the fates of the women of Troy after their city has been sacked, their husbands killed, and their families were about to be taken away to Athens to live the rest of their lives as slaves.
When the Bosnian town of Srebrenica fell in July 1995, more than 8,000 Muslim men and boys were slaughtered by Bosnian Serbs. Their surviving women bonded and took a stand against the genocide, in the hope that by their example such a tragedy might never be repeated.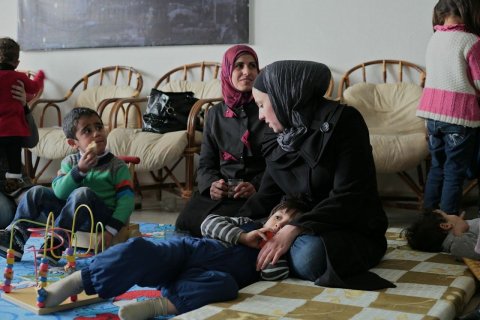 For Eagar, there was even more terrible resonance between Euripides's words and modern warfare.
"I remember thinking the similarities between Bosnia and the play were haunting," Eagar said. "Cassandra's rape, the murder of the brothers - it was the same," she said. "And now, the tragedy of Syria."
As the Syrian war escalated, Eagar, along with her husband and fellow classics student Willy Stirling, decided to produce the play using Syrian refugees living in Amman, Jordan.
They set about raising $125,000, cajoling friends and begging sponsors by raising the misery of war as a topic at London dinner parties. They combed their address books for likely donors and plotted how best to bring a complicated and ancient story up to date.
Then they set to work, adapting the text to include shared stories of Syrian refugee women, recruiting Syrian producers and a well-known director from Damascus, Omar Abu Saada, who had worked at the Kennedy Center in Washington, D.C. Abu Saada was living in Syria, but intrigued by idea of a modern Trojan Women, he agreed to direct.
"I wanted to find a way to [show] what it was like to be a refugee," said Abu Saada. "I always loved this play. Then I saw my country falling apart and the similarities were too close."
He said that until now, the story of the Syrian war from either side has come solely from men. "It's a different story from the women. For them it's for life and against war. Maybe it's nearer the truth."
Abu Saada uses a rented space in downtown Amman to guide the women through acting exercises and drills. He does not see any difficulty in directing a team of untrained, raw actors, many of whom are illiterate and have never heard of Euripides or even Greek tragedy. Many of them are also conservative Muslims and have never done anything outside the jurisdiction of their husbands, fathers, or brothers. The experience for the women is liberating.
"In fact, I think that by bringing their own pain and experiences to the stage, they make it more powerful," Abu Saada said.
Eagar and her team arrived in Jordan last month and set up an open casting call for actors among the urban refugee population in Amman. An earlier attempt in Lebanon's Bekaa Valley proved too difficult.
Rather than scouting refugee camps for actors, she decided to highlight the isolation refugees in big cities suffer, knowing no one and being forced to leave their family behind. Jordan is currently home for 540,000 registered Syrian refugees.
Eagar and Stirling - who earns cash by working as a loft-installation salesman - had performed a similar theatrical feat once before. In a Nairobi slum they taught poverty-stricken Kenyans to act and produce short movies based on their own experience. But the Syrian catastrophe - a war entering its 32nd month, which has displaced 6.5 million inside Syria and forced 2.2 million more to find sanctuary outside its borders as refugees, adding up to a total of almost 9 million displaced people - was a more momentous challenge.
"I wanted to share the experience of these refugee women told through the characters of Queen Hecuba and Cassandra," Eagar said. "But I also wanted to know how an ancient text could be performed in the same situation, 2,500 years later."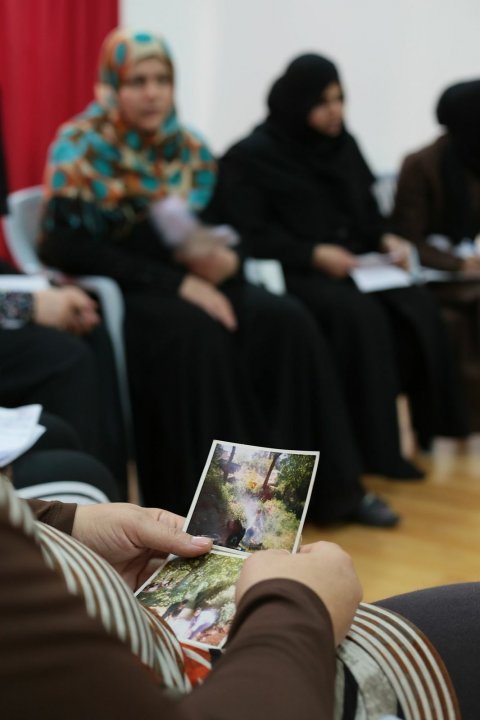 The play will open December 17 for three nights in a 250-seat Roman theater in Amman. One of the 48 Syrian women in line for an audition is 25-year-old Faten. A former student of Islamic law, Faten fled the Syrian city of Homs in April 2012, leaving behind her two brothers and her father.
To escape the war she piled into a car with other women, walked for days though the desert, and was smuggled across the Jordanian border before she got to Za'atari refugee camp, north of Amman, which houses 100,000 refugees.
Faten could not bear living in a refugee ghetto. She left, settled in East Amman, where she shares a single room with numerous nieces, nephews, cousins, and her elderly, sick mother. "It's very noisy," she said.
A few days into her new life, Faten learned that her father and brothers were killed in their own home by regime soldiers and paramilitary forces.
"[My father and brothers] had nothing to do with the revolution," she said tonelessly. "They just chose to stay behind in Homs to protect our home." She began to cry.
Faten has never acted before, but she says the play "touches my heart." She wants to play Queen Hecuba, one of the main characters, who is taken away as a slave after the tragedy of defeat overtakes her and her children. Hecuba has been played by Katharine Hepburn, Vanessa Redgrave, and Irene Pappas. But Faten is not intimidated by this. She feels she is entitled to play the role of the embattled queen who watches her country and her people torn to pieces.
"It is 100 percent the tragedy the Syrian people are living now," she said. "What happened to her has happened to me. I was a student. The regime killed my family. They burnt all my books. Hecuba lost everything, too." The outpouring of emotion that she is enduring -- borne of frustration, rage, and sorrow, she said -- will be transmitted into her character.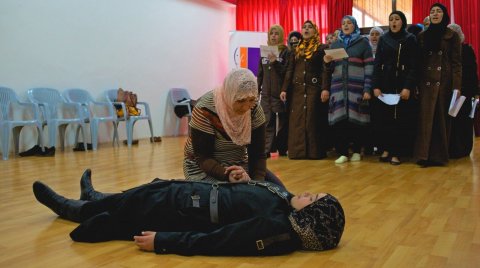 Another refugee from Homs, Khadija, 37, will also play a character in the play, though which is not yet decided. A religious woman and the mother of a small child who also was smuggled over the border, Khadija arrived at rehearsals in headscarf and full black abaya - a long robe covering her body.
"I left all my jewelry, my clothes, everything," she said. "I took only what was on my back. And, of course, my child."
A strict Sunni Muslim, she does not believe her conservative religious views should prevent her from expressing her own life and story of the war on the stage. Khadija's husband, who arrived in Jordan with her, is encouraging her to take part in the play.
"The important thing is to share with people what is happening with us," she said.
"When you become a refugee, you lose your identity and status," explained Eagar. "The play gives them back a sense of what they were. They want to share their stories.
"The Greek chorus will be made of the refugee women, and [actors depicting] the 'U.N. Security Council' will be the gods who make the decisions," she said.
The show will undoubtedly have hiccups - the actors are inexperienced, and as Eagar is currently only covering their living expenses, there is the question of how they should be paid.
After the opening night, the troupe plans to tour. A movie version is also being planned.
Eagar does not expect to make much money from the experience. But she believes the words of Euripides echoing down the centuries can have a lasting and important effect both to the women who perform them and those who witness the play.
"It feels important for someone to listen to them," she said. "They have been empowered by their own trauma."
Peter Kessler from UNHCR (United Nations High Commissioner for Refugees) in Amman agrees. "Fleeing conflict and persecution, and everything familiar in your homeland for an uncertain life in exile is never easy," he said. "After all they have experienced, many women need counselling. But that isn't always easy to get. Involvement in Trojan Women has inspired the participants."