The all-thumbs rollout of Obamacare has been a technology debacle, but the biggest malfunction could turn out to be on paper.
For millions of Americans scrambling to sign up for government-mandated health insurance by the December 23 deadline, offline problems have been a huge hurdle. Glitches at HealthCare.gov, the website behind the federal insurance program, still hog the headlines, but many people who opted to use paper applications have experienced long delays that put their coverage in limbo. "There are people who have just not heard back," says Jan Plummer, a coordinator at Mountain Projects, a community action agency in Waynesville, N.C., and Silva, N.C., working to enroll local citizens.
Adding to the pressure those people are feeling is the fact that simply mailing in an application by the deadline is not enough: Applicants must get their forms fully approved and select an insurance plan by December 23 in order to have coverage on January 1, 2014. At least one former government employee wonders if that requirement sets up the federal government for lawsuits from consumers ensnared by delays. "Health and Human Services [HHS] may be vulnerable to a class-action suit because every other government benefit program I have worked with based the beginning eligibility month on the date filed, not the date processed," says Timothy Albright, a retired, mid-level Social Security Services executive in West Branch, Mich., who worked on processing Medicaid payments.
Paul Mundt, a lawyer with Southern Minnesota Regional Legal Services, a nonprofit group assisting low-income people, says "policies vary across programs, but this is a legitimate concern." Obamacare's implementation laws require the federal government to process applications in a timely manner or give consumers the opportunity to challenge delayed or bungled decisions.
How did the paper part of the Affordable Care Act become so balled up? One culprit is a big flip-flop by federal authorities on what it was urging applicants to do. But a big part of the blame falls squarely on Serco Inc., the Reston, Va.-based arm of Serco Group, a British technology and services company responsible for processing paper applications, according to documents and data from HHS, the agency overseeing Obamacare, and interviews with counselors helping people sign up for insurance.
Serco has been partly shackled to the faulty HealthCare.gov website run by another contractor, CGI Federal. But it has also created plenty of problems on its own.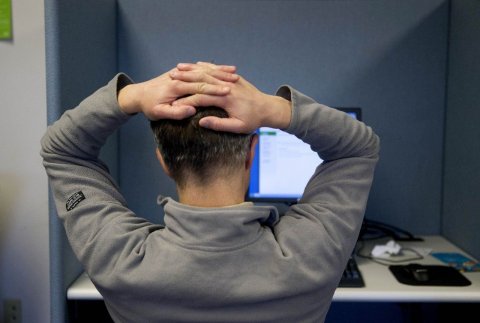 Serco is responsible for processing all the paper applications funneled through the 36 state exchanges run or overseen by the federal government - the "federally facilitated marketplaces." The other 14 states have set up their own exchanges and handle their own processing of both online and paper applications.
"Serco is prepared to manage the estimated 6.2 million paper applications [that] are to be received between October 1, 2013 and March 31, 2014," John Lau, the Serco executive in charge of the contract, told a congressional committee on September 10, citing Congressional Budget Office projections that one in three applications would come in via paper.
Serco receives all mailed forms from the United States Post Office on Laurel Road in London, Ky., an Appalachian town of 6,052. Its employees key in by hand or scan data from the handwritten forms into the HealthCare.gov system, review them for completeness, validate the data, process requests for appeals, and notify consumers, typically via mail, of any problems with their applications. Serco does that final processing in either London or in Rogers, Ark., and says it plans to open two more processing sites, in Missouri and Oklahoma.
Like the federal website, Serco got off to a slow start. The company, say counselors who are guiding consumers through enrollment, has had many problems, including software hang-ups in converting paper applications to an electronic format; delays in determining which applications lack complete information; and delays in transferring applications to state agencies serving low-income people. Those agencies are Medicaid, which serves 60 million people, and Children's Health Insurance Program, which covers 8 million children. Testifying before the House Energy and Commerce Committee on October 24, Lau said the company had only converted half of the paper applications it had received to online files to date.
Serco has also been slow and awkward in its follow-ups with consumers. In Michigan, for example, its representatives began calling applicants in mid-November - six weeks after enrollment opened - to review their paper applications and seek additional data, according to the Michigan Primary Care Association (MPCA), a group serving 600,000 Michigan residents. The Serco calls confused many people, who were concerned that the company was not part of Obamacare, says Natasha Robertson, an MPCA enrollment and education counselor. "We got all these calls from people who were panicking," she says, because they thought the Serco calls might be part of a scam.
Alan Hill, a spokesman for Serco, did not respond to calls for comment.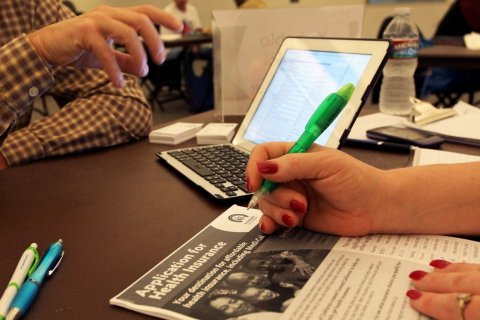 The problems with the website exacerbated the problems with the paper applications, because people were being steered away from HealthCare.gov. "A lot of people thought that this was the way they had to go," Robertson says. But Patrice McCarron, executive director of the Maine Lobstermen's Association, a nonprofit working to get coverage for the group's 1,200 fishermen, says that guidance from the HHS and its Centers for Medicaid and Medicare division (CMS) has been confusing: "We're...a little unclear from CMS about what the ability of CMS would be to accept a paper application and how the constituent would file for confirmation that he had been enrolled."
And with good reason: Health officials have repeatedly touted paper applications. On November 6 at a hearing, HHS Secretary Kathleen Sebelius told a hostile Senate Finance Committee that "consumers can access the marketplace in several ways - through a call center, by filling out a paper application, with the help of in-person assistance, or by going online and filling out an application on HealthCare.gov."
But behind the scenes, officials have wrestled with how to handle paper applications - and whether to encourage them at all, according to so-called war room notes released by congressional investigators on November 4.
One early problem: Thanks to confusing wording, some 6 percent of all paper applications mistakenly showed people as being in jail. "The problem with the incarceration question is that most people would mistakenly answer it in a way that represents that they are incarcerated when they are not," thus disqualifying them for insurance, says an October 1 war room memo.
That memo also flags "the absence of the paper application from the website" - a big problem for counselors downloading applications - and says "there is confusion about whether or not people have to call to get the paper application, or if they" - presumably officials or contractors - "can post it online and people can download it immediately."
By October 3, notes show, officials were asking, "Given the computer system issues, should we be saying that paper is better for now? Should assisters who are sitting with consumers use paper?"
By October 11, as HealthCare.gov crashes made enrolling online a nightmare, the call center was receiving 30,000 requests a day for paper applications to be mailed. "Navigators are seeing people very frustrated and walking away, so they are turning to paper applications to protect their reputations as people in the communities who can help, even though paper applications will not have a quicker result necessarily," says an October 15 note.
But this month, HHS's Centers for Medicare and Medicaid appear to have done an about-face. Kathleen Gmeiner, project director at Ohio Consumers for Health Coverage, says, "We were told by HHS that they prefer people no longer use paper applications."
That directive came via a "weekly assister newsletter" emailed on December 10 to scores of counselors nationwide. In the newsletter, obtained by Newsweek, CMS urges counselors to dissuade people from signing up by paper. Under a headline "Tips for Assisting Consumers," the newsletter says that "since we are confident in the revamped system, we suggest that you: 1. Discourage paper applications when possible to ensure coverage by January 1 - we are confident in the system and given our proximity to the December 23 deadline for January 1 coverage, we believe the online system is the most efficient way to ensure consumers successfully select and enroll in a plan to ensure they are covered on January 1."
The newsletter's instructions appear to contradict public statements from Sebelius and Julie Bataille, communications director for CMS, who said on December 4 that "there is still time to do paper applications."
In response to a letter from the House Committee on Energy and Commerce, Lau said on December 2 that Serco had "keyed" 82,756 paper applications into HealthCare.gov as of December 1, but provided no details on what stage in the process those applications were in - an important part of Serco's job. A CMS "Assister Tips" document emailed to counselors around December 10 highlights what counselors say is a growing "black hole" problem: "the consumer submitted a paper application but hasn't heard anything." One suggested solution: contacting the individual and having him or her start a whole new application online.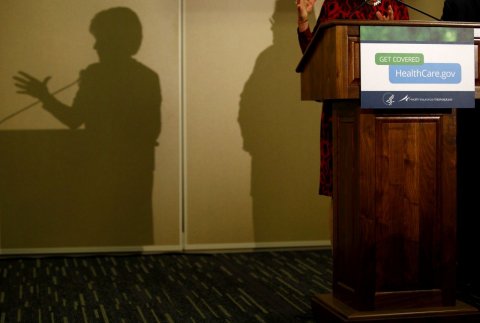 Many of the mailed-in applications are getting lost in the Serco shuffle, according to some federal employees and private-sector counselors working to enroll people. "Early on, after we recognized the website issues, we transitioned to paper applications," says Jake Grindle, a counselor at Western Maine Community Action, a social services agency. "There was a pretty significant backlog in processing these in the first month or so - in October, and people weren't hearing back for a month."
Albright calls the directive to avoid paper applications "a real problem. Both workers and the applicants have limited times to get together, and when they do meet, it is imperative that they complete the application during the interview."
In an email responding to questions, Rachel Maisler, a CMS spokeswoman says paper applications are now being processed "in real time, averaging around three to five business days." Grindle says the average is two weeks. (CMS says that its emailed responses to Newsweek's queries regarding paper applications are "on behalf of Serco as well.")
CMS data released on December 11 show that from October 1, when enrollment began, through November 30, only 17 percent, or 310,664, of the completed 1,827,440 applications submitted nationwide on behalf of 3.69 million people came in on paper - far below the one-in-three rate projected by the Congressional Budget Office last May.
It's impossible to quantify how many paper applications Serco has processed through the final stages. CMS data showing backlogs, or "pending" status for completed applications at Serco's 36 state exchanges and the independent state exchanges, do not differentiate between paper applications and online ones. But the backlogs at the 36 Serco-run state exchanges - 430,862 as of November 30 - are almost triple those at state-run exchanges - 152,611. As a percentage of completed applications filed, both paper and online, the Serco-run exchanges have a backlog of 37.4 percent, versus 22.5 percent for the independent state exchanges.
The CMS data do not disclose how many paper applications have been processed through any of the stages or approved, let alone how many people applying by paper have reached the finish line and selected an insurance plan. Maisler says that "more than 250,000 individuals whose paper applications have been processed are receiving notices in the mail as well as phone calls to inform them of their next steps to complete enrollment," such as getting "an application ID#" - a key step in choosing an insurance plan. If 310,664 paper applications were received, according to the 17 percent CMS figure, then about 20 percent of paper applications are caught in a backlog.
Maisler says CMS planned to "complete processing" of paper applications mailed before December 1 to Serco-run state exchanges by December 15.
Despite this damning paper trail, Serco is on course to make a lot of money from its work on Obamacare. The company was awarded a $1.25 billion federal contract last June to process paper applications at four locations, including the core one in London, Ky. (The first part of the contract, covering the first year of Obamacare, is worth from $114.3 million to $272 million, according to CMS. Additions to the contract - awarded on the eve of HealthCare.gov's disastrous rollout - bring the total to more than $1.3 billion.)
That is about double the sum CGI Federal, the main contractor behind the improved but still buggy website, is getting for its work.
That is very generous pay for not very much work getting done thus far. Even after Lau told a Congressional committee on October 24 that Serco had received "relatively low volumes" of paper applications, a subsequent flood has not emerged. David Walton, a Louisville-based spokesman for the U.S. Postal Service for the Kentuckiana District, which covers the London post office, says that "there's one mail truck a day going from the post office to Serco."