2014 Emmy Awards: A Fun Party, But Pretty Forgettable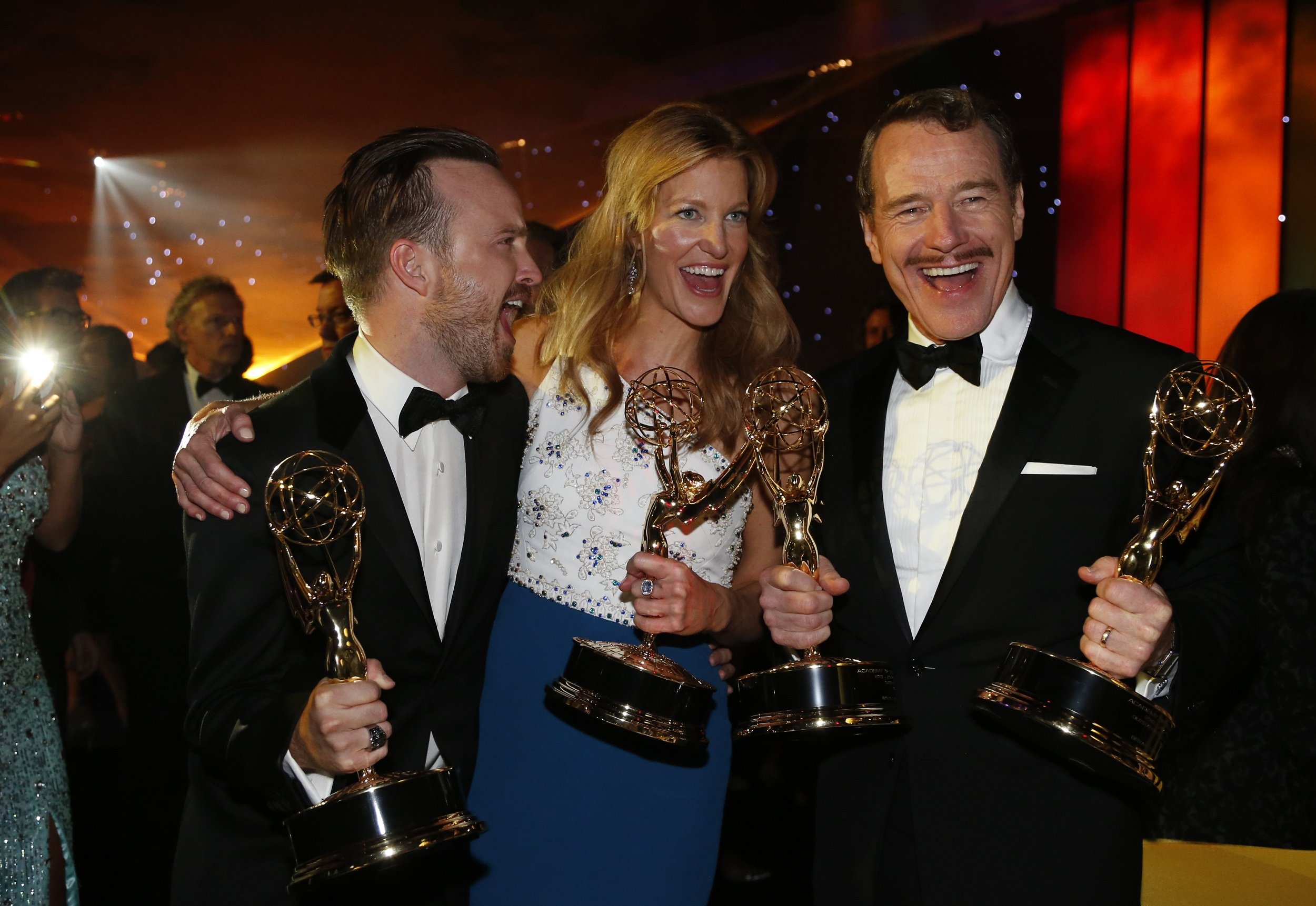 Have you ever remembered a loved one's birthday just in time to throw them a party but not in time unleash a roaring freight train of a rager no one would soon forget? Then you've already lived through the 2014 Emmy Awards, even if you missed them, and who could blame you? Everyone knows that the Emmys air on a Sunday night in mid-September and not on the last Monday in August.
"This is the first Monday Emmys since 1976," said host Seth Meyers, whose opening monologue would be upstaged roughly 10 minutes later by fellow late-night talk-show host Jimmy Kimmel. "Of course people don't remember the 1976 Emmys because they were held on a Monday."
That was one of Meyers' more insightful lines in an otherwise desultory performance, both for him and the Emmys folks. It isn't that this edition of TV's annual night to take a bow lacked flavor; it was palatable. It's just that it tasted like a sheet cake purchased earlier that day from Albertson's out of desperation, as opposed to a homemade double-layer cake baked with love and inspiration.
A musical montage featuring Weird Al Yankovic, who was big in 1976 (and is again now), added lyrics to instrumental theme songs of current shows. It was a paint-by-numbers gag straight out of a Saturday Night Live writers-block session, as was an "Ask-the-audience" segment. These are the same crutches we've seen SNL—and these Emmys had at least three current or former head writers for the program working on it (Meyers, John Mulaney and Colin Jost)—use many times in the past for an opening monologue. Nothing bombed, but nothing had the spark of genius. In that respect, it was the Modern Family of Emmys.
The awards were passed out on a Monday night in August because NBC, which hosted them and which, by the way, failed to produce a show that won a single Emmy (a fact that longtime NBC employee Meyers gamely noted), neither wished to compete against MTV's VMAs the previous night nor preempt an evening of its Sunday Night Football show come September. That is, after all, television's top-rated television show, though for some reason it cannot be nominated for Outstanding Reality Competition… though, what is an NFL contest but that?
In the summer of 1976 repeats blanketed the national television landscape, i.e. ABC, CBS, NBC and PBS. In the summer of 2014 repeat Emmy winners did: Modern Family for Best Comedy, its fifth consecutive win; The Amazing Race in the Reality Competition category, its 10th win; Jim Parsons for Best Actor in a Comedy, his fourth win (The Big Bang Theory); Bryan Cranston for Best Actor in a Drama (Breaking Bad), his fourth as well. Other repeat winners included Allison Janney, Julia Louis-Dreyfus, Jessica Lange, Ty Burrell and Cranston's Breaking Bad co-stars, Anna Gunn and Aaron Paul.
Thoughts and observations:
—The Outstanding Drama category was more stacked with worthy contenders than the Western Conference in last spring's NBA playoffs. That any one of four classic programs—Breaking Bad, Game Of Thrones, Mad Men or True Detective—had to go home empty-handed seems unfair. You can make a valid case for any of them, and I've never seen four better series in the same category in the same year. Breaking Bad, in its farewell season, deserved the Emmy as much as any of them, but True Detective was the most mesmerizing original series I've ever come across. HBO took a huge gamble by not entering the eight-episode drama in the Miniseries category, and lost that bet. Series creator and showrunner Nic Pizzolatto, a Hollywood rookie, deserved better.
Likewise, Outstanding Actor in a Drama included two Oscar winners (Matthew McConaughey and Kevin Spacey), two previous winners in this category (Cranston and Jeff Daniels) and longtime film and television chameleon Woody Harrelson. As presenter Julia Roberts put it, "I feel sorry for any of you who is not hugging me 10 seconds from now." And Cranston, after winning, quipped, "Even I thought about voting for Matthew." McConaughey did not win, but his Rust Cohle from True Detective will be the most memorable character he ever plays.
—The show begged for more of the type of inspiration provided by co-presenters Louis-Dreyfus and Cranston, the former noting that the latter looked like a guy who played a dentist on Seinfeld. "That was me," Cranston told a skeptical Louis-Dreyfus. Later, after she deservedly won for Best Actress in a Comedy (Veep), Louis-Dreyfus was rushed by Cranston as she made her way to the stage, where he planted a faux passionate kiss. Accepting her award, Louis-Dreyfus deadpanned, "Yeah, he was on Seinfeld."
—A bit that might have worked: having Kristian Nairn, who plays Hodor on Game of Thrones, appear in character as a presenter. Hodor only knows one word ("Hodor!").
—Jimmy Kimmel came out to present an award just 18 minutes into the broadcast and went Don Rickles on good-natured Matthew McConaughey as well as on Ricky Gervais, who can take as well as he dishes out. "No offense, but how many more of those speeches of yours are we supposed to sit through?" Kimmel asked the recent Golden Globes and Oscar winner. "Look at you, you beautiful sonofabitch. That's not a TV face, that's a movie face. Where's Ricky? That's a TV face. Actually, that's a NetFlix face."
—The Emmys will take some heat for placing the callipygous Sofia Vergara on a rotating pedestal as Bruce Rosenblum, the chairman of the Academy of Television Arts & Sciences, gave the standard boilerplate speech about the Academy's mission just a few steps away. Apparently, this has been deemed sexist—isn't Vergara's television career sexist? People can rant if they like, but the theme of Rosenblum's speech, as he said, was that television's mission is "to always give the viewer something compelling to watch." Rosenblum, with a lovely assist from Vergara, made his point.
—The gifted Sara Bareilles sang "In Memoriam" montage. She's the designated raven-haired awards show chanteuse for when Idina Menzel is otherwise occupied. By the way, Christopher Evan Welch, whose brief but brilliant turn as billionaire investor Peter Gregory on Silicon Valley was tragically cut short due to cancer, was not in the montage.