This year, Western troops will withdraw from Afghanistan after 13 years of war. They'll leave behind an undefeated enemy - as well as an Afghan government that's shaky, corrupt and only nominally democratic.
But the West will be counting the true cost of the war for years to come - no longer in blood and treasure but in an epidemic of heroin addiction that's sweeping the world, driven by an explosion of Afghan opium production.
Afghanistan's drug output is up by nearly 50 percent in the last year, according to a recent United Nations report. Afghan opium profits totaled $68 billion globally, but less than 10 percent of that remains in Afghanistan, said Jean-Luc Lemahieu, head of the U.N. Office on Drugs and Crime (UNODC).
The opium trade has a total export value of "about $4 billion, with a quarter [of that] being earned by opium farmers and the rest going to district officials, insurgents, warlords, and drug traffickers," according to the UNODC.
At the same time, heroin addiction rates are soaring in the United States and even more in a wide ring of countries around Afghanistan, from Russia to Pakistan.
In December, Ohio Attorney General Mike DeWine warned that "a heroin epidemic" has seized his state; at the same time, Russian drugs czar Viktor Ivanov called heroin a "dragon" that is "ravaging our youth."
The question for many from the coalition countries who invaded Afghanistan in 2001 is: Have we really spent twice as much time and money as it took to fight World War II just to make Afghanistan safe for poppy farmers who are busy turning suburban kids into junkies?
In 2008, at the end of President George W. Bush's second term, U.S. special envoy to Kabul Richard Holbrooke wrote that "breaking the narco-state in Afghanistan is essential, or all else will fail." So why is a mission which began with the intention of rebuilding Afghanistan's war-shattered economy and breaking the drug trade coming to an end with opium production at record levels?
Part of the answer is that the International Security Assistance Force (ISAF) - the U.S.-led coalition in Afghanistan - failed to provide Afghan opium farmers with an alternative source of income.
Since 2001, the U.S. government alone spent more than $6 billion to curb opium production, including crop eradication programs and subsidies for alternative crops. That clearly wasn't enough: Opium is five to six times more lucrative than other crops, so the incentives - or penalties - have to be enormous to effectively discourage poppy farming. The next biggest export crop after opium is nuts - 7.4 percent of Afghanistan's total official exports of $376 million. Farmers can earn as much as $203 a kilogram for harvested opium, according to the UNODC.
And despite more than $100 billion spent on social services in the country over the same period, the West has failed to build anything resembling a real Afghan economy. In the 1970s, Afghanistan grew all its own food. Now it has to import vast quantities of food to feed its 32 million people.
"This year more Afghans are dependent on income from heroin rather than wheat," says Ahmed Rashid, author of a bestselling book Taliban: Militant Islam, Oil and Fundamentalism in Central Asia. "The West did not win this war."
Fear for the future has created an additional incentive for Afghan farmers to ramp up production. "One of the major reasons for the surge of poppy cultivation in Afghanistan is the uncertainty the farmers and the country see after 2014," says Angela Me, chief research and trend analysis branch at UNODC.
The situation isn't likely to improve if the Kabul government loses control over swathes of territory to a resurgent Taliban. "In previous years we have seen that opium is cultivated where there is no territorial control from the government," says Me. The less government control, she said, "the more opium."
And though the new Afghan army and police number 350,000, 80 percent of them are illiterate, and the annual desertion rate approaches 20 percent. Before the invasion there was no army or police, only the Taliban militia. A joint U.S.-NATO training force of less than 10,000 Western troops may stay on, though the terms are currently the subject of a heated debate between Washington and Afghan President Hamid Karzai.
But it's still a moot point whether Karzai and a successor to be elected later this year will avoid the fate of the pro-Moscow Afghan President Najibullah the Soviets left behind when they were forced to withdraw in 1989. After living for years in the U.N. headquarters in Kabul, he was removed and lynched by the mujahideen from a lamppost in 1996.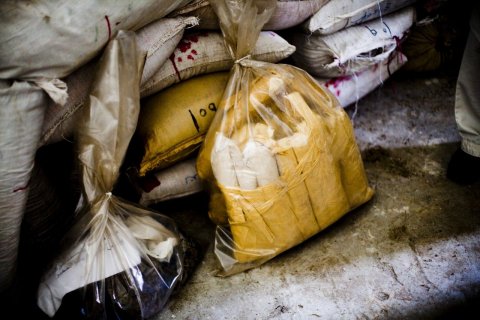 The Taliban are also making great profits from the heroin trade. In the early days of the Taliban, the leaders of the fundamentalist student movement preached against drugs, publicly whipped heroin traffickers and addicts, and they cracked down on poppy production as being ungodly. Now the Taliban have become more pragmatic, taking the side of opium farmers whose crops have been destroyed by Western drug-elimination programs.
It's also good business: According to the U.N. report, the Taliban impose a 10 percent tax on opium in the areas they control. The burgeoning opium tax revenue is funding a full-scale Taliban resurgence. Between March and October of last year, 1,273 Afghan police officers and 770 village policemen were killed, according to the Afghan government's own officials, and during the same period the Taliban mounted 6,600 attacks in 30 of the country's 34 provinces.
It's hardly surprising, then, that ISAF and Afghan forces have taken a pragmatic decision of their own - to abandon unpopular poppy eradication programs rather than risk driving farmers into the arms of Taliban. The results were somewhat predictable: Last year the overall area targeted for poppy eradication fell by a quarter, while the land under poppy cultivation rose by 36 percent.
The U.S. Defense Department is now in a quandary. The choice is to eradicate, and thus turn the farmers against ISAF, or to allow opium production and fuel a deadly international trade.
Both courses of action strengthen the Taliban.
More of a concern, the Kabul administration doesn't seem interested in continuing to fight opium production or for that matter in fighting the Taliban. Karzai recently called Taliban insurgents "brothers," has publicly accused the United States of working with the Taliban to stage bombing attacks, and has declared that if a war broke between the U.S. and Pakistan, he would side with Pakistan.
Many Afghan officials - including senior ones - are on the take from drug traffickers, using the kickbacks for personal enrichment and to fund election campaigns in the upcoming national elections. "The corruption of the Karzai administration is the nasty secret that the [U.S.] administration prefers not to tackle," said one former senior U.S. advisor on Afghanistan not authorized to talk on the record.
"A lot of the officials...are making a lot of money somewhere," he said. Many Afghan governors, government advisors and administrators boast fleets of luxury Jeeps. "You only need to look at their car park to tell" if they're crooked, said the U.S. official. Even Karzai's brother, Ahmad Wali Karzai, was linked to the drug trade in reports by The New York Times.
Meanwhile, it's the countries closest to Afghanistan that are suffering most from the tidal wave of heroin. "Afghanistan produces 90 percent of the world´s heroin, with almost half of its production channeled through Pakistan on its way to Europe or Asia, hidden in containers shipped from Karachi," the UNODC reports.
Pakistan has about 1 million heroin users, half of whom use needles. The U.N. reckons that almost 30 percent of Pakistani addicts who inject heroin are HIV positive - one of the highest rates in the world, up from 11 percent in 2005.
"Pakistan is a transit hub, but has also become a consumer," says Cesar Guedes, who heads the UNODC's Pakistan office. "Part of this drug [crop] stays in the country, not because it is a profitable market...but because traffickers pay in cash and in kind, creating a local market."
But it's Russia's heroin addict population that dwarfs any other in the world. As of 2012, it had 5.5 million drug addicts, up 60 percent from a decade ago and nearly 10 times more than in the United States, which reported 669,000 users in 2012, up from 373,000 in 2007.
About 30,000 Russians a year are dying of heroin addiction and its side effects, and another 120,000 more are jailed for drug-related crimes. In the cities of Tula, Yaroslavl, Samara and St. Petersburg, deaths from heroin and AIDS have doubled or even tripled over the past two years, according to the Country Without Drugs nongovernmental organization. In most of the world, AIDS is usually sexually transmitted - in Russia it's 80 percent needle-borne, and there are more than 35,000 sufferers of full-blown AIDS.