World diplomats arriving in Montreux, Switzerland next Wednesday, January 22, will give a fair try to making a United Nations-hosted conference on the war in Syria a success. But skeptics wonder whether a diplomatic solution is genuinely at hand or whether the gathering, known as Geneva 2, is little more than a pro forma Western attempt to be seen to be trying to "do something" about a crisis that, the horrific death toll aside, is marginal in its national-interest calculations.
As U.N. officials see it, Wednesday's gathering in Switzerland is "not an event but a process." Following a widely publicized one-day conference in Montreux, U.N. Secretary General Ban Ki-moon's special envoy to Syria, Lakhdar Brahimi, is expected to return to the U.N. offices in Geneva, where he will confer with representatives of President Bashar al-Assad's government and their rebel counterparts "minus the international players," said U.N. spokesman Martin Nesirky.
They will stay there "for as long as it takes" to hash out an agreement to end the war, said one diplomat close to the talks. "Once you get everybody in a room, things start moving."
But other diplomats and observers question the usefulness of the gathering, known officially as the International Conference on Syria, and whether its participants can, or even want to, end the war.
"There is a military stalemate" in Syria, so "what sort of agreement is there to be reached?" wondered Joshua Landis, director of the Center for Middle East Studies at the University of Oklahoma. It's hard to envision outsiders, including America, ending the war "without boots on the ground," he added.
Less than a week before the Geneva 2 launch - while the U.N. has sent formal invitations to would-be participants - the guest list is yet to be finalized.
Russia and Ban insist that Iran, a key player in Syria, must come, while Washington remains unconvinced. Some moderate opposition leaders have yet to decide whether they will attend, others announced Thursday that they'd stay away, while jihadists - who lead the anti-Assad war on the ground - have not even been invited.
But representatives of some 30 countries and organizations like the Arab League will participate in the gathering Wednesday, which is held in Montreux because Swiss watchmakers had booked all the hotels in Geneva for their own convention next week.
Foreign ministers from influential countries, including Secretary of State John Kerry and his Russian counterpart Sergey Lavrov, will be on hand, ready to help Brahimi when needed, while the Syrian government will be represented by a delegation headed by foreign minister Walid Muallem and his deputy, Faisal Mekdad.
However, it is not yet clear whether Iran, arguably Assad's strongest supporter, will be there. "There is no doubt that Iran is an important player" and therefore "should be invited," Ban said this week while visiting Iraq.
But he acknowledged that even after a meeting between Lavrov and Kerry last weekend, no agreement has been reached. While Kerry indicated that America will not oppose Iran's participation, Washington officials insist that Tehran must first embrace the Geneva 1 principles - a reference to an agreement reached at a similar gathering in June 2012.
According to that agreement, the establishment of a "transitional government body with full executive power" must be the first step toward ending the Syrian war that started in March 2011. Western officials make clear that the transitional government will exclude Assad, the current president.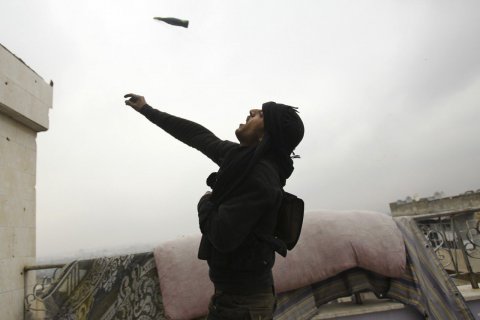 But both Damascus and Tehran disagree with that approach.
Proponents of Iran's participation say that as Iran is Assad's main supplier of arms and troops, mostly through its Lebanese proxy Hezbollah, Tehran is well-positioned to influence Assad to make concessions. "By being the top mischief maker in Syria, Iran earned a seat at the table," explained one U.N.-based diplomat.
But the prospect of Iran's participation makes the calculations of the Syrian National Coalition, the main opposition group, that much more difficult.
A diplomat close to the negotiations told me that Ahmad al-Jarba, who was re-elected earlier this month to lead the coalition of mostly moderate and secular anti-Assad rebels, "strongly leans" toward going to Switzerland next Wednesday. The coalition is scheduled to make its decision in a vote during a meeting in Istanbul on Friday, January 17. American and British officials have reportedly threatened to end all support for the rebels if they decide against participating in Geneva 2. And Kerry all but begged Jarba to come, saying the conference is the opposition's "best opportunity" to achieve its goals
Jarba "is under a lot of pressure to go, from America and his other Western benefactors," said one Arab diplomat. On the other hand, he added, "many of Assad's opponents will be angry with Jarba if he does go to Montreux." On Thursday a smaller group that had been invited to the conference, the National Coordination Committee, told Brahimi it would not participate. That decision by the committee's president, Hassan Abdel-Azim, may add extra pressure on Jarba.
Jarba's participation at a conference that was initiated by Assad's benefactor, Russia, and is likely to now include Damascus's main backer, Iran, is likely to anger Syria's Sunnis - especially those who live in towns enduring daily bombardments by Assad's Air Force, which drops barrels filled with nails and metal fragments designed to inflict as many casualties as possible.
Islamist Sunni groups in Syria, heavily infiltrated by outsiders who have come to wage jihad against Assad's Allawite sect and his Shiite backers, are expected to exploit such sentiments to reinforce the impression that Jarba's coalition has "sold out."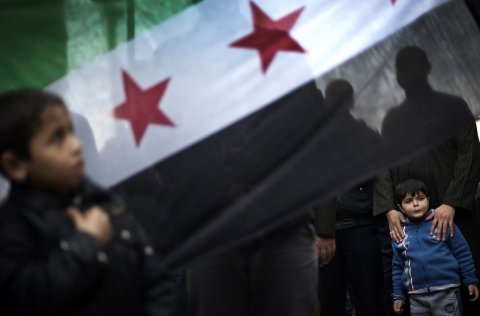 As first reported by The Wall Street Journal this week, European representatives, including from Britain's foreign intelligence service, MI-6, secretly met recently with Assad's top aides to discuss cooperation in the war against the jihadis. Marie Harf, a State Department spokeswoman, denied that the U.S. is aware of such meetings.
The episode, however, indicates to some that after years of saying that Assad must go, Western governments are beginning to concede he might last. And, increasingly fearing Syria's jihadists, they may also start considering him a future partner in fighting them.
While sharing such concerns over terrorism, "it's absurd to consider Assad or the regime a partner in countering that threat," Harf said. "It is because of the climate they have created in the country, both the security climate and the way they've encouraged this behavior, that terrorists are able to operate so freely in Syria today."
These jihadi groups, like Jabhat al-Nusra, are not invited to the Geneva 2 conference, which may contribute to yet another complication. With wealthy Gulf Arabs financing them, and militant groups including Al-Qaeda - whose leader, Ayman al-Zwahiri, has encouraged followers to join the Syria fight - beefing their ranks, the Islamists have become the battlefield's strongest force against Assad.
Without them in the room, it is difficult to envision ending the Syria war by diplomatic means. As Landis said, "If you're not talking to the people with the guns, you can't stop the shooting."
He added that President Obama "rightly doesn't believe that America can fix Syria." More interested in ending Iran's nuclear advances by diplomacy than in fixing the Syrian civil war, he said, America is willing to compromise with Tehran, even as the war spreads from Syria to Lebanon, and to Iraq and elsewhere. For the U.S., he says, "The Iran situation is much more dangerous than the Syria situation."
Meanwhile, nearly 150,000 people are believed to have been killed in Syria to date. But who's counting? Last week the U.N. Office of the High Commissioner for Human Rights announced that due to the "complex and dangerous" nature of the war, it decided to stop publishing casualty estimates.
"We have a responsibility to intervene" in disputes like Syria, protested Romeo Dellaire, the heroic commander of the U.N. peacekeeping force in Rwanda, who during the massacres there in 1994 failed to convince Turtle Bay higher-ups that "genocide" was taking place, and that it required outside intervention.
Dellaire scoffs at diplomatic initiatives like Geneva 2, saying, "These are tentative steps." The combatants in Syria, he said, "need a big kick in the rear. Should have done that long ago." But the West did not, because it is led by politicians, rather than statesmen, he said.
"Statesmen are willing to take risks, are humble, are flexible and are prepared to be courageous. And there's a real dearth of that now," he said.
Follow Benny Avni on Twitter: @bennyavni