Marial Simon, one of 17,000 desperate souls crowding into the dusty United Nations Tomping compound in Juba, was still in shock from what he had seen on December 15.
"That was the night of the killing," said the Nuer schoolboy, slight for his age, as he clutched nervously at the filthy clothes he has been wearing for weeks. "The shooting went on and on, and the killing began and it did not stop. I was there. I saw it happen."
Violence erupted in South Sudan on December 15 after members of the Dinka tribe in President Salva Kiir's presidential guards in Juba tried to disarm their Nuer colleagues. Many of former vice president Riek Machar's supporters are believed to be Nuer, his own tribal group. There is a historic enmity between the two groups.
"[The incident] caused [the Dinkas] to panic and go out on a rampage," said a Western diplomat. "They went after anyone who had allegiance to Riek Machar. Now it's unclear whether the people who were targeted will take revenge."
The two communities, Nuer and Dinka, are the largest in the world's youngest country. Two years before, in a much-hailed event, after a four-decade-long war that left more than a million people dead, South Sudan celebrated its independence from Sudan. It was, briefly, a time of hope. But by then people seemed too exhausted, too traumatized and too shattered to celebrate their new country.
Post-independence corruption was rife. The Sudanese People's Liberation Army (SPLA), the national army meant to be a symbol of the new nation's multiethnicity, was splintered.
And there was lingering ethnic hatred.
"On the upper level, there were too many Dinkas," says the Western diplomat. "And on the lower, too many Nuers."
Since last July, when Kiir's Vice-President, former guerrilla leader Riek Machar, was fired, there has been an air of mistrust and fear in the capital. Instead of rebuilding, South Sudan erupted mid-December when the political power struggle between Kiir and Machar unleashed a wave of violence.
The night the conflict began, Simon was home for the Christmas holidays with his uncle, Colonel Tutbar, an officer loyal to Machar in the SPLA. Simon had been looking forward for weeks to being with his small family.
His life was already grim. His father, an officer in the SPLA, was killed in combat in 1999, when Simon was only 3. His mother died a year later, drowning as she tried to cross a river between cities of Malakal and Akobo to escape more fighting.
In 2005, after the Comprehensive Peace Agreement effectively ended the second war in South Sudan, his uncle adopted him and sent him to a Christian school in Kenya. There, the small boy learned mathematics, English, religion and science.
"I had goals. I wanted to become a doctor. I wanted to finish my education," he said. Simon said the men who killed his uncle were uniformed forces loyal to Kiir. He identified them as being from the Dinka tribe. After his uncle's death, he felt every shred of security he had in the world fading away - his only means of protection, his safety, his education. He realized he was alone in the world.
"My uncle was disabled," Simon recalled, sitting on a plastic chair inside a tent that UNICEF had set up inside Tomping. He swatted flies as he told his story, surrounded by children who were also separated from their family or orphaned during the latest round of killing.
"The last thing my uncle said to me was: Run, Marial, Run!" He paused. "My uncle could not run himself, so he told me to get away as fast as I could."
Grabbing a school bag, he climbed out the window to escape the armed men. "I saw a crowd of people in the street, and I just followed them. We ran until we got to the U.N. I was so frightened."
Simon has no living relatives in South Sudan.
"I walk around but see no one I know," he said. "I have nobody." He cooks his own food. "If I don't cook, who's going to cook for me?" He lives mainly on biscuits distributed by the World Food Programme, which don't fill him up. His collarbone juts from behind his pale red shirt.
He said he cries at night and dreams of his dead uncle, who tells him to be strong. "He comes to me in dreams," Simon says. "He says to me: Don't cry. Don't do anything wrong. Follow your education."
The United Nations Mission in South Sudan (UNMISS) is currently protecting nearly 60,000 civilians in various bases around the country. They are desperate to hold off another brutal civil war, but at the moment the humanitarian considerations are taking precedence. Meanwhile, forces loyal to Machar have overrun parts of Jonglei state, all of the oil-rich state Unity and some parts of Upper Nile. Government forces recently retook Bentiu, the capital of Unity.
Peace talks have started between eight countries in the Intergovernmental Authority on Development, a trading bloc in Eastern Africa. Western and regional powers, many of whom supported the negotiations that led to South Sudan's independence, fear the new fighting is sliding into civil war and could destabilize the whole of East Africa.
"It's way too simple to say what's happening is tribal," says one Western diplomat who asked to be unnamed. "It's a political struggle within the ruling party which has ethnic undertones."
Whatever the crisis is called - an attempted coup by Machar against Kiir, a putsch, a purge - the effect on civilians has been devastating, "ripping away the very fabric of society," in the words of one child protection officer.
According to eyewitnesses, there have been clear human rights violations and the seeds of possible genocide, targeting Nuers in Juba and Dinkas in Malakal , Bor and Bentiu.
"[Here in Juba] people are saying they were hunted down specifically because they are Nuer," says Tiffany Eastham, Country Director for Nonviolent Peaceforce, an NGO that is protecting civilians inside the compounds and helping with reunification of families.
Nuer survivors from the violent nights of December 15-17 say armed men, possibly from Kiir's presidential guard, asked them for ID cards to prove they were Nuers and they were language-tested to see if they spoke Dinka dialect.
They also say there are areas where Nuer homes were looted and burned while their Dinka neighbors' houses were left untouched. The horrible overtones of "ethnic cleansing" have been cited.
"Human Rights Watch has documented serious abuses against civilians in Juba and other parts of South Sudan by government and opposition forces," said Leslie Lefkow, deputy director for Human Rights Watch's Africa Division. "These include extrajudicial killings, targeting of civilians based on ethnicity, mass arrests, looting and destruction of property."
"The fighting and the killing spread out so quickly over those days and nights that it's unclear how many people have been killed," said Eastham. "But people describe how civilians were executed, people were pushed into houses, and soldiers opened fire. The numbers could be anywhere from hundreds to 10,000, and it's not ending anytime soon."
One Nuer man, whose uncles and cousins were killed "at close range," said he saw government soldiers spray bodies with paraffin, toss them into graves and set them on fire. "Talk to anyone in this camp," he said, pointing to the vast landscape of human beings. "Everyone in this camp lost someone or saw something horrible happen."
A Nuer community leader who is also living in the camp, known also as Simon, puts it in simple terms: "A lot of civilians were killed. They say 1,000. But I lost six brothers in my own home. Many bodies have not even begun to be counted."
Inside the camp, there is a collective sense of shock, of anger, and of endlessly waiting. Cornelius, 31, a graduate of International Relations and Diplomacy sits quietly in a yellow t-shirt and cap, waiting. For nothing.
Cornelius was one of "the lost boys" - young men who lost their parents in previous wars - and was sent abroad to be educated. He returned to South Sudan, married, had two children and, he says: "had a decent life, a good life." He owned a small business and was doing well.
Articulate and thoughtful, Cornelius describes the events of December 15.
He sent his wife and children away as soon as he heard the shooting and decided to stay and guard their home and business - a small shop selling food and household supplies.
"Then I stood outside my door and saw armed men - in uniforms - shoot and kill my cousin. Then they killed my neighbor. Then there were two armed men blocking my door."
Cornelius ran inside his house and, frantic, jumped through a back window. Like Simon, he joined up with a crowd running in the street. "They came to kill Nuers," he said, adding that he thought a new wave of fighting is sure to come. A column of Nuer fighters has been on the march from Bor, in Jonglei, for several weeks.
When and if those fighters arrive, analysts say they fear the worst: that young Nuer men and former security servicemen in the camp will attempt to slaughter Dinkas in retaliation. "The column coming from Bor is coming specifically to kill Dinkas," said one diplomat. There are also fears that other tribes will join in the fighting. The Nuer column has, however, for whatever military and strategic reasons, not yet come from Bor to Juba.
Inside the camp, there are no socioeconomic divisions. There are displaced ministers, civil servants, teachers, cleaners, laborers and mothers. Everyone has been thrown into the same space.
Families who were separated during the three nights of terror in December scramble to find each other, living under improvised tents made from material stretched across branches.
Since most people fled with nothing but the clothes on their back, makeshift stands sell food and telephones for the lucky few who have cash. Children wander in the dust, and aid workers struggle to ward off the fear of infectious disease, such as cholera, which could quickly spread through the camp.
UNICEF worked with local partners on sanitation services and to ensure that people are getting enough water - up to 13 liters a day - for washing, cooking and drinking. "The priority was, and is, water and sanitation," says Doune Porter, chief of strategic communications at UNICEF South Sudan, who describes the early days when there were no lavatories for the thousands of refugees who had arrived. "I cannot tell you how bad it was."
Toby Lanzer, the U.N.'s humanitarian chief in South Sudan, says the camps are at best fragile. "The challenges are overcrowding, heat, too little water and too few latrines," he says. "But protecting these people had to be done. If we had not, thousands of people would have lost their lives. It was the only option."
The decision by the U.N. mission leadership to order the 8,000 peacekeepers to protect the South Sudanese civilians is unique for the United Nations. They have long suffered from mistakes they made in Rwanda and Srebrenica, when they were seen as having failed.
According to Ariane Quentier, spokeswoman for the mission, the U.N.'s main role has been to "stop the violence that erupted and engage with community leaders to address issues of protection of civilians on UNMISS bases."
Quentier says the U.N. Security Council has voted to provide an extra 5,500 peacekeepers. "In a couple of days the mission was confronted with the incredible challenge of having to welcome an influx of thousands of people," Quentier said. "And it's been ongoing for weeks".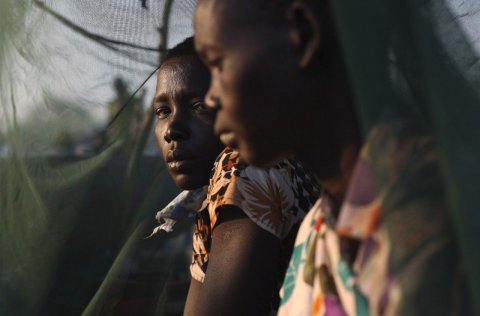 For the United Nations, the risk is clear, say diplomats and other observers. Whatever decisions it makes in the face of this crisis will affect not just on South Sudan but its own standing on the world stage. This could easily all blow up in its face - or it could help change its reputation from weak and hapless to one of an organization that has returned to its earliest intention: ensuring world security.
What no other mission attempted on a large scale before, said a U.N. senior official, was to protect civilians by opening U.N. camp gates and allowing terrified civilians inside. Last month, this led to a tragedy in a small U.N. camp in Akobo, when a platoon of lightly armed Indian peacekeepers were unable to hold at bay thousands of armed Nuers desperate to murder Dinka civilians seeking refuge inside. Two U.N. soldiers were killed trying to protect them. It is estimated but not confirmed that 29 civilians were also killed in the Akobo raid.
"Had UNMISS not opened its gates in Juba and elsewhere," said Andrew Gilmour, political director in the U.N. Secretary-General's office in New York who returned to South Sudan to help out the UNMISS senior management team at the start of the current crisis, "I fear we might still be picking up corpses piled high on the outside of our perimeter fences."
Gilmour believes that had the mission not acted so quickly, the country would easily have "descended into unimaginable chaos and carnage."
"There is no doubt in my mind that thousands of South Sudanese are alive today only because the U.N. opened those gates and protected the civilians who flooded inside," he said. "There is no room for complacency," he added. "The crisis is far from over."
Away from the camp, there is another story and different memories.
In Juba, which is nearly deserted, Dinkas recall the year 1991 rebel leader Machar led fighters through Bor, killing 900 fellow southerners. That attack opened wounds that would spark more killing and more pain in this utterly impoverished country.
When Machar became vice president, he apologized for the massacre. For a brief time, South Sudan, one of the poorest and least developed countries on Earth, experienced a period of uneasy quiet. Expats who had been in exile for years returned, businesses were established, restaurants and hotels opened their doors, and Juba University began to get on its feet. The official language even changed from Arabic to English, and foreign NGOS and governments sent teams of experts to strengthen the country's fragile institutions.
But the healing was far from over. Machar never made any secret of his intention to become president, and little progress was made on the introduction of transparency, rule of law or a justice system. Corruption was so rampant that one diplomat recalled a meeting with senior cabinet ministers at which someone whispering to him that there were "millions of dollars" being spread out among the staff.
The political infighting was vicious.
Eventually, as one Western diplomat explained it, "Two egos [Kiir's and Machar's] set about to destroy this already shaky country."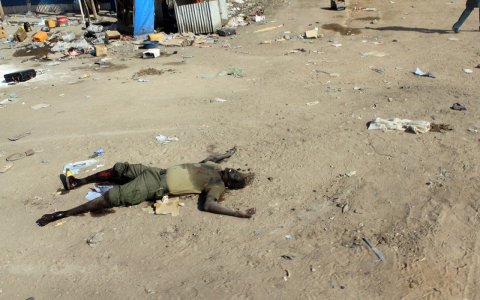 Could the crisis have been averted? Some people place blame on former Norwegian minister Hilde Frafjord Johnson, the UNMISS chief, who had for some time been close to the government. She has been criticized for failing to see the signs of potential disaster and not encouraging the government to focus on building stronger institutions. But others feel that Johnson did the best job she could in an extremely volatile situation.
There are other worries. Even if the peacekeepers can hold off more violence, and the Nuer fighters never arrive in Juba, what prospects for the future? And what devastating consequences has the past month of fighting brought?
Already, farmers are worried that due to the fighting they will miss the main planting season in April, May and June. People who move their grazing cattle to greener pastures - an estimated 12 million cows are in South Sudan - will not be able to do so.
"Bullets kill quickly," says Toby Lanzer. "But lack of mobility [for the farmers] kills slowly."
In the midst of the camp, life continues, albeit in a chaotic way. UNICEF educational officers were busy preparing teachers - who are in the camp - and their students for crucial exams which due to take place, in normal times, on January 13.
And in the compound's small hospital, more than 60 babies have been born since the violence began, which some see as a sign of a new beginning.
For Simon, days are spent waiting, and nights are very long and frightening. He wants to go back to school in Kenya, he wants to continue his studies.
But he cannot forget what he saw. Nothing will bring back his uncle or his parents. Worse, the young man in the ripped red shirt is painfully aware of his own startling and painful vulnerability.