Everyone knew David Beckham would choose Miami.
The international soccer superstar had been promised a Major League Soccer expansion team when he wound down his career playing for the L.A. Galaxy, and almost as soon as he retired last spring, Beckham began looking for a city in North America where his new team might find success. Also - perhaps more important - a city where he and his very fashionable wife would actually want to spend some time. Miami has beaches, and nightclubs and soft weather and restaurants crowded with celebrities from around the world. Albuquerque? St. Louis? Edmonton? Not very Posh.
"We haven't announced that it's definitely going to be Miami yet, but obviously I've been seen in Miami quite a few times," Beckham told SkySports last year. "We're getting the details right at the moment."
On those frequent visits to south Florida, Beckham toured sites where he might place the new, soccer-specific stadium he and MLS officials claim they need. Several locations around Miami have been floated. Someplace on the water, preferably. With palm trees and sail boats and skyscrapers in the background. Perhaps at the Port of Miami, where all those leviathan cruise ships disembark for the Caribbean? A new stadium, MLS officials have said repeatedly, is essential. It really should be downtown, they add.
While they are filling out their wish list, they might also ask for the clock to be turned back a decade, back to when Miamians weren't sick of enriching professional sports teams with public money. Perhaps no city has felt more pain from stadium construction, and perhaps the residents of no other city are more effective at fighting back.
Stadium fatigue is the biggest obstacle Beckham will have to overcome if he is to place his team in the city he wants. "We don't want to bend over for Beckham," says Billy Corben, a filmmaker and activist who helped kill a multimillion-dollar handout sought last year by the NFL's Miami Dolphins.
"I'm a believer in the Miami market," MLS commissioner Don Garber recently told Sports Illustrated. "I think that our sport really resonates in that incredibly rich and diverse marketplace representing almost every country from around the world."
Garber knows Miami may be the best soccer town in the country. National teams from Spain, Argentina and Brazil regularly train and play games there. Elite clubs such as AC Milan and Real Madrid sell out Miami's huge football stadium on their North American tours. Walk around a residential neighborhood in Miami Beach on a day of World Cup qualifiers and you'll hear people cheering for teams from Ecuador, Chile, Colombia and more than a dozen other countries. In a Little Havana restaurant, rows of immigrants from Tegucigalpa cram onto benches to cheer for Honduras. In Little Haiti, a dive bar called Churchill's hosts supporters of England, the national team Beckham once captained.
There's also a vibrant soccer infrastructure in the city. BeIN television network, which covers Spain's La Liga and Italy's Serie A, broadcasts from a Miami suburb. Traffic Sports, a powerful promoter of soccer in Latin America, is based in Miami, soon to be joined by the front office of CONCACAF, the confederation of national teams from North America, Central America and the Caribbean. Soccer's top stars have long vacationed along the wide sands of South Beach. Tabloids regularly publish pictures of stars such as Italy's Giuseppe Rossi splashing in the Atlantic, or Colombian Radamel Falcao at a Heat basketball game, or Spain's Fernando Torres poolside playing cards with his wife. For many top players, a semiretirement in Miami is pretty appealing, so Beckham would have no trouble attracting talent, even if Miami's previous MLS team, the Fusion, ran out of money and folded in 2001.
More Miamians watched the 2010 World Cup than residents of any other American market, Garber noted. He added that MLS broadcasts regularly scores high ratings there, too, even though the city no longer has a team. "We'll continue to do what we do pretty effectively, and put right owners together in the right partnership with the public, get investors engaged with the community and try and figure out if we can get a deal done."
That "partnership with the public" is where things get sticky. While unattractive stadium deals have grown common in the United States, south Florida's recent history is particularly egregious. The NHL Florida Panthers' stadium in suburban Sunrise, Fla., was almost entirely paid for with public money. The team has held onto more than 99 percent of operating profits and yet still demands more public money for upgrades like a new scoreboard. The 25-year-old Miami Heat franchise is already on its second publicly funded stadium, having won an upgrade from their first stadium after only 10 years. Recently, the Heat, owned by a man with a reported net worth of close to $6 billion, announced that it would be willing to stay in their current stadium for another 10 years if the city and county give them $66 million in public concessions.
The last stadium to be built in the area, for the Marlins baseball team, motivated Miamians to finally revolt. Marlins team president David Samson, a contestant on the upcoming season of Survivor, brags on CBS.com that his "Personal Claim to Fame" is that he "[got] local government in Miami to contribute over $350 million to a new baseball park during the recession." That's understating the public cost by quite a bit. The debt service on that cash gift to the team, which is privately owned by Samson's former stepfather, will eventually surpass $2.3 billion.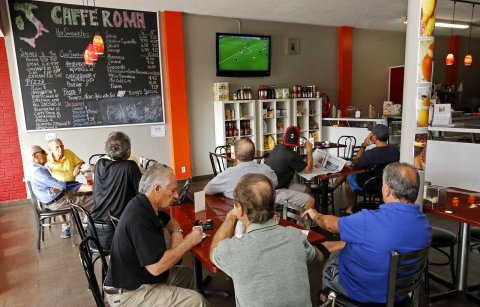 Fallout from the Marlins Stadium deal prompted Miami-Dade voters to recall Mayor Carlos Alvarez. The new mayor, Carlos Giménez, inherited a county budget so tight that he has closed public library branches, laid off firefighters and curtained other public services. It was little surprise that when the Miami Dolphins came calling for millions in public funding to upgrade their privately owned football stadium, the request flopped even before it could be voted on. (Dolphins owner Stephen Ross, a multibillionaire, proceeded to donate the same amount of public money he'd sought - $200 million - to his alma mater, the University of Michigan.)
In this climate, a new soccer stadium won't be an easy free kick. Yet there's a feeling that if anyone can get a deal done, it's Beckham. "Our mayors and our commissioners have an unfortunate tradition of being starstruck and literally handing over our checkbook," Corben admits.
In December, county commissioners voted to help Beckham find a stadium site. Before the vote, Beckham's lobbyists clustered in a hallway outside the chambers, briefing reporters about the logistics of the possible site at the Port of Miami, or another site a bit inland in Midtown, a neighborhood still centrally located. A dozen or so members of a pro-MLS supporters group called the Southern Legion waved scarves as the commission agreed to that small first step.
Beckham and MLS commissioner Garber are expected to hold a press conference next week to rally support for their still-theoretical team, and above all, for a stadium. To curry public favor, Beckham's representatives have started claiming that the stadium will be completely constructed with private money. Yet Beckham has also hired lobbyists in the state capital of Tallahassee, a sign that some kind of public money will be sought.
If a deal can be brokered, then Beckham will get to stay in Miami. If the stadium falls through, then he'll have to take his glamorous brand somewhere else. Like maybe Oklahoma City. Or perhaps Minneapolis. How about Winnipeg?