Deep in the iron belt of northern Minnesota, where boys are raised to be manly men and hockey is holy, Brandon Larcom grew up figure skating. From the moment he first stepped onto the ice at the age of 3, he had dreamed of becoming the next Wayne Gretzky, but a skull deficiency kept him out of contact sports.
"I'm the only male figure skater up there, and my dad's the town sheriff, and my brother pitches for the high school baseball team. It sounds like a movie," says Larcom, now 30, talking on the phone from the Toyota Sports Center rink in Los Angeles, where he coaches figure skating and hockey. "Growing up straight in a dominantly homophobic and homosexual sport was hard for me and for them," he adds. "I remember my family defending my sexuality before I even understood what sexuality meant."
"I remember being constantly asked, 'Oh, you're a figure skater now? So you're gay?'"
At 12, Larcom went to live and train as a pairs skater in Tampa, Fla. Despite being thousands of miles from home, he encountered the same stereotypes. Once, a girlfriend, a fellow skater, dumped him because her friends teased her about dating a male figure skater. Hockey players called him "fag," "gay," "homo" and "queer."
"I'd be holding my skating partner's hand [while practicing on the ice], and I'd want to go faster and stronger to prove I could beat them," Larcom says about the hockey players. "I thought, You're playing with sticks, but I have this girl who I can lift and throw. You try to look like you're Goliath."
Larcom went on to train as a member of Team USA and, in 2001, he won the junior national pairs skating championship. "I didn't want people to know about it," he concedes. "Something that I spent more time doing than anything else, sacrificing my family and friends - I wasn't proud to say I was national champion."
It's no surprise why. The common assumption that male figure skaters are gay - and the latent and often blatant hostility behind it - is the sport's deep and dirty secret. It colors the attitudes and actions of skaters, coaches, judges, officials and even the fans.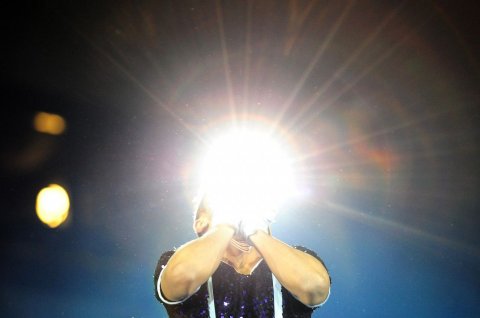 That sniggering stereotype has been prevalent for decades, even though few elite skaters have come out publicly, and only one, Rudy Galindo, came out during his Olympic-eligible career. This closet door is locked tight because skaters - gay and straight - know that so many of the people judging them, from judges to sponsors to TV viewers, want the female skaters to be "pretty ladies," and the men to be, well, men.
And that's not how life, on or off the ice, works. Britain's John Curry, known for bringing ballet to the ice, came out in 1976, the same year he won Olympic gold and the world figure skating championships (he died of an AIDS-related heart attack in 1994). Canadian figure skater Matthew Hall came out in 1992. Canadian champion Brian Orser was publicly outed by an ex-boyfriend in a palimony suit in 1998. By the time U.S. champion Johnny Weir came out after competing in the 2010 Vancouver games, it seemed more like a formality. And Brian Boitano, the 1988 Olympic gold medalist, never intended to reveal his sexual orientation until President Obama appointed him, along with openly gay tennis legend Billie Jean King and openly gay ice hockey Olympian Caitlin Cahow, to the American Olympic delegation for the Sochi games. Obama's move was a provocative reproach to Russia's new anti-gay law propaganda law that looms over what's set to be the most expensive Olympics in history.
Obama's defiant gesture is laudable and paradoxical, because it highlights the irony that there are no openly gay skaters on the U.S. Olympic team.
Weir, the two-time Olympic figure skater and three-time U.S. champion who retired last fall, defied this prejudice and solidified his place as figure skating's gay darling by showing, not telling. He wore a crown of red roses and hugged a heart-shaped pillow in the Olympic rink's "kiss and cry" area, and donned a costume lined in fox fur as well as a pink and black body suit. But he didn't come out publicly until he was done competing. In his 2011 book, Welcome to My World, he
American Doug Mattis won the 1985 national junior men's title, and held his own at top-level international competitions. He came out in 1992. At the 1994 U.S. Open Pro Figure Skating Championships, he emulated Tonya Harding and Peggy Fleming before stripping off his long-sleeved black shirt to finish his artistic program in a shiny sleeveless vest.
"Back in my day, me and my compatriots were actively told to keep [being gay] a secret," says Mattis, who went on to have a successful professional skating and coaching career. "Skating officials said it was in our best interest. The reasons why were never fully defined.... Some posed it as, Skating's reputation has a hard enough time being accepted by the public anyway. We want to increase our marketability, so boys, butch it up."
The stereotypes trap male and female skaters. "We're stuck in the 1950s with these beautiful housewives on ice," Kirk says. "We have to act a certain way. Our hair and makeup have to look a certain way. And the guys have to be regal and dapper. They can't wear too many sparkles. We have to be Ken and Barbie, but the reality is that Ken is dating Ken and Barbie doesn't always want to look like Barbie, or at least act like Barbie."
'They Want to Wear Sparkly Costumes'
In the late 17th and early 18th centuries, figure skating prospered in Europe as an elite gentleman's sport. It wasn't until the 1920s and 1930s that the feminization of skating began to take hold with the arrival of young Sonja Henie, an ice skating queen turned film star. The daughter of a wealthy Norwegian businessman, Henie was groomed for the spotlight. After winning the children's figure skating championship of Oslo at the age of 8, she went on to win three Olympic gold medals (1928, 1932, 1936) and 10 consecutive World Championships. In 1936, Henie went pro, taking her adorable dimples and blonde hair to Hollywood. Her first film, One in a Million, opened in 1936 and was a hit. Over the next decade her many movies, featuring toe picks, elaborate costumes and romantic storylines, brought figure skating to the masses.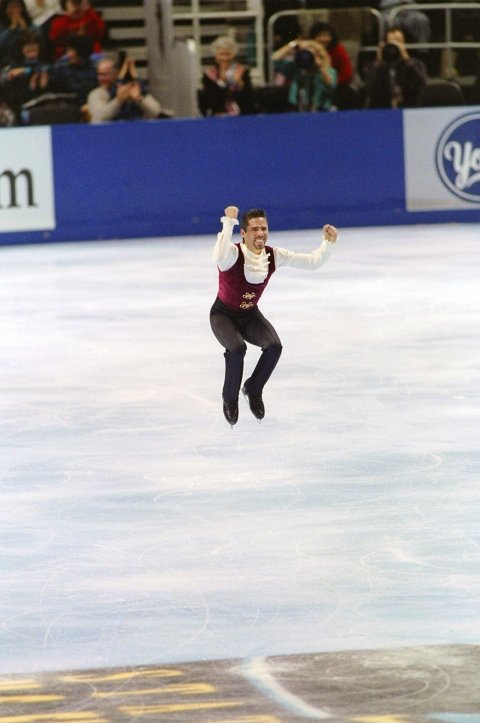 Henie's film spectacles introduced the sparkles and feathers that began to make skating more attractive to young girls. As men left the rink to fight in World War II, the gender balance of the sport shifted. Young girls who grew up watching Henie begged their mothers for lessons. By the time the men returned home, the popular perception of figure skating had changed: "It was no longer seen as something appropriate for men to do," says Mary Louise Adams, professor of sports sociology at Queens University in Kingston, Ontario and author of Artistic Impressions: Figure Skating, Masculinity, and the Limits of Sport.
Efforts to protect (and project) the macho reputation of male skaters have been under way for decades, and skating clubs and organizations tried to lure boys by playing up the masculinity of the sport and virility of its athletes. Of course, the irony is obvious today. "Lots of boys sign up for skating because they want to wear sparkly costumes," says Adams. "Then they find out when they get older, 'Let's try to keep the sparkle down, because that's feminine and then they'll think you're gay.' And of course, they're saying that to some boys who are gay."
It is impossible to say exactly how many elite figure skaters are gay, since so few have come out publicly. Former figure skater and judge Jon Jackson wrote in a 2006 piece for The Advocate, "at least seven of the 14 male Olympic figure skating medalists from the past 20 years are known in certain circles to be interested in other men. In fact, in at least five countries the entire men's singles figure skating team is made up of gay men (albeit some 'teams' are exactly one man)." That same year, figure skating expert Lorrie Kim wrote, "Unofficial insider estimates range from 25 percent to nearly 50 percent. But unbelievably, in 2006, Galindo remains the only top-level skater to have come out while Olympic-eligible."
"Everyone in skating understands the legacy that male figure skaters have grown up with," says Kim, who for many years ran Rainbow Ice, a popular website for gay issues in figure skating. "Closeted skaters will police other closeted skaters and try to keep them in the closet because of that shared sense of risk.... This can be puzzling to people who live in the real world, who don't understand how hard it can be."
Figure skating's peak of popularity -- from the 1980s to the early 2000s, with household names like Scott Hamilton, Nancy Kerrigan, Paul Wylie, Kristi Yamaguchi and Michelle Kwan -- is long over. Fan interest started to wane in the aftermath of the overexposed Kerrigan-Harding saga, in which Harding's ex-husband clubbed Kerrigan in the leg right before the 1994 U.S. Figure Skating Championships, then again following a judging scandal at the 2002 winter games in Salt Lake City, which exposed the many rigged competitions and political agendas within the sport. As a result, the International Skating Union replaced its audience-friendly 6.0 scoring system with an anonymous, points-based alternative that fans still struggle to understand. "The purpose of the new judging system is to hide everything," says renowned figure skater Dick Button, the two-time Olympic gold medalist, five-time world champion and seven-time U.S. Champion. As he writes in his new book, Push Dick's Button, "the names of the judges with their real marks are kept in a safe in Lausanne and only the general secretary and a notary can see them, if requested by the Technical Committees." Then, in advance of the 2010 Olympics in Vancouver, British Columbia, Skate Canada launched a campaign to curtail the sport's dwindling audience - by manning up. At the time, television viewership in Canada had dropped more than 30 percent from the 1990s to the 2000s as big international stars like Stojko and Kurt Browning retired. To combat this decline, Skate Canada urged officials and athletes to emphasize "the danger, speed, risk and difficulty" of figure skating. The alleged goal, according to critics, was to attract the "hockey crowd."
Skate Canada's attempt to de-sparkle figure skating enraged gay rights groups. The organization denied that its campaign favored masculinity over artistry while Stojko, the two-time Silver Olympic medalist known for his athletic style, famously spoke out in favor of the macho and masculine aesthetic. "They've got to really showcase that male skating is really about masculinity, strength and power," he told ABC News at the time. "It's not that the male skating has to totally obliterate the gay guys that are skating and the gay public that's watching it," he added. "You have to find a balance to male skating.... You've got to stick with male skating and strength and the meat and potatoes."
Timothy Goebel, the 2002 Olympic bronze medalist, agrees. "I'd like to see progress. People doing harder stuff and going faster - that's the whole Olympics theme. Not prettier outfits and more theatrical." Goebel was the first figure skater to land a quadruple Salchow in competition as well as three quadruple jumps in a single program.
The media's treatment of Weir, who somewhat controversially took sixth place at the Vancouver games (fans thought he deserved a higher finish), underscored the unspoken tensions around sexual orientation in men's figure skating. While Evan Lysacek was often portrayed as the athlete, Weir was the artist - "ornate," "unapologetic" and "flamboyant" (code for "gay"). Broadcasters made derogatory comments about Weir's skating and costumes, questioned his gender and wondered if his flamboyant image might damage the sport. In 2010, after representing the U.S. in Vancouver, he was left off of the post-Olympics Stars on Ice skating tour, although he finished first in an online poll asking fans who they wanted to see in the tour. Reports quickly surfaced that he was excluded for being "not family friendly" enough.
"Johnny was extremely effeminate, and that certainly did him no favors within U.S. Figure Skating," says Goebel, who today sits on the Strategic Planning Committee for USFS and on the board of Skating Club of New York. "Johnny was an over-the-top personality and it rubbed a lot of officials the wrong way."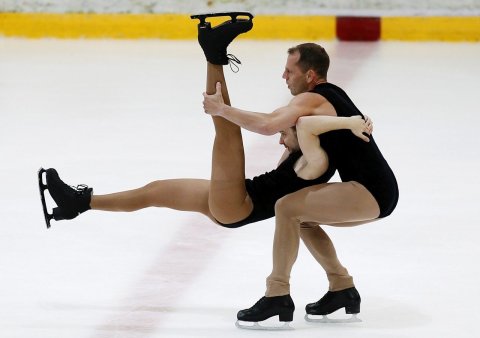 'Wearing My Straight Clothes'
Like most top figure skaters, Jennifer Kirk spent her childhood, teenage and young adult years in the competitive skating world. Born in Newton, Mass., she trained with famed coaches Evy and Mary Scotvold at the Skating Club of Boston and, later, Richard Callaghan and Frank Carroll. "Growing up as a young girl in the sport, all my guy friends were gay," she says. "There was a lot of acceptance in the community, but at a higher level, when you go to the nationals, you see people who are really comfortable in your local rink suddenly putting on airs to seem more heterosexual."
Kirk dated skaters who were either "out of the closet or out on the down low," she says. "To see so many of my friends struggle with this issue.... " she trails off. "One friend said, 'I'm wearing my straight clothes today, when we went to a competition.'"
There is a profound difference between being out at one's local skating club - among friends, family and coaches - and being out to the international media. "Many gay skaters are out everywhere but the press or publicly," says Adams. "There are openly gay people in skating, and this wouldn't be news to anybody who's involved in skating... As a sport, the national governing bodies like USFS and Skate Canada, they are still closeted."
Unpacking exactly why figure skating, as an institution, is closeted - and why insiders deny it - is a complicated task. "You have a culture that's almost entirely about very fem girls, and since it's a grassroots sport, the politics reflect whatever neighborhood the rinks are in," says Kim. "That can get extremely conservative - conservative in the way that makes other countries wonder what's in the American water."
This is a sport that's largely run by former skaters who grew up in the system and "have more traditional views," Goebel says.
"The governing body of judges and officials can control your career with results, and ultimately funding," says Dave Lease, host and editor of The Skating Lesson, which he co-founded with Kirk. "Whether that fear is rational or irrational, it exists," he says, adding almost as an afterthought, "It's a sport, but it's also a game."
"Everybody knows what the judges are expecting," explains Goebel. "Classical, conservative music. Nothing edgy. Nothing new. The same types of choreography and the same program set-up... If you go to [the World Championships] with some crazy outfit and music, it probably won't be well-received."
The perceived risk of coming out at the elite level in figure skating is endemic.
"With any judged sport, there's some level of subjectivity," says Lindsey Green, an Olympic sports writer whose work has appeared in New York magazine and Deadspin. "The issue with figure skating is the judge/athlete environment and relationship is completely uncontrolled and chaotic... There is no other sport where the judge holds so much power outside of the arena, and the relationship with the athletes and coaches can seemingly affect the overall outcome of the competition. Figure skating judges offer input on costumes, personal life, hair and makeup, music choice. With so much interaction, impartiality becomes increasingly challenging."
While Mattis disagrees, arguing that "a lot of judges and officials in power now are former skaters from my era, so let's just say that there are gay people on both sides of the bang boards at the ice rink," he says the biggest unknown, when it comes to coming out or not, is how marketable one will be. "If you hit it big and become a big star in skating, is Madison Ave. going to want to avoid you if you're an out gay skater? That unknown is what drives most of the fear. Am I hurting my appeal? If I'm an out gay male, does Speed Stick want me in their commercial?"
Companies look for the most charismatic and least controversial people to market their brands, and skaters know it. "USFS does, too," says Larcom.
'You're Messing with the Wrong Gay People... '
In the 2014 Official U.S. Figure Skating Rulebook, the nondiscrimination policy protects against discrimination "on the basis of race, color, religion, age, gender or national origin."
"Something is missing!" blurted Hudson Taylor, founder and executive director of Athlete Ally, a nonprofit organization dedicated to ending homophobia and transphobia in sports, as soon as he read the clause. "If you put yourself into the shoes of a closeted athlete, there is something said in the omission of sexual orientation in [figure skating's] nondiscrimination policy."
Last fall, in response to Russia's increasingly hostile anti-gay environment, the U.S. Olympic Committee (USOC) added sexual orientation to its non-discrimination policy. Yet the International Olympic Committee (IOC) does not include sexual orientation in its policy. Does USFS have plans to update its rulebook?
"Yes," Reichert said by email. "U.S. Figure Skating has a zero-tolerance policy regarding all forms of abuse or harassment."
"Everybody should be able to participate in sports regardless of sexual orientation," says Jimmie Santee, executive director of the Professional Skaters Association, which provides education and accreditation for competitive and recreational skating coaches. In 2012, the association expanded the definition of its family membership. "We have traditional families and partners in our sport. We felt very strongly that they should be afforded the same rights."
"Today, there is more room for gay men but almost no room for effeminacy," says Adams.
That attitude - and its resulting effect on the hyper-feminization of female skaters - is written into the USFS rulebook. In ice dance, "clothing must be modest, dignified and appropriate for athletic competitions, not garish or theatrical in design." Men in ice dance cannot wear sleeveless costumes; women must wear skirts, and while the skirts can have slits, "ladies dress must not give the effect of excessive nudity." In singles, men can wear trousers (not tights) and women can wear skirts, trousers and tights - but try finding a female figure skater competing at the elite level in something other than nude tights and a leotard of some kind. (Women are strictly referred to as "ladies"; the word women only appears once in the USFS rulebook.)
The message is clear: When competing, being gay may not hurt you, but being straight helps.
Unlike the USFS, the Ice Skating Institute (ISI), which is dedicated to recreational skating (i.e. it's for skaters who aren't trying to become the next Kwan), includes sexual orientation in its non-discrimination policy. In 2006, at a rink in Berkeley, Calif., award-winning amateur figure skaters Johnny Manzon-Santos and Alan Lessik were training for their first appearance as a same-sex pairs couple at the Gay Games later that year. Suddenly, a manager demanded that they get off the ice, even though there were male-female pairs skating at the same time.
"We really got pissed," Manzon-Santos says. "I remember we told each other, They're messing with the wrong gay people."
He and Lessik sued the rink, and won, and one of the many results was that the ISI expanded its nondiscrimination policy.
"We started to push USFS to have them adopt that kind of pledge... but we didn't get as far and the momentum petered out. It's an evergreen issue," Manzon-Santos says. "And this is the dream: to have the IOC agree to include a non-discrimination clause, too."
'This Isn't 40 Years Ago... '
Not everyone within figure skating's ranks believes the sport is closeted. Savoie says he never felt pressured by the figure skating world to keep quiet about his sexual orientation while competing. And Bridel and Mattis say there are now more skaters coming out to friends and coaches, and even some officials are openly gay. "As I mingle with judges and officials, they really don't care [about sexual orientation]," says Mattis. "But they don't realize that when they're being protective of their skaters, there is a homophobic bent."
David Baden, who has represented skaters for more than 20 years at the sports agency IMG and who used to be the marketing director for Stars on Ice, says he has never known sexual orientation "to be an issue or a problem... At this stage in our society, if an athlete comes out to represent their country and deliver the goods, I can't believe that any of these issues, whether their sexual orientation or color of skin or religion - why is that even a factor? This isn't 40 years ago."
Asked whether he was surprised that there are no openly gay figure skaters competing in Sochi, Baden replied, "Honestly, I've never thought about it."