Outside the Palace of Nations, the United Nations headquarters in Geneva where the Syrian war was being debated, demonstrators held up signs: Your Silence is Killing Children.
It was a harsh reminder that, as diplomats negotiated the future of the troubled country alongside Lac Léman under cloudless skies, Syria is dying.
The war, an "all-encompassing disaster" in the words of U.N. Secretary General Ban Ki-moon, is three years old. The Geneva talks are the start of what is expected to be a long process, diplomats insisted, citing as examples the peace negotiations on Bosnia and Northern Ireland. But many participants have already left Switzerland, dismayed at the bleak road ahead.
The proceedings began in the lakeside town of Montreux, usually more at home with jazz enthusiasts and Christmas market shoppers than with mediators trying to stop a war. This was because Geneva was hosting a wristwatch convention and all the hotel rooms had been taken.
Government ministers arrived with teams of dark-suited somber advisors, flashy consultants, expert media teams and, in some cases, passionate opening remarks.
There were glitches, and even as late as the day before they began, it was not clear whether the talks would proceed. En route, representatives of the Syrian government got stuck in Athens for refueling and members of the opposition failed to show up or showed up late, causing United Nations diplomats to panic.
Montreux was ill-prepared for the surge of diplomats. There was an acute shortage of hotel rooms. The press Wi-Fi was overloaded and went down. Cell phones often did not work.
Fortunate delegates were housed behind heavy Swiss security in the plush Hotel Fairmont, which looked out onto the lake. Less fortunate delegates who arrived late, including the Syrian opposition, were shuttled to the nearby city of Lausanne, to a hotel where they had to make their own coffee.
There was much sharing of information in corridors, in the gardens near the Fairmount or in outside hotels, where foreign ministers held private meetings with delegates.
Some officials were more visible and impressive than others. U.S. Secretary of State John Kerry made a plea for the fighting to halt - "The right to lead a country doesn't come from torture, barrel bombs and SCUD missiles" - and called for the removal of Syrian President Bashar al-Assad - "the stubborn clinging to power of one man."
Britain's Foreign Secretary William Hague, whose government has already given $330,000 to encourage more women to be negotiators at the talks and who is launching an initiative in the spring to prevent violence against women during times of war, made a special effort to meet privately with Syrian women activists and invited them to London for further talks.
The lack of women was one of the major talking points on the sidelines. The Syrian opposition had just two women out of 15 negotiators - Rima Flihan and Suhair Atassi.
The most visible woman negotiating on behalf of the Syrian government appeared to be the longtime political and media advisor Bouthaina Shaaban. Her message throughout the talks was that Kerry did not have the right to tell the Syrian people who can and cannot be their leader and that the real issue was not Assad but the terrorist fighters.
But Hague was interested in reaching women who were more ordinary. He explained that women bear the burden of keeping families together during conflict and there needed to be a more "formal role during the negotiations for women who are not aligned with either party to the conflict but who represent Syrian society as a whole.
"Time and again you meet courageous women who are working at a local level to hold together communities torn apart by war, but who are then often invisible when it comes to taking political decisions about the future of that society."
The talks in Montreux ended on a low note. But the talking was not over.
After breakfast on Thursday, January 23 - the negotiators' free day - one could hear the helicopters ferrying Ban and Kerry across the snowy mountains for an entirely different mental exercise.
The choppers landed at Davos, the Magic Mountain setting for the World Economic Forum which took place at the same time as the Syria talks, throwing many of the more ambitious statesmen into a conundrum about how to be in two places at the same time.
Other prominent individuals who traipsed to the remote Swiss village, which grows overcrowded and hyperkinetic one week a year, were the Iranian President Hassan Rouhani, the Israeli Prime Minister Benjamin Netanyahu, the British Prime Minister David Cameron, former U.N. secretary-general Kofi Annan, Brazil President Dilma Rousseff, the founder of Microsoft Bill Gates - and the singer Bono.
But while the Davos talk-ins got going, the Syrians - government and opposition - and U.N. Special Envoy Lakhdar Brahimi, a veteran Algerian mediator, moved to Geneva to continue the Syria talks there. In the Swiss capital, Brahimi struggled even to get each side to sit down together, let alone tackle hard questions like prisoner release and humanitarian aid.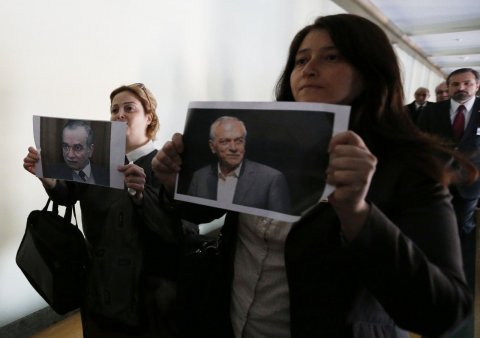 It was a start, if a small one. "Everyone came here expecting very little," said one Western diplomat. "But I have to say, I am leaving feeling this is a more difficult job than I ever imagined."
While the political agenda remains the essential focus of the talks, progress toward a settlement is directly linked to the humanitarian crisis. Civilians are being starved because the humanitarian routes bringing food and supplies are regularly blocked by government orders. Most schools are not functioning, but those that are sometimes are intentionally shelled and targeted.
"People are starving to death," said Rafif Jouejati, a delegate to the Syrian opposition coalition who also runs a nongovernmental organization. "It's a [tragedy] that we even have to negotiate about humanitarian relief inside Syria."
The toll on the civilian population of Syria is cataclysmic. All across the country, people are in dire need. Even while the talks were going on in Montreux and Geneva, people in Yarmouk, a besieged district of Damascus, struggled to find simple products like bread and oil to buy. Local activists report nearly 50 people have died of starvation in the past few weeks.
In Aleppo's Harytan neighborhood, there were barrel bombs - improvised bombs made of explosives stuffed into an oil barrel pushed out of a helicopter - which have devastating effects. In al-Saleheen, another frontline neighborhood, there were reports of more dead, more wounded piling up in makeshift hospitals that operate without power and sufficient medical supplies.
As the talks went on, activists inside Syria reported that areas like Douma, Zabadani and Daraya were being shelled. The targets are not just fighters, but civilians lining up at bakeries, in health facilities and at schools.
All this continuing carnage exposed the bitter gap between the political process and what was going on on the ground.
Not only are there gaps between the Syrian government and the Syrian opposition, but between members of the opposition itself. The opposition is highly splintered and members of various groups either failed to show up to Montreux, or showed up late or in small numbers.
For many at Montreux, the most depressing sight was the empty chairs set aside for key figures in the conflict who were not present - rather than those who were.
Missing were key military figures from the Syrian opposition, including U.S.-backed General Salim Idris of the Free Syrian Army, which is increasingly losing influence on the ground. Not invited were the al-Qaeda influenced Islamic groups of al-Nusra and the Islamic State of Iraq and Syria, who, by fighting against both the Syrian opposition and Assad's government, have opened up what amounts to a third front of the war.
Also missing at Montreux were Assad himself, high-ranking representatives from his military, the National Defense, and of course, representatives from Iran, who were disinvited by the U.N. shortly after they were invited.
Talk of forming a transitional government, the basis of the first set of peace talks, Geneva I, was overshadowed by the reality that Syria is currently being dismembered, losing 130,000 people so far.
Activists inside Syria called on the diplomats to recognize their most basic needs. "Dear Geneva II crowd: Could you please get people in Homs and Yarmouk some food?" one activist tweeted.
"Something like half the people in the country are at risk of famine," said Jouejati, director of Free Syria. "It's a tool of repression to starve people."
As the talks began, top humanitarian leaders, including the United Nations High Commissioner for Refugees, António Guterres, and UNICEF's Anthony Lake, called for protection of Syrian children. Over 11,000 Syrian children have already been killed during the conflict.
A recent report from high commissioner titled, "The Future of Syria: Refugee Children in Crisis," stresses that the world must act to save a generation of suffering children in Syria. But the start of talks had no impact on that.
"As the talks got off the ground in Geneva, the situation got worse in Syria," said Save the Children's United Nations liaison, Anita Bay Bundegaard. "Everyone wants peace on the political process [talks]. But the humanitarian situation [also] has to be on the agenda. This is the responsibility of the whole international community," she said.
Referring to the hazards aid workers and others face, Jouejati said: "People are being killed simply trying to feed people."
"You can draw World War II and Holocaust parallels because for us this is a holocaust," he said.
"This is an unsustainable situation," said Shaheen Chugtal from the British aid charity Oxfam. "These peace talks must deliver positive changes for people on the ground fast."
Other activists worked to try to bring a voice of forgotten constituents like women to refugee to Geneva. Mouna Ghanem, a political scientist from Damascus, arrived in Geneva to meet with Brahimi before the talks. She had interviewed a cross section of women from various sectarian backgrounds to find out what they expected to emerge from the talks.
Ghanem, an Alawite, believes a major issue that should have been addressed was the lifting of economic sanctions on Syria, which are directly affecting everyday life and causing people to suffer.
"The real issue is how people are surviving on a daily basis," she said. "With [gross domestic product] reduced, communications and travel down and import-export curtailed, it makes it impossible to live," she said.
Ghanem estimates that 50 to 60 percent of people have lost their jobs as a result of the sanctions alone. That is, before counting the cost of the conflict. "In some ways, people are being punished by the international community," she said.
She explained that even a chicken or bread was extremely expensive for ordinary people. "Children are dying from the cold because there is no fuel,"
she said.
What people want, Ghanem said, is "freedom and a democratic state."
But when asked whether that meant the removal of Assad, she paused and thought.
From her own private conversations, she said, Assad does still have a power base, especially among minorities who are anxious about the alternative they fear - an Islamic state.
"Not everyone wants to see Assad leave," Ghanem added quietly.