The middle-aged reporters watch the young men come out of the showers. The young men have hard bodies, while the bodies of the middle-aged reporters are soft, adiposal. The young men come from Spain, Cameroon, Martinique - and Tennessee. Now they are in Minneapolis, where they play for the Minnesota Timberwolves. On this night, the Timberwolves have defeated the Los Angeles Lakers. Once, the Lakers played in Minneapolis. Once, the Lakers won championships. Now they do neither.
Kevin Martin, a shooting guard for the Wolves, pleads for "real estate," and a few reporters oblige, receding with bovine reluctance. They wait for Martin to sit down in front of his locker and face them so they can commence talking about Kevin Love. Here in Minneapolis, they are always talking about Kevin Love.
"He's a warrior," Ricky Rubio says, more in admiration than in kinship: Something tells me that Love and Rubio aren't great friends. Dropping his towel, the Spanish point guard reveals his naked buttocks. He does his best to pretend that there is not a gaggle of middle-aged men looking at his bum, while the middle-aged men do their best to pretend that they are not in the presence of this callipygian youth who has a 10:30 flight to Oklahoma City, where his team will face the superior Thunder, to whom the Wolves will lose and thus fall further behind in the chase for the final playoff spot in the Western Conference.
"He's a soldier," says center Ronny Turiaf, who was born in Martinique and once played for the Lakers. It is about 80 degrees in Martinique in February. In Minnesota, it was 60 below with the windchill earlier this year, so most people venture outside as rarely as possible, using the skyways that connect much of downtown Minneapolis and create a sort of city-above-the-city, a spider-webbed mall in the sky. It is not known what Turiaf thinks of the skyways. I would like to find out, but from within the nervous scrum of reporters, you cannot pose a question that would not prove instantly useful to the rest of the pack, whose members need an easy quote so they can return to the media room (which looks like a forsaken cave in a college library basement, circa 1998) and peck out their game recaps.
One of the beat writers asks Martin, "Was tonight another example of how good Kevin Love is?" He apparently expects an actual response to that question.
Martin answers with the show of faith that he knows all gathered demand: "We realize how good he is."
Love emerges to face the reporters last. He had been sitting in a steel bathtub, healing his bruised body and texting. Perhaps the messages were to his girlfriend, reportedly the actress Cody Horn. By "reportedly," I mean that I googled "Kevin Love girlfriend" and the name of the blonde Magic Mike female lead came up. So did that of a former UCLA cheerleader. I could have asked Love about his romantic life earlier in the day, when we sat together in a barren cinderblock room that could not be more distant from the models-and-bottles lifestyle I associate with professional sports. But with his lumberjack beard and cold, receding eyes, he looked like a native of the North Woods, the kind who did not yield personal information willingly.
The only woman Love brought up during our conversation was Carol Lee Craig, who was his grandmother. He wore a black bracelet with her name around his wrist. She died in December. Now, he tells me, she is always with him. That means she was present several hours later when, during the fourth quarter of the Lakers game, Love went up against Lakers reserve center Robert Sacre and then promptly went down. Hard. I hurt watching it, and you will hurt watching it on replay. After several alarming minutes, Love rose, limping. Declining to sit, he played limping for the rest of the game, which he finished with 31 points and 17 rebounds, an astounding (and now routine) line for the sixth-season power forward. Martin was the high-scorer for the Timberwolves that night, but there was no dispute about who the hero was. It was a shade of Isiah Thomas hobbling through the sixth game of the 1988 finals, Michael Jordan battling the flu in 1997. A distant shade in less consequential circumstances, but still.
"It felt like my head snapped back pretty good," Love told the writers crowded around him. Love did not look while addressing them, giving his words the feel of a mumbled confessional. On the wall not far from where he sat, above plastic bins holding envelopes and will-call tickets, there is poster with a T-Wolves logo and a Rudyard Kipling quote: "For the strength of the Pack is the Wolf / and the strength of the Wolf is the Pack." There is very little doubt about which wolf is leading this somewhat aimless, occasionally promising pack.
Everyone has finally realized how good Love is, which may just be the problem. After being selected to his second All-Star game in 2012, the then-23-year-old told ESPN, "I'm definitely one of the best players in the world." This sounded far less like Midwestern modesty than Manhattan or Hollywood bombast. Everyone in town wonders if Love, whose contract has an opt-out clause he can exercise after next season, will make like LeBron James and flee the Midwest for one of the vastly more lucrative coastal markets in Los Angeles or New York. Even the shore of Lake Michigan in Chicago, with its statue of Jordan outside the United Center, might lure the young superstar fully aware of his own worth.
For now, though, Love is Charlie Chaplin stuck in a Judd Apatow fart-fest, a star without much of a team. An ardent student of basketball history, Love told me he adores the dynasties of the 1980s and early 1990s, a "golden age," in his words, that belonged to the Celtics and the Lakers, followed by the Pistons and the Bulls. The greats who played on those teams can safely be referred to by a single name, in the style of European soccer stars: Magic, Bird, Isiah, Jordan. But while they may eclipse their lesser teammates in history, these Hall-of-Famers could never have thrived without them. The average fan may not remember the long jumper Steve Kerr hit at the end of game six of the 1997 finals, but you can bet Michael Jordan does.
Only an array of insanely jumbled images can truly capture the full range of Love's game: the way he can dance down under the basket like a ballerina to score two and earn a foul, maneuver through the opposing frontcourt like a chess piece guided by Garry Kasparov, deploy an efficient intercontinental missile from beyond the arc or throw a full-court outlet pass to a streaking Corey Brewer with the accuracy of a Tom Brady spiral.
Yet Love has no trophies to call his own, at least not he since won the Oregon state high school championship at Lake Oswego High School in suburban Portland. He played for a year at UCLA, then went fifth in the 2008 NBA draft. Love's solid first year in the league was eclipsed by Chicago Bulls point guard Derrick Rose, who won the Rookie of the Year award; Love was not even among the top runners-up for the honor. A hand injury hampered the start of his 2009-2010 season. Love was honored with the NBA's Most Improved Player Award in 2011 and made the all-star team that year, as well as the next. He was on the 2012 Olympic team, which won the gold in London. His 2012-2013, however, was cut short by a broken hand.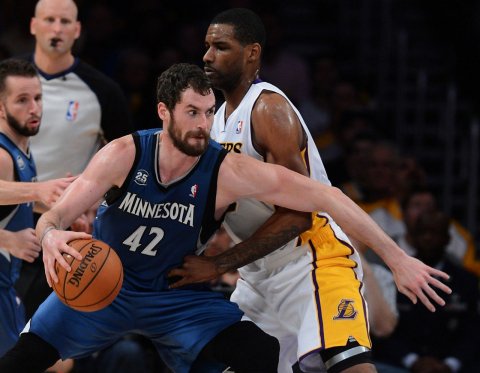 This season, Love is averaging 25.8 points per game (fourth best in the league) and 13.2 rebounds (second in the NBA), along with four assists. "The fans are who you play for," he said while the All-Star game voting was taking place. According to a report in the Minneapolis Star Tribune, a "massive push" by the Timberwolves front office helped him surpass Houston Rockets center Dwight Howard in fan voting for the game's starters. That only raises Love's national prominence, and if you cannot imagine a 25-year-old kid dreaming to leave Minneapolis, then you might well lack the imaginative faculty.
But publicists cannot manufacture the love-bordering-on-mass-psychosis that once made the Boston Garden or L.A.'s Forum the sites of religious exaltation. No paroxysm of adoration for Love from Wolves fans was evident on the night of the game against the Lakers, the very team many suspect he's yearning to join. The arena brimmed with jerseys sporting the number 9, which belongs to Rubio, the backcourt Picasso who would not look out of place in a Brooklyn coffee shop. Kids leaned down with perilous abandon from the stands as the players ran onto the court for their pregame shootaround, hoping for his autograph; Rubio patiently signed away. At the team store, an employee told me Rubio's jersey noses out Love's, at least in part, the clerk surmised, because the doe-eyed, Beatle-haired point guard is adored by female fans.
When Love stepped onto the court for the warm-up, he barely acknowledged the fans. There were grumblings there (and elsewhere around town) that he never signs autographs. "He wants to go back to Los Angeles," a bartender named Patrick Hierlmaier told me at Kieran's Irish Pub, right next to the Target Center. "We're more of, like, a small-market team."
"In the few times I've had Kevin or his dad on our show, I got the strong sense that they've long had the vision of being on the national stage," says Mike McCollow. McCollow, a former assistant coach for the Toronto Raptors and basketball analyst for Fox Sports North, added that Minnesotans "like to think that the San Antonio Spurs- and Green Bay Packers- type model proves it can be done without having to move to succeed at the highest level. Prince did just fine growing up and living here."
Though raised in Oregon, Love was born in Santa Monica, Calif. Kevin's father, Stan, is the brother of Beach Boy Mike Love. After a basketball career during the 1970s that included a stint with the Lakers, Stan served as the bodyguard of drug-addled Beach Boy genius Brian Wilson. According to an article in Minneapolis's Pioneer Press, one of Kevin's favorite Beach Boys songs is "California Girls." He prefers the surfer band to Prince, that proud native of Minneapolis. (Prince also likes to play basketball, albeit reportedly in heels.)
Love didn't say anything about L.A. during our conversation; he meticulously avoids speculation about his future, even as the national media parse every word he says for clues. "Right now, I'm loving being a Timberwolf," he says. When I mention the anxiety his potential departure provokes in the Twin Cities, he brushes that off. "I don't think they have to worry about that. It's gonna be all good."
The Timberwolves have not always been graceful in courting Love. Flip Saunders, the Wolves president of basketball operations, told me that Love is "very much a relationship guy." That's sort of the problem. If the front office had given him a five-year "designated player" contract in 2011 (of which a team can offer only one), the situation today might well be less complicated. But combative team executive David Kahn refused to do so, perhaps because he thought Rubio, not Love, was the future of the Wolves. Love got a four-year contract, with an option to opt-out next year. Britt Robson, a sportswriter who has been covering the Wolves for 20 years, deemed this "an act of colossal stupidity" in an article for MinnPost.com. Love, too, has suggested that he was hurt by the lack of confidence.
"I laugh at people who say, 'Is he a franchise player?'" says Sam Mitchell, who played for the Timberwolves and was the NBA's Coach of the Year for the 2006-2007 season. Mitchell says Love is one of the top three or four power forwards in the NBA. He thinks the Wolves may keep Love if they keep winning and make the playoffs. Of course, they need Love in order to keep winning and make the playoffs. So the serpent bites its own tail.
Kahn is gone, but the sour aftertaste lingers. So does the aftermath of the many poor draft choices he made, such as taking instantly forgettable Jonny Flynn ahead of future stars like Stephen Curry and Jrue Holiday in 2009 or picking Wesley Johnson ahead of DeMarcus Cousins or Paul George the following year. Curry was the player Love told me he'd most like to play with - "so unselfish... can really, really score" - in what may be a dig at Kahn and Rubio, who is averaging just 8.9 points per game and is on pace for the worst shooting season ever for an NBA player.
Love says that the best basketball advice he has ever gotten was from Kevin McHale, a Minnesota native who served in the Wolves front office until 2009. "If you chase the game," the Celtics legend told him, "everything else will follow." Of course, that's easy to say for someone who shared the parquet of the Boston Garden with Larry Bird and Robert Parish, winning the NBA championship thrice.
If Love were to decamp after next year, he would not be the first Kevin to leave Minnesota in search of an NBA championship. That distinction belongs to Kevin Garnett, currently winding down his exceptional career on an unexceptional Brooklyn Nets team. The Wolves drafted him right out of high school in 1995, in what was then an unprecedented move. A South Carolina native, Garnett was widely beloved here and became an adopted Minneapolis son, calling that city "the best-kept secret in the world" in one magazine profile. He won the MVP in 2004 and took the Wolves to the Western Conference finals in 2003-2004, the deepest they had gone since his arrival in the Twin Cities. They did not make the playoffs in the three subsequent seasons, and a demoralized Garnett left for Boston, where he promptly won a championship. The Wolves have not been to the postseason since that 2004 run. Nor have they finished above .500 since Love came to town.
Garnett is persona non grata for some in Minneapolis. "We don't like Kevin Garnett anymore," a fan named Gail Kisling told me before the game against the Lakers, because he supposedly "took his fame and his stardom too literally."
Many fear that Love's ego is similarly tumescent. This is, after all, a region settled by Lutheran Scandinavians, and their severe brand of modesty lingers in the Minneapolis chill. They know they are not Los Angeles or New York, nor want to be, looking at the coasts less with jealousy than suspicion. Those who want to leave are welcome to do so. F. Scott Fitzgerald did, ditching St. Paul for Princeton, Manhattan and Paris. He died in Hollywood.
"He wants a big market," one teenager waiting in the atrium of the Target Center says of Love. He was with two friends. All three believe Love will leave Minneapolis.
Cleveland was devastated when James "took his talents to South Beach," and Cavs owner Dan Gilbert wrote an unseemly letter, full of a lover's rancor, castigating the Akron, Ohio, native for his "shocking act of disloyalty." Minneapolis is unlikely to experience similar apoplexy, for while Love is a superstar, he is not a homegrown one. Moreover, Minneapolis is resigned to losing its stars: not only Garnett but Johan Santana (from the Twins to the Mets), David Ortiz (Twins to Red Sox) and Randy Moss (Vikings to, eventually, Patriots). The North Stars hockey team left for Dallas, of all places, to be eventually replaced by the Wild. And then, of course, there were the Lakers, named for Minnesota's legendary ten thousand lakes. There are about 10 lakes in Los Angeles, along with the La Brea Tar Pits.
Some think it would be no basketball disaster if Love left, and that the Wolves should make the best of that inevitable reality and trade him before he bolts. "We shouldn't cry if he leaves for the West Coast," said a young professional at the Red Cow bar in Edina, a suburb that has the best high school hockey in Minnesota. If the team is Love's, then so is that team's failure to make the playoffs. Earlier this season, Love criticized second-stringers J.J. Barea and Dante Cunningham for not joining the huddle during a timeout. Maybe that was a fiery show of leadership, but the public displeasure came across to many like petulance.
"We haven't done anything in this league yet," avuncular Wolves coach Rick Adelman told me. "We can't get too ahead of ourselves." It seems implausible, however, that Love has the capacity to be complacent, to keep playing for middling teams that may improve and may not. Larry Bird won a championship in his second year in the NBA; Magic Johnson won in his first.
"I've always been a winner and that's the only thing I do," Love says. Sorry, said - when he was at UCLA. He hasn't been on a winning team since. He is now in his sixth Minnesota winter. Soon it may be time for a thaw.