It is, by many accounts, the Greatest Story Ever Told. In fact, when it was brought to the big screen in 1965, that's the title they went with. The narrative account of the life of Jesus of Nazareth has inspired more than two dozen major motion pictures in the past five decades, as well as a handful of television miniseries and two musicals, one of which featured clowns. Which is to say, some of these interpretations of Jesus's life have also brought controversy along with them. Martin Scorsese's 1988 The Last Temptation of Christ is considered by many to be blasphemous, while Mel Gibson's 2004 The Passion of the Christ has been criticized as, at best, incredibly violent and, at worst, wholly anti-Semitic. In other words, perhaps the reason this 2,000-year-old story hasn't been told more often on film is because it has the potential to be the Greatest Hassle Ever Conceived. So why, then, do husband-and-wife team Mark Burnett and Roma Downey of LightWorkers Media, feel things will be different this time around? Perhaps because The Bible, the miniseries they produced for the History Channel, was a ratings juggernaut and one of the most-viewed series on cable in 2013.
"It's been a journey," says Downey, when asked about theatrically releasing parts of The Bible along with new footage from Son of God, opening on February 28. "It's taken up four years of our lives, and we have poured our hearts and our souls into it," continues Downey, her delicate hands hugging a cup of green tea. "We've moved through the process very prayerfully as well. We believe God doesn't always call the qualified, but he qualifies the called."
While there are few television producers more qualified than Burnett, with shows such as The Apprentice, The Voice and Survivor under his belt, even he is in many ways humbled by the responsibility of bringing the Jesus narrative to life. "I get a sense that of anything we've ever worked on and ever will work on, The Bible and Son of God are likely to have the greatest, most important impact," he says with a smile, looking toward his wife as the three of us sit on the side porch of their home in Malibu. You can tell he believes it, and you can tell it excites him.
Which is, in some ways, what is most exciting about Son of God. A beautifully shot, powerfully acted film, it is at once historically accurate and awe-inspiring, revelatory and relevant. It's as much a testament to Downey and Burnett's skills as producers as it is a primer on what they personally believe. "When we were putting the series and movie together, the intention was to spread a message of God's love," says Downey. "We told the Bible series as a love story, and Son of God is a love story. Wherever we feel separate or disconnected from the Creator, we know Jesus came to bring us home."
"It clearly says in the Bible that Jesus is God," adds Burnett. "It's very, very clear. 'In the beginning was the Word, and the Word was with God, and the Word was God and the Word became flesh.' And that's the statement we open the film with." Son of God establishes Jesus's divinity in the opening scenes and then spends its subsequent two hours humanizing him. "Because we start the film with the beginning of Jesus's mission, you really fall in love with Him," continues Burnett.
"He's this incredible person, who speaks right to you, and then you see what happens to Him. We could have minimized that aspect, but you shouldn't, because the whole point of His suffering is to show what God would do for us."
"One of the things we were looking for when we were looking to cast the role of Jesus was an actor who could portray the lion and the lamb," says Downey. "Diogo Morgado gave us that. He has a natural kindness and compassionate nature, which is the essence of who he is, but he's also a big, strong guy, with a really good presence." Both Burnett and Downey agree that Morgado's performance is as powerful as it is heartfelt. "His Jesus is one you want to stand up in the aisles and say, 'I'll follow you!' Our hope is that people will step up and hear the call," adds Downey.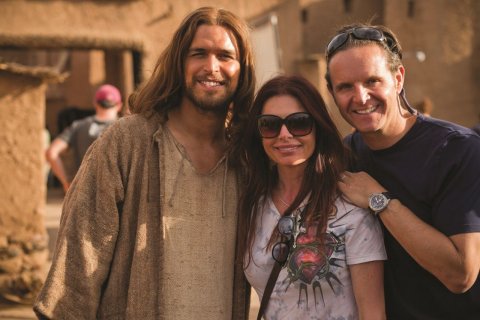 With Son of God, Downey and Burnett have answered what they perceived to be a calling to create a presentation of a potentially controversial story nearly everyone can agree on. "It's been so easy to have the denominations work together on this because of the unifying message we present," says Burnett. "It's what everybody stands for." The film has been endorsed by several leaders in the Christian community (including pastors Rick Warren, Joel Osteen and Sam Rodriguez; Bishop T.D. Jakes; and Cardinal Donald Wuerl, to name a few), but it's the support of Abraham Foxman, the head of the Anti-Defamation League, that means the most to the duo. "We're responsible for our work, and if it were handled incorrectly it could further anti-Semitism, so we were extremely careful and worked very closely with the ADL," says Burnett. "Foxman has seen the whole film and wrote us a beautiful letter about how we approached it."
Son of God is a modern film featuring a story as old as time, but in some ways it's also a harbinger of the future. There are several Bible-based stories set to hit the silver screen in the coming months (including Noah, starring Russell Crowe, and Exodus, featuring Christian Bale as Moses), and Burnett and Downey are producing a series for NBC called A.D., based on the events in the New Testament following Christ's resurrection. And while they are both enthusiastic about this project (hearing Burnett describe the pilot episode of the series, in which panicked officials in Jerusalem search frantically for Christ's body, was a highlight of our interview), both Burnett and Downey seem to get the most joy out of the way their work has opened the door for a larger dialogue about what they believe. "We were truly encouraged when the Bible series came out," says Downey. "It began a bigger conversation in the U.S. and around the world, and gave people permission to speak about God, to speak about faith and to speak about Jesus."
"It has been incredible and fun and a massive deepening of faith for me," says Burnett. "Imagine doing nothing but studying the Bible and the teachings of Jesus for five years. To live this close with it, every day, it's an amazing thing."
"It's been incredible," Downey adds. "To tell the story you love with the person you love has been an absolutely beautiful part of our personal story." It's a story that they both believe will outlast them for generations to come. "We wanted to reach all people," says Downey. "Some of the people who see Son of God will have never heard the Gospel this way before. Mark and I will be long gone, but this film will still be seen and will bring people the Word of God."