In the future envisioned by Google, Internet access will be a basic human right. Through its Roots in Science and Engineering Awards, the company plans to spend $1.5 million this year to support computer science education around the world. Through Project Link, a fiber-optic network is emerging in Kampala, Uganda, and last summer, Project Loon launched 30 balloons into the stratosphere over New Zealand, each beaming a 3G-comparable connection across a 25-mile range. The company is even footing the bill to connect dozens of parks in San Francisco, plus a wide swath of the neighborhood around its headquarters in New York City.
Amid all this farflung experimentation, one project has emerged as its standard-bearer, promising the full egalitarian potential of the Internet: Google Fiber. But for all the lofty rhetoric, Google is not actually picking up the tab to connect homes across America. Instead, the $400 billion company is building a network that requires prepaid online registration. And for those left stranded in the digital age - the poor, the elderly - the result is far short of e-mancipation.
In keeping with its unofficial slogan, "Don't Be Evil," Google has billed Fiber as an assault on one of the most entrenched moral problems of the digital age. According to the Pew Research Center, 15 percent of American adults have no access to the Internet. Thirty percent lack broadband access at home, with rates lowest among the poor, the elderly and racial minorities. At a time of vast income inequality, experts say the so-called digital divide perpetuates cycles of poverty. Internet access holds the key to education, employment, government services and much more. As the role of the Internet in everyday life expands at dizzying speed, those left behind face a dangerous level of isolation.
"It's virtually impossible to look for a job without access to the Internet," says Karen Mossberger, director of the public affairs school at Arizona State University, whose research has shown that access makes a significant difference in average wages. "Despite the important role that public libraries play, people wait in line; they're timed out after half an hour. It's not really a viable alternative."
In promotional materials touting "gigabit" speeds 100 times faster than average broadband, Google Fiber promises "superfast connectivity," "endless possibilities" and "goodness." The company highlights the story of a 13-year-old boy who, stricken with a rare blood disorder, managed to throw out the first pitch at a major league baseball game using a tele-robotic setup orchestrated with one of the first fiber connections in the test market of Kansas City, Mo. "A world with universal access and 100 times faster Internet could mean 100 times the learning," the company's marketing materials say. "100 times the laughter. 100 times the jobs. 100 times the public safety. 100 times the next big thing that you never thought would be a thing. 100 times the possibilities."
For a firm in the online advertising business, bridging the divide makes fine business sense. Every Internet user is a potential source of information valuable to clients. And from a logistical perspective, the challenge amounts to little more than navigating government bureaucracies and installing wire. But Google has also chosen to highlight the public policy imperative. "We know - we really believe, right? - that we have a role to play in closing the digital divide," says Erica Swanson, program manager for digital inclusion at Google Fiber.
So far, its Fiber team has mostly tinkered away from the spotlight of technology media hubs like San Francisco and New York. The first two tests, selected from a pool of about 1,100 municipal applicants, took place in Kansas City and Provo, Utah.
For its next market, though, Google has chosen Austin, Texas, the high-profile host of the annual SXSW Interactive conference. Though the company has yet to string out a single wire, competitors have rushed in. In effect, Google is driving policy for the installation of modern communication technology. "This is a real test-bed case," says Pike Powers, a lawyer who has led the region's economic development efforts in the technology sector. "This is, symbolically, terribly important to their raison d'être."
But as Google forges ahead, some fear the fiber project will create a permanent underclass. Building the next generation of information economy infrastructure around current demand, experts say, will deny poor people the physical wiring needed to gain access while the privileged digerati advance at hyperspeed. "The fiber service deployment means multiplicity of the digital divide, multidimensionality of the digital divide," says Eun-A Park, a telecommunications and mass media expert at the University of New Haven. "You can see it in Google's trial in Kansas City."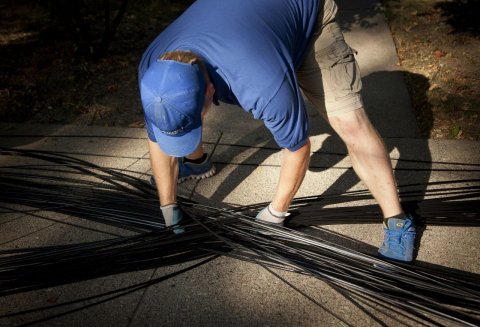 They call it the Troost Wall. Along Troost Avenue, a persistent racial divide defines the socioeconomic landscape in Kansas City. Generations of white families have lived in relative affluence to the west, while generations of black and Latino families to the east have lived in poverty.
When Google came to town in 2011, the company divided the two Kansas Citys spanning the Kansas-Missouri border into "fiber-hoods." To qualify for service, residents in each zone would need to hit a certain percentage (varying by population density) of $10 prepaid registrations. Registration took place online, payable with a credit card. When the deadline arrived in September 2012, the online map of fiber-hoods was largely divided by lines like Troost Avenue.
"It became a very graphic image of the haves and have-nots in Kansas City," recalls Rick Chambers, executive director of the Center Education Foundation, which raises money to support a low-income school district in South Kansas City, Mo. "It forced the city to say, 'We have a community problem here. And Google Fiber, while it's an exciting thing, may make the divide worse.'"
Google commissioned an independent study, which identified three main obstacles to sign up: affordability, a sense of relevance and existing computer skills. Of those three, Swanson says, the company has the most power to influence affordability. Its high-speed "gigabit" service costs $120 a month. To expand participation, the company offered lower-speed broadband service for a $300 construction fee, broken into $25 monthly payments. Enlisting community organizations, Google even hired workers to canvass poor neighborhoods, sometimes with free ice cream.
Still, the pattern persisted. "They went to neighborhood meetings; they promoted it through the media; they bought advertising; they hired a very energetic salesforce; they had a mobile van where people could do their pre-registration," Chambers says. "The challenge is the cost. The $300 offer they have is a good one, if you're going to stay on the property, if you own the home. But in low-income neighborhoods, people tend to rent. They tend to be very transient, so it doesn't make sense to wire their home."
Other attempts to expand residential service produced mixed results. In Rosedale, a four-square-mile minority enclave on the Kansas side, an advocacy group called Connecting for Good pitched Google a plan to install a public Wi-Fi network with escalating price structures. When that proposal was turned down, the group suggested wiring Rosedale Ridge, a low-income housing complex, with a connection residents could share. That did not fly either. "They have been supportive of our efforts in a small way, for which we're grateful," says Michael Liimatta, president of the group. "But it's not a revolution for low-income people. The revolution would come if Google allowed us to share a gigabit connection with multiple families. They could cause a revolution in cheap bandwidth. But their decision not to let us share the connection means we have to find some other way to do it.
"It's kind of bizarre and sad that they're sending up balloons over Africa promising to bring Wi-Fi and not doing it here in Kansas City, where it could have a real impact right now."
As of February, Google says that 180 of the 202 Kansas City fiber-hoods have qualified for service, including 17 of the 20 with the lowest median incomes. Within those zones, it agreed to provide free connections to some schools, libraries and community centers selected by the city. But "it's not clear what happens to the folks in the areas that didn't qualify; it's not clear when or if Google will build out in the future," says Patrick Lucey, an analyst at the New America Foundation in Washington, D.C. "It's kind of up to Google."
Even within the qualifying fiber-hoods, residential connection has been a more difficult proposition. Scholars of the digital divide describe universal home service (or close to it) as a crucial element of any plan to expand access. "Google has to deal with this problem," says Park, referring to the low response in poorer neighborhoods. "It will happen nationwide as Google moves from one city to another."
More than a year has passed since the service went live in Kansas City. On the west side of Troost Avenue, the company has established an elegant showroom. But for the kids in public school, officials say, little has changed. On the Kansas side of the state line, where 86 percent of students qualify for reduced-price lunches, officials have long sought to expand computer literacy. In 2007, the district issued every high school student a MacBook. Lacking Internet access at home, though, many of them learned to cache pages they will need for homework. So far, being in a "fiber-hood" hasn't helped them.
"The way that Google sold this was about closing the divide," says David Smith, chief of staff for the district. "I know Google is eager to spread to other communities. I hope they'll remember where they started and finish the job here."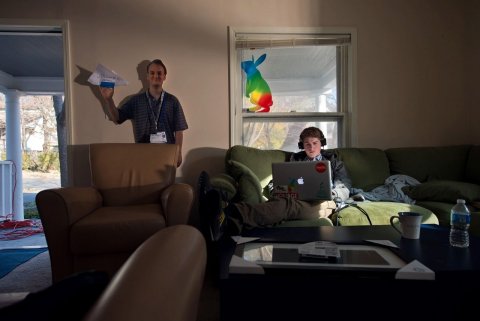 On a frigid Monday morning at a community center in east Austin, across the street from a cinderblock day-care center, down a hallway decorated with colorful murals and banner proclaiming, "Access Is Power," Emily Plunkett shares a workstation with Charles, a 65-year-old former welder and pipefitter. He used to make his living on the ship channel in Houston, doing younger man's work. He sits to the side of the machine, in a baseball cap and thin jacket, watching Plunkett type. Her title is program specialist, but her students call her "the computer lady." In previous sessions, she has helped him acquire an email address and compose a résumé. Now they are working on a cover letter.
Charles is looking for janitorial work. "They want you to be online," he explains.
This lab, Classroom B, is known among the staff of Austin Free-Net, a nonprofit group promoting web skills, as the I Don't Even Know What I'm Doing Lab. Clients can work their way up to "independent user" status, granting access to three other rooms where they can go online with less assistance.
The group's director, Juanita Budd, rose through the Texas chapter of the Girls Scouts. By the time she joined Austin Free-Net in 2011, the group had spent 15 years placing computers in homeless shelters and senior centers. But without trainers to teach digital literacy, the terminals got little use, and that grant money was drying up. Her main financial support comes from the city government, which provides the lab space free of charge, not from the firms that have fueled the city's explosive growth. "It seems strange," she says, reaching for a diplomatic tone, "that the tech companies who understand the benefits of technology haven't been more supportive."
Glancing up at her office wall, where she tracks fundraising efforts on a whiteboard, Budd describes the fiber deployment as a potential catalyst. "When Google came to town, people started thinking about the vulnerable population," she says. "Leaving people with no hope is what's keeping us divided."
To run the rollout, Google made a local hire with strong political connections. Mark Strama, one of the most politically engaged digital whiz kids of his generation, used his platform as program director of MTV's Rock the Vote in the 1990s to launch one of the first online voters registration services. When the fiber team came calling, he was running a tutoring company, serving as a state representative and contemplating a mayoral run. "He's first-rate, high-quality; damn near a genius intellect," says Powers. "And he's not a carnival barker corporate slave. At least not yet."
Google declined Newsweek's request to interview Strama. In his few public statements, he has outlined a plan strikingly similar to the one used in Kansas City. "For us to bring Google Fiber to you, we need to know you want us!" he wrote in a blog post. "Each fiber-hood will have a sign-up goal. Once you and your neighbors reach your goal, we'll bring fiber the last mile (or so) from the cabinet to your homes within a few weeks. This process will be transparent - you and your neighbors are in control."
Under Strama's guidance, the local fiber team has cast a wide net. Google representatives have become a familiar presence at community meetings with nonprofit groups like Austin Free-Net. The company also hosted an information session at the local African American Chamber of Commerce. In mid-February, according to a promotional flier, Strama spoke at a country club about "the where, the when and what new capabilities they will be bringing to Austin!" His audience, a private group of real estate managers, paid $30 to attend.
On the affluent west side of Interstate 35, Austin's equivalent of Troost Avenue, Mayor Lee Leffingwell leans back in his second-floor office on the banks of Town Lake. His surroundings stand as an enduring testament to the power of the technology sector. The angular, copper-toned City Hall, built for $56 million after the first Internet boom, acquired its squat design as a workaround when contractual obligations prevented the city from blocking a computer company's waterfront view.
Google has a lot of influence in the building. When Newsweek filed an open records request for documents concerning the fiber project, the company knew about it immediately. And while municipal officials are careful not to publicly side with any private company, Leffingwell has embraced the project as "an economic catalyst." As in Kansas City, Google has pledged to provide free service to sites chosen by the city, this time including nonprofit groups like Austin Free-Net.
As for the loftier goal of universal access, Leffingwell says, "I'm not exactly sure how that's going to work. They're not just going to go put the fiber network up in a place where they don't have customers."
Down the hall, Laura Morrison, a council member with an advanced degree in mathematics, has studied the company's list of obstacles: affordability, sense of relevance and existing computer skills. In her view, the community groups chosen to receive free connections stand the best chance of rallying their neighbors to buy in. "If the fiber-hoods they're in don't light up, they can't get that connection," she says. "So they're going to be interested in making sure that fiber-hood lights up."
Since December, when the city chose 100 community organizations to receive free service in qualifying fiber-hoods, the company has said the rollout remains months away. No fiber-hood map has been disclosed. Swanson, the fiber team's digital inclusion officer, says community groups will lead the way in helping poor neighborhoods qualify for service. "Google helps," she says, "by starting the conversation."
On Wednesday, Google confirmed its national ambitions for the fiber project, naming nine new markets. They range across the country from Oregon to North Carolina, including tech centers like San Jose, Calif., and big cities like Atlanta and Phoenix. "They are diverse," the company's announcement says. "Not just geographically, but in the ways they'll give us opportunities to learn about the wide range of challenges and obstacles that communities might face in trying to build a new fiber network."
Back in Austin, producing a national template for inclusion may require more than conversation. The digital divide has deep roots. Much of the physical infrastructure was built to reinforce segregation, producing stubborn disparities in education, access to capital and exposure to technology. For generations to come, Google is deciding where to install opportunity. "The fiber-hood thing is a compromise that's market-based, but may backfire," says Joseph Straubhaar, an expert on communications policy at the University of Texas. "They think they can do this on the cheap with existing community partners. I think they need to be more genuinely committed with more people on the ground."
At Austin Free-Net on the east side of town, Budd is willing to do her share. But "if you live in west Austin and don't think you're affected by the lives of people in my community," she says, "you need to think again."