On a freezing night in December, standing on a stage set up among tents and would-be revolutionaries in Maidan, Kiev's main square, the Ukrainian pop star Ruslana shouted to protesters to stay peaceful as police began to surround them.
"I am not afraid of your clubs! I am not afraid of your gas attacks!" Ruslana screamed into the microphone. "I am just a singer, singing songs for peace in Ukraine!"
Though the Ukrainian police force, the Berkut, attempted to break through barricades made of scrap wood and metal, protesters, energized by Ruslana's voice, managed to prevent a clash. Throughout the night, Ruslana repeatedly sang Ukraine's national anthem and her own songs, hopping up and down both to stay warm and urging protesters to sing and dance, too. Eventually, the Berkut retreated, and at dawn the Maidan was still at peace.
Ruslana described it as the "experience of a lifetime." At first, she told Newsweek, it was difficult to cope with fatigue and emotional stress. "But I always had a second wind," she said - perhaps similar to the EuroMaidan movement itself, reignited and stronger than ever after a lull last month.
"Special battalions looked for me in my car during the attempt to cleanse Maidan on Tuesday night, but I was on stage singing - it was music that saved me," Ruslana told the Daily Beast.
As the months roll on, Ruslana continues to put her life in danger, especially in light of the recent shootings around the Kiev parliament that has left at least 5 dead - the most violent clashes in weeks. She has received threats via phone calls and messages, and the "titushky" - government-paid "thugs" - watch her home and have attempted to break down the door of the apartment she currently stays in. Because of this, Ruslana is accompanied by protection "day and night," she told Newsweek.
When you imagine a pop princess, the first thing that comes to mind isn't a small 40-year-old woman dressed in layers of sweaters and coats, bouncing around amidst thousands of angry Ukrainians denouncing the corrupt government and the domineering hand of Putin in neighboring Russia.
Ukraine's most famous pop star, Ruslana Lyzhychko, who has become a symbol of her country's revolution - EuroMaidan - is short, with long dark-brown hair trailing down her back. At times she seems to have the energy of someone half her age. She has done her fair share of bare-bellied dancing to synthetic music, but beyond music she is a stalwart political activist campaigning hard to improve the lives of her fellow 45 million Ukrainians.
She has said she hates politics, but she has been conspicuously on display every night at the protests in Kiev's center square, where she hopes simply to "charge Maidan with freedom-loving energy. If necessary, I will sing every night in Maidan, even until the next presidential election in 2015," she declared in November and December. Since then, she hasn't stopped.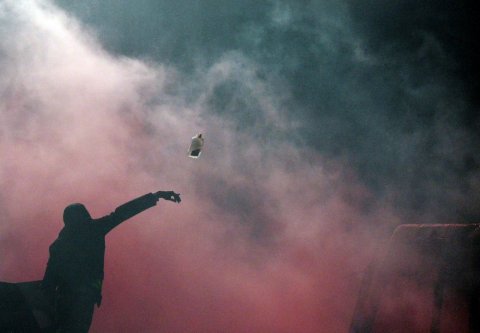 In November 2013, the first spark of the Ukrainian protests took place when President Viktor Yanukovych backed away from a trade deal with the European Union and opted to strengthen ties with Russia, Ukraine's long-standing economic partner since the days of the Communist Soviet Union.
Though Yanukovych's move angered pro-Western Ukrainians, who wanted to see their country move closer to Europe, EuroMaidan didn't grow into a full-blown revolution until several protesters - students and journalists - were attacked and beaten by police. Hundreds of thousands of Ukrainians then poured into Independence Square in Kiev to protest police brutality, with numbers swelling to nearly a million in early December.
Since then, EuroMaidan has grown into something far bigger than just an angry response to the fallen-through EU deal. It's now about ousting Yanukovych and his corrupt government; guiding Ukraine away from its 200-year-long, deeply intertwined and painful relationship with Russia; and standing up for basic human rights to protest, speak and think freely and to act peacefully without the threat of punishment.
Ruslana's significance may lie in her ability to act as a personification of Ukraine's ambitions. During the protests, her straightforward speeches pressing for the government to give in to the demands of the people - and her energizing performances onstage at the square - have helped bring together the protesters around the human needs for song, dance and freedom.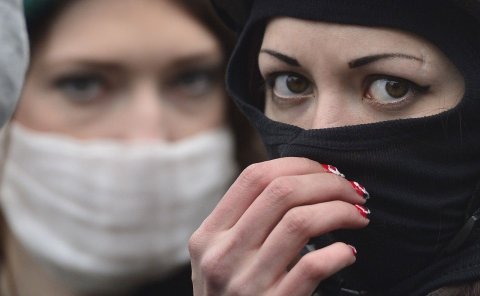 Lyzhychko was born in Lviv, the nation's second largest city, in the western region of Ukraine, where anti-Russian and anti-Yanukovych sentiment is strong. Her father was from the Carpathian mountains, home of the Hutsuls - an ethnic group of mountain dwellers known for their energetic dances, distinct accent, and upbeat music.
Ruslana's roots have inspired her musical style, a blend of modern pop and ethnic beats. She has incorporated ancient Hutsul instruments in her music, such as the trembita, a long wooden horn used to signal deaths and is played at funerals and weddings.
Oleksandr Ksenofontov, Ruslana's husband and producer, has worked closely with his wife of 18 years throughout her musical development. It was this ethnic Hutsul theme that became their ticket to fame. "We went to Moscow to meet with a producer on new songs," Ksenofontov told Newsweek, "and he told us, 'Why are you two looking at Moscow, when you have at hand the unique Carpathian mountain people?' Without hesitation we went on an expedition to the mountains, and a few months later the 'Hutsul project' was born."
After winning the 2004 EuroVision contest with her hit, "Wild Dances" - with lyrics written by her husband and producer, Oleksandr Ksenofontov - she became instantly famous both in Ukraine and throughout Europe. "Wild Dances" opens with the wails of trembitas and the intense pounding of drums, accompanied by shouts of "Hey!"
The song topped the European charts for 97 weeks and stayed at number one in Belgium for 10 weeks. Her album, Dyki Tantsi, became the best-selling Ukrainian album ever. Ruslana received a World Music Award later that year and became the first artist from a post-Soviet country to receive a platinum disc.
As a result, Ruslana hasn't struggled as an artist for the past decade. Though she claims she "hated" politics, her musical success helped her become synonymous to Ukraine.
A Ukrainian tourist website describes Ruslana as "a symbol of Ukraine. [A woman who is] fragile, but full of wild energy... who has made great efforts and talent to make talk about Ukraine around Europe."
She became politically active during the Orange Revolution, the democratic protest movement that shook Ukraine 10 years ago, served as the UNICEF Goodwill Ambassador in Ukraine in 2005 and 2006 and as a deputy in the Ukrainian parliament, Verkhovna Rada, for the Our Ukraine Party in 2006 and 2007.
Today, many Ukrainians see Ruslana's devotion to EuroMaidan as inspiring and admirable. "She has everything. She is prosperous. What we see here [at EuroMaidan] is that a lot of people have something to lose. They have money or some kind of business," Yevgeniy, a cafe owner present at the Maidan, told news.com.au.
"During the Orange Revolution, I stood on the Maidan every minute, as now I stand at EuroMaidan," Ruslana told Newsweek. "Of course, I took an active part [in the Orange Revolution], but it was different. Ukrainians had a leader. Now we don't, and even more so, a leader won't be accepted and the people aren't looking for one. Today, the people are struggling for themselves."
When asked about the current state of affairs at the Maidan, Ruslana told Newsweek in an e-mail, "The situation has changed." "The peaceful protests of citizens have stopped being peaceful," she continued. "We no longer sing or dance, despite the severe cold. We understand that today the fate of the country [that has taken] several decades to come hangs in the balance. Instead of singing, we pray."
Indeed, much has changed. At the beginning of the movement, protesters peacefully held their ground with smiles, goodwill and music. Now, the scene has transformed into a war zone - the square riddled with ice, burned carcasses of trucks and buses, half-destroyed barricades, tents, shoddy groups of protesters hurling Molotov cocktails.
Plenty of protesters - many in their early 20s - have been beaten and several have been killed. A large number have been jailed or reported missing.
Yanukovych has accepted the resignations of Prime Minister Mykola Azarov and his cabinet. Senior positions were offered to members of the opposition but were rejected. And the Ukrainian parliament voted to annul a recent draconian antiprotest law that had allowed authorities to treat even peaceful protesters as criminals.
But, like Ruslana onstage, the Maidan protesters don't tire. They wait for the cracks in Yanukovych's government to appear.