For those who keep score of such things, Super Bowl Sunday was considered a modest victory for women, as far as the commercials were concerned anyway. Props were given to ads "designed around big ideas and not sexist stereotypes," as the 3 Percent Conference, a group of female creative directors from West and East Coast ad agencies, put it.
That may be true. But it's also a fact that not one ad so much as nodded at Single Indies: Women over 35, unmarried, with no children and - most important from an advertising point of view - successful. With apologies to Helen Reddy, they should be too big to ignore. Single Indies spend around $1 trillion each year...and there are 28 million of them. Yet, in both advertising and media, this pocketbook powerhouse is, for all intents and purposes, nonexistent.
"Women are either absent from advertising, and the man is the protagonist and women are sidekicks - or women are portrayed in a mom role," says Kat Gordon, the founder of the 3 Percent Conference and the founder and creative director of the Maternal Instinct ad agency. "No one is seeing that [single] women are going on incredibly exotic, adventurous excursions, making their own money, amassing wealth, getting higher education and having all this influence. With advertising, we're still in the 1950s."
And it isn't just the advertising industry. A cursory glance at television programming - especially on women's channels - finds almost no TV shows with single women over the age of 35. (Those you can find are whining about being single or sad spinsters.) The majority of programming geared toward women is like The Bachelor - in which women vie for the hand of a single, solvent man and vow that if he chooses them, they will give up their family, friends and jobs to move across country to be with their prince. Or it's like the Bridezilla and Real Housewives series (and their knock-offs) - women who are either married, about to be married or want to be married, behaving very badly.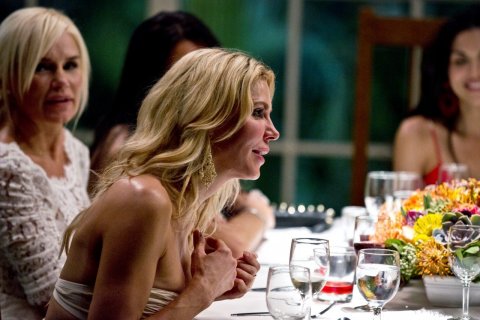 "It's just bullsh*t," says Jennifer L. Pozner, the executive director of Women in Media & News and the author of Reality Bites Back: The Troubling Truth About Guilty Pleasure TV. "Media companies serve advertisers, advertisers serve media, and none of them are serving women."
"Women are doing the majority of buying across every consumer category, and women are adopting technology and driving social media usage and amassing wealth in unprecedented ways," adds Gordon. "I live in Silicon Valley and work with start-ups and companies, all trying to eke out tiny benefits - and no one is seeing this huge opportunity."
It reminds some of the late 1990s, when it dawned on advertisers that gay men were desirable customers. They didn't marry (they couldn't), weren't having children and as a demographic, they amassed a lot of money as they grew older. Even more important, they liked luxury goods and services. Initial attempts to engage the Pink Dollar were comical. Viacom created Logo, a "gay" channel that for a year seemed to consist of Priscilla Queen of the Desert on a loop.
Almost two decades later, homosexuals are (slowly) getting the right to marry and many are adopting children; their discretionary income is being sidelined. And now it is the Single Indie advertisers should be growing aware of - but they have no clue how to reach her. The Single Indie is not a niche market.
"People don't realize what a large group of people were talking about," says Jamie Dunham, president of the branding and marketing company Brandwise and a self-described "reformed advertising executive." "This is not a small group. The Single Indie is almost a third of all adult women. And she has disposable income: She's traveling, she's buying things for her home, she's getting a nice car because she doesn't have the expense of a family household."
Still the majority of ads are geared towards a nuclear family, which according to the U.S. Census Bureau, represents only 22 percent of households today, as opposed to 44 percent in the 1960s.
"There's a seed wisdom that male audiences are the difficult ones to get and that's outdated," says Cindy Gallup, the former chairman of BBH New York and founder of MakeLoveNotPorn and IfWeRanTheWorld.com. "Women buy, influence culture, and women share. Whatever brand you are - even if you think you're a male brand - you ought to be targeting women; they're the primary influencers in every sector."
Last year, NBCUniversal's Integrated Media group found that Single Indies were not just successful (accounting for 59 percent of master degree holders), they spent $22 billion on vehicles (five times more than independent men), $20 billion on entertainment, and $50 billion on food.
Perhaps the biggest cause of change is social media - and the Single Indie's mastery of it. According to comScore, women are the majority of users of social networking sites and spend 30 percent more time on these sites than men. And women are more engaged online both as info seekers and as advocates.
"In the past, if you made an offensive ad I might think, Oh I'm not going to buy that product. And I might say something to the person next to me on the couch," Gordon says. "But now brands are aware we have a mechanism to share our thoughts and broadcast to everyone in our social tribe, and it's really shameful to be a brand who's taken down by consumers who've seen how dismissive you've been of them. It's been a wake-up call - advertisers see how much traction hashtags like #notbuyingit are getting. And finally there's checks and balances - you can't hide, consumers are going to call you out."
But the questions remain, in what Gary Vaynerchuck calls the Thank You Economy -in which businesses thrive by using social media to acknowledge, reward and, yes, thank their customers - who is thanking the Single Indie? And who will score some of those trillion dollars they're willing to spend?