Leopoldo López clutched a bunch of white daisies as he climbed into the waiting police vehicle. A sea of protesters surrounded the Venezuelan politician and tried to snatch him from the authorities' grip as the cameras rolled.
His surrender, which had been expected for days - though not in such a public manner - was dramatic, visually stunning and a shrewd bit of political theater.
With twinkling chocolate-colored eyes and high cheekbones, López seems to have it all: an attractive and supportive wife, two children who get along with each other and impossibly adorable Labrador puppies. He is charismatic, athletic and good-looking (Estampas, a weekly magazine, named López one of the most handsome men in Venezuela for five consecutive years). But he is also astute and politically agile.
And now, the 42-year-old head of the Voluntad Popular party has positioned himself as the most prominent face of the opposition, driving thousands of Venezuelans into the streets to protest against food shortages, a stagnant economy, widespread crime and an increasingly encroaching socialist government. Should the situation deteriorate in the months to come, experts say, López could present a considerable challenge to Venezuelan President Nicolás Maduro.
Since the death of former president Hugo Chávez in March, quality of life in the already divided, fragile country has taken a nosedive. At times, basic items like toilet paper and margarine have become elusive, and many other items have been rendered unaffordable by 56 percent inflation. Several newspapers, some under pressure to stick to the party line, have run out of newsprint. Dollar-buying has turned into a quixotic endeavor as the state moves to regulate it more heavily.
On February 12, López, the former mayor of a posh neighborhood in Caracas, convened a massive anti-government protest. It started out peacefully, with thousands of supporters chanting in unison and displaying handmade signs. But as the demonstration was winding down, youths began throwing rocks at police and torching their vehicles. Three people, including a government supporter, were killed. Shortly after, Maduro issued an arrest warrant, accusing López of inciting unrest, homicide and terrorism.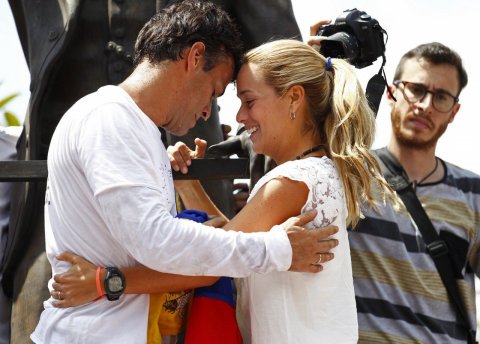 After taunting the president on Twitter from an undisclosed location - "I am telling you, Maduro, you are a coward. You will not defeat my family or me" - López emerged last week in the midst of a massive demonstration of people (dressed in white) he had convened the previous day. He stood atop a statue of Jose Marti, the Cuban independence hero, and spoke to the crowd through a microphone.
"Today I present myself before an unjust justice, a corrupt justice, a justice that doesn't judge according to the law and the constitution," López told his supporters before surrendering. "If my incarceration leads to an awakening of the people, a definitive awakening of Venezuela.... It will be worth the vile and cowardly incarceration that Nicolás Maduro has ordered."
Those close to López were moved but not surprised. "That's Leo. Those are not words he's just picking up for ideological impact," says George McCarthy, López's advisor at Kenyon College and a longtime friend. He "has a very strong sense of social justice, toleration and democracy that motivates his politics to this day." McCarthy referred to López, who graduated in 1993 with a sociology degree, as a "true intellectual" who cared deeply about his country. López went on to get a master's in public policy at Harvard.
But critics say López has become too bellicose, alienating himself and his supporters from the mainstream opposition. López "represents a hardline opposition and he represents a minority trend," says David Smilde, an expert on Venezuela and a senior fellow at the Washington Office on Latin America, a human rights group.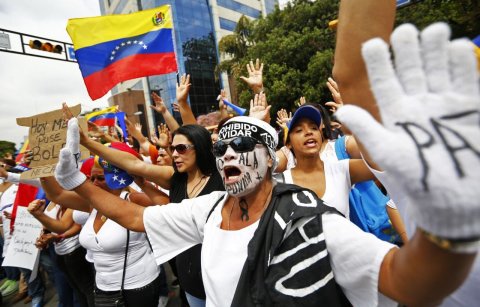 "You can disagree with a government, but you can't set the country on fire," says Jesus Hernandez Godoy, a Venezuelan political expert.
The government has accused López of corrupt acts and disqualified him from holding public office, a routine tactic it uses against opposition figures, on several occasions since he left his post as mayor. Despite a 2011 ruling by the Inter-American Court of Human Rights, Venezuela has upheld the bar.
Nevertheless, López's popularity has been growing and his recent actions have made him a hot potato for the government, says Hernandez Godoy. While Lopez turned himself in, Maduro told a pro-government rally that the government had detected a plan by the country's extreme right to kill Lopez, whom he called a fascist, in order to "create a political crisis and take Venezuela into a civil war." Lopez agreed to turn himself in, Maduro said, and the state, in turn, had vowed to protect him en route to prison.
That night, in a cinematic turn of events, a prerecorded video of López emerged on the web. "If you are watching this video it is because the Venezuelan state has issued an arrest warrant for me, maybe because I've already been arrested by state security forces," said López, his shirt sleeves rolled up, his wife sitting beside him, his hand on her knee as he looked into the camera. "Unjustly detained for dreaming of a better Venezuela."
With limited coverage of the demonstrations on local TV, social media has become an indispensable news source for Venezuelans. Photographs and videos of tear gas-filled confrontations and injured protesters have emerged on Twitter, Facebook and Instagram.
López has used all these platforms to build his image as devout Christian, family man and liberator. In his Instagram feed, López has uploaded a photograph of himself next to the Dalai Lama, the exiled Tibetan spiritual leader, and another with Óscar Arias Sánchez, the Nobel Peace Prize winner. One more, this time with Yoani Sánchez, a widely recognized Cuban dissident.
Then there pictures of López, beaming as he holds his son during the newborn's baptism. Cooking with his aging father. Passionately kissing his wife, while on a horse.
Last week, his wife posted a photograph on her Instagram feed. In it, she carried a religious figurine on her way to visit her husband in prison. With her blonde hair flowing, she looked straight at the camera and smiled confidently.