The United States labor market is a tricky thing to measure. Unemployment surveys give important clues, as do monthly payroll numbers. But to see the whole jobs picture you have to look beyond the government reports.
Restaurants can give further insights into who has money to spend. The enormous number and variety of restaurants in the U.S. can paint a picture of what's happening in the overall economy. A good place to look is Darden Restaurants, a large company that operates more than 2,000 restaurants distributed among all 50 states. With its upscale Capital Grille restaurants and its more affordable Olive Garden chain, Darden serves a spectrum of customers ranging from business executives to ordinary families.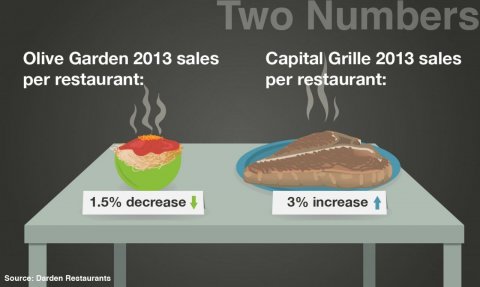 Darden's investment plans are simple reflections of the markets it serves. In 2014, Darden expects to increase Olive Garden locations by about 2 percent while Capital Grill locations would increase around 10 percent.
This tale of two restaurants is really the tale of two labor markets. At the lower end of the labor market, Americans are feeling pressure while those at the higher end are doing very well, thank you. As Charles Dickens put it, "It was the best of times, it was the worst of times."