A dozen years ago, on a spring day in March, a Palestinian schoolgirl, Ayat al-Akhras, pushed a button on the belt strapped to her and detonated an explosive device in a crowded supermarket in Kiryat HaYovel, Jerusalem.
That was a time of extreme bloody violence throughout Israel and the occupied territories when people had grown accustomed to the savage brutality of the second intifada - or uprising.
What was particularly shocking about Ayat was that someone so young had been recruited. At 18, she was believed to be the youngest Palestinian suicide bomber.
One of her victims was an Israeli schoolgirl just a year younger than she was - Rachel Levy. The two girls lived within a few miles of each other on the West Bank. And both had teenage dreams for the future.
Ayat was engaged to be married. Rachel had ambitions to be a performer. Their deaths were a painful reminder of the power of recruiting the vulnerable and disenfranchised to terrorist organizations.
Ayat, a model student, had grown up disillusioned with life in the squalid Dheisheh refugee camp outside of Bethlehem. She lived with her mother, father and 11 siblings, witnessing the humiliation of occupation and enduring the limits of her life as a member of the third generation of a displaced people.
Shortly after her death, Ayat's weeping mother said she had no idea her daughter, a straight-A student, had been recruited as a bomber.
"She was such a good girl," her grieving mother said from her tiny, dark home inside the camp.
But one of her sisters said, "She sacrificed her life so the people can live." And at nearby Al-Quds University on the West Bank, which has long been a place for Palestinian activism, Ayat became an icon, a heroine, a liberator of her people.
At one point, the mothers of the two dead girls met. While reconciliation is too strong a word for that meeting, they did manage to accept each other's aching loss. President George W. Bush cited the killings as an illustration of the unending tragedy in the Middle East.
"When an 18-year-old Palestinian girl is induced to blow herself up and in the process kills a 17-year-old Israeli girl, the future itself is dying," he said.
Last month, the Lebanese press reported that a Syrian woman identified as Umm Jamal was arrested by Lebanese authorities in the town of al-Nabi Sheet in the Bekaa Valley.
She was arrested on suspicion of collaboration with the al-Nusra Front, the generally Sunni Islamic terrorist organization fighting Syrian President Bashar al-Assad.
Al-Nusra - or "The Front Supporting the People of the Levant" - is a branch of Al-Qaeda created in January 2012, that operates in Syria and Lebanon. It has been cited as "the most aggressive and successful" of the Syrian rebel groups.
During interrogation, Umm Jamal is reported to have confessed she was seeking to recruit other women to assist the front in "acts of sabotage." A few days after her arrest, al-Nusra struck in the Bekaa again, this time with a suicide bomb that killed two Syrian soldiers at an army post in Hermel.
This month marks three years since the Syrian war started - more than a thousand days of war. The Geneva 2 talks ended any real hope of diplomatic reconciliation and, despite the adoption of the U.N. Security Council resolution 2139 on humanitarian assistance to Syria, the battle on the ground is fierce.
There is no unified rebel force, rather a patchwork of rival groups, some driven by radical Islamist ideologies and backed by forces outside Syria.
Activists talk of a "Spring Offensive," in which the rebels will try to wrench Damascus, the capital of Syria, from the Assad regime's hands. That means more fighters - both male and female - particularly foreign ones, are being recruited for the cause.
The Syrian Observatory for Human Rights - a monitoring group based in the U.K. - estimates there are around 5,000 women fighting in the Syrian war. It is not clear how many of them are foreign fighters.
Britain's Daily Mail reported in January that two British-born women were caught at Heathrow airport smuggling money in their underwear, en route to the Middle East to wage jihad.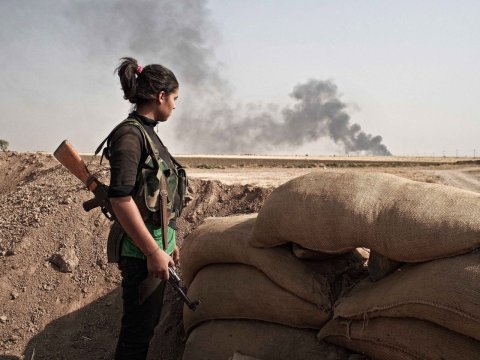 According to the Beirut-based Lina Khatib, director of the Carnegie Middle East Center, al-Nusra has recently started using women to transport explosives into Lebanon because women are viewed as less likely to raise suspicion among the security services along the Lebanon-Syria border in conservative areas like Hezbollah strongholds - the primary target for al-Nusra in Lebanon.
"This is not the first time that an Al-Qaeda-affiliated group has recruited women for jihadist purposes, but it is a new development for the Syrian spillover into Lebanon," she says. "It shows that al-Nusra is seeking new ways to sustain its series of attacks in Lebanon that are meant to pressure Hezbollah to halt its military involvement in Syria in aid of the Assad regime."
What is driving women to the battlefield?
"War is the great equalizer," explains Shadi Hamid from the Brookings Institution. "In liberation struggles or insurgencies, women often play significant roles out of necessity.
"It can be on the battlefield, but it can also be through logistical support, spreading the group's message, and reaching out to potential recruits. The struggle takes precedence over traditional gender roles and that can hold true even for radical Islamist groups such as Nusra."
Rafif Jouejati, one of the delegates for the Syrian Opposition at the Geneva 2 talks, says women took up arms for the Free Syrian Army as early as 2011.
"Women have been working in various capacities throughout the revolution - from staging sit-ins and demonstrations, to delivering relief, to fighting on the front lines," she said.
While it used to be more familiar to see women marching in demonstrations than at the front line - such as the Alawite actress Fadwa Suleiman, who became known for leading a Sunni-majority protest against Assad's government in Homs - there have been many less conspicuous women who have smuggled arms under their religious garments.
Earlier in the year, one Free Syrian Army commander confirmed that women were even forming their own brigades. In parts of Aleppo, Kurdish women fighters play an integral part in security and were trained in sniping and urban combat.
"We don't see ourselves as women or in terms of our sex," said one woman fighter. "We see ourselves fighting for our country."
But al-Nusra, a deadly organization that has played a crucial part in splitting the Syrian opposition between moderates and radical jihadis, is operating on a different agenda, according to experts. What they want is an Islamic state that is ruled by Sharia law.
"Women would disappear. We would be covered head to toe, like Afghanistan, and we would not be allowed to leave the house or send our daughters to school," says Kafa, a 32-year-old from Homs who fears the future should al-Nusra gain a more substantial foothold in the country.
It is significant that recruitment of female terrorists is taking place in Lebanon, home to Hezbollah which backs Assad. Until recently, Turkey was the traditional gateway for the jihadists flooding into the region from abroad.
Steven Emerson, founder and executive director of the Investigative Project on Terrorism, says the news that fund-raising is taking place in Lebanon by al-Nusra is "surprising" to American intelligence.
"Money, weapons and fighters are the three commodities upon which each side depends to survive in the Syrian civil war," he says.
"Al-Assad has no shortage of all three given the beneficence of his Iranian and Hezbollah backers" and how easy it is to enter Syria from Lebanon.
"That a woman has been caught raising funds for al-Nusra only confirms the fact that the group is seeking nontraditional and more cunning ways of raising jihadist funds," Emerson says.
Women are operating from both sides of the Syrian war. Assad's government employs a women's militia to run security checks and staff checkpoints.
The roots of this feminization of the war effort go back to Latin, Asian, Middle Eastern and European regions, where revolutionary political movements have always deployed women in various roles. Women have worked as intelligence agents, couriers, combatants of many sorts and suicide bombers.
The Chechen leadership has found that women are so effective as killers, they are used more often than men. The Sochi Olympics security teams were heavily focused on tracking down the so-called "Black Widow" terrorists whose men had died in the struggle for an independent Chechnya.
Women snipers operated during both Chechen wars and the Bosnian wars, often with great efficiency, ferocity and skill.
Even in 1960s America, radical organizations such as the Black Panthers and the Weathermen recruited women, as did Italy's Red Brigade and the Basque separatist group Euskadi Ta Askatasuna.
The Rand Corporation's Karla Cunningham has researched the phenomenon, calling these female terrorists "invisible women."
She writes that they have accounted for a quarter of fatal attacks in Iraq, Egypt, Israel, Lebanon, Chechnya, Sri Lanka, Morocco and Palestine.
"My research found that by mid-2008, women had acted as suicide bombers 21 times in Iraq's markets and other civilian venues patronized by Shiites," Cunningham wrote. "Other research has demonstrated that since 2002 women have carried out fully 50 percent of suicide attacks in Sri Lanka, Turkey and Chechnya."
Having been inspired by so many women fighters, other women are now routinely taking their place. Including schoolgirls who would emulate the teenage Palestinian suicide bomber Ayat al-Akhras.
Last month, Ayat al-Akhras's remains were returned by the Israeli authorities to her family in the West Bank, after persistent appeals from human rights groups. After a dozen years, her family were finally able to give their daughter a proper funeral.