Coca-Cola is one of the mightiest brands ever created. Known in every corner of the globe, whether in teeming cities or steaming swamps, Coke is the biggest selling soft drink the world has ever seen. But recently the iconic American brand stumbled before a competitor - not Pepsi but Poland Spring.
Without a catchy jingle or nary a cute animated polar bear on its side, this lowly bottled water brand outsold Coke by a big margin in the nation's biggest market - the eighth biggest anywhere.
In the New York metropolitan area, a region of more than 20 million people spanning New York state, Connecticut and New Jersey, sales of all varieties of Coca-Cola were $374 million versus $507 million for Poland Spring bottled water last year.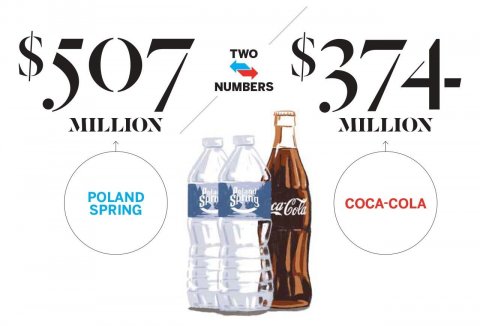 To hear Poland Spring tell it, part of the explanation is execution. According to Tim Brown president and chief executive officer of Nestlé Waters North America, which owns the Poland Spring brand: "Instead of the Coke truck coming once a week, our product is delivered every day. We have a flexible distribution system. Poland Spring is available in many different places and ways."
It's impossible to determine what if any impact former New York Mayor Mike Bloomberg's much-ridiculed and ultimately shot-down anti-large soda campaign may have had. What's clear is the trend isn't limited to the Big Apple or backed by any law. Bottled water now outsells soda in supermarkets in 15 other major U.S. cities, according to the Nielsen Company. That includes Boston, Dallas, Phoenix, Houston and Las Vegas.
Overall, America still consumed more soda per person (47 gallons) than bottled water (30.8 gallons) last year. But the gap appears to be closing. "In two to three years, Americans will drink more bottled water than soft drinks," predicts Brown. "Europeans already do, and the developing world is beginning to follow the same trend. I have no doubt that water will be the number one beverage worldwide."
The fate of lovable, coke-guzzling, computer-animated polar bears everywhere hangs in the balance.