When President Barack Obama lands in Saudi Arabia for a state visit the last week of March, he will find a region markedly different from the Persian Gulf of even a month ago, when his aides announced the trip. The visit was initially designed to mend fences with the Saudis, who claim leadership of the Sunni Arab world and, like other Gulf states, are upset about the thaw between Washington and Shiite Iran. The president hopes to smooth relations with one of America's oldest allies in the Middle East and to better explain his Iran diplomacy to Riyadh and its neighbors.
But now there are many new and-surprisingly, for the ultraconservative region-even young power players in the Gulf. And enmities between the kingdoms, emirates and sheikdoms are bubbling to the surface while their once fairly cohesive regional alliance, the Gulf Cooperation Council (GCC), is coming apart.
In early March, Qatar, "the little emirate that could," found itself on the outs with its GCC partners. In an unprecedented public display of anger, the Saudis, Bahrain and the United Arab Emirates withdrew their Doha ambassadors.
We "encourage officials from all of these countries to engage with each other and hopefully resolve [their] issues as quickly as they can," said the State Department's spokeswoman, Jen Psaki.
But this may prove difficult. Not a year into the reign of Sheikh Tamim bin Hamad Al Thani, who at the age of 33 became the youngest monarch in a region where rulers are typically twice his age, Qatar has yet to signal whether it wants to lower the temperature with its neighbors or escalate the diplomatic confrontation.
In Riyadh, too, there are a number of rising third-generation stars. Most notably, the up-and coming interior minister, Prince Mohammed bin Nayef, is gathering power in the kingdom, using Washington connections as one of his tools.
Back in the late 1990s, bin Nayef, now in his mid-50s, struck up a friendship with the Central Intelligence Agency's Riyadh bureau chief at the time, John Brennan, the current agency director. Bin Nayef also befriended Secretary of State John Kerry, and in a late February Washington visit he hobnobbed with Vice President Joe Biden and National Security Advisor Susan Rice.
Earlier in February, bin Nayef replaced the Riyadh intelligence chief, Prince Bandar bin Sultan, as the kingdom's point man on Syria. Bin Sultan, a former ambassador in Washington, cited health issues, including accident-related back pain, as the reason for stepping down.
But he may have also been sidelined to ease tensions with Washington. The Saudis are seething over Obama's Iran diplomacy, started secretly last year in Oman, which neighbors Saudi Arabia. The war in Syria has become a major proxy clash between the region's Sunni and Shiite powers. And Tehran is Syrian President Bashar al-Assad's most important local backer.
While Obama has proclaimed that Assad has "lost legitimacy" to lead Syria, America worries about his enemies. As one administration official recently put it, "We are concerned about the rise of extremism in Syria." But while he added that "we continue to see the Saudis as partners," much of the funds and arms that flow from the Gulf to the anti-Assad rebels go to the "extremists."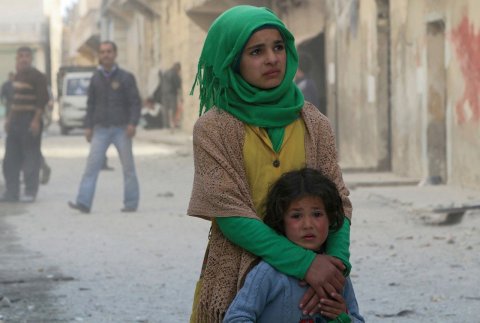 Bin Sultan, who handled Riyadh's efforts in Syria, may be seen as responsible, while bin Nayef is "more interested in his own rise to power than in Syria," says Ali al-Ahmed, a Washington, D.C.-based Saudi dissident who follows Riyadh politics closely. Washington, therefore, may hope he'd be more cooperative in curbing Saudi aid to Syria's extremists, Ahmed said.
But, as a Western diplomat who often visits Riyadh and other Gulf capitals told me, the Saudis, like the Qataris, consider Assad an Iranian puppet, and Iran remains their chief enemy.
To fight Assad-and Iran-the diplomat said, the Gulf states "look around and ask themselves, 'Who can defeat Assad? Which opposition?' They don't think the moderates that the U.S. wants them to back can do the job, so they back the jihadists." (There were no confirmations in Tehran or Riyadh in response to to Arab media reports that Saudi Arabia invited Iran's president, Hassan Rouhani, for an unprecedented state visit after Obama's departure.)
Complicating matters, Syria's rebel groups often fight each other. Sources in Syria say Saudi backers, though not necessarily the government, favor fighters of the Islamist State of Iraq and Syria, while Qataris bet on the rival Jabhat al-Nusrah.
The competition between Saudis and Qataris is similarly seen all across the Arab world, where Doha has bet on affiliates of the Muslim Brotherhood, which raises fear in other Gulf monarchies. The brotherhood scares the Saudi ruling powers "because [it offers] a competing political model," says Ahmed, the Saudi dissident.
Last week, Riyadh included the brotherhood in a new list of terrorist groups, which includes the Saudi branch of Hezbollah. In an apparent nod to Washington, Riyadh also listed Syria's main jihadist groups, al-Nusrah and ISIS.
In Egypt, the birthplace of the Muslim Brotherhood, Saudis are happy to give more money to Cairo's military rulers, who are ruthlessly fighting the brotherhood, than even the U.S. does.
And much to their chagrin, the Doha-owned Al-Jazeera, watched all over the Arabic-speaking world, has regularly aired the fiery, anti-Saudi (and anti-Western) sermons of the brotherhood's theologian, Sheikh Yusuf al-Qardawi.
Al-Jazeera also dedicates so much airtime to denouncing the Cairo military regime that "those of us who are interested in Arab issues beyond Egypt don't watch it anymore," the Western diplomat said. Since inheriting the Qatari throne last June, Sheikh Tamim has raised Doha's ambitions to new heights. His father, Sheikh Hamad, has turned the small but gas-rich country into an Arab empire. The ruling family has bought all the trappings of a modern, liberal state-from a huge collection of contemporary art to an air-conditioned soccer stadium for the Qatar-hosted World Cup in 2022.
Can Sheikh Tamim ride out the diplomatic storm without losing too much of that power?
"We tend to look at these monarchies through Western perspectives. We examine the personalities at the top," says Eran Segal, a lecturer on the Gulf region at Haifa University in Israel. "But policy is more often decided in close consultation within the ruling families, where building consensus is key."
Therefore, he says, America may find Riyadh difficult to appease. "I can't see what concrete ideas Obama can bring to them," he says. "Their anger was piqued when Obama declined to attack Syria after drawing his red line there. How much can a visit change?"
Follow Benny Avni on Twitter: @bennyavni