There's a new man in Rome who believes he can accomplish a miracle: end Italy's dysfunctional politics and breathe new life into its moribund economy.
But Matteo Renzi, Italy's 39-year-old new prime minister, is not God, even if he likes to joke about it.
So who exactly is this Italian wunderkind who will welcome President Barack Obama when he visits Italy at the end of the month? What does he think? And—importantly in a country that has had nearly 70 governments in the seven decades since the Fascists were overthrown in 1943—will he last?
Renzi has already proved himself to be hyperactive, a workaholic and Twitter-addicted. Two minutes after he was handed the mandate to form a new cabinet he tweeted an enthusiastic "Here I am, here I am!"
His tweets often precede official press statements. Once, at 6:40 a.m. he shot a picture of the inner courtyard of Palazzo Chigi, the government's headquarters, and posted it with a friendly "#Buongiorno" to his more than 900,000 followers.
Members of his entourage have a hard time pinning him down to a chair for more than three minutes at a time. His aides, and the reporters who cover him, know they face four years with little sleep: waking up early, going to bed at two in the morning, working on Sundays.
In less than two months Renzi went from being mayor of Florence to secretary of the Democratic Party to prime minister.
Ambitious would be an understatement. Friends tell Newsweek Renzi is conscious of being self-centered and enjoys quoting the words of his confessor: "Matteo, God exists. But relax, it's not you."
Graziano Delrio is Renzi's cabinet undersecretary and right-hand man. "Matteo belongs to a generation that thinks and acts quickly. If this is a virtue, it also implies some risks," Delrio says.
Renzi is stylish and informal: On the weekend, he favors jeans, a white shirt, rolled-up sleeves, and he keep hands in his pockets; during the week, he's obliged to wear dark suits and a tie. He's the first Italian premier to use a laptop in parliament.
Like the young American president he admires, Renzi is known for his skills as an orator. His speeches, slogans and books reveal who his masters are: Dante, the Grand Duke Cosimo dei Medici, Machiavelli, Mark Twain, Bishop William Temple and John F. Kennedy. Above all, Boy Scouts Founder Robert Baden-Powell. Renzi's favorite motto is: "Leave this world a little better than you found it."
"Matteo's a natural talent. Matteo's spin doctor is Matteo himself. He's going to be the mayor of Italy, a people's leader," explains Dario Nardella, deputy mayor of Florence and a university buddy.
Renzi is married to a high school teacher and has three kids. His family runs a marketing firm where he worked for a while as manager. He has a classical studies background and graduated in law at Florence's university. The first time he stepped into parliament he was a 10-year-old schoolboy. He dived into politics in 1995 to support Romano Prodi who was running for premier.
A former boy scout and fervent Catholic who takes part each summer in spiritual retreats, one thing Renzi will miss is his Florentine lifestyle. Running marathons, cycling to work, playing soccer, going to the stadium to cheer for his home team, Fiorentina.
Moving to imperial Rome can be tough. Florence is a tiny city of 360,000 inhabitants; Rome boasts 2.7 million. Florentines enjoy a quality of life befitting the cradle of the Renaissance, whereas Rome is chaotic, dirty and gridlocked, the butt of jokes for the rest of Italy. And for Renzi, security is tighter.
He is allergic to reporters and bodyguards, who are against his refreshing morning runs and get nervous whenever the premier walks off to shake people's hands.
Renzi intends to adapt much of the Florence model to the rest of the country. He was elected mayor in 2009 after serving five years as provincial president. His biggest achievements include blocking private car access to 12 hectares of Florence's historic center and installing 500 Wi-Fi access points. He halved the number of city councilors and saved money by stripping many public sector workers of their government-funded cars. He reduced kindergarten waiting lists by 90 percent, and invested 51 million euros in school buildings and 25 million euros in social welfare. He promoted Florence as a brand, luring 8 million tourists per year and creating new jobs.
Renzi also pioneered a controversial way to raise revenues: renting out the famous Ponte Vecchio bridge and historical piazzas for Ferrari events, fashion catwalks and lavish weddings of billionaire Asians. Last year a three-day Indian wedding generated 8 million euros for the city, but it angered residents who had trouble getting back home. The Italian state owns hundreds, if not thousands, of historic sites that are crumbling due to lack of funds to maintain them, so there's room to expand Renzi's approach—even if the very thought of cashing in on the Colosseum is sacrilege to more traditional Italians.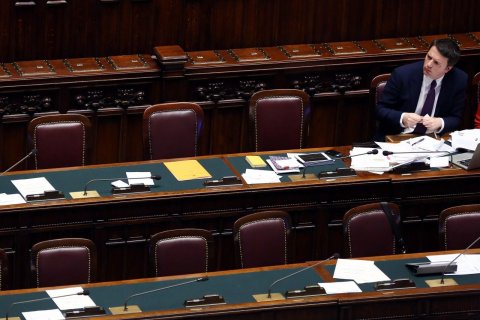 Renzi may have shaken things up in Florence, but Italy's problems are of a different order of magnitude. The country is suffering from a double-dip recession, the worst in its postwar history. It may not be as bad as Greece or Ireland, but it's still in a mess. The economy is expected to grow by just 0.6 percent this year while public debt is expected to climb to 133.2 percent of gross domestic product. Unemployment has soared to nearly 13 percent and more than four in 10 young people are out of work.
Renzi has already swept away the old guard of the Democratic Party, pledging a radical overhaul of the economy. He says he will push through one key reform every month.
If Italy wants to take the lead in changing Europe, he believes, Italy must first reform itself. That means changing the new electoral law to boost political stability, cutting labor taxes, creating new jobs, supporting business, attracting investments, slimming down bureaucracy, speeding up justice and abolishing the Senate.
"Italy can't just be a beautiful place for tourists," Renzi told parliament.
Among the most intractable tasks: He needs to deal a fatal blow to the Mafia.
And then there is foreign policy.
Renzi took Italians by surprise when he chose as his first visit abroad not Brussels, the capital of the European Union, or the United States, but Tunisia. He wants to relaunch a dialogue with Africa before Italy inherits the EU presidency for a six-month term in July.
His goal is to make the Mediterranean not just the hub of Europe but also a global player by recovering its lost grandeur.
Following in the steps of the Italian political theorist Altiero Spinelli, one of Europe's founding fathers, Renzi dreams of creating a United States of Europe. While campaigning for the party leadership, he called for more powers for the mostly advisory European parliament, a common EU budget, and the direct election of Europe's president.
That doesn't mean he wants to downgrade ties with the United States.
"Italy considers the U.S. a strategic partner in the same way it sees the Mediterranean as its natural horizon," said Delrio.
Renzi attended the 2012 Democratic National Convention in Charlotte, N.C., and is an admirer of the United States. Apparently inspired by the U.S. political model, he toured Italy in an SUV during the Italian Democratic primaries and made a point of publicizing the names and sums of money given by supporters.
A trouble spot in Italy's foreign relations has been India. One of Renzi's first official phone calls in office was to two Italian Marines being held by India on charges of killing two fishermen. Renzi has pledged to do everything in his power to bring them home.
Bringing about a new Renaissance in Italy may take a miracle. None of his predecessors has managed it, and it's not clear why Renzi is so confident he can do it.
Renzi does have enemies—primarily the minor parties that he would like to kick out of parliament, as well as comic Beppe Grillo's 5-Star Movement, which voted against his cabinet and which charges that Renzi does too much for powerful businessmen.
According to Delrio, it's all a matter of determination and sticking around long enough to get things done: "Today, the political scene has changed. There's strong agreement on the premier's priorities and that this government should last for the entire legislature" up to 2018.
Delrio's optimism is backed by 56 percent of Italians who believe the new man will last, according to a recent poll.
The consensus the new premier enjoys today is certainly large. But ruling Italy will not be as easy as ruling Florence.