"Can you stream me now?"
If the answer is no, you're probably going to be looking at the spinning wheel of death on your laptop for a very long time. After making a big, bold promise to wire every corner of America, the telecom giants are running away from their vow to provide nationwide broadband service by 2020. For almost 20 years, AT&T, Verizon and the other big players have collected hundreds of billions of dollars through rate increases and surcharges to finance that ambitious plan, but after wiring the high-density big cities, they now say it's too expensive to connect the rest of the country. But they'd like to keep all that money they banked for the project.
In 2010, the Federal Communications Commission announced the National Broadband Plan, which promised to provide 100 million American households with high-speed cable by 2020. Verizon has been expanding FiOS in major markets, and AT&T has been expanding its U-verse service. And now, instead of spending that war chest digging up streets and laying fiber cable, the cable and telephone companies have invested in a massive and very successful lobbying push. They are persuading state legislatures and regulatory boards to quietly adopt new rules—rules written by the telecoms—to eliminate their legal obligations to provide broadband service nationwide and replace landlines with wireless. This abrupt change in plans will leave vast areas of the country with poor service, slow telecommunications and higher bills.
This is good news if you own stock in Verizon, but very bad news if you have a small business that's not in a city already wired up.
The federal government's official broadband map shows vast areas of America still have little or no service, and many areas will never get it under the current plan. "Small business customers, people who work at home and rural communities across the country need to wake up before it is too late," says Regina Costa, telecommunications research director for the Utility Reform Network in California. "Verizon and AT&T are aggressively moving to dump a large percentage of their landlines and force customers to wireless networks [that] are expensive, restrictive, incompatible with medic-alert services, less reliable for 911 calls and will not hold up during power outages—and in a lot of places wireless just won't work."
And this isn't bad news for just Montana and North Dakota. The Eastern Seaboard is getting smacked as well. Verizon has made a tentative deal with New Jersey Governor Chris Christie's administration to stop expanding its FiOS Internet service in that state. The terms would deny access forever to many small businesses and residences. Verizon declined to make anyone available for an interview.
In two New Jersey towns with fewer than 100 residents per square mile, Verizon says people will just have to get along without telephones or Internet because it cannot make enough profit from broadband service in such low-density areas.
The pain promised by this abandonment is being felt already in New Jersey. It is the most-wired state in the country, but that's mostly in the urban north; vast areas of the state are excluded from Verizon's FiOS fiber-optic network, or even old-fashioned DSL and coaxial cable services. Zachary Rich, mayor of West Amwell Township, near the state capital of Trenton, says, "My township is one of the have-nots" that has been told it won't get fiber-optic service, even though it is in the Verizon franchise area.
Tom Allibone, a phone bill auditor on whom Rich relies to keep abreast of Verizon's activities, says he attended many meetings over the years with Verizon's top New Jersey executives. "We were clearly told that we would get a fiber-optic network—it was going to come to my township and others around the state, and all we had to do was be patient," Allibone says. "But now it looks like there has never been any real plan" to install fiber-optic or even DSL service. "I don't understand why people just sit back and take this."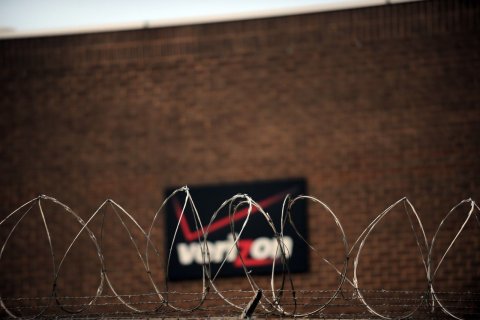 Verizon told the state utilities board that "New Jersey now enjoys the best broadband telecommunications" in the country. The company emphasized that its central offices have the capability to serve 99 percent of the state. But capability and service are not the same. Verizon counts as broadband not just its FiOS and DSL lines but also its 4G wireless coverage, which is fast for wireless but painfully slow compared with FiOS.
New Jersey's Board of Public Utilities concluded last year that "full deployment of broadband has not been achieved." In the central New Jersey town of Hopewell, only 40 percent of homes, 30 percent of nonfarm businesses and 20 percent of agriculture firms have broadband service, Mayor Bruce R. Hankins wrote to the utilities board last month. "Without high-speed Internet, Hopewell citizens and particularly the Hopewell Township agribusiness community are unable to comply with federal and state requirements calling for online submission of reports, tax returns, time-sensitive financial filings and the like," the mayor wrote. He added that local children "are being deprived" of the same opportunities to learn as children in areas Verizon choose to wire.
Despite finding a year ago that Verizon had failed to fulfill its obligations, the utilities board under its new chair, a former member of Christie's cabinet, voted in January to renew its franchise. The board delayed its ruling taking effect until mid-March to receive public comment. But the Christie administration never announced this deal with Verizon, and the state's biggest newspapers have not reported a word about the new arrangement.
The only significant complaints have come from mayors of towns that will be shut out. Mayor Brian Wahler of Piscataway, who serves on the U.S. Conference of Mayors committee on telecommunications, says Verizon and similar companies "are to the 21st century what the railroads were to the 19th century—they control the traffic."
He says the proposed deal ignores the economic damage it will cause. One provision that alarms mayors is a proposed rule based on Census Tracts, geographic areas that average 4,000 residents. Verizon would be required to serve only 35 customers per tract, which means that if you live in the 36th house on a street, your neighbor may get service, while you and 1,500 other households nearby would not.
Verizon, AT&T, Comcast and other telecommunications companies have hired swarms of lobbyists to make similar deals from Pennsylvania to California. AT&T retained 120 lobbyists in Sacramento and three dozen in Lexington, Ky.
These lobbyists have submitted proposed legislation and regulations that would end the requirements to serve all customers, to resolve customer complaints fairly, to make repairs promptly and to install service soon after it is ordered. While the bills and regulatory rules proposed differ in each state, all have common themes: less or no competition, no more investment in fiber-optic networks, no authority for regulators to help distressed small businesses and consumers.
The effects of these bills include shutting down the copper-wire telephone system, a system so reliable that wires installed in the late 19th century still work, and calls can be made during floods and other natural disasters. The newer technologies rely on the electric grid, and when it goes out they fail, though cell systems may work for a few hours because cell towers have backup batteries.
Once the universal copper-wire system is gone—which may begin as early as 2017 under pending legislation in Michigan—customers would have to pay much more for wireless service or, where it is available, make calls over the Internet. In either case, the switch would mean much higher prices for consumers.
While the recent push to broadband has improved the speed and access for many Americans, for so many others, the quality of their Internet and phone service will never improve and may get worse.