In those last few moments before two homemade bombs exploded near the finish line of the Boston Marathon, spraying nails, ball bearings and shrapnel into the crowd, Erika Brannock, now 30, stood in her skinny jeans, green sneakers and Baltimore Ravens T-shirt, waiting for her mom to run by. Brannock, a preschool teacher, had never been to Boston before, and she was enjoying the electrifying atmosphere of the race, and the boisterous shouts of support from onlookers directed at complete strangers.
Brannock, who was with her sister and brother-in-law, Nicole and Michael Gross, had originally staked out a spot at the 26-mile marker, near the Sandy Hook tribute honoring the victims of the Newtown, Conn., shooting. Her sister and brother-in-law were eager to move closer to the finish line, so the three of them jostled and squirmed through a wall of people on Boylston Street, trying to get closer to the runners.
"I was, like, This is not a better spot than where we were!" Brannock recalled recently, talking via FaceTime from her parents' home in suburban Baltimore. "Being a sensitive person, I started getting emotional" as she saw the runners move past. Her sister put her hand on Brannock's back and told her everything would be OK. When a few people in front of them left, Nicole nudged Brannock forward, into their spot.
The first bomb went off seconds later, about a foot from where Brannock was standing. She was blown off her feet, flat on her back on the pavement, unconscious. Blood was splattered everywhere; torn limbs and broken bodies littered the ground. All around her, runners and spectators fled in terror, while others rushed to help the wounded and dying, desperately cinching belts around severed limbs.
When Brannock came to, she heard sirens and people screaming, and the acrid smell of singed metal burned her nose. She realized that her knee felt impossibly twisted, so she reached down, only to feel raw flesh from inside her leg. When she pulled her hand back, it was covered in blood. About eight inches from her head were Jeff Bauman's knees; both his legs had to be amputated. At her feet lay Krystle Campbell, a 29-year-old restaurant manager who died almost instantly in a medical tent nearby.
"I started to feel like I was slipping away," Brannock recalls. "I saw the white light and felt a pull in my chest leading me upward. I closed my eyes and had a conversation with God and said, 'I'm not done yet. You're not taking me.' I started screaming."
A few feet away from Brannock, Nicole sat up, stunned. The image of her sitting there in the street amid the debris and carnage, knees bent, her red shirt torn and blond hair tangled, became an international icon of that day's dazed horror. Nicole suffered a nearly severed Achilles tendon, hearing loss, shrapnel wounds and broken bones, plus a gash in her left leg that almost reached her femoral artery. She was treated at Brigham and Women's Hospital and discharged a few weeks later. Michael was hospitalized overnight for burns and lacerations.
Brannock was rushed to Beth Israel Deaconess Medical Center (BIDMC) along with 23 other victims. She had no idea where her family members were or whether they were safe.
After a week in BIDMC's intensive care unit, Brannock was moved to its trauma floor, where she settled into the bed that would become her home for the next 43 days. That morning, the overnight nurses assembled, as they always do, introducing patients to the nurses who would look after them during the day.
"You're going to see Ms. Brannock now. She is a patient. She's an amputee."
Carine Pierre, 32, listened to her boss, paralyzed. As a nurse in BIDMC's trauma unit, she is trained to navigate tragedy on a daily basis. The hospital regularly deals with stabbings, motorcycle accidents and gunshot wounds, but bombs exploding in a crowd? Dozens of victims pouring into the hospital, their bodies ripped apart with shrapnel? This was Boston, not a war zone. The anguish and emotional repercussions of the attack were still assaulting the city. Everyone had a story—I was three blocks away; my friend's friend was about to run by—including Pierre. Each year, she watches the marathon from the finish line, near where the bombs went off; she wasn't there last year because her mother was visiting.
Standing outside of Brannock's room, Pierre says, her extensive training suddenly seemed worthless. "I had never been in that situation. I would never, ever have thought there would have been a bomb in Boston." Only two years older than her patient, Pierre kept thinking, Wow, that could be me lying there.
"I didn't know how I was gonna feel when I walked in, so I took a deep breath, walked in the door and improvised," Pierre says while sitting in the break room on the trauma floor. "Erika had a really flat affect, which is to be expected." After introducing herself to Brannock and her family, Pierre checked her wounds and asked if she needed medication for the pain. Then Pierre said she'd come back later and headed for the door.
"I walked out and thought, How am I gonna go back in there? What do I say? Because I would have been very angry: I was healthy, and then a few minutes later, here I am—I got my leg blown off."
Brannock's left leg had been amputated below the knee, and she'd lost tissue and bone in her right leg, which was cut and burned from shrapnel. Both of her eardrums were perforated.
"The doctors said they went above and beyond to keep her from being a double amputee," says her mother, Carol Downing, who spent weeks shuffling between BIDMC and Brigham looking after her two daughters.
Brannock had the longest hospital stay of all the marathon victims, so for the next month and a half, Pierre spent all of her working hours—and many of her days off—caring for her.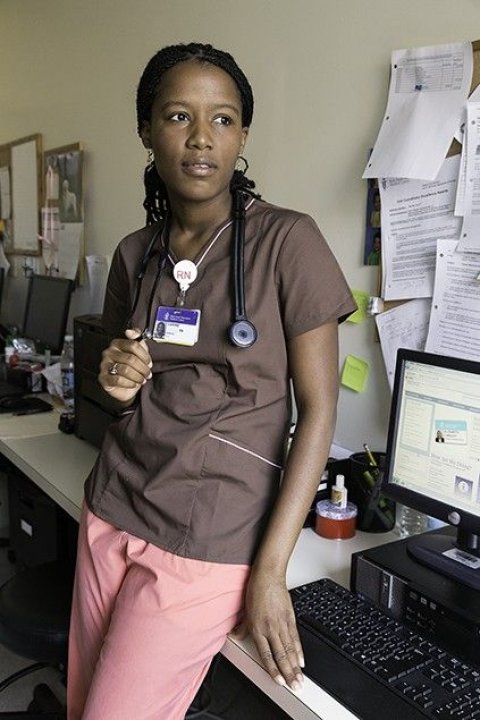 "That's how nurses are taught: You put your emotions aside and focus on the work and get things done," says Alison Small, a nurse manager on the trauma floor at BIDMC, where she has worked for 38 years. There are about 150 nurses in the unit, the majority in their 20s. "But this was a whole different situation," she says of the flood of victims from the bombing. "These victims were their age, and they had so much in common."
Pierre's relationship with Brannock developed slowly. Whenever she learned of something Brannock liked—I Love Lucy reruns, the Baltimore Ravens—she found a way to joke about it. "I would make her feel human, not just...a body I have to feed pain medicine to," she says. "I treated her like I would treat a friend."
Pierre, who was born in Haiti and moved to western Massachusetts at 15, had been at BIDMC for only four months when the bombs exploded. "In school, you learn to approach a patient by 'Miss Brannock.' Very professional," she says. "[But] in real life, patients [aren't] looking for someone who is very stiff.... That was Erika's life for those two months, being here in the bed, being all broken everywhere. You can't be a robot."
The BIDMC nurses logged extra-long hours, spending eight to 10 hours a day with each bombing patient, often more. "The doctors fix their bones and put them back together," Pierre says. "And then they see you. Whatever they need, it's all you."
"She was going in and out of surgery all the time, so her pillows were getting dirty. I took the pillowcases home and washed them for her. She said, 'Oh, you washed my pillowcases?' I was like, 'Sure, why not?' "
Pierre also devised a way to wash Brannock's hair in bed—a rare treat on the trauma floor. She gave her manicures and painted the toes on her right foot. They watched TV, ate Subway sandwiches and even FaceTimed when Pierre was off-duty. When Brannock underwent treatments at nearby hospitals and did an interview with Brian Williams for Rock Center, Pierre went with her. She even started calling Brannock's mother "Mom."
"I wanted her to know, I'm your nurse, but I'm not just here to feed you medications or change your wounds and then go home," Pierre explains. "It's not just a job. If you want to talk or vent, I'm here."
When Brannock first learned that her amputation would have to be extended to above the knee, Pierre was blunt with the news. "The fact that she was so honest with me about everything made me feel like I could trust her, and that's why we got so close, because she wasn't bullsh**ting me on anything," Brannock says.
Fifty days after the bombing, Brannock left BIDMC in a tearful farewell that brought out nurses and doctors from around the hospital. "I had never seen Carine cry the whole time I was there, and she was just bawling," Brannock says. "I knew it was just as hard for her to see me leave as it was for me to leave. Because she protected me and took care of me and was like a big sister."
Brannock has had 18 surgeries, with more to come—this summer, she'll undergo surgery on one eardrum and her right leg.
In October, she started walking on her prosthetic leg, but ear surgery in mid-January, followed by emergency surgery on her right leg a week and a half later, put her recovery on hold, forcing her off her leg for two months. Still, she has been slowly progressing. Her latest accomplishment: sitting on the floor to read her pre-K students a story.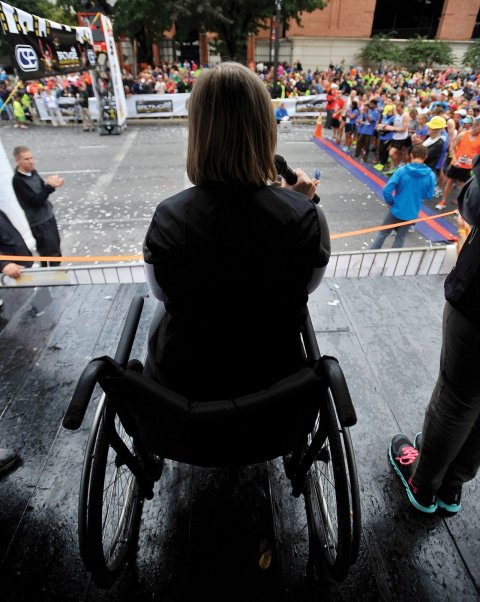 Last week, when Brannock appeared on my iPad via FaceTime—wearing a dragonfly necklace (favorite animal) and green nail polish (favorite color)—her huge smile filled the screen. Maybe it was because, just a few days before, she had taught her first preschool lesson since the bombing. Perhaps it was because she recently threw herself a 30th birthday bash. Pierre, whom Brannock stays in touch with by email and text, flew to Baltimore on her day off to surprise her. Or maybe it was her newly dyed red hair: "I used Emma Stone as my inspiration."
Whatever the reason for that smile, it proved that, as she puts it, "this wasn't going to define who I am."
The largest manhunt in New England history ended 102 hours after the April 15 bombing in a boat in Watertown, Mass., where Dzhokhar Tsarnaev, 20, was found hiding not long after his brother, Tamerlan, 26, had been killed in a shootout with law enforcement officers. Tsarnaev is now being held at the federal prison at Fort Devens in Ayer, Mass., where he awaits trial for his part in the blasts that killed three and injured more than 260 people.
Yet his capture didn't quell Brannock's anger. At her therapist's suggestion, she wrote the bombers a letter. "I didn't censor myself. If I wanted to use the F-word in every other sentence, I could," says Brannock, who declined to share the letter with Newsweek. It was only after reading it aloud that she started to let go. "I don't focus on what they've taken away from me anymore," she says. "Having a bad attitude is not going to bring my leg back."
In a few weeks, Brannock will return to Boston with her mother for the 118th marathon. "The celebration is when I get to cross the finish line and see my family safe," Downing says.
"One of the things the patients said to us last year was, 'What can we do for you guys, 'cause you did such a great job?' " Small says. "I said, 'The best gift you can give these nurses is to come back and visit.' About five of them have. To see somebody walk down the hallway..."
She taps her finger on the table, smiling through tears. "Those kind of things make the nurses feel like what we do..." She wipes her eyes, then ekes out: "It's worth it."
Brannock is eager to walk back onto BIDMC's trauma unit. "None of them have ever seen me stand up in person. I'm wondering if they're going to feel short!" She also wants to go out for a glass of wine with Carine and hang out, not as patient and nurse but as friends.
"I'm definitely going to go back to where I was standing [for last year's race]. I feel like there is still a piece of me that's left there, and I want to go and take it back, so that I can completely move on," Brannock says. "I would like Carine to go back to that spot with me."