At first glance, things in Kabul look promising. Emirates Air started flying there in January and the city feels like a boomtown: sidewalks full of pedestrians, semi-paved streets full of cars, half-built buildings everywhere—including a very ambitious Marriott Hotel nestled next to the U.S. Embassy. There is even a huge Olympic compound, which houses an arena and a skate park called Skateistan.
But as boomtowns go, Kabul is sort of a bust. What progress there was now seems to be on hold. There are almost no women in public, the lines of people outside the Iranian embassy waiting to emigrate are several blocks long, U.S. Army spy blimps hang menacingly over the city, the Olympic park is virtually empty, and the Taliban is attacking election offices and Western hotels, so that despite sinking millions of dollars into the project, Marriott announced last year it was abandoning its hotel due to security concerns.
Sounds like a great time to go skiing!
Regardless of all the dangers of this war-torn country, or perhaps because of them, a growing sector of Afghan society dreams of a thriving tourism industry, the kind not seen here since the 1970s. Those who want to bring some of the trillions of dollars spent each year on international tourism are looking to the north, in Bamiyan and the steep white slopes of the Hindu Kush and the Koh-e-Baba mountain range.
Bamiyan is to Afghanistan what Kurdistan is to Iraq. Home to the Hazara minority, Shia Muslims who were treated with special harshness by the Sunni Taliban during their years in power, the town offers respite from the tension in the rest of the country. One sign of repose is the newfound recreation of skiing—embodied by the Bamiyan Ski Club and its flagship program, the annual Afghan Ski Challenge.
"In 2009, the Aga Khan was looking into developing a ski project," says Ian MacWilliam, a former communications officer for the Aga Khan Development Foundation. "We hired a mountaineering specialist to be a ski consultant, and he and some others started surveying the parallel valleys in the area and talking to the village elders. We tried to tell them it will be like the 1960s with all the tourists. In 2010, the Aga Khan Development Fund produced a guidebook and set up a shop in a local guesthouse. There was some old equipment from some French people, and our first clients were foreigners living in Kabul who needed a break and spent money."
At the same time, a Swiss journalist, Christoph Zurcher, now a features editor at the Neue Zurcher Zeitung, was dreaming up the first Afghan Ski Challenge. "I came to Bamiyan as a tourist," says Zurcher, "and one day I sat on the roof of my hotel looking at the mountains, and, as [I'm] Swiss, it didn't take long to start thinking of skiing. With the help from my newspaper I contacted some sponsors and in 2011 held the first race."
Initially, there was little interest. Skiing is not native to the area and the first race featured some rather unwilling locals, who had to be talked into participating and then tried to back out. "It was a total catastrophe," Zurcher said. "No one wanted to ski, and they didn't want to tan"—light skin is prized here—and then there was the understandable aversion to possibly breaking a leg in a region without a decent hospital.
But then the race started to get international attention and the money started coming in. Bamiyan is a mainly agricultural society and in winter unemployment skyrockets. The town is so neglected by the central government that until February it didn't have electricity. So, while skeptical of the outsiders at first, locals perked up when they saw foreigners coming to visit, spending money—and even more importantly, creating much needed winter jobs.
Locals like Ali Shah Farhang, 22, a former farmer from the tiny village of Kushkak, who would spend the winters herding goats, now makes a living as a ski guide, thanks to the program.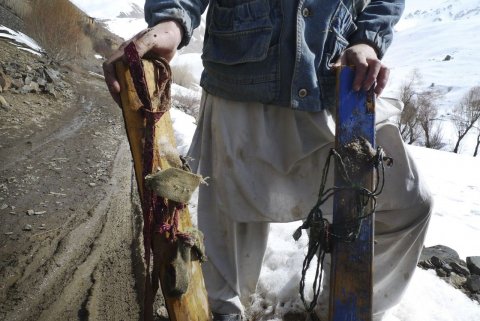 This year's race, which had 48 contestants, including 18 foreigners, was held in the Chap Dara Valley. The run was "more difficult than in years past," Zurcher said—and amounted to what would be a black diamond course in the States. As a crowd-pleaser, or to satisfy a perverse sense of humor, Zurcher had built a jump at the end of the grueling track, just before the finish line. One local boy broke his leg and a British man injured his hand. Throughout it all the crowd roared with appreciation.
Even the uninjured skiers were exhausted by the time they reached the finish line. Sam Gregory, an American contractor who raced on a splitboard says, "The Afghans were already down the hill by the time I finally got up, and then my legs didn't want to work." As in years past, a local Afghan-Farhang-won the race.
"Those guys are like mountain goats," said one participant who asked not to be named. "They're used to climbing around in this thin air. So they just sprint up to the top while the rest of us are gagging for air."
After the main race there was a smaller "wooden ski" race for village boys who couldn't afford modern skis and made their own out of wooden planks, metal cans and rubber boots or tires. The prize was $80 in cash, as opposed to the swag—a Tissot watch, an Arc'teryx jacket—skiers vied for in the main event.
The final part of the event is the local women's race, held a day later in a separate location. This competition is kept on the down low, so as to not offend any man who thinks women shouldn't be skiing. Eight women competed, and only 30 locals, mostly family members, showed up to watch.
The girls got some training from Henrietta Bjorge, a shipping consultant from Oslo. "Bamiyan is a bit more liberal" said Bjorge , "so we were hoping skiing would catch on [with the women]—but today it wasn't even announced on the radio. Last year the deputy governor came and it was bigger, but then not a lot of people were happy about it so... Better to keep it low key than not at all."
While the overall event was a success—two hotels and four guest houses were full for a week, and local tourism officials claimed that more than tourists had visited Bamiyan in the past year—there are still major hurdles to conquer. Afghan businesses have been slow to fully embrace tourism—or grasp the finer points of hospitality.
After the Ski Challenge was finished, a large group of media, skiers and locals tried to catch the twice-weekly flight operated by Eastern Horizon Airlines—the only commercial airline operating out of the Bamiyan airport-back to Kabul. "It's going to be an international terminal eventually," said James Wilcox of Untamed Borders, a small travel company specializing in Afghanistan, Pakistan and India. The unfinished building he pointed to by the runway was empty and there were no signs of construction.
The motley crew sat on the runway for three hours looking at the plane, waiting for Fahim Hashimi, the owner of the airlines, who, on a whim, had decided to fly in and out of Bamiyan that day with an entourage of security guards and friends. He had used his company as his own private jet service to do so, meaning passengers who'd booked their tickets months in advance were left standing with their bags. In order to make their international connections at the Kabul International Airport, the group was forced to travel to Kabul overland via the highway dubbed Death Road.
"I wasn't nervous until I saw all the local guys hiding their passports and wallets all over the car," Moritz Baumsteiger, a German journalist, later said.
Back in Kabul the mood is tense: The city is in lockdown; the party is not starting. But in Bamiyan, the locals are wishing for more snow and looking for those tourist dollars.
Before they left, visitors to the Afghan Ski Run were addressed by Asif Mubaligh, the deputy governor. "We want to introduce Bamiyan as the peaceful province of Afghanistan and a tourism destination for the whole world," he told them. He also said those two foreign women, employees of the Aga Khan, who had been kidnapped last year "were rescued within 60 hours and kept precious as flowers!"
It's all downhill from here.
Correction: An earlier version of this story misspelled the name of Henrietta Bjorge.