As American-backed peace talks nearly collapsed last week, would-be successors to the current leaders in Ramallah and Jerusalem quickly jockeyed for position. Sooner or later, new Palestinian and Israeli leadership will emerge, but will that be enough to reanimate a perennially moribund peace process?
On the Israeli side, the first political broadside came even as U.S. Secretary of State John Kerry was busy devising a formula to revive a complicated deal that would release Palestinian prisoners and extend the talks for up to a year. Israel's foreign minister, Avigdor Lieberman, said in New York that he would rather go to new elections in Israel, and predicted he'd soon replace his party leader, Benjamin Netanyahu, as Israel's prime minister.
And for several months now, Mohammed Dahlan, an exiled former stalwart of the Palestinian ruling party, Fatah, has been publicly exchanging barbs with his former boss, Palestinian Authority President Mahmoud Abbas, while gathering support and financing abroad to prepare for a comeback.
Several other contenders on both sides are talked about as plausible candidates for leadership. Kerry, however, well aware of his own loss of prestige at home if the talks fail, is pushing to get the ones still in charge, Abbas and Netanyahu, back to the negotiating table.
Things sure looked bleak in early April, as Lieberman took the stage on a Sunday morning in a midtown Manhattan hotel, where The Jerusalem Post was holding its annual conference. We are at a "crucial moment," Lieberman told the crowd. Abbas's signing of a host of United Nations-related treaties days earlier amounted to "real clear blackmail from the Palestinian side," he said.
I have a "good idea," Lieberman then volunteered. There are three ways to go, he said. "One option is back to the package deal" that would see a release of dozens of Palestinian prisoners as planned before Abbas made his U.N. move. Another, promoted by "some analysts," he added, was to reshuffle Israel's ruling coalition to make it better suited for concessions to the Palestinians.
"And the third option is a new election," he said. "We would prefer a new election and not a package deal, and not a new coalition." Later, addressing Jewish supporters of Russian origin in New York City's Brighton Beach neighborhood, Lieberman predicted that the next Israeli prime minister would be a Russian speaker.
Born in Moldova when it was part of the Soviet Union, the 55-year-old Lieberman, widely known in Israel by his Russian first name, Evet, has steadily climbed the political ladder ever since entering the Knesset in 1999 as a backbencher from the right-wing Likud Party. He later left Likud to form Israel Beyteinu (which translates to "Israel is our home"), a party supported largely by Jews of Russian origin. In the last Israeli election, in January 2013, the Lieberman-headed party united with the Netanyahu-led Likud Party. His maneuvering has earned Lieberman a reputation as a wily political operator with a well-honed ability to mine voters and identify Israel's political zeitgeist.
"If Evet runs now without Likud, Israel Beyteinu can win 20 seats in the Knesset," Avi Bnayahu, a former army spokesman who is now active in the political center-left, told me. He noted that ever since returning to politics after being acquitted of charges of corruption in November, Lieberman "broke left," surprising many Israelis who have known him as a staunch hawk throughout his career.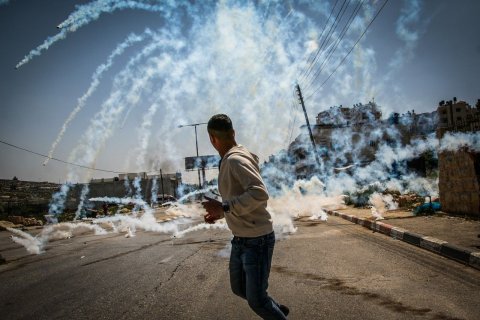 But some analysts doubt Lieberman's staying power. "He has lost support among the younger generation of Russian-Israelis, who are much more integrated in the Hebrew-speaking society than their parents," says Hanan Crystal, a political analyst on Israel Radio. Crystal cited a recent poll predicting that without Likud, Lieberman's party would crash down to "single digits."
After that Sunday morning, Lieberman toned down his new election bid, indicating that he would remain in Netanyahu's government. He also praised Kerry as Israel's friend and commended his peace efforts.
Some political analysts say that for now Netanyahu can survive and serve the remaining three years of his term, though he may have to reshuffle his cabinet. Canceling the release of a fourth batch of Palestinian prisoners was popular, says Crystal, and there is a consensus behind building in Gilo, a suburb of Jerusalem.
The government's announcement in late March of tenders for 700 new units in Gilo, beyond the 1947-drawn "green line," after it delayed the prisoner release was the moment the process went "poof," as Kerry described it recently in a congressional hearing. Now Abbas is demanding, as his price for returning to the talks, a release of even more prisoners, including Marwan Barghouti.
Arrested in 2002 and convicted in Israeli courts for multiple murders, Barghouti was sentenced to five consecutive life sentences. His popularity among Palestinians has risen in jail, and, if freed, he is widely seen as the front-runner to replace Abbas. Ari Shavit, a leading columnist for Israel's left-leaning newspaper, Haaretz, wrote recently that replacing Abbas with Barghouti is the only chance to revive the peace talks, especially if he promises to run on a ticket with Salam Fayyad, the former Palestinian prime minister who was pushed aside last year.
Fayyad, however, has little political support among Palestinians, who consider him too close to Israel and America. And Barghouti, for now, remains incarcerated.
Since 2010, meanwhile, Abbas has been feuding with another possible heir, Mohammed Dahlan, the Fatah leader who formerly ruled Gaza. Now living in the United Arab Emirates and Cairo, Dahlan has amassed millions of dollars in donations from Saudi Arabia and other Gulf countries, which he is generously distributing to supporters in Gaza and the West Bank. He has also allied himself with Abdel Fattah el-Sissi, the former Egyptian military leader who is expected to win the presidency later this summer.
In an unusually harsh attack, Abbas publicly accused Dahlan last month of complicity with Israel's Mossad in the assassination of Palestinian arms dealer Mahmoud al-Mabhouh in Dubai, and even suggested he had something to do with killing Yasser Arafat, who died of an ailment in Paris in 2004. Dahlan, for his part, told The Associated Press in January that Abbas would "leave only ruins" behind him.
Abbas, 79, was elected president in 2005, and his term expired more than four years ago. In the absence of an agreement with rival Hamas, which rules Gaza, no election seems near. But either way, Abbas's term seems to be drawing to a conclusion.
Some advocates of a negotiated peace with Israel hope that "new blood" might reignite the process. The bad news is that the rift between the peoples seems to run much deeper than the differences between their leaders. It will likely return if, and when, they are replaced.
Follow Benny Avni on Twitter: @bennyavni