Ryan Toth holds aloft a feline form so frightening it could be Norman Bates's kitty. He calls the dead pussy—more or less affectionately—"Exposed Cat," though on this cool, spring night in Brooklyn, New York, its semi-skeletal remains look overexposed. Skin stretched tightly over protruding bones, Exposed is forever frozen in a playful pose: tongue out, teeth bared.
Toth is standing onstage at the seventh annual Carnivorous Nights Taxidermy Contest in the Bell House, a converted warehouse that overlooks the Gowanus Canal, a storied dumping ground for the Brooklyn mob. "This is not my cat," he tells the audience. "It's another stray I used as an homage to my cat, who lives at home and who is my muse."
Tricked-up cadavers like Exposed were showcased at this show-and-tell competition, held annually by the Secret Science Club, whose monthly lecture series draws overflow crowds and Nobel Prize-winning speakers. As always, the real marvels of the face-off were the collectors, many of whom were comprehensively tattooed and decked out as assorted grotesqueries even Dr. Seuss wouldn't deliver.
It turns out that "stuffing" is no longer limited to Thanksgiving. Cable TV is crammed with reality shows like Oddities, Immortalized, American Stuffers and Mounted in Alaska. Lady Gaga, Alexander McQueen and Damien Hirst helped make taxidermy fashionable, and now the DIY variety is all the ghoulish rage. Of all this haute roadkill, perhaps the most notorious was a collection of high heels, by German designer Iris Schieferstein, cobbled out of snakes, horse hooves and cotton-wadded doves. (To the great chagrin of taxidermatologists, the Harvard Law School Library just announced that a book in its collection believed to be bound in human skin is actually trussed in sheepskin.)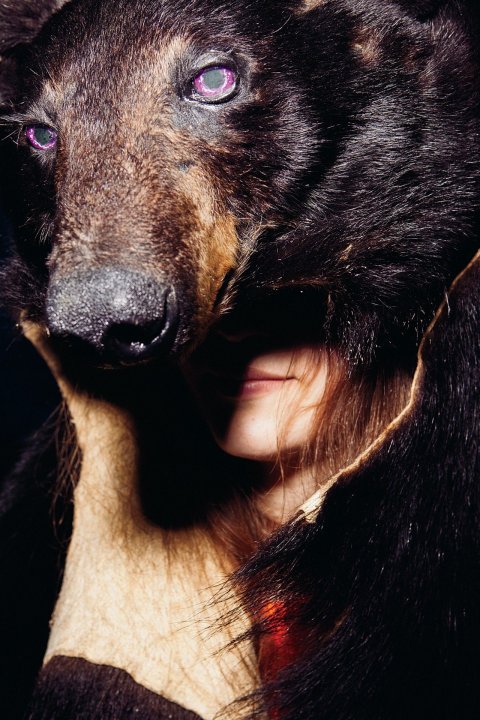 At tonight's festival of applied zoology, Oddities host Mike Zohn is camped beside a six-and-a-half-foot column as wide as an elephant tusk. "Objects like this were once used to make leather for bookbinding," he says. "It's a dork." He didn't mean a stupid, foolish or inept person, though there seemed to be plenty of those in the Bell House. A dork is a common misnomer for a whale penis, and this preserved pecker was said to be 60 years old.
What's it stuffed with?
"Love," says Zohn.
A kind of Taxidermy Amateur Hour (more like six), Carnivorous Nights began as a publicity stunt for a book about the thylacine, a now-extinct Tasmanian marsupial shaped like a wolf, striped like a tiger and with a pouch like a kangaroo. This year's iteration attracted burlesque queens turned homemade taxidermy Etsy sellers, eccentric Japanese artists, pale steam punks in floor-length dusters, twangy bow hunters, geeky academics, goths, rockabillies, diamond dogs and a few standard-issue sociopaths.
"The weirdest person who ever entered?" I ask Secret Science Club curator Dorian Devins.
"Well, one year a guy entered a human fetus in a jar, then disappeared," she recalls. "We think the fetus might have been stolen from a medical lab and that the guy didn't want to get in trouble."
Another year a contestant brought an armload of dead pigeons—all, one suspects, with beautiful plumage; all pining for the fjords. "We think he wrote a book on how to kill pigeons," Devins says. "He was really obsessed with killing pigeons."
Nate Hill, the 2012 champ, skipped this year's gala. "He once presented a Christmas tree trimmed with pickled roadkill," says Devins.
What's he up to now? "Taking photographs of himself wearing naked women as scarves. I guess he's moved on to live subjects."
While the 2014 competitors sip Wet Specimens (gummy bears suspended in bourbon and ginger ale, like dead newts in formaldehyde), their entries are considered by a panel of judges: Tony Rodgers of the Metropolitan Museum of Art, Joanna Ebenstein of Brooklyn's Morbid Anatomy Library and Museum and Robert Marbury of the Minnesota Association of Rogue Taxidermy (MART).
Members of MART, an organization composed of shock artists, recycle dead critters that might otherwise be hauled to the curb on trash day. Marbury cautions that rogue taxidermy is not what happens after Sarah Palin confronts a moose in the wild.
Everyone has a shtick. Like Mariano Rivera emerging from the Yankee Stadium bullpen, each entrant approaches the microphone accompanied by his or her own theme song. ("What Does the Fox Say?" Tonight, in Brooklyn, not a whole lot.) Brandishing one of the stone-cold foxes he sells back home in Hillsborough, N.J., Robert Kennedy advises potential male customers, "Tell the missus you want to put it in the bedroom. If you start the negotiation there, it will end up in the den. Otherwise, this is going in the basement."
When Zohn is asked how he embalmed the giant whale penis, he cracks, "Well, I wouldn't call it a soft mount."
The gonzo creations include Paige Campbell's two-headed pigeon (Ronit and Yael) bequeathed to her by an ex-boyfriend ("It's not the first dead bird I've received from an ex"), Daisy Tainton's display of a tabby hybrid battling a beetle on horseback, Mary Lopez's weasely diorama (ermines in lab coats clutching itty-bitty syringes and test tubes), and Takeshi Yamada's cuddly Coney Island sea rabbit, whom he calls Boss.
The grand prize goes to Yamada's pièce de résistance, a winged fox mashup with more heads than Mozilla. Devins had intended to award the winner a pair of pants once worn by the late Sammy Davis Jr., but forgot to bring them.
It's unclear if Davis was still inside them.
Correction: Due to a production error, an earlier version of this story misidentified the owner of the bear headdress shown in the second photo. The caption has been corrected.