Patricia Kerman was born in Detroit in 1949. That year, the Motor City's banks reported record-high deposits, unemployment dropped to its lowest level ever, and manufacturers churned out the automobiles, electric refrigerators, stoves and calculators that were fast defining modern life in the second half of the 20th century. It was, as The New York Times wrote in 1950, an "unprecedented industrial boom."
But for all its postwar prosperity, America's "Arsenal of Democracy," as President Franklin Roosevelt dubbed Detroit, was a violent place to live. The city was plagued by police brutality and race riots. Urban planners ripped out electric streetcars and destroyed public housing, evicting thousands for freeway expansion. Like many Midwesterners of her generation, when Kerman saw a way out, she took it: In the summer of 1969, after friends asked her to join them on a road trip to California, she told her parents she'd be back in 10 weeks, hopped in a van and never returned.
"The West was calling me," Kerman says more than four decades later from her apartment in San Francisco's Mission District. And now it's telling her to get out. Seven months ago, Kerman received an eviction notice informing her she has one year to vacate the rent-controlled apartment where she has lived for decades. She is one of hundreds of longtime San Franciscans being forced to leave their homes and possibly the city. "Now," she told me, "there is nowhere to go. I'm terrified."
Versions of Kerman's story are playing out across the country. In many cities, people are pushed farther from the city centers and must grapple with longer commutes, higher crime rates, and a drop in services. But in San Francisco, where Silicon Valley's tech boom has driven up evictions by 115 percent in the past year, displaced residents like Kerman face an additional problem: The city is out of room.
Built atop a thumb-shaped, 49-square-mile peninsula in northern California, San Francisco has nowhere to expand. South of San Francisco is Silicon Valley and San Jose; north, across the Golden Gate Bridge, is wealthy Marin County; east is the San Francisco Bay and then Oakland; and west is, of course, the Pacific. As a result, San Francisco's population of just over 800,000 is relatively fixed. "Different cities have different housing supply elasticities," says Federal Reserve Bank of Cleveland research economist Daniel Hartley. This elasticity dictates the balance between new home construction and rising costs for existing buildings. In San Francisco, he says, geographical constraints and strict development laws skew the city toward the latter scenario. In 2013, for example, there were more eviction notices served on units than there were new ones built. For Kerman, a 65-year-old woman living on $900 a month, her notice means almost certain exile from the city in which she has spent her entire adult life.
According to Hartley, hard numbers for how many residents of San Francisco are in Kerman's position are difficult to come by, but tenant advocates point to the fact that more than 6,000 homes have appreciated by 70 percent in the past few years. And that tech workers make twice the salary of the average San Franciscan.
Displacement is an elusive subject to study. As Rutgers University researchers Kathe Newman and Elvin Wyly observed in a paper on gentrification in New York, "Displaced residents have disappeared from the very places where researchers or census-takers go to look for them." For the moment, the only way to understand the forces transforming San Francisco's neighborhoods is through stories like Kerman's, told by residents who still occupy, however briefly, the disappearing communities of America's booming tech metropolis.
Dissolution Properties
In many ways, Kerman's current troubles date back to the 1960s, around the time she first arrived in San Francisco. When developers began erecting downtown skyscrapers like the now-iconic Transamerica Pyramid tower, activists railed against the Manhattanization of the city. By the late 1970s, steep rent hikes were commonplace, particularly in the Mission, where affordability and proximity to downtown made the neighborhood ideal for real estate speculators. During this time, one survey conducted by activists found that apartment buildings in the neighborhood were changing hands every 18 months, on average. When San Francisco city supervisor and gay rights activist Harvey Milk was forced to close his camera store after a $900 rent hike, he began to work for rent-control laws and a movement codified. By 1979, tenants' rights advocates pushed through the rent-control laws that are still in place.
Kerman rents one of the more than 217,000 rent-controlled units in San Francisco, a century-old, yellow-and-brown Edwardian on the corner of 20th and Folsom, tucked away from the neighborhood's main thoroughfare of taquerias, fruit stands, Asian groceries, cocktail bars, vaporized tobacco shops, decaying art deco theaters and "Jesus Salva" posters. North of 20th, few houses left in the Mission are older than Kerman's. Most of the original stock was consumed by the Great Earthquake and Fire of 1906, which destroyed 80 percent of the city's buildings. At the time of the quake, the neighborhood's immigrant population was primarily German, Irish, Scandinavian and Italian, with a small Chinese contingent (and, according to a 1900 census, a single Ecuadorean). But by the 1960s, after many San Franciscans of European descent fled to the suburbs, Latinos made up the majority of residents. They were joined by street performers, poets, ex-Haight-Ashbury hippies, and artists in search of R. Crumb's underground comics movement.
Kerman moved into her apartment only a few years after the rent hikes were halted. "We've always had rich people," she says, and not all the changes in the Mission have been bad. When she first arrived, Kerman says, her stairs were littered with "used condoms and junkies." Her roommate, Tom Rapp, who came a few years later with his metal band HOSBRUTEN—"it's a made-up word," he says with a shrug, "it was the 1980s"—remembers the waves of hookers outside their building surging and receding with fluctuations in the local economy.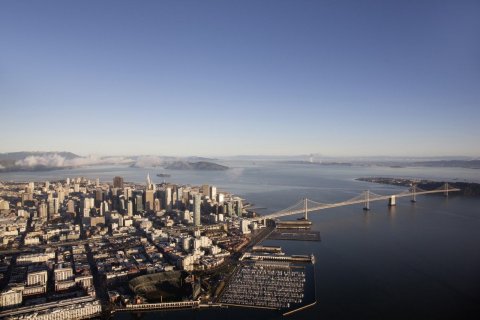 "The older you get," Kerman says, "your friends, family, they die. But you have your community." In the late 1990s, that began to change for her. As the first dot-com boom hit the Bay Area, long-familiar faces started disappearing from the Mission. Hundreds were evicted through a renters law called the Ellis Act that allows landlords to empty out buildings and sell them. It does not permit landlords to offer those apartments for rent at a higher price, but it does let them sell shares of the building to new buyers. When abused, as tenant's rights advocates argue it often is, the Ellis Act allows real estate speculators to purchase rent-controlled buildings, evict longtime tenants, and sell shares to people who can afford to own their own homes.
Detractors say the law allows speculators to gut neighborhoods for rich new tenants. But defenders point out that the cost of living goes up for landlords during boom times too, and at a far faster rate than the 1 percent annual rent increase they are allowed to demand from tenants like Kerman. (As one landlord put it to a local magazine: "You can't go to the deli on the corner and say, 'I've lived in the neighborhood for 25 years—can I buy a burrito for $1.99?'") And for 80 percent of small-business landlords in the city, their property is a lifelong investment. "And now is the time to sell," says Janan New of the San Francisco Apartments Association. Or as Walt Baczkowski, CEO of the San Francisco Association of Realtors, says, "It's called capitalism."
This "first wave" of gentrification subsided in the early aughts, when the dot-com bubble burst and the number of Ellis evictions plunged. In 2005, however, after new technology companies like Google began attracting thousands of high-paid employees to the bay, the number of Ellis evictions tripled. In 2013, Ellis evictions grew 175 percent from the year before. During that time more than half of the Ellis evictions were carried out less than a year after a building had changed hands.
Behind these evictions, says activist Erin McElroy, "we've started seeing repeated names and LLCs" (limited liability companies). One group of property owners, which evicted residents from 15 apartments, used to operate out of New York, until they were banned from selling real estate in the city after one partner attempted to steal trash bags full of personal belongs from the home of a deceased tenant. Another property owner used Ellis to evict 69 apartment dwellers in San Francisco through LLCs with names like "Black Market," "Hades Group" and "Dissolution Properties," and is currently facing $15 million in fraud lawsuits. The Anti-Eviction Mapping Project has identified a dozen landlords and property owners who have carried out Ellis evictions on multiple buildings in recent years. Among them is Kerman's landlord, who served her and Rapp with an Ellis eviction notice in the fall.
"Out of the Bars, and Into the Streets!"
Since 2011, 69 percent of the no-fault evictions have occurred within four blocks of a private bus shuttle stop for tech company employees. This has prompted community activists to protest tech workers in the city with slogans like "GET OUT," a somewhat cumbersome abbreviation for "Gentrification Eviction Technologies OUT." But Mission Supervisor David Campos, who is fighting to reform the Ellis Act, takes a different view. "I've always believed there is something special about the tech worker," he says. "The reason they are moving to the Mission is that they value the diversity, culture and art that make San Francisco what it is." The question, he says, is whether Silicon Valley is willing to get more engaged with the community its workers are rapidly transforming by displacing the artists, immigrants and merchants who, like Kerman, arrived in the half a century before them. (Neither Google nor Facebook responded to interview requests.)
In the past few years, Silicon Valley has attracted thousands of new programmers, developers and designers to the city, and with them, a massive amount of wealth. Between 2010 and 2012, more than 13,000 technology sector jobs were created in the Bay Area. When, in the last few years, Twitter and Facebook went public, they created thousands of millionaires. With them, the city has flourished. Unemployment shrank to 4 percent, median income went up by 20 percent, and, in both 2012 and 2013, Bloomberg Businessweek dubbed San Francisco "America's Best City," citing "the best blend of entertainment, education, safety, clear air, and a prosperous economic base."
Stats about the "median" and "average" San Franciscan, however, overlook the fact that San Francisco has the second highest inequality gap of any major city in the country. And according to Jennifer Friedenbach, the director of San Francisco's Coalition on Homelessness, despite the city's prosperity, services for the poor have never recovered from the 2009 recession. Further, such stats don't account for the city's lack of affordable housing, which guarantees that many who get evicted must leave San Francisco.
According to one of the Mission's merchants' associations, as wealthier residents move in, businesses have had their rents tripled overnight, forcing community bookstores, dive bars and restaurants to close. The loss, says Campos's aide Nathan Allbee, can be difficult to grasp in the short term. But these types of businesses have, historically, played an important role in the city's—and the country's—politics: In the 1970s, he explains, "queer politics came out of art and nightlife. One of the only places queer people could come to was bars." When a short-lived law banning discrimination based on sexual orientation was repealed in Miami in 1977, thousands in San Francisco's LGBT community filled the thoroughfares of the Castro neighborhood chanting with Harvey Milk, "Out of the bars and into the streets!" The action helped spark the gay rights movement that would continue on for decades until, in 2004, then-San Francisco mayor Gavin Newsom began conducting marriages for same-sex couples at city hall, before doing so was legal in California or anywhere else in the country.
"I love this city," Kerman says. "It's not the bridges. It's not Golden Gate Park. It's the people." In her neighborhood, there are the Mission cowboys who walk around with guitars slung over their backs and play Mexican folk songs for customers in the neighborhood taquerias; the Tamale Lady, who for decades has gone from late-night bar to later-night bar selling homemade tamales to the tired, drunk and lonely; and the street artists who paint murals of the Tamale Lady in the Mission's alleys. But now, the community they've built together is disappearing. "Greed has taken over," Kerman says. "Everyone's gone money hungry."
Be Sure to Wear Some Flowers in Your Hair
Like Kerman, I was raised in the Midwest and fled to San Francisco when I got the chance. Growing up, everyone I knew had some friend whose sibling had moved there, a betrayal that offended Midwestern sensibilities in a way that made me want to move there too. It was clearly the place to go if you were determined to go somewhere. As a friend of mine used to say, "Everything grows there."
In 2011, I lived only blocks from Kerman's apartment. My rent was only about $200 shy of Kerman's total monthly income, and according to my neighbor, a Latino man who had been in the city for years, it was four times what he was paying to live in the same building. After I left the Mission in 2012, the rent on my apartment doubled.
I spent my last six months in San Francisco living on Haight Street, in a newly renovated apartment house a couple blocks away from Ashbury. The hundreds of thousands of runaway kids from Kerman's generation had long ago moved on. Some had gone north to raise families in Marin. Others had become Silicon Valley executives. But one could still find a few crusty punks lingering on the corner with hand-rolled cigarettes and waterlogged guitars. Only now, pushing through them, was an endless stream of tourists in tie-dyed T-shirts, lined up outside the Haight-Ashbury Ben & Jerry's to buy a pint of Cherry Garcia ice cream for $4.99. As Rapp said to me, it is a great irony of gentrification that the gentrifiers always end up "displacing the people who made them want to live there."
"Your experiences shape who you are," Kerman says. "My parents came through the Depression—they had a particular outlook that we could never have." She had the civil rights movement. Tech workers, she says, "didn't go through that." According to the workplace survey company PayScale, of 32 Silicon Valley companies examined, more than 80 percent had an average employee age under 35. At more than a fourth of those companies, the average worker was, like me, under 30. "They don't understand what the city really is," she says. "They don't get engaged. Groups of girls walk down the street and they all have their thumbs going. It's not my world. That's fine, as long as you don't kick me out."