We climb eight flights of stairs. Eight more remain. This is sturdy Soviet concrete, dusty as death, but solid. So I hope, anyway. My guide, Katya, who is in her early 20s, has informed me that the administrators of the Exclusion Zone that encompasses Chernobyl do not want tourists entering the buildings of Pripyat for what appears to be an unimpeachable reason: Some of them could collapse.
But the roof of this apartment building on the edge of Pripyat, the city where Chernobyl's employees lived until the spring of 1986, will provide what Katya says is the best panorama of this Ukrainian Pompeii and the infamous nuclear power plant, 1.9 miles away, that 28 years ago this week rendered the surrounding landscape uninhabitable for at least the next 20,000 years. So we climb on, higher into the honey-colored vernal light, even as it occurs to me that Katya is not a structural engineer. And that the adjective Soviet is essentially synonymous with collapse.
And what do I know? Nothing. I am just a curious ethnic hyphenate, Russian-born and largely American-raised. In 1986 we lived in Leningrad, about 700 miles north of the radioactive sore that burst on what should have been an ordinary spring night less than a week before the annual May Day celebration. Considering that Communist Party General Secretary Mikhail Gorbachev wasn't told for many hours what, exactly, had transpired at Chernobyl ("Not a word about an explosion," he said later), you can safely extrapolate to what the Soviet populace learned on April 26: absolutely nothing. But a couple of days after the disaster, a family friend from Kiev called and said we had better cancel our planned vacation in the Ukrainian countryside.
Then details started falling into place, as workers at a Swedish nuclear power plant detected radiation, eventually determining that it came from the Soviet Union. That forced the ever-defensive Kremlin's hand, which admitted on April 28 that an accident had happened at Chernobyl. "A government commission has been set up," a statement from Moscow assured. My father, a nervous physicist himself, was not mollified. I remember, as clearly as I remember anything of my Soviet youth, his telling me to stay out of the rain.
The narrative of Chernobyl has been told so many times, there is no point in regurgitating all of it here. Very briefly: a shoddy Soviet reactor, moderated by graphite instead of water; a turbine generator coastdown test that senselessly called for the disabling of all emergency systems; the reactor's fall into an "iodine valley" and the consequent poisoning of the reactor by xenon-135; the incompetence and impatience of the plant's managers, especially of Anatoly Dyatlov, a supervising engineer who stubbornly drove the test forward and would later serve prison time for his role in the night's events; the indefensible lifting of all but six of the 211 control rods; the reactor going prompt supercritical; the inability to fully reinsert the control rods, leading to steam explosions and graphite fires; a biblical pillar of radioactive flame surging into the sky.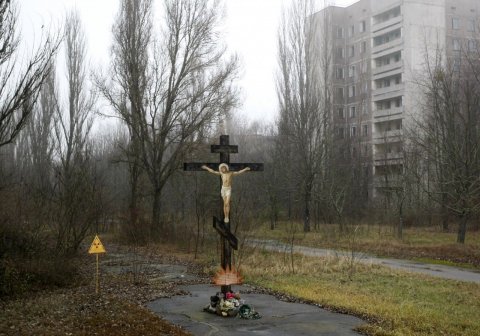 Through it all, two off-the-clock workers fished in a nearby coolant pond. They continued to fish until the morning, receiving enormous doses of radiation yet somehow surviving. Theirs may be the only feel-good story of the night.
The toxic cloud that enveloped much of Europe that spring has intrigued me ever since. I can name all of the radionuclides it contained: cesium-137, iodine-131, zirconium-95 strontium-90, ruthenium-103.... But I longed to know its origins, the way a naturalist might yearn to see the source of a river somewhere high in the mountains, simply to fulfill the human need to discover beginnings and pay homage to them.
I also happen to be a journalist and now find myself in Ukraine when it is at the center of world events, as opposed to the periphery where most former Soviet states languish (when was the last time CNN did a gripping live remote from Uzbekistan?). Except I am about 90 miles north of Kiev, the site of the Maidan uprising, the epicenter of a conflict that has Russian President Vladimir Putin sharpening his swords again. Everyone else is reporting on Crimea, possible NATO retributions, a new Cold War...and here I am, in the midst of this "weirdish wild space" (h/t Dr. Seuss).
Katya is right. Not only do the stairs hold, but the view from the roof, 16 floors above Pripyat, is spectacular. Winter singes the air; nothing yet blooms. There is a severe beauty that is particularly Slavic, the earth at once fecund and stark. The white quadrangles of Pripyat seem to have risen up between the trees that grow thickly right up into Belarus, encompassing a forbidden zone of a thousand square miles. The V.I. Lenin Chernobyl Atomic Energy Station (the official name of what the world knows as Chernobyl) is visible in the distance as a squat collection of shapes, emitting equal parts radioactivity and mystery.
That apartment building was part of my two-day excursion into Chernobyl, one that quickly dispelled any notions that this swath of Eastern Europe is a radioactive wasteland. Or, rather, only a radioactive wasteland. I can't quite believe that I am saying this, but tourism to Chernobyl is booming. There were 870 visitors in 2004, two years after the Ukrainian government allowed (some) access to the Exclusion Zone. Today, the Kiev-based tour company SoloEast says it takes 12,000 tourists to Chernobyl a year, which accounts for 70 percent of the pleasure-visitors heading there (including myself). I even stayed at a luxury hotel of sorts, a neo-rustic cottage that featured towel warmers and a sign that said, "Please keep your radioactive shoes outside."
For the most part, the defunct station of reactors (the first went live in 1977; the last, the one that blew, in 1983) looks like a tidy industrial park in central Ohio: shorn green lawns, a smattering of abstract art, half-empty parking lots, a canal rife with fish. Nothing indicates that this is the site of the worst nuclear disaster in human history.
Yet as tourists Instagram away at Pripyat's ruins, Chernobyl is undergoing one of the most challenging engineering feats in the world, as a French consortium called Novarka tries to replace the aging sarcophagus that contains the reactor, a concrete shell hastily and heroically built in the direct aftermath of the meltdown. The place remains a half-opened tinderbox of potential nuclear horrors, and just because much of the world has forgotten about Chernobyl doesn't mean catastrophe won't visit here again.
But don't let that detract from your sightseeing.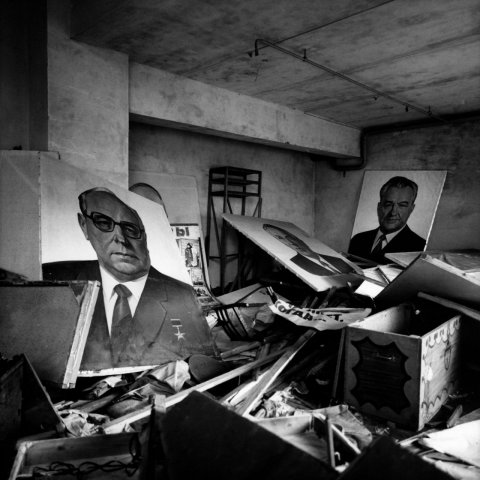 WORTHY OF WORDSWORTH
Of the many atrocities committed against this swath of north-central Ukrainian soil, the most recent may be the American horror movie Chernobyl Diaries (2012), which meticulously sticks to every outworn convention of the horror genre, as if deviating from such would be a terror of its own. The poor viewer is presented with a group of happy-go-lucky young travelers, mostly American, respectively buxom and bro-ish; a goonish Ukrainian tour guide with the locution of a Neanderthal; and a Pripyat rendered in such an unrelentingly grim color palette that I thought the director (one Bradley Parker) may have smeared dirt and moss over his camera lenses.
The characters, wishing to "see some cool s**t," embark on a tour of Pripyat. All fine so far, just a little atmospheric unease. As night falls and the familiar, beery comforts of Kiev beckon, their van (surprise!) refuses to start. There follow many expressions of misplaced machismo, terror/wonder and good old animal fear, expressed in the purest clichés imaginable:
"We paid for this tour, bro."
"This looks pretty f**king sketchy."
And, inevitably, "Oh, s**t."
At one point, a character asks the question that is central to all hackneyed horror movies: "Are you sure we are out here alone?" You can figure out what happens from there. In any case, I certainly can't tell you, as I stopped watching about three quarters of the way through, having completed what I felt were my journalistic duties and not wishing to subject myself to this cinematic torture any longer. I do remember a pack of feral hamsters. Or something.
Katya, my tour guide, told me that American visitors are afraid of mutants lurking in the tenebrous alleys and dilapidated buildings of Pripyat. She finds this misguided concern easier to manage, however, than the fearless attitude of Polish and Russian visitors, who she says will climb into and over everything without any of the corporeal concerns one might harbor when exploring an abandoned, radioactive metropolis.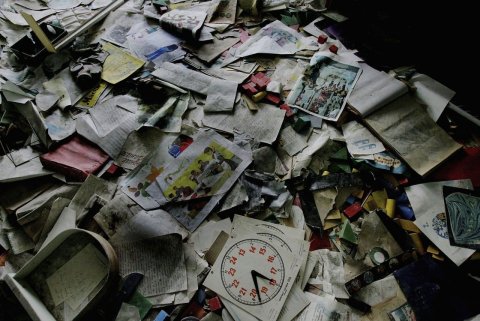 Igor, our driver, a Baptist with a Hebraically world-weary sense of humor, found it especially amusing that one American visitor thought that a covered walkway between two buildings was an elevated subway. Igor made several comments about the general naivete of Americans, perhaps suspecting that I enjoyed them. Most of the time, he simply remained in the car sleeping or listening to religious radio, including at one point a lengthy sermon on marriage that he did not turn down for my benefit. He has been to Chernobyl 500 times, and it bores him, he says.
Pripyat did not bore me. It is often called a ghost city, because after the Chernobyl explosion-though not immediately after it, tragically-the majority of the 49,000 residents of this town, 17,000 of whom were children, were ordered onto 1,216 buses and 300 trucks that had come from Kiev, without the basic explanation any neophyte emergency-management student would know to provide.
Of the many books written about Chernobyl, the only one I can confidently say you have to read is Voices From Chernobyl: The Oral History of a Nuclear Disaster. It is the ordinary voices that make this book extraordinary. For example, this is how Lyudmilla Ignatenko describes the evacuation from Pripyat:
It's night. On one side of the street there are buses, hundreds of buses, they're already preparing the town for evacuation, and on the other side, hundreds of fire trucks. They came from all over.... Over the radio they tell us they might evacuate the city for three to five days, take your warm clothes with you, you'll be living in the forest. In tents. People were even glad-a camping trip!
Ignatenko's husband, Vasily, was one of the firemen sent immediately after the explosions right into the reactor's maw, where the radiation was far above the lethal dose. More than 20 would die from the exposure. In Voices From Chernobyl, she recalls someone telling her, as she watches Vasily expire in a Moscow hospital, that "this is not your husband anymore, not a beloved person, but a radioactive object with a strong density of poisoning."
Pripyat is less a ghost town than a museum in handsome disarray. An excellent museum all the same, surely the most authentic record of the Soviet debacle that remains (other than Russia itself). A pretty good one of nuclear energy, too. I have been back to my native Leningrad twice. I have stood in front of the plain cinderblock building where I was raised; have squeezed into a desk in the very same classroom where I was once a Pioneer and where, as I bathed in nostalgia, bored post-Soviet teenagers texted away; have posed humorously in front of the Lenin statue at Finland Station with the native Californian who would become my wife. And these were all fine pricks of memory. Pripyat, though, was a hammer. With sickle.