He's the maestro of murder and mayhem, writing soundtracks for squad cars and sirens, street cops and cigar-chomping sergeants and the lowlifes they chase. Since the 1970s, Mike Post has written TV theme songs and scores for The Rockford Files, Magnum P.I., Hill Street Blues, The A-Team, The Commish, NYPD Blue and the ubiquitous Law & Order franchise. Many in the industry consider him to be the most prolific composer in the medium, and he has won Grammys and Emmys. So how come most people have never heard of him?
Post prefers it that way. He doesn't have a blog or website or a publicist, and he isn't interested in getting any. He doesn't care about recognition, and he's "certainly not interested in being famous," he tells Newsweek in a rare interview from his guitar-strewn studio in Burbank, Calif., a small, anonymous storefront in a Southwestern-themed shopping center. "I started as a studio musician, and all that's important to me is: Do the guys in the band like what I did? Do the guys who hired me like what I did?
"My job is so simple," he says. "I look at the picture without music, and suddenly I hear music. I either play or write down what I'm hearing. It's not an intellectual process. It's more of a heart process. It's sort of the way you hit a 90-mile-an-hour pitch in baseball."
For the 1980s cop drama Hill Street Blues and its theme music of a piano chord riff and a little horn, Post met with the show's co-creator, Steven Bochco. The opening montage, he was told, would include a police car rushing out of garage door amid a gray city backdrop that would have a feeling of decay.
To Post, that sounded "funky, with Stevie Wonder horns," he says, adding with a laugh, "Don't forget, this is the 1980s."
Post had a similar process with NYPD Blue. Bochco and director Gregory Hoblit came to Post's office to discuss the opening montage. Hoblit said, "I want it to sound and feel like you're in a subway," recalls Danny Lux, who worked with Post for almost 10 years as a studio assistant, producer and writer.
They then "banged around in the studio for not very long" experimenting with a wall of percussion that "was just an assault on the senses." Using that as a foundation, Post toned it down, then added some improvised chords and an English horn for melody. Two hours later, the theme was complete.
Post's most famous theme, for Law & Order—you know how it goes: two tympani hits right at the beginning, followed quickly by electric piano chords and reverb-laden guitar—similar fashion.
Producer Dick Wolf approached Post with a vague idea that the show should sound kind of urban but sophisticated. "Somebody already did that," Post told him. "It's called Rhapsody in Blue."
And that's what Wolf wanted—a compressed version of George Gershwin's work that would make him "feel New York." Post watched the pilot and played around with guitar and keyboard, but what he had just wasn't refined enough. So he brought in a woodwind to add a bit of whimsy to the serious sound of a police procedural.
"That's why there's a clarinet in the middle of the Law & Order theme," he says.
In terms of cultural resonance, however, Post may have locked down his place in history with just two notes. Law & Order was designed with syndication in mind, so the plot tended to break into two 30-minute segments, with the first half focusing on the police and the second focusing on the district attorneys. Wolf said he needed a sound for a date stamp to change scenes and segments. Post told Wolf he wanted nothing to do with it: "Call sound effects," he said. "I do music."
But Wolf persisted until Post relented and "kind of goofed around" with drum sounds, a sample of a jail door slamming and a clip of "some guys stomping on the floor" to create the now iconic "ching-ching," which Post had originally christened "the clang."
"Now I guess it's a ringtone," he says.
The ching-ching was also the subject of one of his favorite pieces of fan mail. "I got a letter from a lady that was a principal of a high school back East, and she said, I just want you to know that when we want to call someone to the office over the intercom, we play the ching-ching."
"I'm sure that makes everyone feel great," Post told her.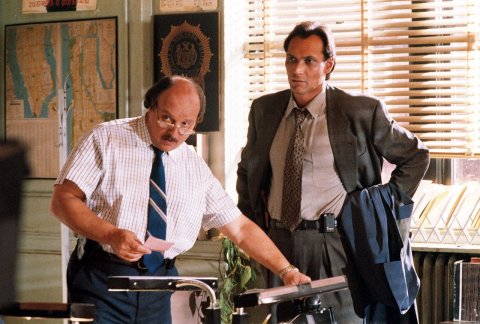 Back to School Days
Post started playing piano at 6 years old, cultivated a "decidedly eclectic" taste as he grew, favoring composers from Antonín Dvořák to Stephen Foster and fostering a strong affinity for the blues and rock and roll. The San Fernando Valley native couldn't play music during the school day, so he would wear sunglasses in class and hide a homemade paper keyboard behind an open book to practice.
At 15 he was playing in clubs but got his high school diploma to make his parents happy.
Post says he was playing in the house band of a San Francisco strip club when he realized the value of school: He needed to study music to become a better musician, including such quotidian tasks as reading and notating music.
After a year of that, Post started a folk band called the Wellingbrook Singers, and he quit school to tour the country. The group broke up, but soon he was getting gigs as a backup guitarist for artists such as Sammy Davis Jr., Dean Martin and even Sonny and Cher. (That's him playing 12-string on "I Got You Babe.")
In 1969 the then 24-year-old Post was hired to be the musical director for The Andy Williams Show—the youngest musician in TV history to hold that title. Post, who worked on that show from 1969 to 1971, got his big break in TV dramas by nearly getting into a fistfight.
Post, his brother and their wives were renting a beach house when one morning the men went to stake out their territory. The beach was already packed, so they moved several towels around to claim a spot on the sand. A man started yelling at them, the brothers yelled back, and they almost came to blows.
Post later apologized to the guy whose towels he'd moved, and the two started chatting. The stranger turned out to be Steve Cannell, an aspiring TV writer. In 1973, Cannell was hired to produce a crime show called Toma and hired Post—as well as Pete Carpenter, a renowned arranger and trombonist—to score the show.
Toma ended after one season, but Cannell asked Post and Carpenter to score his next project—The Rockford Files. That theme song hit No. 10 on the Billboard charts and landed the duo a Grammy. They worked together until Carpenter died of lung cancer in 1987.
Big Brother Is Listening
Post's impact on television music isn't limited to his compositions; he has also mentored many musicians. The aforementioned Lux was 18 and just out of high school when he cold-called Post, who hired him to set up keyboards and drums for his recording sessions. As he did this assistant work, Lux experimented with writing "source music" (the type of fictional songs that might blare from a jukebox on TV). Lux went on to do music for Grey's Anatomy, Boston Legal and Profiler.
Snuffy Walden, who scored shows such as The Wonder Years, Roseanne, The West Wing and Friday Night Lights and collaborated with Post on several projects, lauds his colleague's willingness to help others. "Mike's everybody's big brother," Walden tells Newsweek. "He's quietly one of the most giving guys in this business. He's given breaks to so many people, started so many careers—most of it anonymously."
"Mike Post is in a galaxy by himself," Bruce DuMont, Museum of Broadcast Communications founder and president, says. "Some of the most memorable programs, especially dramatic programs, have a Mike Post name associated with them."
Post, who's 69, now spends most of his time playing poker, running marathons, frequenting jazz fests, collecting cars and occasionally flying planes. He still works on SVU and the occasional musical odd job, and he's fine doing only that. "I've been on TV nonstop since 1970, without a break, without any season where I didn't have a show," he says with a chuckle. "I'm not looking for any new work."