A Formula One (F1) race car barrels into the pit lane, decelerating rapidly from around 200 mph in the track to 50 mph in the lane, just before it stops in front of a 20-man team standing and squatting at the ready. Instantly, the team springs into its well-rehearsed and elaborately choreographed routine, and in just about 2.3 seconds, it's done: four tires removed and replaced, the car ready to streak back onto the track. Bend down to scratch your dog's ears and you've missed it.
To carry out this complex choreography with the speed and precision of an atomic clock clearly requires planning to the nth degree. There are no wasted movements. Each team member is laser-focused on the one thing he has to do, and he is armed with the right tool or part to do that job. And after each stop, the team holds a debriefing session, going over what went right and what could have been improved.
Now imagine applying the consistent efficiency of an F1 pit crew to a team of workers that runs a toothpaste manufacturing line. As improbable as that sounds, that's what happened when GlaxoSmithKline (GSK), the British multinational pharmaceutical company, began working with McLaren Group—the U.K. company best known for owning a highly successful F1 team—to help it cut production times at its Sensodyne toothpaste plant in Maidenhead, England.
McLaren engineers initially focused on one line. They grabbed data from the line's machines, fed it into a model and ran simulations. They discovered that one of the biggest bottlenecks was changeover time—stopping the line to make a product change, say, to a different flavor—which took around 39 minutes. The line's workers were then tutored in the kinds of time-saving procedures developed by McLaren pit crews. And they worked. The line's downtime was halved, enabling it to boost production by nearly 7 million additional tubes a year.
That's why, this year, GSK will roll out McLaren-derived efficiency procedures at its consumer product manufacturing plants worldwide, beginning in three of its eight global regions: the U.S., U.K. and Spain.
The unlikely partnership between the two disparate companies (one glamorous and lightning fast; the other buttoned-up and methodical) is part of a wider expansion plan instigated some five years ago by Ron Dennis, McLaren's chairman and CEO. In the decades since it was founded in 1968, McLaren has amassed technical expertise in the many areas required to keep complex race cars running as efficiently and safely as possible. Dennis wondered, Why not market that trackside-honed know-how to other industries? So McLaren is now applying its technological expertise—in areas that include exotic materials, aerodynamics and electronics—in sectors far removed from motor sports, ranging from health care and public transportation to data centers and oil-and-gas exploration.
The main focus of the McLaren Applied Technologies (MAT) division is selling McLaren's ability to capture vast amounts of data—often in real time—feed it into models and run simulations that can be used to solve problems, abet decision making, design products and increase efficiency, all at blinding speed. Consider that during each of the 19 Grand Prix races held in cities worldwide each year, McLaren engineers (and as well as the engineers of rival teams, too) are continuously using telemetry, or wireless telecommunication systems, to monitor cars streaking around tracks at speeds up to 220 mph in all kinds of weather, to gather information on everything from aerodynamics, fuel consumption, road conditions and tire life. Those pieces of data are then streamed to McLaren's servers back in Woking, suburban London, and fed into an algorithmic model that can instantly run thousands of possible scenarios and spit out predictive intelligence that its trackside crew uses to make super-fast decisions—when to schedule a pit stop, for instance—in races where milliseconds rule. McLaren can even, on the fly, turn that data into useful products. This is a company that designs, tests and manufactures a new part every 17 minutes, around the clock, seven days a week during the F1 season.
This type of real-time data monitoring and response could have a tremendous impact on one of the biggest choke points in the drug development processes: testing efficiency.
Patients in clinical trials for new drugs usually have their vital signs checked every few weeks or so, when they visit their doctor. Data collected at checkups are used by manufacturers to determine the efficacy of the drugs. It's an inherently (and often necessarily) slow process: Many months are needed to gather enough patient data to be useful. It's also a big reason why it usually takes 10 long and costly years to bring a drug to market after it's discovered.
But that doesn't mean the process can't be improved. Last year, consultants McKinsey & Co. urged U.S. drugmakers to make better use of big data—for instance, to improve clinical trials or to model biological processes—claiming it "could generate up to $100 billion in value annually across the U.S. health care system."
McLaren and GSK are attempting to answer this call with a big-data experiment using a technology called "biotelemetry." McLaren has customized the telemetrics technology that studies the "health" of its race cars to measure 24/7 the vital signs and mobility of patients involved in drug trials—in this case for arthritis and stroke-recovery therapies—so researchers can determine more quickly if a drug is or isn't working, or is causing troubling side effects. If a trial needs to be stopped or altered, the faster that's known, the more it saves time and money—and the more it can help patients. "Speed is a real imperative for [patients]," says Steve Mayhew, GSK's head of research and development strategy, since some new drugs, like cancer therapies, might prolong lives by months and years.
Moreover, says Geoff McGrath, vice president in charge of MAT at McLaren, data streamed from patients in real time are a much richer source of intelligence than vital stats taken every few weeks at a doctor's office. "When [a patient] goes to a clinic, it's not really a real-world test."
In addition to GSK, McLaren now has around 20 applied-technologies customers. Among them is Phoenix-based IO Data Centers. Data centers typically run at full capacity nonstop, just in case there is a spike in demand from users. That's inefficient, and it's why data centers—which underpin cloud computing—gobble up 2 percent of the world's annual electricity production. McLaren used simulations to better match IO centers' energy usage to predict user demand, which has greatly reduced their power consumption. It's now using data-driven design and aerodynamics to help IO concoct new-style data centers that will use energy more efficiently.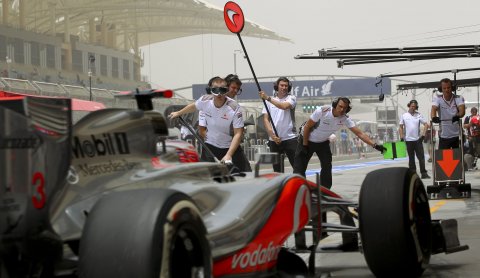 Another of McLaren's clients is London's Heathrow Airport. McLaren is creating simulations to synchronize Heathrow's now separate air traffic–control and ground-control systems. The goal is to regulate the speeds of incoming aircraft while they're still out over the Atlantic, so when they do arrive they can immediately land and be directed to the closest open gate. That would end the practice of flying incoming planes in holding patterns until a gate opens, which is a huge waste of fuel.
McLaren isn't the only F1 team hawking its track smarts to other companies. Williams Grand Prix Engineering, for example, has an advanced-engineering division that specializes in selling technologies to improve energy efficiency in four different markets: automotive, public transportation, aerospace and energy. In January, the company announced a deal with two Scottish islands to use its stationary flywheel technology—which recovers and stores energy, then releases it as needed—to stabilize the islands' electrical grids, which are heavily reliant on intermittent wind power.
These moves to diversification are, in part, due to the fact that the economics of F1 racing can be brutal. Income is tied to sponsorships, a limited pool of money that ebbs and flows from year to year. "It's not a great model," Dennis says. "Survival is challenging. Profitability is challenging."
Exhibit A: Since the 1960s, around 120 teams have entered and exited F1. McLaren's plan to seek new applications for its race technologies is a sensible move, say Garel Rhys, a professor emeritus of automotive economics at Cardiff Business School in Wales. "This brings in revenue in which the costs are already sunk, the income goes directly to the bottom line." Certainly it has become a profit center for McLaren. In five years, MAT's income has grown from zilch to around $93 million a year, and the division is profitable, Dennis claims. He anticipates revenues accelerating to $332 million within the next five years.
Dennis says that demand for McLaren's technologies is increasing and that he is investing another $166 million in the division. And Williams says its applied-engineering division is also growing. Still, despite the successes, no other F1 team has followed its lead. Then again for some top teams, Ferrari and Red Bull, for instance, racing cars is merely a high-profile way to market expensive sports cars and energy drinks, respectively. So for now, at least, when it comes to capitalizing on F1 technologies, McLaren and Williams have the inside track all to themselves.