A few weeks ago, Miranda Barbour decided to kill herself. She says she quietly unscrewed the bulb from the socket in her cell in Pennsylvania's Northumberland County Prison, smashed it on the ground and picked through the shards, searching for a piece sharp enough to slice open her wrists. She was dismayed that none of the pieces would do the job.
She tells Newsweek in an exclusive jailhouse interview that she didn't want to end it all; she just wanted to hit the reset button. "I believe in reincarnation," she says. "I wanted a fresh start."
Among the reasons she wanted to die is her heavy burden of regret. Regret for her family's pain and "slaughtered" reputation because of what she has done. And most of all, regret that she may never hold her husband or young daughter again. "I knew I would be put away, but I just didn't think it would all happen so quickly," she says. "I thought I would have more time to say goodbye."
But she has no regrets about Troy LaFerrara, whom she confessed to murdering, or about the 22 other people in at least four other states she claims to have killed. "I felt no regret. None," she says. "I didn't hurt anyone who didn't deserve it."
Barbour is charged with criminal homicide for the murder of LaFerrara. Last week her attorney filed a motion asking a judge to rule that she did not torture LaFerrara before killing him, in an effort to take the death penalty off the table. She is due back in court on May 30.
She became an international headline after she told a local reporter on Valentine's Day that she was a serial killer. Since then, the teen mom from North Pole, Alaska, has been a constant source of media speculation. Police don't seem to take her seriously as a mass murderer, but she has been fielding requests from CNN and other news outlets.
As she calmly discusses what led her to the jail cell, she is handcuffed, dressed in an orange jumpsuit and sitting on a hard plastic chair in a small high-security visitation room at the Muncy Department of Corrections in central Pennsylvania. She is 19 but seems years younger, has a warm smile and speaks in a quiet, calm voice, just above a whisper. "People think I'm a monster, but I've done a lot of good." She claims her murders spared "hundreds" of young girls from abuse. "The justice system doesn't work, so I did what I did."
That's why she believes LaFerrara deserved to die. The 42-year-old electrical engineer from the small town of Port Trevorton, Pa., answered a Craigslist ad Miranda posted promising "companionship" in exchange for $100. On November 11, they met for the first time in her car in the parking lot of the Susquehanna Valley Mall. Hiding under a blanket in the backseat was her husband of just three weeks, Elytte Barbour.
Their plan was simple. As soon as Miranda said the code words "Did you see the stars tonight?" Elytte would leap from the backseat with a cord, wrap it around LaFerrara's neck and choke him to death. But first, Miranda says, she wanted to give LaFerrara an out, so she told him she had lied about her age, that she had just turned 16. If he had done the right thing at that moment, she says, he would still be alive. "Instead, he told me that it was OK." He still wanted to have sex with her.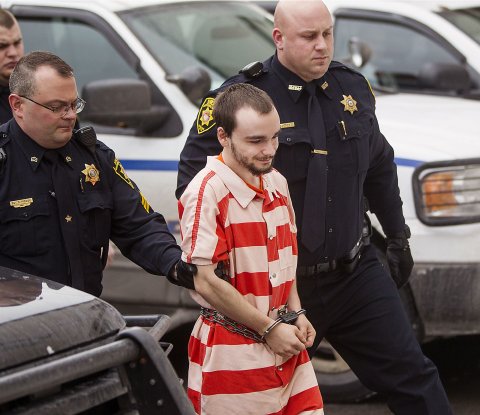 Miranda says that as LaFerrara's hand slid higher up on her thigh, she said the code words, expecting Elytte to pounce, but he did nothing. So she did it herself. Police say she pulled a knife from the side pocket of her car door and plunged it into LaFerrara's chest, again and again, 20 times.
The newlyweds then drove around for a short while, looking for a secluded spot to dump the body. They settled on a dimly lit alley, then headed off to the local department store for cleaning supplies. After Miranda and Elytte scrubbed their blood-soaked passenger seat, they drove for an hour to Harrisburg, Pa., where they celebrated at a strip club. "We were on this high, but the club was so bad," she says. "The girls were just dirty. It was a total buzzkill."
She laughs at that, then claims she was tired of killing. "That's why I left [LaFerrara's] cell phone. I wanted to get caught."
LaFerrara's body was found in the backyard of a home in Sunbury on November 12. Police began their investigation by interviewing local strippers who had met with LaFerrara, but then found his cell phone, which had texts that led them to Miranda.
She was arrested on December 3. Her husband was arrested three days later.
After initially claiming she had stabbed LaFerrara because he molested her, she confessed. She now claims that LaFerrara wasn't her first victim and that the actual number is somewhere between 22 and 45. Most law enforcement officials say her claim isn't credible and haven't followed up, although Miranda insists she can draw a map to the bodies and is waiting for the FBI to interview her.
Miranda's father, Sonny Dean, told a reporter that while he doesn't think she has killed 22 people, he believes it is possible she killed someone while living with him in Alaska.
Miranda tells her stories with conviction and appears to be sincere, but her mother, father and sister have all called her a manipulative liar. Northumberland County District Attorney Anthony Rosini has also expressed doubts. "As of this date, there has been no verification of any of the information that has been the subject of media coverage regarding prior acts of the defendant," he said in a statement.
Miranda shrugs off the fact that her friends and family dismiss her claims. "It hurts to know that all these people and my family don't believe me," she says, "but in another part of me it makes me laugh that people think I'm lying, because this is the most I've ever been honest in my whole life."
Miranda believes her "darkness" was created by her Uncle Rick, who abused her as a child. "I think he created a monster inside of me. It's always there." She doesn't want to go into details, but the brutalities inflicted on her by her uncle are a matter of public record, crimes described by the trial judge as the most physically extreme case of abuse he had ever seen.
Miranda was not quite 3 years old when her aunt and uncle, Melissa and Richard Fernandez, moved five houses away from her family home in North Pole. By all appearances Uncle Rick was a model friend, brother and uncle, and he loved sleepovers with his two young nieces. Miranda and her sister Ashley, three years older, began spending weekends at his house.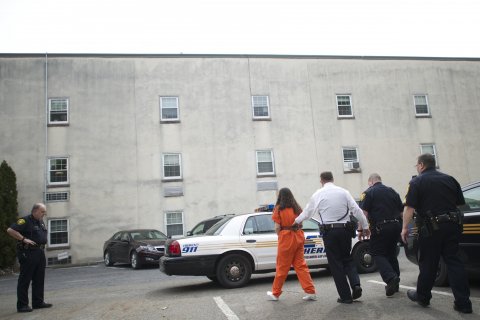 A few months later, Miranda began to complain that her anus and "pee-pee" hurt, but her parents did nothing.
The abuse continued for almost a year, until Ashley told her mother about the "secrets" of Uncle Rick. In 1998, Fernandez was sentenced to 19 years in jail, but was let out after serving nine years and four months. In July 2011, he was charged with possession of child pornography after investigators found hundreds of images on his computer, and sentenced to a 40-year prison term. He is scheduled for release in 2035.
Uncle Rick is still a looming presence in Miranda's life. More than the abuse she endured at his hands, she says she is tormented by the idea that a predator like him could be repeatedly freed after molesting her and her sister so brutally. "It's something I've struggled with all of my life. He will never change. None of them ever do. The legal system is supposed to protect people from these people. It doesn't. It didn't protect me."
Despite that abuse, Miranda maintains she had a "normal" childhood and believes her parents did the best they could. A child-like smile spreads across her face as she recalls the good times. That smile breaks into a laugh as she recalls the time she wanted to kill then-Alaska governor Sarah Palin's daughter Willow while in middle school.
Her eyes grow larger, and she touches the bulletproof glass separating us with her hand with enthusiasm. "Willow was standing at my locker," she says. "I always hated her. She wouldn't move, so I punched her in the face and got suspended."
Miranda says she briefly considered killing Willow but "it just didn't seem like a good idea." She explains that she only wanted to kill people who deserved it, and "being stuck up" didn't warrant death. "I was like, You have no idea who I am or what I'm capable of."
Miranda says her violent emotions began to rise to the surface when she was 10—first in the form of a dream about her beloved pet bird, Henry. "I had this little yellow bird named Henry I kept in a cage in my room. I kept dreaming that I had killed it. At the time I couldn't understand why, because I loved that bird."
The dreams became night terrors, and one morning she awoke to discover that the bird had been killed. She remembers staring at her hands, sobbing. "I knew I had done it, but I couldn't remember why. That was the first time that I began to understand that something was broken inside of me. I had this dark rage that was pushing to be released out into the world."