On a recent visit with my 3-year-old niece, I sat in the living room before an explosion of pastel Lego bricks, carefully, almost obsessively, trying to build a princess castle. Tiny people and pets were scattered across the table, surrounded by bricks of all shapes and sizes. Were these round things meant to be flowers? These green things leaves? It didn't matter, because I was happily distracted, enchanted by a toy I hadn't seen or played with in decades. And I had all the time in the world, because it was close to midnight. My niece had been asleep for hours.
I'm not the only adult who has dipped a hand into the Lego toy box. Since they appeared in their present form in Denmark in 1958, these miniature colored bricks have transformed from a childhood pastime into a vortex of adult challenges, inspiring architects and artists, stumping mathematicians, spawning an international community of fans, and even yielding innovative therapies for autistic children. A new documentary, Beyond the Brick: A Lego Brickumentary, from Oscar-winning director Daniel Junge and Oscar-nominated director Kief Davidson, charts this unexpected journey.
"It's a huge, overwhelming subject to cover. In many ways, it's like making a film about the English language. Where do you start? More importantly, where do you stop?" says Junge (pronounced young-ee).
It's the day after Beyond the Brick premiered at the Tribeca Film Festival in New York City, and he and Davidson are sitting in a conference room in midtown Manhattan. In front of them, four tubs of Lego bricks have been dumped on the table. The whole scene is very Big: Red, yellow, green, blue, brown, black and white blocks abound, plus a healthy dose of pink. Junge is working on a low, wide structure; Davidson, a rectangular tower. Junge talks as he builds. "We also had the responsibility of covering such a beloved subject with a die-hard community behind it," he says, referring to adult fans of Lego (AFOLs). "To have a story that appeals to young and old alike, as well as the uninformed and all-too-informed crowds—
"If the true fans don't love it," Davidson says, "we're in trouble."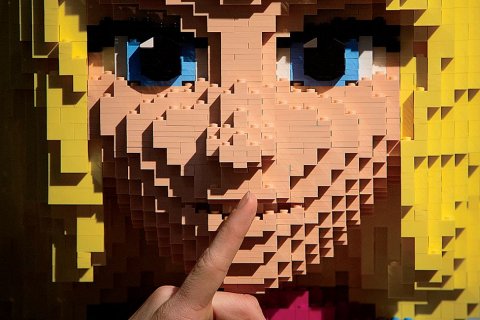 Junge and Davidson, who filmed in 12 countries, approached their subject with whimsy and respect. (So does Jason Bateman, who narrates the film as a charming yellow minifigure named Narrator.) At first blush, AFOLs might seem, well, a little pathetic, like distant cousins of Trekkies and Bronies. Junge and Davidson let this geeky persona shine. They take us to Seattle's BrickCon, an annual convention where AFOLs present their work and compete in Lego boat races, blind builds and build-in-a-bag competitions. Keeping up at BrickCon (or BrickWorld or BrickFair) requires fluency in another language, and the film offers up an intro vocabulary lesson on the KFOL (kid fan of Lego), the NLSO (non-Lego significant other), MOCs (my own creation), POOPs (parts out of other parts) and LUGs (Lego user groups).
They also visited the Czech Republic, where a team of master builders from toy maker Lego Group are creating a life-size Star Wars X-Wing fighter. The model, composed of more than 5 million bricks, went on display in New York City's Times Square in May 2013. In Enfield, Conn., master builders work on the set of The Lego Movie, a bastion of content marketing that made $69.1 million in its debut weekend last February.
Lego fans are blue-collar and white-collar, friends and strangers, stay-at-home moms and executives, and they all have a turn to speak in the film. South Park creator Trey Parker and Houston Rockets center Dwight Howard talk about their love of Lego bricks. Soren Eilers, a mathematician at the University of Copenhagen, Denmark, set out to determine how many ways you can build with six Lego bricks. (The answer is 915,103,765.)
AFOL Will Chapman instigates the film's first "huh?!" moment. He builds minuscule weapons—think sawed-off shotguns, assault rifles, bayonets and bazookas—to fit into the hands of Lego minifigures (also called minifigs). His company, BrickArms, is not affiliated with Lego Group and mainly sells to AFOLs who build Lego battle scenes. "Weapons don't fit into a Danish company," Chapman says in the film. As Michael McNally, senior director of brand relations at Lego Group, told Newsweek, "We'll never make those things, but that's fine, because there's an audience out there who wants them."
And then there's Nathan Sawaya. If you haven't heard of him, watch Lady Gaga's "G.U.Y." video. A lawyer turned brick artist, Sawaya has used Lego bricks to build everything from a gigantic T. rex to the Mona Lisa and Rodin's Thinker. His show, Art of the Brick, has toured in North America, Asia and Australia.
"Early on, I had doors slammed in my face by galleries and museums who didn't get it—who assumed Lego art was nothing they'd be interested in," Sawaya told Newsweek. "Tonight I'm having a piece of work auctioned off at Sotheby's, along with [a work by] Jeff Koons. It's overwhelming where my career has gone." (On April 22, that piece, an egg with a creature crawling out of it, sold for $16,000.)
"People are so intrigued by Lego. They want to explore their own creativity," Davidson says. "But a lot of people have lost that over time. The AFOLs call that period the Dark Ages, when you stop exploring your creativity and stop playing with Legos. It's not that you lose your creativity, but you stop paying attention to it."
The Lego Group was founded in 1932 by a carpenter named Ole Kirk Kristiansen in Billund, Denmark. The company, which took its name from the Danish words leg godt ("play well"), launched an early version of Lego bricks in the late 1940s; the ones we know today came to be in 1958. A year later, Barbie debuted at the New York Toy Fair.
By the 1970s and 1980s, Lego sets took off in the U.S., thanks in large part to the town, castle and space sets. Minifigs came in 1978, but by the early 2000s, the company hit a financial slump. "We'd been distracted by trying to be everything to everyone, taking the brand in every direction and experience," McNally said. The company launched and operated Lego Land theme parks around the world and created an in-house video game team. "In the process, we lost sight of the construction play experience. We weren't serving anyone well in that time period."
As Lego Group refocused on what it does best—build and sell construction toys—it realized it had been ignoring half of its target population: girls. In January 2012, the company launched Lego Friends, an aggressively girl-friendly line of Lego sets featuring colorful bricks and dreamy girl-land locales like "Stephanie's Outdoor Bakery" and "Andrea's Bunny House." Critics called the line sexist, arguing that it reinforced gender stereotypes, but the company sold twice as many Lego Friends sets as anticipated. Lego's net profits rose 35 percent in the first six months of 2012, and sales buoyed 24 percent, according to The Guardian.
"I have a daughter who loves the Friends set," Junge says. "If that's going to be the gateway drug for her to science, engineering, architecture and design, I'm all for it."
"Lego Friends has been critical to just getting the bricks in their hands," AFOL Alice Finch told Newsweek. "Once they have a set or two or 12, they can start to free-build. That's what's exciting to me: Girls feeling comfortable with the fact that, sure, I can build this."
Finch, a mother of two from Seattle, would know; she's as big as it gets in the Lego world. Her 400,000-brick Hogwarts replica, a breathtaking re-creation of the school of magic from the Harry Potter movies, won the people's choice and best in show awards at BrickCon 2012. Later, she teamed up with fellow Lego architect David Frank to build J.R.R. Tolkien's elven sanctuary Rivendell, from The Lord of the Rings, using around 200,000 bricks. As Finch says in the film, "I went from doing laundry one day to having over 2.5 million hits on my Flickr page."
As impossible as it may sound, Finch doesn't use computer programs to map out her designs. "I really just plan it in my head, a few sketches, then literally putting the brick out on the floor," she told Newsweek.
In addition to her gasp-worthy Lego designs, Finch is an active member and administrator in SeaLUG (the Seattle-area Lego users group). She also started ArchLUG, which focuses on Lego architecture. Her next endeavor? Building Minas Tirith from Middle Earth, as seen in the last battle from The Lord of the Rings: Return of the King.
"Quite frankly, she is a rock star. People think her work is phenomenal. She's been a real inspiration for girls and women," Davidson says.
Beyond the Brick is full of cheerful one-liners, delightful animation (stay for the credits) and colorful characters from the Lego universe. But the most interesting nugget comes toward the end of the film: Lego Therapy.
Cut to a scene with children standing in groups of three, playing with Lego bricks. All of them are autistic, a doctor explains, and each one has a distinct role: engineer, parts supplier, builder. The goal, he says, it to help them focus, collaborate and interact—all by building with Lego bricks. Next we meet Adrian Pitt of New York City, a young boy who has benefited from just this kind of therapy. He's playing on the floor of his bedroom, carefully following the instructions to build an X-ing Starfighter with Lego bricks. "It helps me focus," he says in the film. Later, his father takes him to Times Square to see the life-size Star Wars X-Wing fighter. Adrian stares at the gigantic creation with his mouth wide open. "This is the coolest thing I've ever seen," he says.
If a 56-year-old toy can help everyone from autistic children to basketball stars, what can it do for two filmmakers who hadn't played with Lego bricks since childhood? "Lego opened up a world for me in just bonding with my own child, and seeing what the creative possibilities are for him," says Davidson, who has a 6-year-old son.
"We've seen so many amazing things built with Lego that I'm happy just noodling around here," says Junge, who has two daughters, ages 6 and 1. "In some ways, I find that liberating, knowing that if you play with the bricks, it doesn't have to be genius."