No one forced Mathew Shurka to do it, but he was too afraid to say no. In front of him was an opportunity to change his sexuality forever. At least, that's what he was told.
Just a month before, Shurka, who was 16 at the time and living in Great Neck, N.Y., had revealed to his father, through tears filled with dread, that he was gay. When Shurka's father embraced him and said he'd love him no matter what, a weight was lifted. However, in the weeks that followed, Shurka's father began to worry that his gay son would not flourish in a world that often oppresses people who are different. So he did some research and found someone who offered therapy that would change his son's sexual orientation.
Shurka, now 25, tells Newsweek that at the time he was afraid of coming out to his conservative Jewish community and losing his friends. "It was a horrifying nightmare to think that anyone knew I was gay," he recalls. So when his father offered the prospect of conversion therapy, Shurka decided "if I can really change this, let's do it." He thought suppressing his feelings would make his life easier. But it didn't work that way. Instead, the path he was led down resulted in years of confusion about his identity, emotional scarring and more mental health problems than he knew what to do with.
[Related: Ex-Ex-Gay Pride.]
Teens like Shurka—not quite old enough to make informed decisions for themselves, yet old enough to know what peer and parental pressure feels like—are in the middle of a growing movement in both the U.S. and abroad. Where bunk psychology is failing children, legislatures are swooping in to protect them.
Both California and New Jersey have officially banned gay conversion therapy for minors. However, in both states, the laws have yet to see widespread implementation. In New Jersey, the state is facing a lawsuit by parents who want to send their child to a conversion camp; a ruling is pending in the U.S. Court of Appeals for the 3rd Circuit. In California, the 9th U.S. Circuit Court of Appeals upheld the law after challenges by conversion therapy advocates. But in February the appeals court agreed to a temporary hold on the ban, so that opponents (led by the Liberty Counsel, the same nonprofit Christian legal-advocacy group representing the opposition in New Jersey) could bring their challenge before the U.S. Supreme Court. The Supreme Court has yet to decide whether it will address the question of whether conversion therapy infringes upon the First Amendment's free speech clause.
In the meantime, legislation banning conversion therapy for minors has been introduced in several other states. In Washington, a bill has already passed in the House by a 94-4 vote and awaits approval by the state Senate. A similar bill was introduced earlier this year in both houses of the New York state Legislature, where it still awaits a vote. And lawmakers have announced they will be pushing anti-conversion-therapy laws in Florida, Massachusetts, Minnesota, Ohio and Pennsylvania.
Similar changes are afoot in the U.K. Despite the country's reputation for progressive health policies, a 2009 survey found that 15 percent of U.K. mental health professionals had tried to help patients change their sexual orientation—many within a National Health Service practice. The findings led to impassioned debate in the House of Commons last year, during which Norman Lamb, the country's health minister, stated that "the practice is abhorrent" and "has no place in modern society." Recently, 15 members of the British Parliament petitioned Lamb to enact "tougher measures" to ban conversion therapy. In response, Lamb promised change was on the way. "[Conversion therapy] is based on the completely false premise that there is something wrong with you if you happen to be gay," he told The Guardian.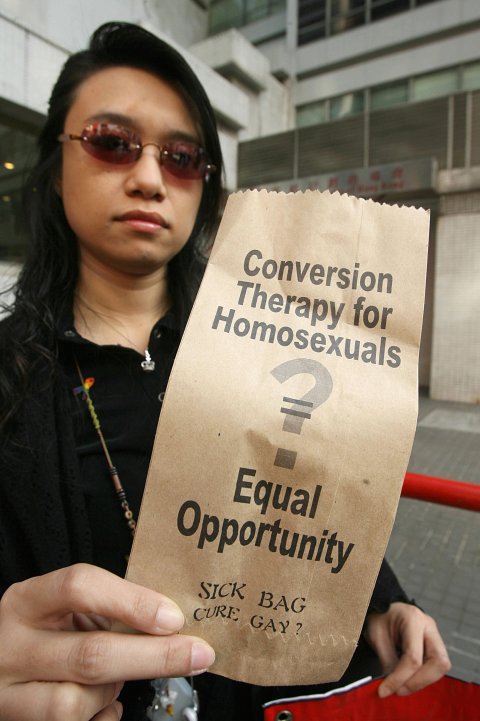 Just a Factoid
Over the years, schemes for converting men and women to heterosexuality have ranged from brutal to subtle. In the early 20th century, the Viennese endocrinologist Eugen Steinach proposed (and, unfortunately, tested) a theory that he could change sexual orientation by transplanting the testicles of straight men into gay men. In the following decades, efforts focused on aggressive behavior modification techniques meant to implant strong aversions to homosexuality. This included some Clockwork Orange-like scenarios in which patients were given electroshock or nausea-inducing drugs while being forced to look at same-sex erotic images.
As the field of psychology abandoned such Pavlovian methods universally, so did conversion therapists. These days, some secular and well-trained mental health professionals still offer talk therapy, rooted in the same psychoanalytic theories that help patients address recognized disorders such as depression and anxiety, to "repair" individuals with same-sex attraction.
Shurka's therapist told him that homosexuality isn't real—that he was straight and his attraction to other boys was the result of a void in his psyche that needed to be fixed. Shurka was also told that if he didn't change, he would never be happy. His therapists (he saw four in five years) all attempted to convert him to heterosexuality by trying to find—and mend—a traumatic event in his childhood: an overbearing mother, perhaps, or a distant father. Or maybe even molestation or abuse.
On the face of it this approach seems concerned, compassionate even, but the beliefs underpinning it are unscientific and dangerous. The therapists who perform this type of conversion therapy are treating same-sex attraction as a disease—despite the fact that the American Psychiatric Association (APA) formally declassified homosexuality as a mental disorder 40 years ago.
The National Association for Research & Therapy of Homosexuality (NARTH) is the most prominent secular organization supporting conversion therapy. It was founded in 1992 by psychologist Joseph Nicolosi and operated as a nonprofit until the Internal Revenue Service revoked its status in 2012. It has over 1,000 members and a board consisting of many well-credentialed individuals. In its practice guidelines, NARTH refers to studies that show a correlation between gender identity disorder and same-sex attraction, and that gay men tend to have suffered childhood sexual abuse at higher than normal rates. It's easy to read NARTH's recommendations as an argument that homosexuality is a mental health problem that can—and should—be cured.
Almost all experts in the field reject the idea that same-sex attraction is based in childhood abuse. "There is absolutely no scientific basis for this claim," says Douglas Haldeman, a psychologist and activist who has written extensively on the issue. "It's a factoid—something that the conversion therapy folks have been claiming for years as justification for their industry. What is a fact is that gay men have suffered more societal rejection, discrimination and hostility—hence the motivation for trying to change one's sexual orientation."
When asked about NARTH's approach, David C. Pruden, its executive director, told Newsweek that "the concept of sexual self-determination may be unusual to those who believe that the mental health profession should impose their values upon their clients, but we still retain our devotion to the traditional ethical standard that the client determines the goals for their life, not the mental health associations. Radical stuff indeed."
All of Shurka's therapists were looking for a "cause" for his homosexuality. None found any, because none exists. Shurka wasn't sick. He just was attracted to men.
Through the Wood Chipper
"The research on gay conversion therapy has never been compelling at all," says Haldeman.
Two of the most cited pieces of modern scientific "proof" of the efficacy of conversion therapy have been thoroughly invalidated. In 1979, the famous husband-and-wife sex therapy team William Masters and Virginia Johnson published a book called Homosexuality in Perspective. In it, they purported to have come up with a therapy-based program that had a 71.6 percent success rate in converting homosexual adults to heterosexuals. But in 2009, the writer Thomas Maier published his discovery that the program and its results had been fabricated.
Then, in 2012, professor of psychiatry and psychology Robert Spitzer retracted his influential and controversial 2003 paper Can Some Gay Men and Lesbians Change Their Sexual Orientation? Spitzer had been one of the leaders in the 1970s movement to declassify homosexuality as an illness, so his 2003 paper was particularly impactful—and its retraction was especially damning. "I believe I owe the gay community an apology for my study making unproven claims of the efficacy of reparative therapy," Spitzer wrote. "I also apologize to any gay person who wasted time and energy undergoing some form of reparative therapy because they believed that I had proven that reparative therapy works."
In 2009, the American Pscyhological Association (APA) put together a comprehensive report that looked at all of the peer-reviewed literature on conversion therapy and concluded that the evidence shows such efforts don't work. The APA urged all ethical practitioners to avoid any form of conversion therapy, and that's fundamentally what all the relevant professional medical organizations say: The American Academy of Pediatrics, the American Medical Association, the American Psychiatric Association, the World Health Organization and the National Association of Social Workers all have stated unequivocally that any attempt to change sexual orientation is ineffective.
All those organizations also say conversion therapy is unethical because it puts the brains of kids through a wood chipper. "It's malice disguised as medicine," says Wayne Besen, who runs the nonprofit organization Truth Wins Out.
Though the exact numbers have been hard to pin down, the literature clearly shows that lesbian, gay and bisexual adolescents and adults are at higher risk for mental health problems than their peers. But conversion therapy patients are in a much higher risk category. A well-publicized San Francisco State University study found they are three times more likely than their homosexual peers who hadn't attempted therapy to suppress their sexuality to use illegal drugs, six times more likely to report high levels of depression, and eight times more likely to attempt suicide. Their fears—of upsetting their parents, their friends, their religious community and even their therapists—can be all-consuming.
Many prominent former members of the "ex-gay" community have in recent years issued strongly worded apologies for their role in exacerbating these fears. In the fall of 1998, Newsweek ran a cover story asking, "Can gays convert?" The story featured John Paulk (a self-proclaimed former drag queen) and his wife Anne (a self-proclaimed former lesbian). At the time, Paulk was the national board chairman of one of the country's largest Christian "ex-gay" organizations, Exodus International, and an outspoken proponent of reparative therapy through religion.
In 2013, Paulk renounced his "ex-gay" past and issued a formal apology for the misguided and harmful efforts of his past. "I have met over 1,000 people who have been harmed and damaged by this kind of therapy," he tells Newsweek. "People who have gone through years of depression, overwhelming guilt, suicidal feelings, and feelings of self loathing, that they felt that something was wrong with them." Today he is living as an openly gay man, runs a successful catering business, and is outspoken about the need to ban gay conversion therapy for minors. "I am very much against any therapies that would attempt to coerce a child into a box for their sexuality."
In 2013, Exodus shut down, and also issued an apology. "I am sorry that so many have interpreted this religious rejection by Christians as God's rejection," wrote Alan Chambers, the organization's president. "I am profoundly sorry that many have walked away from their faith and that some have chosen to end their lives."
Around age 19, Shurka says, he was feeling increasingly anxious and depressed. He had fully cut ties with his mother and two sisters—the therapy suggested female influences were a wrench in the gears—and was impotent with the women he had been dating in an attempt to fill his psychosexual "void." He decided to start dating men again, but his first boyfriend left unexpectedly soon after they got together. Later, Shurka discovered it was because his father and therapist had been colluding: Together they decided that for Shurka to be "cured," the boyfriend had to go. Unbeknownst to Shurka, his father took the boyfriend out to lunch and told him he was holding back the conversion process.
"I was sitting in therapy expressing my anguish that this boy that I met and fell in love with was gone, and the therapist is withholding information from me," Shurka says. "The actual therapist is now involved in creating the circumstance I was sitting in, and his idea was that it was for my benefit."
Changing the Conversation
Because of science's murky understanding of sexuality—it's likely a mix of biological and social factors, but in what amounts and how often is anyone's guess—telling a patient how to behave only serves to push another agenda. Haldeman says that if a patient approaches him and asks to be converted, he doesn't turn the patient away. Instead, he tries to understand the underlying problem. For many adults seeking conversion therapy, it may be the first time they are reaching out for professional help. And they may legitimately need help. But not for their sexual orientation—for the anxiety, depression and other health problems that often result from living in a society that doesn't always accept a person for who he or she is.
When he was 22, Shurka solved his "problem" the way so many young men and women have for centuries: He found a more accepting environment. He moved to New York City and got a job waiting tables at an upscale French restaurant. There he was surrounded by people who didn't fit a heteronormative mold—some his own age, some who had already come into great success. The dire forecast he received from his father at 16, that he would never make it, was quickly turning sunny. "My biggest fear about ever coming out was that I wasn't going to succeed in business," he says. "[Living in New York] was the first time I was experiencing being gay as not meaning anything."
When Shurka finally came out of the closet publicly, at age 23, he knew he needed to see his father, who was living in Israel at the time (By this time, his parents had been separated for five years.) So he got on a plane to Tel Aviv.
The night he arrived, Shurka, his two sisters (one also lived in Tel Aviv; the other was, like Mathew, visiting) and his father gathered for dinner at a restaurant called Vicky Christina ("Yes, like the movie," he says). It was the first time he had spoken to his father in five years. They sat outside; it was a warm spring night. Over tapas, Shurka cracked a gay joke. It didn't land.
His father asked him to take a walk, leaving his sisters at the restaurant. This time, instead of trying to convince his son that he needed to change, Shurka's father listened. And as Shurka talked, he says that he understood for the first time how terrified his father was for him, how fearful he was that his gay son would never have a normal, happy life. Shurka says he hugged his father, kissed him on the cheek, then looked him squarely in the eyes and told him not to worry. After some hesitation, his father relaxed. "OK," he finally said, and together they walked back to rejoin Shurka's sisters at the table.
Correction: This story has been corrected to reflect that the American Psychiatric Association formally declassified homosexuality as a mental disorder 40 years ago, not the American Psychological Association. In 2009, the American Psychological Association released a report on conversion therapy.