Six years into George W. Bush's presidency, when Democrats swept the 2006 midterm elections, a small group of Democratic operatives and progressive activists huddled at a Starbucks on Capitol Hill to plot their next offensive.
Among them were David Brock, founder of the watchdog group Media Matters, and Brad Woodhouse, who was then running communications for the progressive advocacy group Americans United for Change. They discussed creating a research and rapid response shop to attack Republicans.
That meeting was the first time Woodhouse recalls meeting Brock, a former conservative journalist famous for writing blistering hits on Anita Hill and Bill Clinton before becoming a Democrat. Since the early 2000s, he has worked to build liberal institutions that can attack conservatives. With boyish looks, Brock appears younger than his 51 years, despite a thick mop of now-silver hair.
In January, Brock hired Woodhouse as the new president of American Bridge 21st Century, an opposition research outfit that ultimately fulfilled the vision of that Starbucks gathering eight years earlier. A super PAC and affiliated nonprofit, American Bridge has become one of the left's most innovative and successful ventures.
With 41 trackers currently filming Republicans in 38 states, American Bridge combines tracking, media monitoring, research and rapid response communications to hold Republican candidates accountable for every gaffe and exploitable policy pronouncement. When Missouri Senate nominee Todd Akin made his infamous "legitimate rape" comment, it was Bridge that quickly sent the footage to the press, sinking the Akin campaign and helping Democrats maintain control of the Senate."
"It was a long, tortured road from our meeting in the Starbucks on Capitol Hill to him hiring me to do something we talked about so many years ago," Woodhouse said.
He believes it's a history of progressive advocacy that still gives Democrats an edge over Republicans, even with billionaires like the oil tycoons Charles and David Koch spending millions of dollars to defeat them. In short, if you can't outspend them, outsmart them.
When Bush announced the Iraq War troop surge in January 2007, progressive groups quickly mobilized a coalition to oppose it, with Woodhouse playing a central role. As the political world began to gear up for the 2008 elections, the coalition turned its focus from the war to the candidates, targeting Republicans like John McCain with rapid response communications.
By the spring of 2008, the anti-war activists had formed Progressive Media USA to centralize soft-money messaging, research and advertising for Democrats—just as Brock and Woodhouse had discussed at Starbucks.
"It was the trial run for something like [American Bridge]," Woodhouse said. "Progressive Media USA was the first all-inclusive progressive communications hub."
Brock became chairman with big plans for the new group, telling Politico in April 2008, "Progressive Media USA will be a permanent part of progressive media infrastructure." Just a month later, however, Brock announced his group would dramatically scale back its efforts after then-candidate Barack Obama made clear he didn't want outside groups involved in the election. It wasn't long before the promising group closed up shop for good.
"When Brock first thought of this, it was so far ahead of the curve that even our side didn't realize this was a good idea," said Eddie Vale, a vice president at American Bridge and alumnus of Progressive Media USA. "It took people years to be, like, 'Oh wait, maybe we should be doing that.'"
It wasn't until the Supreme Court removed limitations on third-party political spending in the Citizens United case that progressives realized they had to create outside groups to compete with the money now flowing to conservative groups. Shortly after the Democrats suffered big losses in the 2010 midterms, Brock founded American Bridge.
The group quickly became a linchpin for this new apparatus—a centralized warehouse where liberal groups came for messaging, high-quality video and research. The 2012 election was the most coordinated liberal effort in recent history.
When GOP presidential candidate Mitt Romney said illegal immigrants come to the U.S. for a "free deal," Bridge recorded the comment and gave it to super PACs and unions, which used it in Spanish-language ads across the country.
When Romney said "I get speaker's fees from time to time, but not very much," Bridge quickly circulated a video showing "not very much" was actually $374,327.62, sparking a media firestorm.
Bridge proved so helpful to Democrats in 2012 that shortly after the election Republicans set up a similar shop, called America Rising. It made a splash in March with footage of Senate candidate Bruce Braley insulting farmers—a cringeworthy gaffe, considering he is running in Iowa.
Sitting in his Washington, D.C., office with his feet up on a piece of furniture, Woodhouse looks at home in his new job leading American Bridge. Despite the new competition from the Republicans, he believes progressives must continue to outsmart conservatives. The key is the soft-money apparatus they have built, with American Bridge at the center.
Coming from a political family in North Carolina, Woodhouse has spent his career in Democratic politics. (His brother, Dallas Woodhouse, made his career in conservative politics. The brothers are the subject of a new documentary called Woodhouse Divided.)
Woodhouse came to D.C. in 1997 to work for Rep. Bob Etheridge, D-North Carolina. During the 2004 elections, he ran communications for the Democratic Senatorial Campaign Committee, which helps elect Democrats to the Senate. In 2005, he joined what is now Americans United for Change—then dedicated to fighting George W. Bush's plan to partially privatize Social Security—and eventually took it over in 2007, placing him at the center of progressives' first successful effort to thwart Bush's agenda and build an influential anti-war coalition. He returned to working for the Democratic Party for Obama's two presidential campaigns, as a spokesman for the Democratic National Committee (DNC).
In conversations with both insider-y Democrats and movement progressives, everyone sees Woodhouse as the right guy to run Bridge.
Woodhouse's plans for Bridge include an expansion of its core 2012 operations. The staff has doubled to over 80 since the last election, including the creation of a program called Correct the Record, which rebuts GOP attacks on presidential contenders like Hillary Clinton. This cycle, Bridge trackers have already traveled 365,389 miles covering 5,551 events in search of material with which to damn Republicans.
This cycle, Bridge has ventured into governors races and is already landing punches. In Illinois, the Republican candidate for governor, billionaire businessman Bruce Rauner, ran into trouble when he supported lowering the minimum wage. That position turned out to be political suicide, so in January Rauner flip-flopped and offered qualified support for raising the minimum wage. Enter American Bridge.
The next day, the group released footage a Bridge tracker had caught a few months earlier of Rauner addressing Ford County Republicans at a golf club. "I am adamantly, adamantly against raising the minimum wage," he said in the video.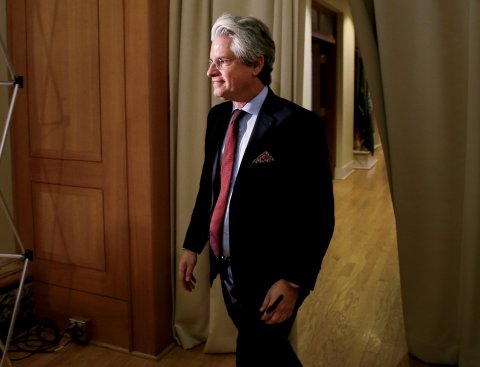 In addition to dealing with candidates, Bridge will take on efforts like the Democrats' new war against the Koch brothers, whose money network has spent $30 million to defeat Democrats in the past six months. Bridge is already using advertising and research to bolster the anti-Koch effort.
But it's not Bridge's attacks on the Kochs alone that is so helpful to Democrats; it's Bridge in coordination with a tight-knit group of pro-Democratic super PACs that make up the left's smart, lean outside operation—all sharing the same research, video and messaging.
As Woodhouse sums up the outside-spending landscape: While the right has more money, the left is better organized.
Run by a small group of key players—many dating back to Progressive Media USA—the liberal groups closely coordinate their efforts. Though prohibited by law from liaising with the official party apparatus, pro-Democratic outside groups operate like a "mirror apparatus," Woodhouse explained.
On the official side, the Democratic Party is supported by the DNC and two committees to elect Democrats to each house of Congress. On the unofficial side, Senate Majority PAC and House Majority PAC work to elect Democratic majorities, while American Bridge and Priorities USA Action, a super PAC that supported Obama in 2012 and will back Clinton if she runs in 2016, do the work of an unofficial DNC.
Even without coordinating with the party, the groups are so nearly official that Obama will attend events for Senate Majority PAC and House Majority PAC.
The conservative outside apparatus is messier and therefore less effective. Last cycle, money from Tea Party groups often worked to undermine the GOP establishment. Karl Rove's super PAC American Crossroads and an affiliated nonprofit spent over $170 million, only to see nearly all their candidates lose. Despite improvements this cycle, conservatives haven't caught up to Bridge and its cohorts yet.
"They're not as cleanly working together," Woodhouse said, then used an expletive to describe their disorganized state.
Still, Democrats are expected to take a beating in the November elections, when they have incumbents running in red states like Louisiana—a task made even harder by the traditionally low turnout among core Democratic constituencies during midterm races.
But the Democrats' bad luck doesn't stop there: Republicans are getting smarter.
"At America Rising, we've taken a big step forward in making sure that the Republican groups are more coordinated," said Tim Miller, the rival group's executive director. "We're catching up on the tactical side of things."
He pointed to the March special election in Florida's 13th Congressional District, where Republican David Jolly recently beat Democrat Alex Sink. America Rising worked with each GOP super PAC to make sure it was using the right message and the best video to attack Sink.
Miller's group already has 50 full-time staffers in its Northern Virginia office and a couple dozen part-time trackers across the country.
But if Woodhouse is worried, he doesn't show it. "Imitation is the best form of flattery, right?" he said.