When the man most likely to be America's next ambassador to Russia, John Tefft, moves into the stately Spaso House embassy in Moscow, he will dwell there amid the iciest relations between the Kremlin and Washington since the dark days of the Iron Curtain.
But Washington's new representative in Moscow, a career diplomat who is a former top envoy to Georgia, Lithuania and Ukraine, will also live in a Russia whose place in the post-Soviet order screams less Cold War and more hot mess.
Tefft, 64, "is one of the finest experts on Russia and the post-Soviet states in the past three decades," says Nicholas Burns, a U.S. ambassador to NATO in the last decade and under secretary of state for political affairs from 2005 to 2008. "But Putin has made up his mind on Ukraine, so it would be feckless" to expect Tefft to help his country dislodge Russia from Crimea, the part of Ukraine it annexed in February and March.
For Tefft, who, a State Department source says, is being summoned out of retirement after exiting the State Department last August when his ambassadorship to Ukraine ended, this is not your grandfather's Cold War.
As the Obama administration issues "blacklist" sanctions against Russian President Vladimir Putin's inner circle in retaliation for his Crimean land grab, Tefft faces growing resistance from American oil and consumer-goods companies with multibillion-dollar interests in the region. Adding to the pressure is foot-dragging by Europe, whose tepid sanctions highlight the spoiler role that major U.S. allies with big trade ties to Russia can play since the Soviet Union's collapse in 1991.
In early April, the burly Tefft made a behind-the-scenes round of analysts in Moscow to gauge the Kremlin's increasingly anti-American mood, according to private sector sources with whom he met. Currently the executive director of the Rand Business Leaders Forum, a clubby lobbying group focused on strategic issues involving Russia, the U.S. and Europe, Tefft declined to speak with a reporter, citing the diplomatic approval process now in process. A White House spokeswoman also declined to comment.
The biggest conflict between Russia and the United States since the end of the Cold War comes as the American ambassador's seat has sat functionally empty for more than three months. (Michael McFaul, the most recent ambassador, retired in early February, on the eve of the Crimean invasion, and the current acting ambassador, Sheila Gwaltney, has ceded to Secretary of State John Kerry the role of representing America's interests in Moscow, sources say.)
Athough, since the Ukrainian crisis, all meaningful diplomacy with Russia is now conducted not at the ambassadorial level but between senior government ministers and officials, Tefft still "has an opportunity for much bolder diplomacy to drop in," argues Graham Allison, director of the Belfer Center for Science and International Affairs at Harvard's John F Kennedy School of Government. "The easier path is the glide path. And that is very dangerous."
Tefft's imminent appointment comes after years of American neglect of Russia as a force to contend with. President Barack Obama's move in 2009 to push a reset button aimed at gaining cooperation from the Kremlin on strategic issues such as Iraq, Iran, Afghanistan and, later, Syria, got off to a famously bad start when then-Secretary of State Hillary Clinton presented Russian Foreign Minister Sergei Lavrov, still in his job under Putin, with a red button that said not "reset" but peregruzka ("overload").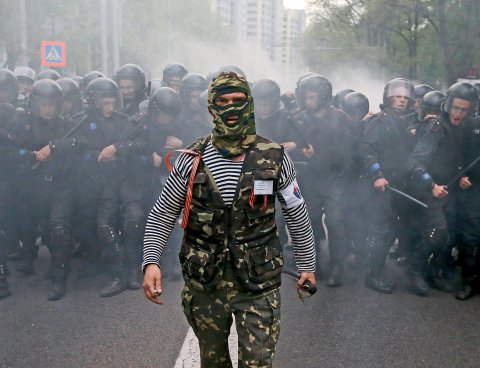 That was one of many tone-deaf insults. Threatened by NATO's expansion into neighboring post-Soviet countries and written off by recent White House administrations as not particularly relevant to world affairs following the breakup of the Soviet Union, Putin is bristling, to the surprise of Washington, at Russia's loss of status, prestige and respect. The Kremlin increasingly expresses a caustic dislike for the U.S., to the approval of some 80 percent of Russian voters who support Putin following his Crimean adventure.
"Putin is very emotional about Ukraine and is probably not doing a rational cost-benefit analysis," says Cliff Kupchan, head of consulting firm Eurasia Group's Russia and Eurasia practice. "But he's not impervious to information" that a skilled ambassador might bring to him, Kupchan adds.
Amid trash talking from both sides—on April 24, Putin branded the Internet "a CIA project," while Kerry told The Wall Street Journal on April 28 that Putin's land grab was "an amazing display of a kind of personal reaction to something that just doesn't fit into the lessons learned for the last 60 years or 70 years"—Tefft has been handed diplomacy's version of "cleanup on aisle 6!"
Arguing that Washington has failed to grasp that Putin views the U.S. as hypocritical for criticizing his annexation of Crimea after its invasion of Iraq a decade ago, Jack Matlock, the last U.S. ambassador to the Soviet Union, tells Newsweek, "The policy of expanding NATO and then threatening to do so to Ukraine and Georgia would have sent any Russian government, no matter how democratic, up the wall."
Adds Matlock, "Why not have the decency to say, 'Hey, we've tried that and it doesn't work.'… No ambassador can compensate for the wrongheaded behavior of his or her government."
Tefft is no stranger to Moscow. He served as deputy chief of mission at the U.S. Embassy in Moscow from 1996 to 1999, including a brief stint as chargé d'affaires, a "temporary ambassador," from November 1996 to September 1997. Putin "is unlikely to object to Tefft's nomination," says Dmitri Trenin, director of the Carnegie Moscow Center think tank. "They expect him to be nominated and confirmed in short order."
Things may be rockier on the home front, where the U.S. Senate must hold still-unscheduled hearings to confirm Tefft once he is formally nominated by the White House and State Department. "I think on both sides of the aisle people have real questions about how we're handling the relationship with Russia and where we're going," says Brian Rogers, a spokesman for Republican Senator John McCain, who in March slammed Russia as "a gas station masquerading as a country" and criticized Obama for not providing "military assistance" to Ukraine.
The entire process could take months. On April 21, the State Department tweeted on @UkrProgress, its pro-Ukrainian, anti-Russian Twitter feed, that getting an ambassador through the hoops is "a long process in the U.S."
Even as Putin shows some signs of potentially pulling back—on May 7 he unexpectedly called for a postponement of a secession referendum in eastern Ukraine by pro-Russian separatists, just hours after meeting in Moscow with the top official of the Organization for Security and Co-operation in Europe—Washington is tired of being surprised by his next move.
Tefft's biggest challenge is that America has not understood the psychology of Russia's rulers. "I don't know that anybody really has the answer," says a senior source close to the administration's thinking. "That's what we're trying to figure out."
The fumbling comes as drastic cuts in State Department funding for Russian area studies at American universities over the past decade have thinned the ranks of Ph.D. Russia experts who go on to join the foreign service and policy-making circles. Russia is the only member of the G-8, the group of leading industrialized nations, to suffer from serious corruption and money laundering problems, according to Transparency International, yet the U.S. Treasury hasn't staffed up with Russia specialists.
"We didn't have a senior group of investigators in place before this crisis who were focused on this area," Adam Szubin, director of Treasury's Office of Foreign Assets Control, the division that issues sanctions, told Newsweek. Given Washington's cold shoulder toward Russia since the end of the Cold War, American officials' persistent vocal support in recent years for Ukraine's flirtation with the European Union—a turn West, not East—has enraged the Kremlin.
Tefft is widely regarded as a "traditional" diplomat who operates with old-school, low-key professionalism, "a huge asset in Moscow, and perhaps the only style that can work in this situation," says the Carnegie Moscow Center's Trenin.
McFaul, the most recent ambassador to Russia—known for his prolific Twitter feed of Russia news and tidbits, from a broken finger sustained while shooting hoops to support of hot-button Kremlin issues like gay rights and meetings with Russian opposition figures—simply pissed off the Kremlin.
When rumors first broke last month of Tefft's imminent appointment, McFaul tweeted on April 21 that Tefft "would be a fantastic ambassador. One of the best ambos around. Perfect choice." About a week later, McFaul tweeted that "Putin didn't like me," two days after telling political satirist Stephen Colbert on The Colbert Report the same thing.
Diplomats across the world have embraced Twitter, but McFaul's anti-Kremlin social-media bent—he also ran a Facebook page and a blog and gave interviews in Russian with Russian newspapers and radio programs—fueled Putin's worst fears of American meddling in Russia's domestic issues and of fomenting rebellion in Ukraine, says professor Mark Katz, a Russian foreign policy scholar at George Mason University. "Someone like Putin is not capable of thinking that others generally want to cooperate. He thinks in terms of competition."
(An official State Department Twitter feed packed with anti-Kremlin tweets is unlikely to help Tefft. In one zinger, on April 24, State Department spokeswoman Jen Psaki tweeted, "The world stands #UnitedforUkraine. Let's hope that the #Kremlin & @mfa_russia"—Russia's Foreign Affairs Ministry—"will live by the promise of hashtag.")
Amid the "hashtag diplomacy," the Kremlin tightened control over the online activities of Russian pundits and activists on May 5.
Tefft knows how to push some of the right emotional buttons. In a 2013 exit interview in his post as ambassador to Ukraine with the Ukrainian newspaper The Day, he said that if he were a Ukrainian reading the 19th century poetry of Taras Shevchenko, the nation's Shakespeare, "I'd cry every time" because "it just captures the essence of what it means to be Ukrainian."
Like McFaul, Tefft, too, has left a trail of indiscreet morsels. WikiLeaks cables from 2008, when he was ambassador to the former Soviet republic of Georgia, suggest he may have been conned by then-Georgian president Mikhail Saakashvili into believing that Russia, not Georgia, initially fomented armed conflict in the Georgian region of South Ossetia.
In his Kiev exit interview, Tefft said that a year earlier he had been thinking that "maybe we should make 2012 the year of promoting European values in Ukraine as well." And in a December 2011 interview, also with The Day, he said that "the United States has and will continue to strongly support the process of Ukraine's integration with the European Union."
So what's an American ambassador to Moscow in the 21st century to do?
"Diplomacy certainly still does matter to Putin, but he just happens to have different terms of reference to the West and a disrespect for many of the niceties," Mark Galeotti, a Russia specialist at New York University who is teaching at the Moscow State Institute of International Relations, tells Newsweek. "But this means that the next U.S. ambassador's character, remit and approach will be crucial. Putin seems to have come to believe that the USA is hypocritical and weak-willed."