On a Good Friday evening at Long Island's Westbury Theater, John Mulaney delivers the benediction ("Peace be with you") to his faithful congregation, eliciting a few laughs and a smattering of "And also with you's." At 31 he still resembles an altar boy, but the Chicago native knows his way around a dichotomy. A former writer at Saturday Night Live who almost never appeared on camera during his six-year tenure, Mulaney has such a beguiling stage presence that it makes you wonder if Lorne Michaels knows how to manage a roster.
"I don't drink," Mulaney says in his 2012 comedy special, New in Town. "I used to drink, then I drank too much and I had to stop. That surprises a lot of audiences because I don't look like someone who used to do anything."
At least not anything dark or mischievous. One of Mulaney's more popular bits is a tale of how, as lads, he and best friend John O'Brien sauntered into the Salt and Pepper Diner in their Lincoln Park neighborhood, deposited $7 worth of quarters into the jukebox, and used all but one of their 21 selections on Tom Jones's "What's New Pussycat?" (The other selection, eighth in the lineup, was Jones's "It's Not Unusual.") The two boys remained in the diner throughout, baptizing themselves in the scorn of diners and staffers, until after the 11th play someone pulled the plug on the jukebox. "Being silly," says O'Brien, Mulaney's best friend since first grade and the best man at his upcoming wedding this summer, "is something that John cannot possibly suppress."
Mulaney spent much of the first three months of 2014 harnessing that silliness by writing and starring in six episodes of an eponymously titled sitcom for Fox. In 2013, NBC pulled the plug on his pilot after one taping, but Fox ordered a half-dozen shows and has since requested 10 more. Mulaney, which co-stars Martin Short and Elliott Gould, will be in Fox's fall lineup, so go and powder your cute little pussycat nose.
Are Prime Numbers Funny?
John Mulaney was born in 1982. He grew up in a comfortable home, the third of four children of two lawyers. "John has always been charming," says his mother, Ellen, a law professor at Northwestern University. His father, Charles, a partner at Skadden, Arps, refers to his son's primary survival instinct as his "charm offensive," sardonically adding, "He thinks it is a substitute for work." As former college classmates of Bill Clinton, Charles and Ellen are familiar with the phenotype.
At St. Clement School, their television-obsessed child would avoid the drudgery of written reports by offering to do skits instead. "John would tell the teacher, 'We'd like to present what we've learned in a skit,'" says O'Brien. "Then the two of us would huddle and John would tell me, 'OK, we have to do seven minutes. I'll be Larry, and you'll be Mr. Furley [fromThree's Company], and it's got to be about the environment.'"
Mulaney grew up in Chicago, in a town that, contemporaneously, filmmaker John Hughes was using as his canvas. Hughes shot comedies such as Ferris Bueller's Day Off and Home Alone, films with adolescent or pre-adolescent protagonists who always seemed to be waging their own charm offensives on unsuspecting adults. Perhaps that was just a coincidence…
"I saw New York City in a movie when I was a kid, it was called Home Alone 2: Lost in New York," Mulaney says in New in Town. "Oh, the kid in Home Alone 2, he gets into a stretch limousine on Fifth Avenue with a large cheese pizza, and I thought, This is the height of luxury!
"Now I live in New York, and I'm psyched, but that is a stupid movie title. Lost in New York? The streets are numbered!"
We are seated in a diner in Greenwich Village, a diner that is, sadly, bereft of a jukebox. Mulaney recalls himself as a precocious but "lazy" youth, one who even feigned a learning disorder with his teachers to explain his middling grades ("All the letters look curvy," he'd say). Mulaney shares a birth date (August 26) with the Home Alone star, Macaulay Culkin, and even had an opportunity to audition for the role at the age of 7, but his parents nixed that.
In junior high Mulaney would regularly board a city bus and ignore Chicago's fabled cultural institutions—the Art Institute, the Museum of Science and Industry— heading instead to the Museum of Broadcast Communications. There he would sit in a booth and absorb hours of old episodes of I Love Lucy or The Tonight Show with Johnny Carson.
Upon graduating from college, Mulaney hoped to move to New York with thoughts of becoming a comedy writer. At the family's summer home in Lake Geneva, Wisconsin, Chip invited his son for a sail—more likely than not, a What About Bob? reference was made—just the two of them, for a heart-to-heart.
Here it should be noted that Chip Mulaney is far from the humorless paternal stereotype in a John Hughes film. As his son relates in his act, once during a family road trip Chip responded to his four children's incessant wails for McDonald's by pulling off the interstate and into a Golden Arches. There, Chip proceeded to the drive-thru, where he ordered "one black coffee" before silently resuming their trek.
When Mulaney relates this episode onstage, he does so with a sense of profound awe.
Anyway, back out in Lake Geneva, Chip Mulaney asked his son if he really intended to move to New York City for comedy's sake. "Dad," John replied, "do you want me to trade bonds for the next 30 years?"
And so Mulaney moved to New York, where he was hired as an office assistant at Comedy Central, the network that a few years later would air his first televised comedy special. "I tried to be a good assistant," says Mulaney, but just a year or so into the gig he sold an idea to them, a parody of VH1's popular I Love the '80s series titled I Love the '30s. Instead of having C-list celebrities riff on Miami Vice and Members Only jackets, Mulaney, Nick Kroll and others would portray fictitious washed-up talents who'd crack wise on Adolf Hitler or the Great Depression (e.g. "The Depression was so depressing…they should have called it 'my marriage'").
A few years later, Mulaney, Kroll and T.J. Miller (who now plays the uncouth stoner Erlich on Silicon Valley) were invited to audition for Saturday Night Live. "August 7, 2008," says Mulaney. "What? Like I don't know the date?"
Only Mulaney was selected. Seth Meyers phoned him while he was out to dinner with his mom in Chicago and told him that it was strictly a writing gig (Meyers placed a similar call five years later: Mulaney's younger sister Claire now writes for SNL). Between their similarly clean-cut features and cheerful dispositions, one could almost see Mulaney as Meyers's younger brother. "Yes, but John's so mature beyond his years," says Meyers, who now hosts NBC's Late Night, "that I often felt like John's younger brother. He was instantly one of the adults in the room, and Lorne [Michaels] recognized it."
"John continues to be the funniest person I have ever met," says Kroll, who as a senior at Georgetown cast then-freshman Mulaney in his improv group. Mulaney can do observation every bit as well as Jerry Seinfeld ("Pirates never bring a big enough chest…they can't get the lid closed"), or he can do dark as well as Louis C.K. ("Traveling can get kinda lonely sometimes. Oh, no, not traveling. What is the word? Life. Life can get kinda lonely.") But where he truly excels is in self-deprecation ("I read that the Dow dropped 929 points, and I can't tell you how depressing it is...to not know what that means.").
Of course, Mulaney does know what that means. "John used to do a bit on prime numbers that I really enjoyed," his mother says, beaming, "but he dropped it because it didn't get a lot of laughs. I don't think the audience knew what prime numbers were."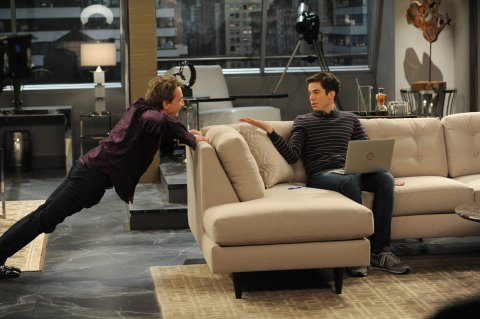 Make Mine a Large Pizza
It is March. Southern California sunshine bathes the CBS Studios lot in Studio City, where Mulaney is about to commence taping. The star of the show steps out to greet the studio audience. "Thank you so much for being here," Mulaney tells them. "The name of our show is Mulaney. My name is John Mulaney. I auditioned for the lead role, and I got it."
The audience laughs. The charm offensive has been launched, but these people are already cognoscenti. During a break at a previous taping, the DJ took song requests and someone requested "What's New Pussycat?" Then the next audience member requested "What's New Pussycat?" and so on.
A quick synopsis of Mulaney: a New York–based comedian whose circle of friends includes a platonic female and two males. And Mulaney knows exactly what you're thinking. "We're going to get killed for it," he says, referring to the inevitable references to Seinfeld. "We're even using the same director [Andy Ackerman]."
Even the front door of his apartment is located in the same spot relative to the rest of the abode. Sure, there are subtle differences—one of the friends deals pot, it's a kitchen island instead of a kitchen counter, and the pilot episode featured (gasp!) a hug. Still, for a comic who used to poke fun at himself in his act as "a Seinfeld rip-off," this strategy is fraught with risk.
Back at the diner, Mulaney was fretting. He had rented a Zipcar for tonight's show at the Westbury and was hoping it had not been towed. Yes, he still drives himself to shows and, as someone who got his first driver's license at the age of 26, still rents cars. Whereas Jerry Seinfeld owns an entire brownstone just 73 streets north of where we are sitting that serves exclusively as a garage for some of his favorite vehicles.
"Do you think it'll be OK where I left it?" Mulaney asks.
Maybe, maybe not. But it doesn't really matter. There's a limousine and a large cheese pizza in Mulaney's future. At the very least.