In the first half of X-Men: Days of Future Past, the latest installment in the ongoing saga of Marvel's mutant supermen (and women), there's a sequence so jaw-droppingly fun that an old movie cliché finally seems apt: This is why we go to movies!
The scene involves Quicksilver, who, as any self-respecting comic geek can tell you, is possessed of the gift of supersonic speed. It's one thing to see a drawing of a guy moving superfast (on the page it always looked as if he had gum stuck to him). But when the scene is shot with a Phantom high-speed camera, mixed with slow-speed photography, using 3-D technology so that Quicksilver (Evan Peters) looks as if he is moving faster than bullets, tasting soup in midair and knocking cops' hats askew as he flies, time seems to be standing still while one superteen sails through the world like a hot knife through butter.
"A lot of it was practical," says producer Lauren Shuler Donner, "because he's running on a rig; that soup that comes down was plastic soup." Donner has produced every X-Men movie since 2000 (she was recovering from breast cancer during the making of the 2012 Wolverine, so she missed some of that), and with over 40 films to her credit, she is something of a Hollywood superwoman. Though probably not a mutant.
Like many superheroes, an accident changed her career. She had come from Cleveland to L.A. to work behind the camera in the early 1970s. "Ultimately I was the only camerawoman out there, and there was a lot of pressure to be the best," she recalls, drinking green tea in the lobby bar of New York's Ritz-Carlton. "People would come up to me for my autograph."
Did she encounter much sexism? "Oh, heck yes!" She laughs, either at the memory or the naïveté of the question. "It was brutal. But it gave me the thick skin I needed for producing. It made me realize it was their problem, not mine."
The path to producing began when a woman ran a red light, shattering Donner's kneecap and putting her camera-operating career on hold. She started writing—"I was living with a writer, watching him work"—but soon found she was better at other aspects of filmmaking.
"I had a very good sense of story, a very good sense of casting," she says. "In 1978, I produced a TV movie with Joel Schumacher directing [Amateur Night at the Dixie Bar and Grill]. They gave me a line producer who was an old pro, and he was great. I said to him, 'I'm new, teach me, and he said, 'If you keep that attitude, you'll learn everything.'"
Her first hit arose from her friendship with the late John Hughes, another transplanted Midwesterner. "His wife went on vacation, and he was in charge of his two boys," she recalls. "He didn't know what to do, he was telling me these hilarious stories. That led to a script" by Hughes—Mr. Mom (1983), with Michael Keaton as the hapless dad—and a budding career as producer of films often related to topics of concern to her: child abuse (Radio Flyer), democracy (Dave), animal captivity (Free Willie).
Radio Flyer (a flop) was the second film she made with her husband, Richard Donner (who practically invented the modern superhero movie with the 1978 Superman with Christopher Reeve). And while she still looks for ways to put her passions into her pictures (civil rights in The Secret Life of Bees, pet rescue in Hotel for Dogs), more often now the message is metaphorical. "When I first set out to make movies, that's what I thought I was going to do—make movies that mean something," she says. "And each movie had its own message, some stronger than others. Even X-Men has its own message of tolerance."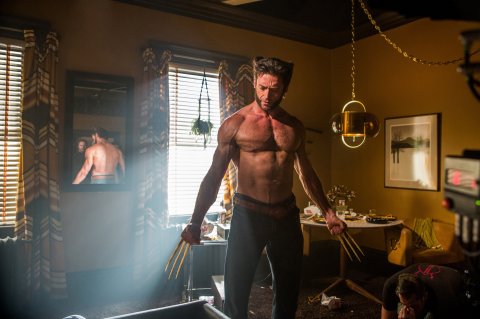 Yes, many small-minded people would like to destroy the misunderstood mutants; Peter Dinklage plays the evil Bolivar Trask in the new movie, the first directed by Bryan Singer since the 2003 X-Men 2 and a welcome return to form for the franchise (though many of the comic's merciless fanboys questioned the casting of Dinklage).
"I was attracted to the comics because of the characters and particularly Wolverine, because he is so complex," says Donner. "He is so damaged and tragic in many ways—he doesn't have his memory, his body was invaded, he has unrequited love for Jean Grey." (Typical guy stuff, in other words.) "And yet he has persevered and has a great sense of humor about himself."
One thing the fanboys and the critics have agreed upon is her casting of Hugh Jackman, a virtual unknown at the time, as Wolverine. "I wouldn't have got the part without her," says Jackman. He was calling in the midst of a press tour for X-Men: Days of Future Past, only five minutes before getting on a plane to China, but clearly the bona fide superstar (and next likely EGOT titleholder) would take time to talk about Donner.
"I owe my career to her," he says. Though she took note of Jackman in his first film, the Australian comedy Paperback Hero, she and Singer had cast Scottish actor Dougray Scott in the role. But they had to cut him loose when the shooting of Mission Impossible II ran over. "I walked onto that set of that big Hollywood movie, my first movie there," recalls Jackman, "and she became a really good friend. I went around to her place for dinner; she took me under her wing, I suppose. So it's kind of a different, deeper relationship than I've had with any other producer, and we've maintained it for 14 years."
The first film was released during the early reign of Harry Knowles and Ain't It Cool News, and like all producers of sci-fi and action films, Donner lived in fear of a negative review from a test screening poisoning their flick in the incubator. "So we never tested it," she says. "We didn't have our visual effects ready, and we were afraid it would get leaked onto the Internet." This did not inspire confidence. "Bryan Singer and I were in the editing room at the end, and we both thought we'd never work again. I had no idea that the movie would do well, no idea whatsoever."
Singer was her choice as well, and not an obvious one. "I had seen The Usual Suspects, and I needed a director who could handle multiple characters, had a visual style, could direct action—a whole thing unto itself—and could direct actors," she recalls. And while she declines to comment on the director's current troubles (Singer skipped the world premiere of the new X-Men in the wake of allegations that he sexually abused an underage boy over a decade ago), her creative instincts were once again spot-on: X-Men: Days of Future Past spins like a top for a little over two hours—once viewers who missed an installment or two figure out who all the players are.
And what players. The bar was set pretty high in the first film, with Patrick Stewart and Ian McKellan playing rival X-Men father figures Professor X and Magneto. "That allowed us to come to the likes of James McAvoy and Michael Fassbender and Jennifer Lawrence and Halle Berry and Anna Paquin.… "
Still all the Oscar winners in the world can't make an action movie soar, so credit Singer and Donner, who has emerged as queen of a small hive of women action movie producers, like Gale Anne Hurd (the Terminator films), the late Laurie Ziskin (Spider-Man 1 & 3) and Quentin Tarantino producer Stacey Sher. "I wanted to do it all," says Donner, recalling her deal with Fox to produce the first X-Men movie. "I had learned action from my husband. I got to watch all the Lethal Weapons [made by Richard] and had an idea how to do it: Make it about the characters."
When she's asked about the possibility of working with her husband again (they made three films together), her answer is a swift and unequivocal "No. Not with him directly; it's too hard. He's a very powerful director," she says of the man she shares a production company with. "In a relationship, there's give and take; you're both equal in different ways, but with that it's different because no matter how successful I was, he was still this superstar director. I don't want that in my personal life. My marriage is much more important."
Besides, she's frying fish in other kitchens. She's producing two shows for HBO (including an untitled series about a woman veteran, played by Fruitvale Station's Melonie Diaz, who returns from Afghanistan to be a cop; that's being written by Oren Moverman of The Messenger and Jarhead's Anthony Swofford). And she's turning two of her films (Dave and The Secret Life of Bees) into Broadway musicals. How did she switch into that gear?
"I took years," she said, sounding a familiar refrain, "talking to everyone I could—agents, producers, writers. I read a lot of books and saw a lot of theater to try and learn. You're telling a story in two acts; you don't have a close-up, you don't have the visual effects, you can't move the camera. The song is the close-up! And within each song there's a different story."