The Pas courthouse in the backwoods of Manitoba sits near the local jail, set back from the road by a quarter-mile of rolling green lawn. It's a nondescript, one-story brick building that serves the small communities in the upper reaches of Canada's Keystone province, where land disputes, petty theft and public drunkenness charges are brought before provincial judges and usually resolved with a handshake and a finger-wag.
Last December, just a few days before Christmas, Shelly Lynne Chartier, a 29-year-old recluse with a sixth-grade education, was in that courthouse, accused of masterminding an elaborate Web scam that ensnared both celebrities and their fans. Authorities say her ruse was one of the most sophisticated they've ever seen. It lasted nearly three years and tormented at least 11 victims, including a B-list actress, a Playboy Playmate and even a member of the Kardashian-Jenner clan.
Chartier stood silently as the judge read the charges, then remanded her back to her hometown of nearby Easterville on house arrest. He also ordered her Internet access to be turned off immediately.
Meanwhile, 2,600 miles away, Chris Andersen was in Miami, anxiously awaiting a call from his lawyer. The 35-year-old NBA player was recovering from the previous night's game while hoping for some news about the court appearance of the woman who had nearly destroyed his career, and his life.
"If I Can Do It, So Can You"
On the morning of May 10, 2012, Andersen got in his custom-made Jeep truck and drove north, up I-25, the picturesque road that slices through Colorado like a straightedge razor. While most of his Denver Nuggets teammates lived downtown, near the arena, Andersen preferred the natural beauty and solitude of Larkspur, a tiny hamlet of 250. The 45-minute drive to the Pepsi Center would allow him to clear his mind and focus on that evening's playoff game against the Lakers.
When police sirens began blaring behind him, Andersen checked his speedometer, then pulled over and rolled down his window. The sheriffs, however, had no interest in squabbling over a speeding ticket; instead, they told him a convoy from the Douglas County sheriff's office, including the Internet Crimes Against Children Unit (ICAC), was headed down from Denver to execute a search warrant on his home. Andersen was dumbstruck. "For what?" he asked repeatedly.
As soon as the officers let him go, Andersen called his lawyer, Mark Bryant, who advised him to go to practice. But when Andersen arrived at the arena, Nuggets management was waiting for him. "News was already starting to break," recalls Jesse Mermuys, a former Nuggets assistant coach. "They thought the best thing was for him to go home."
Home, however, has been a tenuous concept for much of Andersen's life. As an NBA rookie in 2001, he was given the nickname "Birdman" by teammates because of his long arms and soaring leaping ability. But it just as easily could have been because of his migratory lifestyle. He had gone from Texas to China to New Mexico to North Dakota to North Carolina in three years after leaving college, in search of a pro contract and stability. Finally, at 23, he was signed by the Nuggets, and in Denver his nickname slowly morphed into his identity. He had giant, colorful phoenix wings inked across much of his back, and "Free Bird" tattooed along his neck overlaid onto fiery flames. After a dunk he would run down the court flapping his arms as if flying. He cut off all his floppy blond hair, except for a meticulously sculpted 6-inch mohawk, and introduced himself as just "Bird."
He quickly became an unlikely NBA character: a small-town Texas redneck and genial eccentric. He wore fur coats and trucker hats, and fans of all ages were captivated by his effervescence. Whenever he hosted a summer basketball camp, kids would show up in the hundreds with flimsy fauxhawks and copies of his tattoos scribbled on their arms. And when he had a day off, he'd stop by Mount Saint Vincent, a home for abused children. He had lived in a youth home, so he understood the deep isolation many of these children struggled with. He would shoot hoops with the kids or just sit and joke with them, as if to say, "If I can do it, so can you."
Andersen drove back to Larkspur that morning as fast as he safely could, and when he exited onto Spruce Mountain Road he ran into a traffic jam—news trucks and media vans lined up for two blocks, leading to his driveway. By the time he pushed through the crowd and entered his house, the sheriffs had already left. They had confiscated his Xbox and computer and broken into his safe.
Andersen locked his doors, closed the blinds, then turned on the TV—on nearly every regional channel stern-faced reporters delivered the breaking news: Birdman's House Searched. The reports said police wouldn't reveal what, exactly, they were investigating, only that the ICAC, which deals with everything from possession of child pornography to child rapists, was involved.
Friends frantically tried to call Andersen, wondering what was happening, and why, before the biggest game of the year, he was being called a child molester on Facebook and Twitter.
The next day, Andersen's lawyers released a statement explaining that he had been the victim of an extortion plot earlier in the year, and said, "The investigation is expected to take three weeks. We're confident it will show that Chris did not engage in any criminal conduct." (Andersen never talked to the press about this case, and declined an interview request from Newsweek.)
That bit of blackmail was related to a brief relationship between Andersen and Paris Roxanne, a 17-year-old aspiring model from just outside Los Angeles. They had met online in October 2011, where she had presented herself as a 21-year-old. She sent Andersen a fan message on Facebook, and soon they communicated regularly through Facebook and then by texts. Eventually a meeting was arranged. They spent a few days together in Denver, had consensual sex, and then Roxanne went home. Andersen lost interest, according to Bryant, and the messages between them stopped a short time later.
But then Andersen began receiving menacing messages from someone who claimed to be Roxanne's mother. "I know what you did," she told Andersen, "and here's what I want." The legal age of consent in Colorado is 17, so Andersen knew he hadn't broken any laws, but he and Bryant decided that a small payoff was better than a public relations fiasco, so they agreed to send a nominal fee—less than $5,000—to an undisclosed location.
At about the same time, Roxanne, who knew nothing of this extortion, told authorities in California that Andersen had begun threatening her with harm and imploring her to perform demeaning sexual acts, and she had proof—text and Facebook messages. The Douglas County sheriff's office was notified, a warrant was procured, and Andersen's home was searched. He denied sending the texts or Facebook messages.
When the Denver Nuggets traveled to Los Angeles for the deciding game in their playoff series, Andersen was left behind. With media still perched on the edge of his lawn, he didn't leave his house for five days, while close friends brought him food and assured him it would all blow over soon.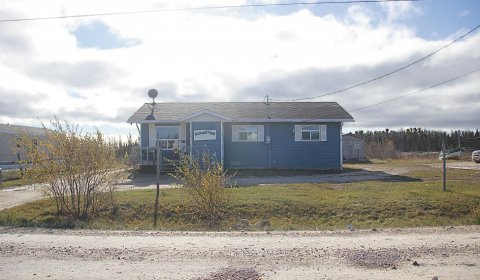 The Ghost of Easterville
A few blocks from the arid and rocky southern shore of Cedar Lake in Easterville is a small, desolate house. The lights inside flicker off and on, and guests drop by occasionally to bring food, but the occupants, Shelly Lynne Chartier and her mother, never leave, say family members. Even those closest to Shelly Lynne can't remember seeing her outside since she was 12 or 13.
The Chartiers are one of the most prominent families in town, but Shelly Lynne is a virtual ghost. In middle school, the awkward young girl was bullied so much that she dropped out. An only child, estranged from her father, she stayed home to take care of her mother, who has been bedridden from chronic arthritis for the past three decades.
It wasn't until the Internet came to Easterville that the world opened up for her. She quickly became active on social media, particularly Facebook. In early 2011, her online activity turned toward darker motives: She began meticulously setting up fake Facebook profiles for a wide range of celebrities. These, however, weren't fan pages; she made it appear as if they were run by the celebrity, and when a fan messaged one, Chartier would respond as if she was the celebrity. And then the game was on.
Her scheme had elements of catfishing, but was far more complex: She would create a relationship between the fan and celebrity by manipulating their communications. She was intelligent, could credibly impersonate virtually anyone online, and if the opportunity arose, she knew how to extract money or clothes from her victims.
She seemed to take subversive pleasure in the pain she was inflicting. It was as if she were tossing lit dynamite into a crowd and laughing when it hit the ground.
A Tattooed Crusader
Two weeks after Andersen's home was raided, the last of the news trucks left his front lawn. He got in his car and headed toward south Texas. Like Chartier, he had grown up in a small, crumbling town; his was a tiny speck called Iola. "Nobody has high expectations here," says Zeke Booker, a childhood friend. "Either you go to prison or you end up working in the oil field."
Andersen's family moved there from California when he was 4. His father had snared a loan from the Texas Veterans Land Board to buy a 10-acre plot and construct a home. After a few months, though, he took off with the loan money, abandoning his young wife and their three kids. The family struggled mightily, and Andersen and his two sisters were shipped off to live with relatives. When he was 11, Andersen stayed with his grandfather and then was sent to a children's home near Houston.
He returned to Iola to attend high school, where he adapted quickly, was popular and excelled at basketball. His senior year, the University of Houston offered him a scholarship, but when the coaches saw how poor his grades were, they withdrew their offer. Andersen had to enroll in nearby tiny Blinn College. In his first season there, he led all junior college players in blocked shots and, despite playing in the lowest reaches of college basketball, drew the interest of pro scouts. He declared for the NBA draft, but never submitted the paperwork and was declared ineligible. Unable to return to school, he headed out on a three-year minor-league hoops odyssey that started in China and ended, he thought, with his NBA debut with the Nuggets in 2001.
He was an instant fan favorite, and after three seasons in Denver, he signed a big free-agent contract with the New Orleans Hornets. When Hurricane Katrina decimated the city, the Hornets relocated to Oklahoma for the 2005–2006 season. There, Andersen fell into a depression. He was overweight and not playing much; he was going out regularly, drinking and partying. The crushing blow came in January 2006, when he tested positive during a routine NBA drug screening. He was suspended for two years.
His career appeared to be over. But one night, sitting in his hotel room after yet another drinking binge, he looked down at a half-full wine bottle and realized he was wasting his talent. He poured out the rest of the wine, woke up the next day at dawn and began the long, painful process of taking back his life.
He went to rehab, hit the gym for hours at a time and would then head to the tattoo parlor. By the time his suspension was over, he was not just a changed man, he was "Birdman," a tattooed crusader for living the righteous, Texan way. When he re-signed with the Nuggets in 2008, he was sober and in the best shape of his life. He dedicated his free time to helping kids and was beloved by many people in Denver who had never seen him play.
On July 17, 2012, though, with the ICAC investigation dragging on, Andersen was released by the Nuggets. "When the Nuggets cut him, it really blew up here. It was like, 'If the Nuggets believe it, then it has to be true,'" recalls his friend (and tattoo artist) John Slaughter. "It was bad. People dragged his name through the mud, made it sound like he's raping 3-year-old boys or something."
A Maliciously Devious Post Office
When the Douglas County Sheriff's officers returned to headquarters after searching Andersen's property, Shawn Cronce, head of ICAC, quickly began dissecting his hard drive. She was a 15-year veteran of the department admired for her ability to solve cases colleagues deemed too complex or too disturbing. This case, however, seemed straightforward: There were pictures on his computer of a nude 17-year-old—naked photographs of anyone under 18 is considered child pornography in Colorado—and threatening messages from an account with Andersen's name on it. But Cronce is known for following through on every thread of evidence.
Her first step was to trace every message between Andersen and Roxanne through their IP addresses, then match all of those with every known location where Andersen and Roxanne would have logged in during their online relationship. Andersen had been playing NBA games for six months, so he might send a message from Cleveland one day and Toronto the next. It was a painstaking process. Soon, however, Cronce spotted an unusual pattern. Over and over again, these messages traced to an unknown IP address located north of the border—far outside her jurisdiction.
"I hear you got one fucked-up case," Constable Gord Olson, head of Winnipeg's Internet Child Exploitation Unit, told Cronce when she called. "Well, you're lucky, because fucked-up is my middle name." Olson is a burly and gregarious former Junior Hockey captain and nightclub manager who gets his adrenaline rush by posing as children in chat rooms to nab pedophiles.
Andersen's case began to consume Cronce and Olson. They talked nearly every day. "It was crazy and convoluted," recalls Olson. After months poring over the messages, the photos on Andersen's hard drive and other cyberdata, the information began to coalesce, and what they found was astonishing.
They realized Chartier had set up a bogus Facebook profile as Andersen, then received a message from Roxanne. Chartier responded as if she were Andersen, then set up a fake Roxanne profile to communicate with Andersen. This is where things got complicated and sinister. Both Andersen and Roxanne believed they were sending each other Facebook messages and starting an intimate relationship, but their messages were being triangulated through Chartier's fake profile pages. Think of Chartier as a devious and malicious post office. Every message between Andersen and Roxanne was filtered through her computer, which meant she could manipulate any of their messages. And she did. Often.
Chartier had been able to manipulate nearly every aspect of their relationship, but when the pair stopped communicating, she lashed out, like a scorned lover. She blackmailed Andersen for hush money by posing as Roxanne's mother, then, pretending to be Andersen, threatened Roxanne.
How was Chartier able to pull off such elaborate impersonations and manipulations for so long? It wasn't until May 2013 that Facebook began to "verify" celebrity accounts the way Twitter does, with a ubiquitous blue badge next to a public persona. If Chartier wanted to become a famous pinup girl, she did. According to court documents, she set up an account to impersonate 2012 Playboy Playmate of the Year Jaclyn Swedberg. Then she created a bogus relationship between Swedberg and a man in Los Angeles. How about an obscure but popular YouTube personality? Sure. Chartier also posed as New York comedian Joe Santagato.
It won't be known publicly until the trial how many relationships she manipulated, but investigators believe there were many more fake profiles than those of the 11 victims cited in Chartier's indictment. One fake profile was of Brody Jenner, son of U.S. Olympian Bruce; stepbrother of Kim, Khloe and Kourtney Kardashian; and star of the hit show The Hills. According to court documents, Chartier impersonated Jenner and began creating a relationship between him and a model and aspiring actress who worked as a mixed martial arts ring girl, Natalie Skyy, who would later catch her big break in the TV show Sons of Anarchy.
According to the Royal Canadian Mounted Police, there was no hacking involved. Instead Chartier, spent every day between February 2011 and August 2013 deceiving her many victims, triangulating conversations in one part of the country that overlapped with other triangulated conversations until the triangles became compound polygons. "It was an operation," Douglas County District Attorney Chris Gallo says with a hint of admiration. "The way it was being done and the commitment to how it was being done is kind of staggering."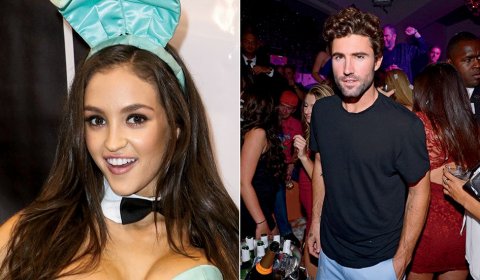 From Hell to Heat
For five months, Andersen was in the grips of a ghost. When the new NBA season started the following October, no team was willing to sign a suspect in an ongoing child sex–crime investigation. Andersen stayed home, out of the public's eye. He tried to stay in shape, but the stress was overwhelming.
Then, in December 2012, he finally caught a break. Midway through the season, the defending champions, the Miami Heat, were underachieving, and their president, Pat Riley, had long been an admirer of Andersen. He asked his assistant general manager to interview Andersen and Bryant, and investigate the case. A few weeks later, Riley decided to give Andersen a short trial period in which to prove himself.
At almost the same time, Olson and Cronce had a breakthrough in their investigation. They pinpointed a small house in central Manitoba as the origin of many of the messages. On a blustery January day last year in Easterville, as temperatures reached a high of 9 degrees Fahrenheit, Chartier heard a knock on her front door. Olson came inside, handed her a warrant, and then she was led outside, perhaps for the first time in her adult life.
But no one, other than Chartier's family, was told about the arrest. Andersen was back on the court, enduring the taunts of fans calling him a child molester. He recoiled from the spotlight, and when friends came to Miami, they noticed a change. "It was really sad," says Mermuys. "You could tell he was damaged."
Andersen persevered, played well, and the Heat signed him for the remainder of the season. His unselfish play helped to energize his new team, and they went on a torrid stretch toward the end of the regular season, winning 27 games in a row. Then, as the playoffs started, Andersen got the call he feared would never come.
It was Cronce, offering to explain for the first time some of what she and Olson had learned and asking for his cooperation. This was the moment Andersen had been praying for over eight agonizing months. But he also knew that any public revelations, even one that exonerated him, would distract his team on their quest for a title, so he did something almost unthinkable: He ignored Cronce.
His play in the playoffs was remarkable. At one point he played six straight games without missing a shot and set an NBA playoff record for field goal percentage. In late June, when the Heat defeated the San Antonio Spurs in Game 7, they had their title. Andersen, a pariah a few short months before, stood at half-court with LeBron James as confetti rained down on him. He was a champion.
While his teammates went out to celebrate that night, Andersen immediately returned home with his fiancée. He sat down in his living room in a subdued state, according to Bryant, silently sipping a cup of sweet tea.
He would have to wait another three months for the investigation to conclude; in September 2013, Cronce and Olson began a tour of the United States to talk to many of Chartier's victims. They sat down first with Andersen and Bryant in Colorado. Andersen listened intently, several times shaking his head in disbelief. The Birdman was finally free.
The Second Recluse
In Easterville, journalists pass through occasionally, hoping for a glimpse of the ghost, but she remains hidden inside her small house, acting, her cousin Lindsay says, "as if nothing ever happened." The case against her stutters through the legal system in Manitoba, hindered by weather delays and the mountain of evidence to sift through. The Mounted Police say the trial won't be scheduled until 2015 at the earliest. District attorneys in Colorado have filed 15 charges against Chartier, and presented extradition papers to try her in Colorado once the case in Canada is resolved.
Andersen just completed one of the best regular seasons of his career, and he's once again the emotional heart of the Heat as they fight for a third straight championship. But away from the court the once-flamboyant extrovert remains haunted by his harrowing ordeal. He has mostly avoided children's homes and hospitals. He recently sold his house in Larkspur and moved to a place even more secluded. His lawyer says that in a bizarre twist, he's now taking on some of the traits of the woman who tormented him. "He's become a recluse."