The conservatives were ornery, even angry.
They had come to see their hero speak, and their patience with the patrician, Yale-educated Bush, second on the bill, was short—especially when he chided the conservative main attraction. The crowd booed.
"I never saw such a wild bunch of monkeys," he later recalled. It was a not an atypical moment for a Bush, trying to reach out to conservatives and finding them congenitally wary of an Eastern Brahmin more comfortable at Skull and Bones than throwing red meat.
This moment didn't come in 1964, as George H.W. Bush ran for a Senate seat as an ally of Barry Goldwater. It didn't come in 1980s, when he was Ronald Reagan's running mate. It didn't come when George W. Bush ran for president in 2000. It came in 1952, and the boos flew at Memorial Hall in Bridgeport, Connecticut.
The Bush pilloried was Senator Prescott Bush, father of President George H.W. Bush and grandfather to Jeb and "Dubya." Prescott was a Connecticut Republican, a formal man who was fond of donning a suit for dinner, who proudly sang with Yale's Whiffenpoof a cappella group and who often insisted on being called "Senator."
The guest speaker that night was the hero of the ultraconservatives, Senator Joe McCarthy. Prescott made little attempt to conceal that he loathed the anti-Communist witch hunter. Prescott was close to President Dwight Eisenhower, whose administration McCarthy savaged as a harbor for traitors and Communists.
So it was with some trepidation that Prescott, then running for the U.S. Senate in Connecticut, shared the stage of the art deco theater with McCarthy. Eventually, Prescott became an outspoken Republican critic of "Tailgunner Joe." Yet, in a moment emblematic of the Bushes' pride in courtesy—all those handwritten notes! the meticulous manners!—Prescott also was one of McCarthy's last visitors at Bethesda Naval Hospital before his alcohol-fueled death in 1957.
Dealing with razor-sharp conservative opponents is difficult for any Republican to the left of Senator Ted Cruz, the Texas wrecking ball who bears an uncanny physical resemblance to McCarthy. This spring, venerable and courtly Republicans such as Senator Thad Cochran of Mississippi are staving off Tea Party-infused primary challenges. And it's not just those running for re-election. Being speaker of the House is like herding cats, wrote one of its alumni, but for House Majority Leader John Boehner, it was like taming tigers as he tried to soothe the Tea Party's Class of 2010.
Every generation of office-holding Bushes must confront the same dilemma about how to deal with ultraconservatives. Not because they're secretly moderate; they're not. But their ambition forces them to confront the problem in ways that are more pronounced than it would be for, say, George W. Smith or Jeb Jones. Their family history is both the source of their strength and, at times, its undoing.
Putting together coalitions broad enough to capture first the GOP nomination, then the general election is hard for any candidate having without fundamental conservatives thinking you're faking it. The Bush version of Downton Abbey—competing lineages masked by family unity, financial ambition hidden beneath a life of Yale diplomas and seemingly effortless athleticism—is what propels them into the arena, just as it gives their opponents something to skewer.
But almost every time the Bushes campaign, they have to contend with being outflanked by their party's ultraconservative-wing, and as Jeb decides whether or not to run for president, the question lingers: Will he be upended by more conservative opponents or find a way to tame them? The family's history, including Jeb's, shows that it's very tough, particularly this year. Fielding a third Bush in 30 years may not be the charm.
HARNESSING HISTORY
Prescott declined to run for re-election to the Senate in 1962, fearing that his genteel Republicanism—too conservative for Connecticut, too progressive for his party—could no longer sustain a Greenwich man who had been president of the U.S. Golf Association. A political career that began late at 57 was over at 68.
Later in the 1960s, Prescott's son, George H.W. Bush, an oilman in Houston, would wrestle with some of the same demons. He was always overcoming conservative cultural antipathy—a wariness that he wasn't a real Texan. (He lost not one but two Senate bids, finally making it to Congress in the GOP wave of 1966.)
In his first and only unsuccesful run for office, in 1978, George W. Bush lost his congressional bid in west Texas at the hands of a Democrat who poked fun at the high-born Yalie, mocking him for everything, including his morning habit of sport jogging, which in those days in rural Texas was considered exotic if not downright weird.
For his part, Jeb Bush lost his first gubernatorial bid in Florida, taking a hit in one debate when his folksy liberal opponent, incumbent Governor Lawton Chiles, told a story about a "he-coon," a sneaky varmint in Florida lore. Jeb had no idea what Chiles meant, and most of the audience probably didn't either, but his stunned expression didn't help his cred.
Is it any wonder that Jeb, arguably the most conservative of the Bushes, is nevertheless being pilloried by ultraconservatives this year for supporting immigration reform and the Common Core standards? Those issues are a specter haunting more practical conservatives everywhere. But for ultraconservatives, the Bushes' support for these abominable policies confirm expectations that the clan isn't to be trusted.
This is the tableau Jeb—the initials stand for John Ellis Bush—faces as he decides whether to run for president in 2016. Can he distance himself from the family history and simultaneously harness it?
This will only become harder between now and 2016, as conservatives come to recall that both their most recent presidential candidates, John McCain and Mitt Romney, were too squishy. They also regret backing George H.W. Bush, disdaining him as a tax hiker who backed off his "Read my lips. No new taxes" pledge.
They see George W. Bush not as a fellow conservative but as a huge government spender on everything from creating a Medicare prescription drug entitlement to the No Child Left Behind education plan. The shadowy conservative groups also remember George W. Bush as the man who signed the McCain-Feingold campaign finance law restricting individual political donations after campaigning against it in 2000.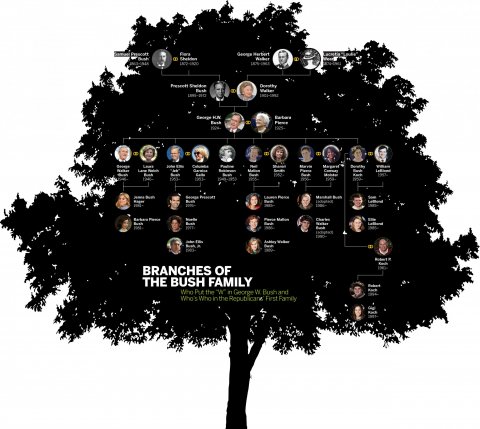 A slew of newly minted conservative presidential aspirants, emboldened by Barack Obama's success running as a freshman senator, are ready to go. The likes of first-term senators Rand Paul or Cruz could define themselves by their opposition to Jeb. They'll find that many conservatives will embrace the argument that we've had quite enough Bushes, thank you.
Recent signs that the Tea Party is faltering—some of its insurgents have failed to oust the GOP's more mainstream incumbents this primary season—shouldn't be viewed as a diminishment of conservative fervor or a harbinger that the Tea Party is in the mood to nominate a "governing conservative" like Jeb or Chris Christie, assuming the boisterous New Jersey governor can survive his Bridgegate mess. (Christie has said how much he likes Jeb, which may be a smooch the Floridian could do without.) If he is to win, Jeb would have to fight long and hard for the nomination—he would surely have plenty of money and establishment support—but, more important, he would have to fight the burden of his history.
Still, the Bush family is famously competitive, not least on the tennis court, where Poppy, as George H.W. Bush is called, lets loose Bushisms, like the time he scored and shouted "Vic Damone!," the name of a '60s crooner. The same is true for W., who'd run and race his bike in the 100-degree heat of Crawford, Texas, reducing his much younger White House staff to heaving wrecks. Jeb bears a more round countenance, like his mom, Barbara, but he was a solid baseball player and, at 6 feet 3 inches, is the tallest political Bush since Prescott, who stood 6 feet 4.
The Bushes win more than they lose, and they fight back from losses. Which is why everyone Newsweek spoke with thought Jeb was genuinely undecided about whether to run in 2016, with most thinking he would go for it because the timing is right.
For Jeb, it seems to make sense. He is 61, and his immediate family is doing well, including his daughter, Noelle, who has faced substance abuse problems, and his wife, Columba, who paid a substantial fine for failing to declare the full value to customs of some $19,000 in clothes she brought back to Miami from Paris. Columba's infraction took place 15 years ago and is considered by the family to be one unfortunate moment for an otherwise fault-free couple, who have been together since they were 21.
"I really think he's going to do it," said one person close to him, who declined to speak on the record because he knew the Bushes would not approve of it. The former Florida governor has said that he will make a final decision on whether to run later this year and that one of his main considerations is whether he could campaign "joyfully," without engaging in negative campaigning—an admirable ambition, but one that has proved elusive to all those who have expressed similar sentiments.
A Jeb candidacy would face down a slew of other obstacles besides conservative fire-breathers and a stymied ode to joy. There are the changing demographics of the country, although Jeb, who is fluent in Spanish and married to a Mexican-born American, might have a special connection to the nation's Latino voters.
Jeb would need to face the ultraconservatives, the Clinton dynasty and the vicissitudes of luck. But if he succeeds in negotiating those opposing forces, in less than three years from now he could be inaugurated as the 45th president of the United States, with two former presidents, his brother and father, looking on. And, oh yes, Jeb's son, George P. Bush, is almost certain to be elected to statewide office in Texas this year. (The P. stands for Prescott, befitting a family—they loathe being called a dynasty—that churns out politicians with assembly-line efficiency but that recycles names like George and Prescott the way your compost-happy neighbor lets nothing go to waste.)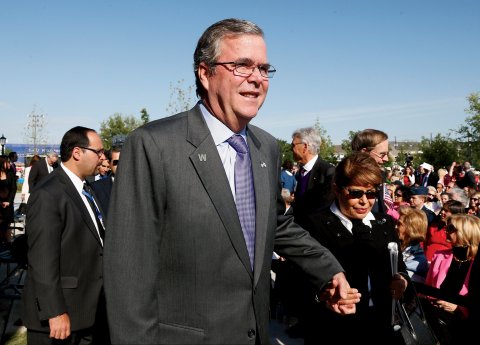 BIGGER THAN THE KENNEDYS
The Bushes long ago eclipsed the Adamses or the Kennedys as America's pre-eminent first family. It's a truism of America's culture that we adore political families even though we banished nobility from our Constitution. And so there have been regional dynasties, like the Longs of Louisiana or the Tafts of Ohio and the Daleys of Chicago. The Bushes rise above the rest by nature of the reach of their ambition and their migratory nature.
Prescott Bush may have been a Midwesterner who planted himself with his bride, Dorothy Walker, in Connecticut and made himself a Wall Street partner of Averell Harriman, a future Democratic governor of New York. But being the senator from Connecticut was just the beginning. The family fielded two Bush presidents from Texas, and Jeb is a Floridian, having served two terms as governor. By contrast, the Kennedys' victories are restricted to Amtrak's Northeast corridor, unless we count an in-law, Arnold Schwarzenegger, whose California governorship was tainted by a tawdry sex scandal.
The Kennedy tragedies played out on television—the assassinations of Jack and Bobby, the woes of Ted—and seared the Massachusetts clan into America's collective consciousness in a way that the Bushes could not match. Hyannisport trumps Kennebunkport in our mind's eye. Everyone of a certain age knows of John Kennedy's service in the Pacific and his boat, PT-109. Who can name George H.W. Bush's shot-down plane? (He flew a VT-51 fighter aircraft.)
The Bush clan's strength comes from being more peripatetic and protean. Just as so many Americans come to reconsider their church affiliation over a lifetime, so have the Bushes. Prescott and the first President Bush were Episcopalians, but George W. adopted his wife's muscular Methodism, and Jeb converted to his spouse's Catholicism. "I came to love the sacraments," he told the Faith & Freedom Coalition last year. Even the Bush ethnicity changes over time. As Jeb's wife is of Mexican descent, his son George P. Bush can claim to be Hispanic, which favors Jeb's chances in 2016.
THE BOOK OF JEB
Earlier this month, Jeb delivered a commencement address at a small Christian college in the swing state of Pennsylvania. He urged the students to fight for their beliefs, and he chided the federal government for "violating the religious freedom of its citizens."
It was the kind of speech every Bush and every Republican needs to make. But for Jeb the discussion of faith came easily. Dad still has the rigid reticence of a New England Episcopalian. (He famously once offered the awkward memory that while fighting for survival in the Pacific after being shot down by the Japanese he thought of the divide between church and state.) By contrast, W. spoke easily about God but less often about his adoption of Laura's Methodism or his born-again period after renouncing alcohol at 40.
Jeb has simultaneously traveled farther and hewed closer to home than W. He went to Andover, where, like his brother and father, he met his wife (on a foreign study trip in Mexico). From there he eschewed Yale and Skull and Bones—the alma mater and secret society of his brother, father and grandfather—to attend the University of Texas. Jeb was a Bush pioneer, finally settling in Florida after a stint in Caracas, Venezuela, opening a branch of the Commerce Bank, which would make him the first American president to have lived in South America.
In Miami, his mix of real estate development and other entrepreneurial flourishes echoed the business careers of his brother and father. Family connections helped make his businesses profitable, but there was also plenty of hard work in line with the Bush ethos that you have to make your money before you go into politics.
By 1994, at 41, Jeb was running for the Florida governorship. But in that very, very good Republican year, when Newt Gingrich was leading his Republican Revolution and W. won the governorship in Texas, Jeb fell short. It was supposed to be the other way around, with Jeb getting elected first. Forced to bide his time for four years, Jeb eventually won the governorship and became the first Republican to hold the seat in Tallahassee for two full terms.
In Texas, the governorship is famously weak, with power diffused through other statewide offices, like the land commissioner post the young George P. Bush is running for. That's less true in Florida, where Jeb wielded enough power to jam through tax and budget cuts as well as expand school choice.
By temperament, Jeb is more conservative than even his brother. While he has publicly said that he supported the government bailout of banks after the financial crisis, close friends think otherwise. "He would never have backed it," said one ally, one of many who thought he would not have been as big a spender as his brother.
Back in 1999, when George W. and Jeb were both governors, they attended a reception at the White House for the National Governors Association. One of the hosts that evening recalled, "Jeb was incredibly polite, offered his thanks for the administration's support of NAFTA [the North American Free Trade Agreement] and is incredibly dignified, conservative. His brother [W.] was like an 8-year-old who needed to pee."
Since leaving office, Jeb has devoted himself to education reform, pushing hard on conservative issues like charter schools and choice plans that would allow public money to follow students to private schools. His foundation is peopled with familiar Bush names, like Condoleeza Rice, but also includes Joel Klein, a former New York City schools chancellor and Rupert Murdoch's education business chief, as well as a Democrat.
It's the kind of thing that voters, at least in the abstract, say they like: bipartisan, reformist, relevant to their daily lives. "Jeb is much more into policy than his father or his brother," said one longtime Bush family ally. It's wonky, but ideas could help make the party competitive in places like the Northeast, where Republicans have been obliterated since 1988, when George H.W. Bush won New Jersey, Connecticut and Maryland. (Romney won nothing northeast of Washington, D.C.)
The problem for Jeb is that conservatives are less likely to notice the anti-legal-abortion, anti-tax-hikes, pro-spending-cuts side of his record, which are de rigueur for any Republican with national aspirations. Instead, the issues Jeb is passionate about, like education and immigration reform, put him at odds with much of the GOP base. At a recent conservative forum in New Hampshire, the audience booed approvingly when Donald Trump derided Jeb's now oft-quoted remark that illegal immigrants come to the U.S. because of "love."
Beyond the issues, the problem for Jeb may be the Bush family belief in limited government but government nonetheless. If there's one unified field theory that unites the Bush family ideology, from Prescott to Jeb, it's a belief that public service is honorable and that government, properly harnessed and constrained, is a force for good rather than an evil to be caged.
That's why Prescott was one of the most enthusiastic Republican backers of John Kennedy's Peace Corps. It's why George H.W. Bush could go from saying in 1964 that the U.S. should pull out of the U.N. if "Red China" is admitted to becoming not only U.N. ambassador but also the U.S. envoy to China and the CIA director. It's why George W. Bush not only expanded spending on Medicare but also created the Homeland Security state. Bashing government doesn't come easily to the Bushes because they are conservatives who don't hate government. Really, how can you when it's an almost holy calling for them?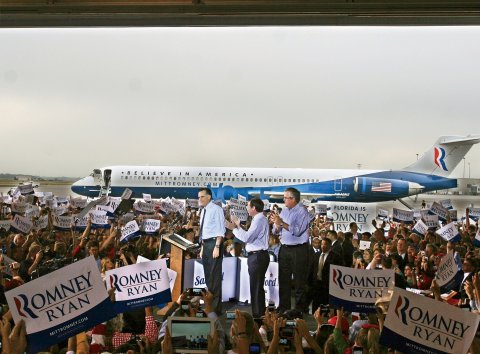 BUSHES AND WALKERS
It wasn't always this way. John Kennedy's grandfather (on his mother's side) was the mayor of Boston, and the Kennedys rose, as so many Irish-Americans did, through the Democratic Party machine. Politics was economics. By contrast, the Bush and Walker lineages weren't especially political. They were more about business, an upward trajectory during the Gilded Age. The lore is familiar: The Walkers were the rich, Gatsby-like clan, and it was their daughter Dorothy who married the affluent but more austere World War I veteran Prescott, the scion of more modest Midwestern wealth. Walker's Point, the famed Bush family home in Maine, was the jewel from her side. Her father, seeking a golf parallel to the Davis Cup, came up with golf's Walker Cup.
George H.W. Bush's upbringing was more comfortable, being driven by the family chauffeur during the Depression to the Greenwich Country Day School. He was a star athlete and student at Andover and a genuine World War II hero. His Yale-to-Midland, Texas, adventure is its own pioneer story, even if family money helped and there was no shortage of other Ivy Leaguers amid the oil derricks and backyard barbecues. Prescott's interest in politics then extended only to the town council in Greenwich. Politics didn't become the family business until after World War II.
The Texas political aspirations began when George H.W. Bush's family moved to Houston in 1959. In the oil capital of the Lone Star State, he displayed the family ambition that also propelled W. to the White House and could send Jeb there, too.
When George H.W. Bush ran for the Senate in 1964, it was a high bar for a first-timer. He ran as an ally of the libertarian-conservative Goldwater and was an opponent of the Civil Rights Act. By the time he reached Congress, he was still a Texas conservative, but in 1968 he voted for the Fair Housing Act. He lost a Senate race in 1970, too. But he remained determined.
He was in play to become Richard Nixon's vice president when Spiro Agnew resigned and also to become President Gerald Ford's veep when he ascended to the White House upon Nixon's exit in disgrace—years earlier, Ike considered dumping his veep Nixon for Prescott Bush—and was considered for the veep spot again when Gerald Ford jettisoned Nelson Rockefeller. (The running mate slot went to Bob Dole, who would face off against H.W. for the Republican presidential nomination a dozen years later.)
All politicians are relentless, but while we associate drive with those who make the greatest outward shows of hunger—Bill Clinton, for example—H.W. was every bit as determined to get there, even if he liked to appear calm and above the fray. And so he ran for president in 1980, criticizing Reagan's tax cut plans as "voodoo economics" and yet moving fleetly enough to become Reagan's running mate.
Vice President Bush was the Republican most liked in Georgetown when there was sneering at Reagan, but he allowed no distance to show between himself and the Gipper, and he lined himself up nicely to succeed Reagan, which is no mean feat if you consider what happened to vice presidents Quayle and Gore.
The Bush drive is less apparent in W., a slacker through his 30s, or Jeb, who despite his national profile has never run for national office. But W.'s steely resolve can be found in his two terms as Texas governor and two as president. Little wonder, perhaps, given the Bush pedigree, the emphasis on athletics and winning but never bragging.
Crying, too, is always welcome. Christopher Buckley writes about H.W. in his new collection of essays, saying that for "a flinty New England blueblood, Mr. Bush had the tear ducts of a Sicilian grandmother." H.W. himself would boast that he was a weeper" in the "bawl brigade." Jeb and W. aren't as lachrymose.
There are two other brothers, by the way: Marvin, a venture capitalist, and Neil, who achieved some notoriety during the '80s and '90s savings and loans debacle and later in a messy divorce, where he admitted having had sex with several women while on business trips to Asia. The women would anonymously knock on his door, the hapless Neill said in depositions. He also became a crusader against Ritalin and is the father of Lauren Bush Lauren, the model married to the son of designer Ralph Lauren. Dorothy, their sister, the youngest child and married to a Democrat, wrote a tender, insightful book about their father.
W. and Jeb inherited the old man's political skills. But is that enough? One of the great parlor games now is whether Jeb would be better served by having the last name Smith. Is the country too tired of Bushes and Clinton? Barbara Bush said as much a few months back, but she surely wouldn't have if Jeb were not so interested. That's why W. recently said his brother would be a great president. If Jeb goes, the family will be on board.
What kind of president might Jeb be? History is proving kind to George H.W. Bush, who forged an Iraq coalition, had the judgment to eschew occupying Baghdad, helped manage a gentle end to the Soviet Union and even made progress on climate change. History is less kind to W. as we continue reeling from the aftermath of the Iraq War, although his campaign against HIV in Africa, the appointment of Ben Bernanke as head of the Federal Reserve and other moves suggest he may look better in years to come. President Jeb would be temperamentally cautious like his father, allies guess, but to the right of both his kindred commanders in chief.
Years ago in this magazine, Howard Fineman called the Bushes the "WASP Corleones," a cheeky way of saying their patrician values masked an almost Godfather-like ruthlessness. In that case, as The New York Times's Maureen Dowd has written, H.W. Bush stands like Vito, the patriarch. W. would be Sonny, a bit of a hothead. Which leaves Jeb as Michael, the quiet and disciplined son able to master and build the family business.
An anecdote tells the story. Among other odd turns of phrase, President George H.W. Bush is fond of saying on the tennis court, "Unleash Chiang!," a sly reference to the belief among the post-World War II conspiracy-minded anti-Communists that Eisenhower was keeping the nationalist Chinese leader Gen. Chiang Kai-shek bottled up on Taiwan. They wanted him unleashed so he could take back the mainland from the Reds.
H.W. used it to mean "Let's start the game" and to deprecate his own weak serve. It was, perhaps, a poke at those who had the delusional belief that it was the U.S. Navy, patrolling off of Taiwan, that was keeping China from being liberated.
Jeb Bush, too, uses the homonym "Unleash Chang"—different spelling—to mean he's going to take a conservative approach to solving a thorny problem. There's no mention of Chiang or Taiwan. He's made the phrase his own. That's what Bushes do.
To be Zen about it, the Bushes travel with the flow of history. And now it's Jeb's turn.