South Sudan is a desperate country. Cursed with the legacy of Africa's longest running civil war, with disease, hunger, famine, violence and corruption, it struggled to renew itself in 2011, when it separated from the North.
Even then, fresh with the energy of a new country, there was much at stake: a lingering ethnic tension from a 40-year war that had left 2 million dead, and weak government and infrastructure. In a country slightly larger than France, paved roads still total less than 100 kilometers.
There is a lack of skilled labor. Illiteracy rates—especially among women—are nearly 85 percent. There is high infant mortality. South Sudan is one of the worst countries in the world for giving birth: A girl is more likely to die in childbirth than she is to get into secondary school.
In December, a fragile peace was shattered when fighting broke out between government forces loyal to President Salva Kiir and rebels loyal to former vice president Riek Machar. The conflict, triggered by two enormous political egos, has left more than 1 million people displaced.
Five months on, the fighting continues. About 85,000 people—including orphans, displaced civilians and people desperate for food—live under U.N. protection at various sites throughout the country. They cannot return home because they are afraid of being killed.
In South Sudan—but not on the U.N. sites—an outbreak of cholera is spreading and killing quickly. The food shortage is catastrophic: A looming famine could affect 4 million people by August and—unless immediate actions are taken—half the population by 2015. It is predicted to be worse than the Ethiopian famine of the 1980s.
The cramped conditions are stoking anger within camps and amongst the displaced people, who are desperate to feed their families. Many of those who starve to death will be children. UNICEF says nearly 240,000 children under the age of 5 are at risk of acute malnutrition. Already, 50,000 of them are likely to die.
"These suffering people should not be punished twice," Hilde F. Johnson, the U.N. special representative (SRSG) and head of UNMISS, the United Nations Mission in South Sudan, tells Newsweek. "First by the leaders of their country through this senseless fighting, second by the international community ignoring their needs."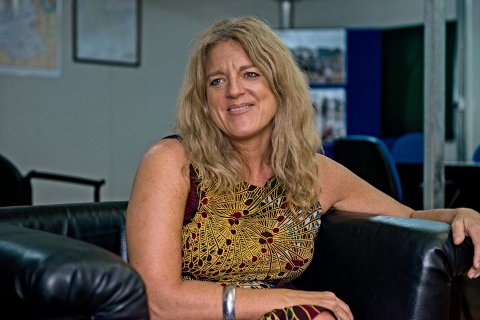 Johnson has strong emotional ties to Africa, and her loyalty to South Sudan is fierce. The daughter of Norwegian missionary teachers, she was born in Arusha, Tanzania, in 1963. She came to help run South Sudan with a U.N. peacekeeping mandate in 2011 after two ministerial positions in Norway, a high-ranking job at UNICEF and a membership in the Norwegian parliament. "There is a huge connection between my birthplace and my personality," she says. "I grew up thinking I was African."
"She was born in the region, she speaks fluent Swahili, and she knows the region," former South Sudanese minister of cabinet affairs Deng Alor Kuol tells Newsweek.
It is also rare for a woman to be working in the predominantly male worlds of African politics and the United Nations. There are relatively few female SRSGs at the U.N.
Her colleagues recognize Johnson as a fierce and hard-working diplomat. The 2011 mandate was designed for peacekeeping, but it has shifted since December's fighting. Johnson has come under fire for taking sides, an accusation she denies.
Before the recent crisis, Johnson was often cited as being partial to Kiir's government. She worked closely with him during the 2005 Comprehensive Peace Agreement, which was partially shepherded by Norway.
Then her focus shifted. After December's fighting began, public protests and demonstrations personally attacked Johnson, demanding that she leave the country. Pro-government supporters claimed that by protecting the Nuer—the tribe of Riek Machar—in the U.N. compound, she was taking sides, and protecting armed men. She was also accused of not foreseeing the recent crisis.
"We saw a crisis coming and worked even 16 months before, engaging and mobilizing to try to help resolve differences. But nobody had foreseen the scope, scale and speed as well as the level of atrocities," she says from her office in Juba, South Sudan's capital. "Of course it was not fun. It would have been hurtful if accusations had been on target. But it was so ludicrous and off the mark that I could not take them seriously."
Johnson fought back. In March, she told Al-Jazeera: "The U.N. is guided by international humanitarian law. It is our obligation to protect civilians that are in need of protection but are fleeing for their lives, whatever their circumstances are. And the minute people come to our gates—leaving uniforms, weapons if any are ex-combatants—they become civilians and under international humanitarian law."
A thoughtful Johnson says today of the attacks: "Stories of rebel support—of course it's not nice—clearly it isn't. As head of the mission, I was in a situation where I could be used as a symbol. It comes with the job. I guess if I am criticized by both sides, I must have done something right."
There are other concerns. At a donor conference in Norway last month, the U.K., U.S. and other countries pledged a total of $1.1 billion to South Sudan. But the U.N. says it is still short of its $1.8 billion goal. Johnson also cautiously mentions that the additional peacekeeping troops promised by the Security Council in January have not materialized. Only 20 percent have so far arrived. "I really hope the international community steps up to the plate," she says. "The hungry and thirsty people of South Sudan are not the cause of this crisis."
Last month, President Kiir, wearing his traditional cowboy hat, told the BBC that the country was facing a disaster on an even bigger scale than the Ethiopian famine. "This is not our making," he said.
Rather than taking responsibility for his role in the fighting, Kiir accused Machar of igniting ethnic tensions and triggering the famine. The two politicians have played this game of blame and counter-blame since Machar was removed from his post last summer.
"It is a man-made disaster, and that is why we want the war to stop, [to] allow humanitarian access to the country," Kiir said last month. "If Riek Machar was to understand that the civilian population is going to face one of the worst famines there has ever been, this is the time."
As the highest U.N. official in South Sudan, Johnson is struggling to hold the country together, which requires deft negotiations. The job is also vastly different from the one she accepted in 2011, when she was charged with moving the new country to democracy. In those days, Johnson could get time off to canoe on the Nile, or occasionally lie in bed on a Saturday morning reading Norwegian newspapers. Not now. Since December, she has been responsible for a country of 11 million people mired in a bloody conflict; 85,000 of them are under her direct protection.
From Johnson's office—a white metal container on the grounds of the Tomping base in Juba—it is only a 15-minute walk to the site where 14,500 displaced people are living. Down a dirt road that often gets flooded, the refugees live behind wire, crowded into an area that Johnson herself says could become "a death trap."
She says it is the first time in the 69-year history of the U.N. that people have been harbored on such a scale. It was a brave and unprecedented endeavor for the organization, which has never recovered from abandoning the Rwandans in 1994 and residents of Srebrenica in 1995.
Last December, as people flooded into the overcrowded camp, Johnson made the call to allow them to come to Tomping, formerly a secondary UNMISS site.
"I would not be able to face the mirror if I were not to say, 'Open the gates,'" she says. "It was a very strong commitment on my part. Keeping the gates closed was not an option. I did not want that to happen under my watch."
Some of the refugees walked to the base from their homes. They can literally see their old houses from behind the fence, but are too frightened to return to them. Early in May, UNMISS released a human rights report that cited extrajudicial killings, sexual abuse, detentions and attacks on hospitals and religious establishments. Inside the camp, survivors tell stories of witnessing relatives shot, people dragged away and houses being burned.
The displaced live in misery. They sleep in either corrugated iron huts they built from scraps of rubbish or on mattresses or blankets on the ground. The persistent rain, the close confinement and the overcrowding make conditions ripe for a cholera epidemic, similar to the one that affected the Hutu refugee camps in Goma following the Rwandan genocide.
Johnson says that, so far, there have been no cases of cholera on the U.N. protection sites; this is largely due to the work of the mission and a number of other humanitarian groups, such as Médecins Sans Frontières. "We are doing what we can to have the situation managed," she says.
But can it be contained? "The attack rate of cholera rapidly increases in high-risk populations—the combination of crowded conditions and pre-existing malnutrition being a particularly deadly one," says Dr. Annie Sparrow, a public health specialist from Mount Sinai Hospital in New York.
"The problem with cholera is that it takes less than a day [for a person] to become severely dehydrated," she says. "Given that cholera tends to start in the middle of the night, this doesn't leave a lot of time in the morning to halt the progression of the deadly dehydration."
There is also a risk of other waterborne "friends of cholera" diseases developing, like rotavirus, E. coli and typhoid. "But cholera kills faster," Sparrow says. While vaccines do work to some extent, people need to get rehydrated fast.
What went wrong in Goma in 1994, where an estimated 50,000 people died, mainly from cholera, "was the way people were treated," Sparrow says. "Cholera has to be treated first and foremost with oral rehydration fluids—only the sickest need [an intravenous drip]."
Johnson is determined to not let South Sudan get to that state. "The people have suffered for decades," she says. "Now they are betrayed by their country and the leaders of their country. It is a shared responsibility."