Few in China knew the truth two years ago, when, with great public fanfare, then President Hu Jintao travelled to a naval base in the northeastern city of Dalian to mark a signal moment in the rise of Chinese power: the unveiling of the Liaoning, the first aircraft carrier commissioned by Beijing's Navy.
More than a decade earlier, a penniless government in Ukraine had sold the ageing carrier ? the last built by the Soviet Union ? at a cut rate price to what it thought was a Chinese company pledging to relaunch the carrier and turn it into a floating casino. When it was towed out of the port of Nikolayevsk in 2001, everyone thought it was headed for the gambling haven of Macau. In fact, it was destined for modernisation so it could become not only the symbol of China?s ambition to dominate the seas around it, but to project power thousands of miles from its coast lines.
Sitting in Moscow, Vladimir Putin knew the truth, and it had to chafe: here was yet another tangible symbol of the decline of what had been the second most powerful navy on earth ? that of the former Soviet Union. In due course, he was determined to reverse that decline. And so he has ? most recently by taking control of what was left of the Ukrainian navy at the port of Sevastopol.
China and Russia ? the two biggest strategic rivals of the United States ? have made it plain to anyone paying attention that they plan to challenge what has been, for two decades since the Cold War?s end ? the American monopoly on sea power. For Beijing, the Liaoning may have been the most visible symbol of its maritime resurgence, but spending on the Navy (known in China as the PLAN ? the People?s Liberation Army?s Navy) has steadily surged. Beijing?s been banging out three submarines a year ? there are 28 nuclear submarines now active, and a total of 51 active submarines overall. The PLAN has commissioned 80 surface ships since 2000, compared with approximately 48 vessels commissioned in the 1990s. By 2020, Beijing plans to have three aircraft carrier-led battle groups ? meaning that two domestically produced aircraft carriers are under production.
The increased Naval hardware by itself doesn?t capture China?s ambitions. Its rhetoric, and its increasingly aggressive presence in the East and South China Seas ? make it plain for all to see and hear. Chinese leaders now routinely refer to ?blue national soil? ? the oceans that extend off its coast line ? which they demarcate far beyond the 200 nautical miles that are its ?exclusive economic zone? under the UN?s Law of the Sea Treaty.
Beijing has even issued a controversial map ? known as the ?nine dash line? ? which purports to show China?s waters lapping up against the Philippines and Vietnam. ?China,? write Toshi Yoshihara and James Holmes, of the US Naval War College, ?is on the brink of commanding the seas with Chinese characteristics.??
To date, those ?Chinese characteristics? mainly consist of an increased capacity to drive the US away from Beijing?s waters ? what military wonks call ?anti access/area denial?, or A2/AD. The strategy aims to create a buffer zone on the sea and in the air to prevent an enemy?s approach. The lynchpin of the strategy are the more modern submarine fleet, but also the deployment of fast attack vessels which carry lethal anti ship missiles, the combination of which, by many accounts, is keeping US navy war planners up at night.
According to Christian Le Miere, an analyst at the International Institute for Security Studies in London, China has deployed between 65 and 85 of these vessels so far, ?suggesting that the strategy behind their use is to deploy rapidly, perhaps in small flotillas, to harry larger vessels with difficult to intercept missiles?.
China?s continuing naval build up reflects several geopolitical goals, all of which are fairly transparent. As Robert Kaplan writes in his book Asia?s Cauldron: The South China Sea and the End of a Stable Pacific gives Beijing what defence analyst Li Mingjiang calls a ?strategic hinterland? that stretches over a thousand miles ? one that would act as a ?restraining factor?? for the US Navy?s Seventh Fleet in the Pacific and Indian oceans.
Another motivation, of course, is energy: the South China Sea is replete with oil and gas reserves, for which Beijing has a voracious appetite. It is now the world?s largest importer of hydrocarbons, and will be as long as they are burned to produce energy. The fundamental tensions that Beijing?s maritime ambitions bring are now on full display well within Vietnam?s exclusive economic zone, where the Chinese National Offshore Oil Company is drilling for oil from a massive rig it just deployed there ? over Hanoi?s furious but thus far fruitless objections.
?What?s the difference between an oil-rig and a naval base or an aircraft carrier? Very -little, politically, in the eyes of China,? says Dean Cheng, defence analyst at Washington?s Heritage Foundation. Beijing is extending its reach, daring Vietnam (or anyone else) to do something about it, now confident in its ability to project sufficient naval force to defend what it sees as its interests, if necessary.
To date, in extending its economic interest in the South and East China Seas, China hasn?t always relied on its Navy per se, as the current clash with Hanoi illustrates.
In 2012 Chinese fishing vessels travelled to the ?Scarborough Shoal?, a disputed set of tiny outcrops 200km West of Subic Bay (once, during the old War, one of the major US Naval bases in the Pacific. They were caught fishing illegally for giant clams and sharks, and were detained by the Philippine coast guard. Beijing reacted furiously ? sending its own coast guard ships to defend the fishermen ? and dispatching PLAN warships to linger menacingly on the horizon.
A tense, ten-week standoff ensued, until Manilla blinked. Beijing today occupies the Scarborough Shoal, and Chinese officials have openly boasted about using the ?Scarborough Model? as a way of intimidating other regional neighbours.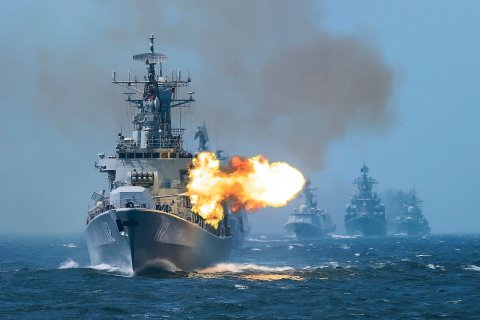 Indeed, China has dispatched fishing vessels near the disputed Senkaku Islands (known to the Chinese as the Diaoyu Islands), the flash point of Beijing?s dangerous standoff with Japan ? the only power in east Asia with a military that can stand up to China?s. As Ely Ratner, deputy director of Asia Pacific Security studies at the Centre for American Progress in Washington has written, these disputes have not been knee-jerk, one-off events. They are Beijing flexing its muscles, thanks in large measure to an increasingly capable and sophisticated PLAN. It is hard not to believe there will be more to come
Russia?s naval ambitions are, in their own way, linked closely to China?s rise: after all, Beijing?s relentless economic growth sent soaring global prices for almost all the commodities Russia has been naturally endowed with, from oil to gas to timber to iron ore. That has stuffed the coffers of Russian state-owned companies and enabled Moscow to again begin to fund its military, after nearly two decades of post-Cold War decline.
President Vladimir Putin has pledged a staggering $700 billion to boost Russia?s military over the next two decades ? and much of that is to go to old-fashioned naval hardware. On the Kremlin?s shopping list is a fleet of half a dozen Admiral Grigorovich-class frigates and as many aircraft carriers, eight Yasen-class attack submarines and a new generation of ballistic missile submarines ? also known as ?boomers? ? designed specifically to carry out massive nuclear attacks on the US. These Borei-class boats carry 16 nuclear-tipped Bulava missiles, each with 10 independent warheads capable of post-launch manoeuvre that can ?thwart evolving Western ballistic-missile defense shields,? according to US Navy Lieutenant Commander Tom Spahn. He calls Russia?s newest boats and missiles ?alarmingly sophisticated?.
Russia?s navy, indeed, has become an important symbol of a resurgent Russia. Putin?s popularity plummeted early in his reign with the loss of the Kursk, an Oscar-2 class attack sub that went down with all 118 hands after a faulty torpedo burned up in its tube in August 2000.
Now, for reasons symbolic as well as practical, Putin is determined to reverse the decline of Russian naval power. Russia has 110,000 kilometres of coastline ? the third longest after Canada and the US ? and over 80% of the supplies to Russia?s Far East go by ship, mostly via the Indian Ocean. A third of Russia?s nuclear arsenal ? more than 600 warheads ? is carried on the Navy?s missile submarines. And, of course, it makes for great television. ?Putin loves the navy .?.?. There?s nothing more impressive than a battleship or submarine with its crew paraded in dress uniforms,? says Semyon Vlasov, a former consultant to the Duma?s Defence Committee, who created a patriotic television show for the Russian military called Krasnaya Zvezda (Red Star).
There is also the symbolism of being able to project power around the world. Every great Russian ruler has made their mark on the high seas. ?Peter the Great announced that Russia was a European power by creating a Navy on the Baltic,? says St Petersburg-based historian Andrei Grinev. ?Catherine the Great showed Russia was a world power by defeating the Ottoman [Turkish] navy at Cesme in 1770, and colonising Alaska.?
Putin is acutely aware of the historical resonance, and is determined to follow his predecessors? globetrotting tradition. He?s revived the Russian naval station at Tartus in Syria, the only Russian military facility outside the former Soviet Union. Established in 1971, the ?Material-Technical Support Point? is, in reality, a tiny sliver of land less than half a kilometre long and is equipped with two 100-metre long floating piers, none of them big enough to accommodate even the smallest of Russia?s frigates.
In January 2013 Russia evacuated its last personnel from Tartus, leaving Syrian contractors in charge of a single Amur-class floating workshop. ?Tartus exists mostly so that Russian officials can talk about it,? says one Western diplomat formerly stationed in Damascus, who visited the port in 2010. A planned visit in 2009 by the Russia?s only aircraft carrier, the Admiral Kuznetsov, was cancelled after seven of her eight turbines failed and a fire broke out on board. The carrier has only managed four deployments since she was commissioned in 1991. (US captains jokingly nickname her ?Tug-bait?.)
Still, Russian defence minister, Sergei Shoigu, has great plans for Tartus, and in February called for the creation of a network of Russian naval bases in Vietnam, Cuba, Venezuela, Nicaragua, the Seychelles, and Singapore.
?Naturally, Russia is interested in having re-supply and maintenance bases for our navy in several states,? confirmed Russian deputy foreign minister, Anatoly Antonov in March. ?We are engaged in talks on the issue.?
?Russia,? Admiral Eduard Baltin, former commander of Russia?s Black Sea Fleet, told Russian Reporter, ?is returning to the stage in its power and international relations which it, regrettably, lost at the end of last century. No one loves the weak.?
Putin is also deploying his navy to push Russia?s economic interests. Technology is making the rich mineral resources under the Arctic seabed accessible for the first time ? and Moscow insists that large swathes of the undersea territory are geologically contiguous to Northern Russia, giving it the right of possession under international law.
The question is being adjudicated by the UN ? but in the meantime the Northern Fleet Admiral Andrei Korablev announced last week that Russia would re-open a military base in the Novosibirsk Islands abandoned 20 years ago and reinforce it with 10 warships and four nuclear-powered icebreakers. The navy will also install military infrastructure on almost all of the islands and archipelagos of the Arctic Ocean to create what Korablev calls a ?unified system of monitoring air, surface and subsurface conditions.? His fleet will also be sent to patrol Franz Josef Land, Severnaya Zemlya, the Novosibirsk archipelago and Wrangel Island to back up the Kremlin?s claim to the world?s largest untapped oil reserves ? control over which is now contested by Russia, the US, Denmark, Norway, Canada and, more recently, China.
Of the two, it is China?s naval build up that, for now, most concentrates minds in the US Pentagon. As Ratner of the Centre for American Progress in Washington says, Beijing?s far-reaching claims amount ?to an expansionist strategy with profound implications for US power and regional security?. At the end of the Cold War, the US had 15 carrier battle groups, compared to 11 today. How much longer Washington?s spending on sea power can be limited depends in part on what both Beijing and Moscow do.
And right now, the signals are in one direction. Last December, a PLAN warship attached to the Liaoning?s battle group peeled off and sailed straight at the USS Cowpens, a guided missile cruiser shadowing the aircraft carrier, forcing it into a dangerous game of chicken.
Washington to be sure remains the dominant naval power globally. But the gap is once again closing quickly.