The Monty Python team got into hot water over its 1979 life of Jesus spoof, Life of Brian. Now, though, the Pythons might reflect ruefully on Christ?s words that ?a prophet is not without honour, except in his own country?.
None of the five surviving members would describe themselves as prophets. But they can?t have failed to notice a distinct lack of honour in their own country?s press comments on their much-publicised reunion show.
The Guardian blasted: ?Rock bands, such as the Rolling Stones, may feel they can get away with songs about pulling teenaged chicks when they are well into their 60s and 70s, but the Pythons should be sharp enough to know better.?
Nonetheless, ?Monty Python Live (Mostly)? opens at London's O2 Arena on July 1st and runs for 10 nights. The very final performance will be screened live in movie theatres around the world, including 500 in the US.
Tickets for the first performance sold out in a record 43.5 seconds, but the enthusiasm of fans has not prevented a negative narrative from emerging. According to this reading, the reunion is a cynical exercise.
As soon as the show was announced, British newspapers reported that the gang was doing it only for the money, in particular to recoup the legal bills after losing a court case last year over royalties for Eric Idle?s Python stage musical, Spamalot.
A lacklustre press conference to announce the event, in which the five Pythons seemed to radiate mild boredom, didn?t help. A chat show appearance to promote the show, in which John Cleese poured his drink over the host and ended up slowly flicking cocktail nibbles at him, added a bizarre twist to the pre-publicity.
Even odder, Michael Palin confessed that ?a lot of Python was crap,? adding, ?we put stuff in there that was not really that good, but fortunately there were a couple of things that everyone remembers while they?ve forgotten the dross.?
The sole American Python, Terry Gilliam, now an opera director, may have added to this dismal mood. In London?s Evening Standard, he called the thought of the reunion ?depressing? and questioned the Pythons? sharpness and the relevance of their humour now that they themselves have become ?establishment? figures.
Others have been asking if the Pythons were ever that funny. This dismissive spirit is summed up in a sideswipe by the Mail on Sunday?s conservative, contrarian columnist, Peter Hitchens: ?I never wanted to have any human rights,? he wrote when the show was announced, ?but surely the planned revival of Monty Python violates every single one of them.?
So is this just a money-spinning stunt by a bunch of cash-strapped, superannuated has-beens who don?t really want to do it? Has their wacky form of humour, like Cleese?s dead parrot, expired and gone to meet its maker? Has the team rung down the curtain and joined the choir invisible? Should this be an ex-sketch show?
Cleese, Gilliam, Palin, Idle and Terry Jones are all in their 70s now. Are they capable of recapturing the old magic? Was the humour really as magical as all that?
The team?s post-Python careers have enjoyed mixed success. Cleese?s Fawlty Towers, based on a shambolic small hotel in which the team once stayed, was voted No 1 of the 100 Greatest British Television Programmes by the British Film Institute, and Cleese has appeared in more than 60 movies, including the James Bond film The World Is Not Enough, as gizmo specialist ?R?, successor to ?Q?.
Palin and Jones co-wrote a series of spoof Edwardian boys? adventure stories, Ripping Yarns, with Palin taking the lead in each. After a successful movie career, acting, writing and directing, Palin reinvented himself as a presenter of TV travel shows. His unassuming, genial good humour has made him something of a ?national treasure? in Britain.
Jones has had fewer post-Python successes, although he has acted in, written and directed a variety of film and TV projects, including historical documentaries, and he writes children?s fiction.
Idle also created his own TV comedies, Rutland Weekend Television (Rutland is the smallest and most obscure county in England), which led to All You Need Is Cash, a mockumentary about a Beatles-like band called the Rutles. It was his idea ? and his energy and persuasiveness ? that turned The Holy Grail into Spamalot, a huge success on Broadway, in London and around the world.
Python proved to be a launchpad for Gilliam?s career as a film director. There have been one or two financial disasters along the way, but he astonished audiences with fantasies such as Time Bandits, Brazil and The Adventures of Baron Munchausen. His outlandish production of Berlioz?s opera Benvenuto Cellini opened in London this month to mainly favourable reviews.
The job of coordinating and constructing the latest ? and perhaps final ? Python show has fallen to Idle, famous among Python devotees as the insinuating, sex-obsessed stranger in the pub. His ?Nudge, nudge, wink, wink, say no more!? quickly became a national catchphrase.
Idle also created the drunken philosophers? song (the witty ditty in which the great thinkers of world history are all characterised as drunks: ?There?s nothing Nietzsche couldn?t teach ya ?bout the raising of the wrist / Socrates himself was permanently pissed?) and the insanely chirpy ?Always Look on the Bright Side of Life?, sung by the massed chorus of crucifixion victims at the end of Life of Brian. Idle is defiant. ?I never read the British press,? he says at his office in Los Angeles. ?They?re bonkers.?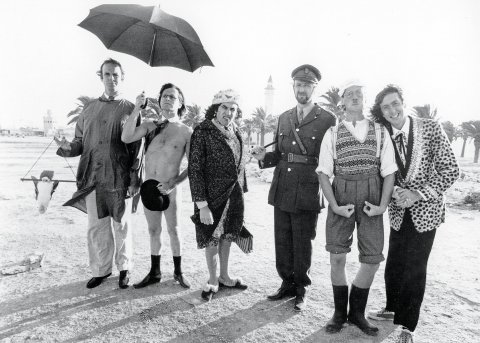 No one, in fact, disputes that the motive for the reunion is financial, although accounts of the nature of the Pythons? problems have varied. Veteran comedy writer Barry Cryer, known to the Pythons as ?Uncle Baz?, was the warm-up man for their very first show, and he has remained friends with the team ever since. ?You hear conflicting stories from them,? he says. ?Dear Mike Palin says, ?We need the money,? and Terry Jones says, ?I?m paying off my mortgage.? John Cleese has his alimony to pay.?
Cryer is referring to Cleese?s acrimonious 2009 divorce from his third blonde American wife, Alyce Faye Eichelberger. The settlement reportedly cost him $13m ? more than half his fortune ? with a further alimony payment of $1m a year for seven years. Wheeled from the court (he?d undergone a knee operation), a bitter Cleese remarked that the deal was ?worth every penny? and claimed he had got off lightly. ?Think what I?d have had to pay Alyce if she?d contributed anything to the relationship,? he told the film director Michael Winner. Cleese has since remarried.
Jones?s financial difficulties also arise indirectly from the break up of a marriage, as he took on a heavy mortgage after divorcing his wife of 39 years to marry Anna Soderstrom, a Swedish dancer 40 years his junior.
Idle is unambiguous and forthright. ?Of course it?s for the fucking money!? he says. ?It?s to clear off a legal debt [the legal costs incurred by the Spamalot case], so of course that?s true. But only in England would they pretend you should be doing a show for nothing. Nobody in show business works for nothing.?
The idea for a final Python show came up when Idle consulted his friend Jim Beach, manager of the rock band Queen. ?He told us if we did a night at O2 we could clear all this [debt],? says Idle.
?Suddenly a boring business discussion became a creative meeting, and we became excited,? he continues. ?It was that simple. When we decided to do it, everybody got very happy. It is a wonderful thing. To be able to get together with old friends from 50 years ago and do Python for a last time, to come out, perform it, send it round the world and say, ?That?s it. That?s the final night,? I think that?s tremendously fortunate. Nobody ever has the opportunity to do that in show business. You never know it?s your last night.?
Some critics have claimed that, apart from -Gilliam?s extraordinary graphic links, little of their material was particularly original, though the Pythons have never made that claim. A big influence, was The Goon Show, a radio comedy starring Peter Sellers that ran for nearly 10 years through the 1950s. It included material as anarchic, surreal and just plain daft as anything dreamed up by the Pythons. The Goon Show regular Spike Milligan brought this dadaist type of humour to British television long before the Python team formed.
Whatever the limitations of the Pythons? humour identified by dissidents, it has resonated down the generations, attracting legions of younger fans, and, despite its unmitigated Britishness, it has spread abroad.
According to Idle, the show snuck into America through the backdoor of local PBS stations, where it built up a cult following, especially on college campuses. If you want to grasp the show?s global impact, consider the fact that Elvis Presley, no less, liked to quote favourite lines from Monty Python and the Holy Grail.
?That?s very common,? says Idle. ?In America, people used the drunken philopher?s song to get through their exams. The other day I went to the opening of a Roy Orbison documentary, and Roy Orbison fucking did that song. That is so cool.?
Other American fans include comedy actor, writer and director Seth Green, creator of Robot Chicken, who believes the show got away with a lot with American audiences because nobody took it seriously. ?I don?t think anybody regarded Flying Circus to be as filthy and subversive as it is, because it?s so silly you don?t view it as politically incendiary,? he said in a 2009 documentary about the troupe. ?But it is. It?s all those things.?
?When I saw the show, it was a huge moment, to sense the freedom with which they were doing their comedy,? says Saturday Night Live creator Lorne Michaels. ?They presupposed a level of intelligence in their audience. You couldn?t do that in America.?
Playboy?s London chief, Victor Lownes, was so taken with the dadaist humour, he persuaded Hugh Hefner to back the first Python film. Actor Dan Aykroyd recalled seeing it with a friend. ?Maybe we smoked something; maybe we didn?t. It didn?t matter,? he said. ?It was just solid, absurdist, out-there humour.?
The Pythons have collected fans across the generations. Actor Steve Coogan can recite the entire ?Cheese Shop? sketch word for word and unprompted.
?My mum would get me to -replicate the previous night?s show,? said Coogan. ?There were no video recorders then, so I became like a VCR. I would get angry if I heard other people doing it and getting it wrong.?
Another generation on, comedian Russell Brand has recalled being exposed to Python when young. ?The virus of it grew in me as a child,? he says. ?In a way, it?s quite sophisticated. But as a kid you can appreciate the silliness.?
Despite reports of tensions, rifts and minor feuds over the years, the team claim to spend their time giggling whenever they get together. They certainly seem to enjoy winding each other up. Iain Johnstone, who made a documentary about the Pythons and co-wrote the screenplay of Cleese?s movie Fierce Creatures, recalls an incident on the set of Life of Brian when Idle ?arrived with a glorious American girlfriend, Tania [who became his wife], so he got a bit of baiting. Eric had turned vegetarian, so Gilliam dressed his market stall [in the scene] with rotting carcasses.?
Idle acknowledges that, with a short rehearsal period in an arena far larger than any they have played before, ?we?re going to have to hit the ground running?, but rejects the idea that their age will impede them.
?I used to see the Crazy Gang [an anarchic stage troupe] when they were old,? he recalls, ?and they were still terrific. This is that experience. People will be able to say: ?Before they died, I saw them all do it.? You don?t stop being funny just because you?re old.?
So what is Idle?s comment on the negative publicity in the British press? ?I like to rise beneath it,? he says, laughing.