It was summer 2012, and British schoolteacher Polly Shoebridge was nervous as she prepared to scuba dive for the first time. She was in the water in full dive gear, building up courage to descend off the coast of Cancún, Mexico.
"Initially, I focused on breathing," she recalls. "Then as I went down, I started to relax. I could see a group of human-like figures with their heads up as if they were looking up at me from below. As I got closer, I could see red, green and blue coral growing from the heads and bodies. I was amazed by the brightly colored fish swimming between the figures that were standing at the bottom of the sea. It was as if the life-sized sculptures were coming alive."
This dive was Shoebridge's first encounter with the spectacular work of British-Guyanan underwater artist Jason deCaires Taylor, which has been compared to that of fellow Briton Antony Gormley (famous for the 66-foot-tall Angel of the North statue in Gateshead, England).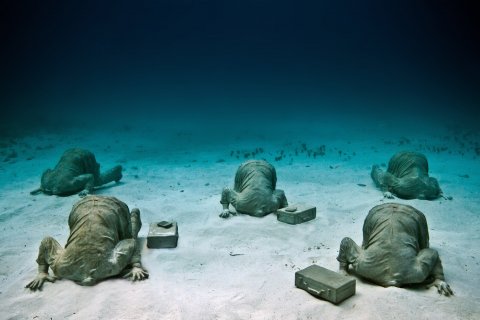 The Cancún project started in 2009, when Taylor formed an alliance with the directors of the National Marine Park and Cancún Nautical Association to create an iconic underwater museum called the Museo Subacuático de Arte (MUSA). The site now plays an important part in the Yucatán's ecotourism economy. MUSA estimates 250,000 people now visit the site each year, contributing an estimated $20 million directly to the local economy.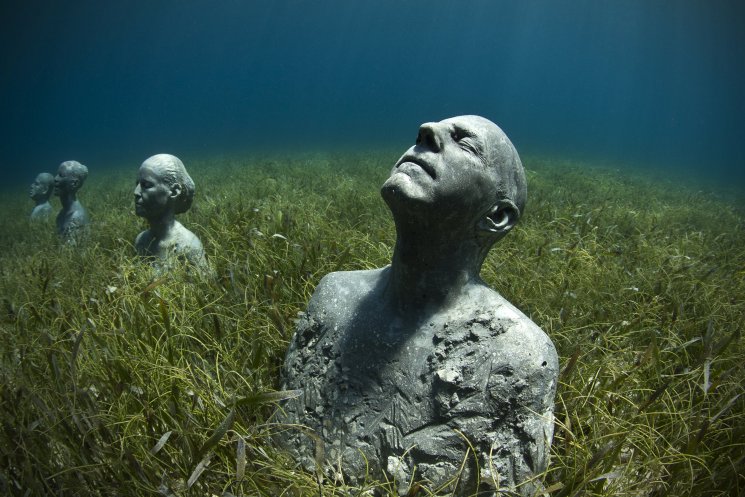 In Focus
The British-Guyanan underwater artist Jason deCaires Taylor is part of a worldwide movement of artists transforming spaces on the seafloor into underwater galleries.
Launch Slideshow

11 PHOTOS
"By enlisting the help of local volunteers, I was able to transform what was a barren seabed into a 420-square-meter wildlife haven," says Taylor. "The total weight of the artificial structures was 200 tons. So far, I have made 510 sculptures of real people, recruited almost entirely from the local community. I achieved this by taking casts and replicating these in materials that tend to promote coral growth. These were placed on the ocean floor to form the base for coral colonization and a new habitat for life. Over time, I was astounded to see tubes growing out of the eyes of the statues and invertebrates making their homes on them."
Jonathan LeVine, founder of the Jonathan LeVine Gallery of New York, has curated Taylor's underwater photography of his work. "Taylor's statues are in the tradition of classical figurative sculpture, but with a contemporary twist," says LeVine. "It's very much an Old World practice worked into recognizable and sometimes funny situations."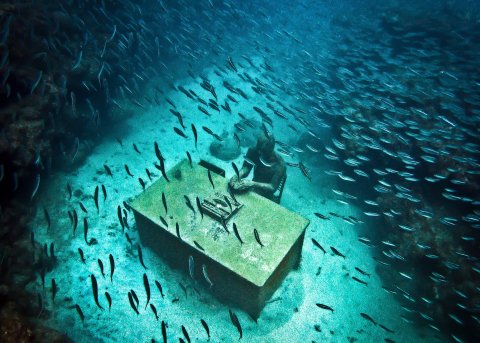 Unlike walking through a museum, "viewing art underwater is a fully immersive activity," he explains. "You're floating, the senses are different, as well as temperatures. Sometimes you could be fighting against a current to see the work from the angle you want. You're experiencing art in a much more dynamic environment. The sunlight varies at different times of day, coral is growing, fish are swimming—it's a totally otherworldly experience."
Taylor's work is part of a worldwide movement of artists transforming spaces on the seafloor into underwater galleries. Since Italian sculptor Guido Galletti sank a bronze cast of Christ into the seabed off the coast of Genoa in 1954, artists from across the world have recognized the opportunity the seabed presents for showcasing art. The Christ of the Deep has traveled to Florida since then. Its third casting sits in John Pennekamp Coral Reef Park, near Key Largo.
Ecology and the celebration of sea life are recurring themes in underwater art forms. In Bali, U.S. artist Colleen Flanigan created giant steel-mesh structures shaped into wavelike forms. She fused pioneering scientific theory on coral growth with her art. "I sank the structures into the seabed and passed an electrostatic current through them," she explains. "This attracted minerals, which the coral lives off and grows at an accelerated rate. That was 2004. A decade on, we can see a thriving biomass in a place previously devastated by dynamite and cyanide fishing."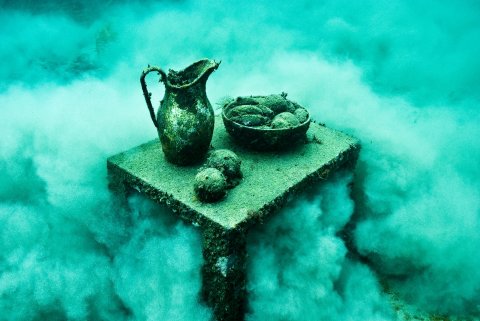 Divers can find more than sculptures at the bottom of the ocean. Australian painter BJ Price has turned the Great Barrier Reef into a gallery for a series of his abstract paintings. These were sublimated onto aluminum, which acts as a canvas for his work. "The clarity of the water, the ever-constant play of light and dynamic colors of this pristine marine environment enhances everything about the art experience," Price says.
Since her visit to Cancún two years ago, Shoebridge's interest in Taylor's work has continued. She is sitting for Taylor's new seabed installation, as part of her vacation in Lanzarote—the easternmost of the Canary Islands—this summer. "Jason told me that because I have an athletic build and I'm not too skinny, I would be a perfect underwater statue," she says. "I was posed as if I was looking down at my mobile phone, and plaster was placed over my whole body by his team of assistants."
Shoebridge's likeness will be just one of Taylor's thousand-strong army of underwater statues off Lanzarote. Crowds of underwater statues will be separated by a wall, representing how our world is divided into haves and have-nots. "It will be surreal to go back next year when the dive site opens and find myself under the sea," says Shoebridge. "I just hope I don't end up on the wrong side of the fence."